The Film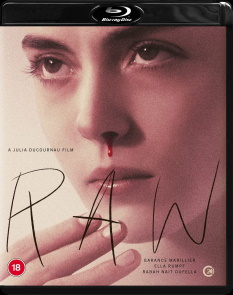 FIPRESCI Prize (Directors' Fortnight or Critics' Week): Julia Ducournau (winner), Critics Week Grand Prize: Julia Ducournau (nominee), Golden Camera: Julia Ducournau (nominee), and Queer Palm: Julia Ducournau (nominee) - Cannes Film Festival, 2016
César (Best Original Screenplay): Julia Ducournau (nominee), Best Original Music: Jim Williams (nominee), Best Sound: Mathieu Descamps, Séverin Favriau, and Stéphane Thiébaut (nominee), Best Director: Julia Ducournau (nominee), Best First Film: Julia Ducournau, Jean des Forêts, Julie Gayet, and Nadia Turincev (nominee), and Most Promising Actress: Garance Marillier (nominee) - César Awards, 2018
Magritte Award (Best Production Design): Laurie Colson (winner), Best Foreign Film in Co-Production: Julia Ducournau (winner), Best Cinematography: Ruben Impens (nominee), and Best Costume Design: Elise Ancion (nominee) - Magritte Awards, 2018
Carnet Jove Jury Award (Best Feature Length Film): Julia Ducournau (winner), Citizen Kane Award for Best Directorial Revelation: Julia Ducournau (winner), Méliès d'Argent (Best Feature Length European Film): Julia Ducournau (winner) - Sitges - Catalonian International Film Festival, 2016

Growing up under the thumb of her domineering mother (Dans Paris' Joana Preiss) and detached father (Calvaire's Laurent Lucas), sixteen-year-old Justine (Warning's Garance Marillier) is about to join her sister Alexia (Tokyo Vice's Ella Rumpf) away at veterinary school following in their parents footsteps. Although they too attended the school, her parents did not prepare her for a brutal hazing initiation and months to come of being subservient rookies at the beck and call of the upperclassmen including her wild sister who seems more concerned that Justine not embarrass her than how the younger girl is handling such rites as being doused in pig's blood, nightly alcohol consumption, and most disturbingly the rite of passage of eating raw rabbit kidneys after a lifetime of being a vegetarian (after which her body erupts in a rash and peeling allergic reaction). Her parents favorite and the shining star of her old school, Justine finds herself as unpopular with her new classmates as her professor (This is Our Land's Jean-Louis Sbille) who would rather have her admit to cheating than break the curve and "scare away excellent doctors." Her only friend is gay roommate Adrien (The Class' Rabah Nait Oufella) who is witness to her increasingly strange cravings for raw meat which take a drastic turn when her sister loses a finger during an ill-advised drunken Brazillian wax. Oddly, the sisters start to bond after Alexia's maiming but Justine feels even less comfortable in her own skin the friendlier Alexia becomes, even ingratiating herself with her younger sister's best friend; but the more Justine attempts to not to stand out, the less she can control her urges, and things come to an ugly head when she gets blackout drunk during a party in the morgue.

The feature film debut of Julia Ducournau – whose follow-up feature Titane netted her a Palme d'Or last year – Raw is a body horror take on a coming-of-age tale that goes for something a bit more subtle, disturbing, and more blackly comic but less cheeky than Ginger Snaps. Although one principal character's remark that an "animal that has tasted human flesh isn't safe" thematically suggests that Justine will devolve into a feral beast, her story arc seems to be defining her sense of humanity through her choices. The film is not anti-vegetarian or anti-vegan, viewing that diet as having been imposed and her accepting it unquestioningly and befuddling her classmates when she seems to see no difference between herself and an animal (by which she unknowingly offends her female classmates by inadvertently suggesting that women as a whole are less than human). Intertwining her taboo taste of meat for the first time and the unleashing of her repressed (or suppressed) sexuality with own body seeming to attack her when she tries to resist her "instincts," Justine must in order to co-exist with other humans "find a solution" (as another character describes this adaptation). Although Alexia does not at first seem to be interested in their familial bond, Justine's attempt to find herself "a quiet corner and wait it out" is a rejection of her sister on multiple levels of blood relations and social hierarchy (with Alexia's upperclassman status supposedly speaking as much of greater experience as her method of "hunting" vaguely calls to mind the roadside bait of José Ramón Larraz's Vampyres). The horror and revulsion of the finale gives way to two striking moments of disarming tenderness that suggest that while Justine has a long road ahead of her and we have no idea which path she will choose to sate her hunger, she appears to have somewhat of a support network that constitutes something like a family.

Video


A festival favorite, the French/Belgian co-production Raw already had a barebones Blu-ray release in the UK in 2017 while Australia's Monster Pictures gave the 2016 Monster Fest winner a stacked Blu-ray edition, the extras of which were mostly ported over to Shout! Factory's US Blu-ray and served as the basis for Second Sight's limited edition package last year and this current standard edition. The film was shot with Arri Alexa cameras and graded with a deliberately steely gray look in which flesh is warmed by bruises and blood rupturing through broken skin while the dissected organs of veterinary class assignments are more purple-gray than red. Fine detail is often exploited to the discomfort of the viewer, particularly the more visceral moments of body horror.

Audio


The sole audio option is a French DTS-HD Master Audio 5.1 track is in keeping with the modern horror aesthetic of silences punctuated by almost tactile sound design underlining grisly moments of bodily violation, some jolting directional effects on the road scenes, and sounding fullest during the Bacchanalian party scenes. Optional English subtitles are available and free of errors.

Extras


Ported from the Australian release is the audio commentary by writer/director Julia Ducournau and film critic Emma Westwood in which she reveals that the opening is not a flash forward but part of the film's recurring interest in the repetition of family rituals and evil being passed from generation to generation. She humorously reveals that she is not a vegetarian or vegan at all, and that making Justine one was a narrative device of establishing her as the total opposite of what she is to become. She also discusses her collaborations with Marillier who was twelve when she appeared in Ducournau's short Junior – a "body horror" coming of age of a different sort in which a misogynistic tomboy contracts an infection and sheds her former identity like a snake skin – and seventeen in this film where she had to participate in uncomfortable situations which Ducournau reveals she treated like stunts or choreography; indeed, she states that exploration and observation are for the planning phase and that the film was meticulously choreographed by her including the three-and-a-half minute single take party sequence with three hundred extras that took four hours to set up and ten takes to perfect. She also discusses the body horror element and how it was organic to her interests more so than the horror genre itself of which she is a fan, and that here it function as the "return of the repressed."

New to this release is the audio commentary by film critic Alexandra West who has written on the New French Extremity genre of the turn of the century, and posits that Raw is both unintentionally part of the genre and the child of it, particularly of two unconventional French "cannibal" films Claire Denis' Trouble Every Day and Marina de Van's In My Skin (which also co-starred Laurent Lucas), and that cannibalism in all three films constitutes a taboo as asserting the "power of the self" in a capitalist society (drawing parallels between the visuals of the student hazing rituals and the production of meat).

"The Girl Can't Help It" (15:04) is an interview with actress Marillier in which she discusses working on Junior and then hearing of Raw as it was being developed over the years. She describes Ducournau as her work alter-ego and notes that the French title "Grave" refers not to a burial but to the "gravity" of the situation. "Making Ends Meat" (15:00) is an interview with producer Jean des Forêts who recalls pitching the film to Wild Bunch without a script and their unofficial commitment got the ball rolling for the production while it was Ducournau herself who encouraged him to think bigger for the film than the modest budget they initially considered (although he had to rein her in when she wanted an Adriano Celentano song for the soundtrack that was cost-prohibitive to license). He also notes that location came by way of the Belgian co-producer who had attended school there, and that they had to reassure the administration about the hazing scenes (especially when a local journalist tried to make something sensationalistic out of it). He also notes that they studied American teenage movies in visualizing the university setting, noting the sprawling campus shots with hundreds of extras early on and the subsequently more intimate focus on the protagonist's milieu (particularly one as isolated as Justine).

"In the Name of Raw" (48:36) is an interview with Ducournau is a wonderful piece focusing on her approach to the screenplay, the prose style, avoiding distracting notes about camera movement but emphasizing lighting and sound in trying to convey symbolism without explaining it. Most interesting is her discussion of the scope of the original concept including an entire undeveloped third act that she would have liked to include but knew it would slow things down, and how character relationships gradually coalesced from draft to draft. "A Family Affair" (12:45) is a video essay by film critic Alexandra Heller-Nicholas who discusses the recurring social rituals and those of food and family – along with the strategic narrative reappearances of the parents and the settings of them following certain events – how the film establishes life, death, and consumption co-existing in harmony visually and aurally, as well as certain relationships within the film framed as "grazing rights on the body of another."

Also ported over from the Australian release is "Raw À Votre Goût" (13:53), a discussion with Ducournau and Westwood that is a bit redundant in terms of the film but provides some more anecdotes about how body horror was a part of her earlier films and interests. Quick Bites with Julia Ducournau and Alexandra Heller-Nicholas (3:00) are a series of short web promos in which she reflects on audience reactions, the use of technology in the film, and the influence of The Texas Chain Saw Massacre while Genre Matters (57:05) is a 2016 Women Genre Filmmakers Panel with Ducournau, Briony Kidd, Mattie Do, Marisa Brown, Heidi Lee Douglas, Donna McRae, and Isabel Peppard in which they reflect on the question of whether they decided to be horror filmmakers, if horror was a strategic choice to jumpstart their careers, or whether the unexpected diversity of horror and the horror community provided avenues to explore their interests (with Ducournau noting the use of different genre grammars for her film, her TV movie Mange, and her short).

Also ported over is the Australian Premiere Introduction with Monster Fest Director Kier-La Janisse and filmmaker Julia Ducournau (5:34) and the post-screening Australian Premiere Q&A with writer/director Julia Ducournau and Monster Fest Director Kier-La Janisse (42:00), as well as the deleted scenes (4:39) which includes a wisely left out overtly surrealistic bit as well as a short, somewhat funny scene that depicts Justine's first instance of positive physical contact capped by an unexpected "taste."

Packaging


The paper extras and special packaging of the limited edition have been dropped for this standard keep case edition.

Overall


The feature film debut of Julia Ducournau – whose follow-up feature Titane netted her a Palme d'Or last year – Raw is a body horror take on a coming-of-age tale that goes for something a bit more subtle, disturbing, and more blackly comic but less cheeky than Ginger Snaps.