The Film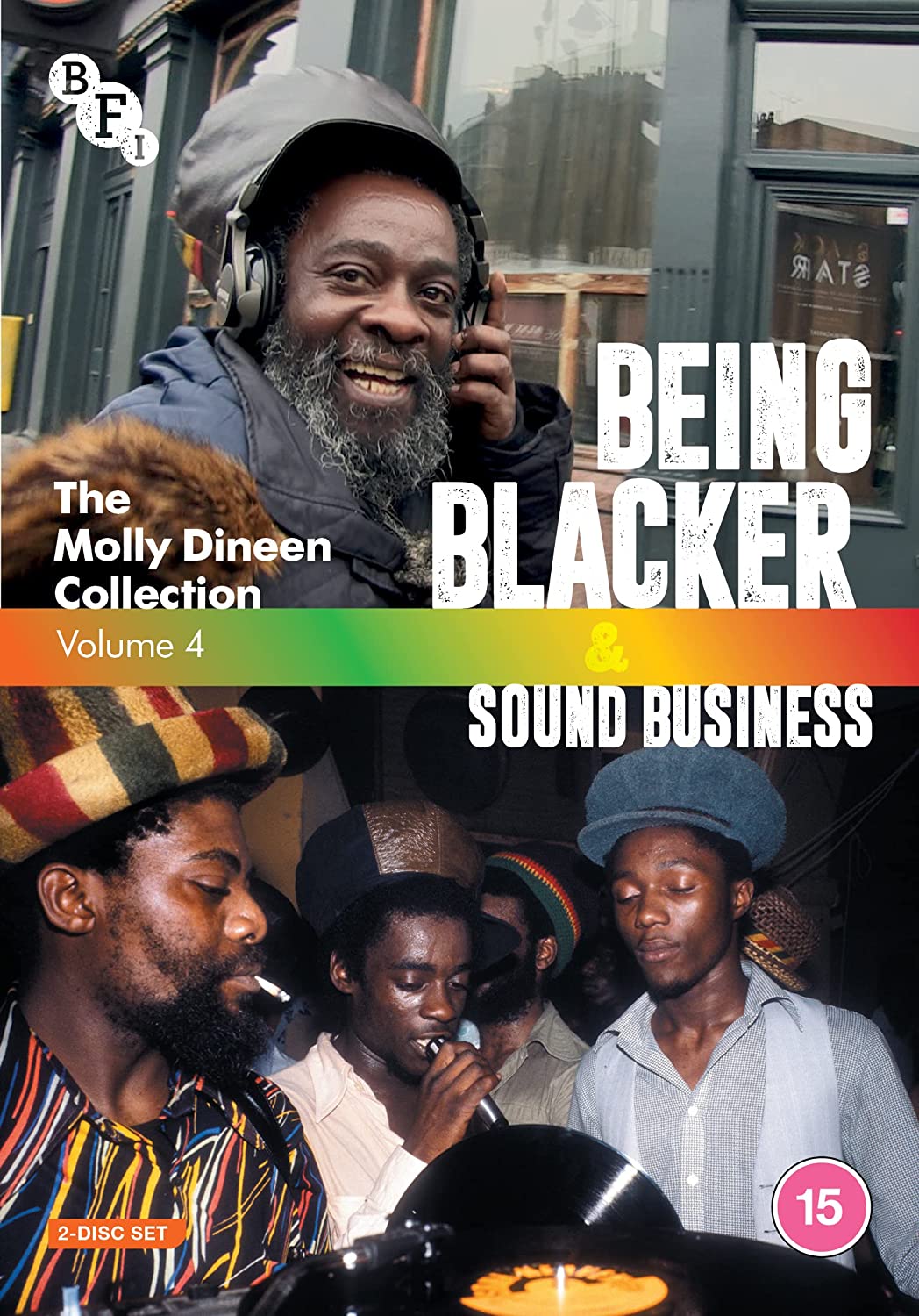 The Molly Dineen Collection Volume 4

The fourth collection of documentarian Molly Dineen's works on DVD from the BFI gathers her very first film made as a student and her latest. The two documentaries may be separated by nearly forty years, but there couldn't be a more fitting pairing due to the subject matter of both features.

"Being Blacker" (2018)

Blacker Dread is a legendary figure of the music scene in Brixton. A musician, DJ and owner of the Blacker Dread Record shop on Coldharbour Lane that specialized in reggae music, he has for a long time been a positive role model of the community and an inspirational figure, even performing for Nelson Madela when he visited the United Kingdom. Molly Dineen, who has been friends with Dread for nearly four decades was asked to document a serious time in his life. First it was about documenting the funeral of his mother, which would bring family, friends, acquaintances from all over to participate in a grand celebration of her life with a long procession, lengthy speeches, and music. While this was the main request, there was more happening in his life at the moment, with the unfortunate closing of his cherished record store and his forthcoming prison sentence for money laundering. Dineen captures Blacker Dread's next step in life and struggles facing his community and family, as well as the positive energy of all involved.

"Sound Business" (1981)

The growing number of young people of Caribbean descent in the United Kingdom were making a name for themselves with their music and culture in the late 1970s and early 1980s. Reggae and Caribbean rhythms were not stuck on the islands in the Gulf of Mexico, but being reinterpreted as something new at the dancehalls across the Atlantic. A number of DJ and singer collectives, or sound systems were on the rise such as Sir Coxsone and his group of young artists to fill the clubs with deep heavy basslines, reggae vibes, ready to make the patrons groove. Featuring interviews with the members of various sound systems, families, friends, and others from the community along with footage from studio sessions and the dancehalls, the documentary captures a time and place that was fresh at the time and would influence both the independent and the mainstream music scenes for years to come.

After WWII, the United Kingdom looked to its Caribbean and African colonies to help with the shorthanded workforce, leading to the British Nationality Act of 1948, giving people of its colonies British citizenship and the opportunity to work in the country. Brixton, of south London was an area where many Jamaican immigrant settled, including Blacker Dread's mother. While he and his sibling lived in Jamaica and raised by their strict father, it wouldn't be until years later that he would move to the United Kingdom to reunite with his mother, who he didn't recognize after the many years apart. "Being Blacker" opens with the funeral of his mother Pauline Martin, which is attended by hundreds of people. Horses for the procession and miles of cars, well dressed men, women, and children shedding tears for her, and a grand sendoff to the afterlife. Dineen captured the lengthy funeral up close and in a very personal way as her relationship with Blacker Dread went back to 1981 when she looked to document the reggae movement in Brixton through local sound systems for her university project. While there was some reluctance from the black music community to have a white female to document their work, Dread was the one was open to the idea and gave her and her classmates access to their world that the media had to shined any attention on. After the documentary, they went on their respected career paths, with Dineen becoming a documentary filmmaker and Dread continuing in the music business as a producer of local artists, a community organizer, a record shop owner, and a fixture of the neighborhood. This was also following his mother's footsteps, as the funeral showed, she was much loved and respected in the community as a postive figure.

But the film is not always about positivity and also is a reflection of the troubles that the black community face though multiple struggles. One of Blacker Dread's sons Solomon was gunned down in 2004 and the murder was never solved. When Dineen asks people about it, the community have the same reaction that the police didn't seem to and still don't seem to care about solving the case, and that is also the case with many other problems in the black community. Brixton has had two major riots over the years, in 1981 and 1985, and its black community has had less than favorable treatment by law enforcement officials. There have always been struggles by the immigrant communities all over, but Dread as shown in the documentaries is always there with a smile to give positive energy to receive the same care back. So it is a shock to Dineen when she finds out that prison time is what he is facing, as well as the permanent closure of his record shop, as she sees his family and friends clearing out the site to prepare of its end. Even when he about to go to prison, Dread never gives up his smile. He knows it will be tough but he's sure to return to society as a better man and to give his positive energy while incarcerated for fifteen months.

Dineen's main focus with Dread's initial request was to document the funeral, which she edited a three hour version specifically for the family to keep. But there was much more to tell with Dread's new life changes, leading to a number of years in which she would follow him, interviews with his good friend from his youth Naptali, traveling to Jamaica to document the situation with Dread's wife and youngest son, who moved to Jamaica for a better education. There are multiple issues dicussed in the documentary, from the racial tensions faced over the years, the problems with the British education system, community violence and crime, and much more, though at the center of it all is the positivity that music and culture can give to anyone and everyone. But where did all of that start?

Dineen's first documentary "Sound Business" is a fascinating snapshot of a place and time that much of the world hadn't seen or heard at the time. Reggae music had caught on internationally in the 1970s, especially with the legendary Bob Marley becoming a godlike figure of the genre. With the good vibes and sunny sounds mixed with lyrics that were political and progressive, it was a sensation that continues to influence countless artists over the years to this day. Marley relocated to Britain in 1977 and recorded the groundbreaking "Exodus" album, and at the same time there was another music movement from a younger generation of Jamaican descendants to continue and develop the reggae tradition. Combining techniques of New York hip hop (which was also still in its infancy) and electronic music, the musical collectives of singers and DJs were performing bass heavy reggae tracks with adlibbed vocals and manipulated sounds as dub music, essentially performing live remixes in dancehalls for the young black communities. The documentary shows that it was not just about the performances, but finding the songs (much like finding hip hop samples or finding obscure northern soul records) that others would not perform, and standing out as the best of the area. It also meant having the best sound with technology. The speaker setups to pump the powerful bass and setting up the dancehall environment for the people. The sound system collective of Sir Coxsone was where Blacker Dread and others got their start, giving the unique sound a place to thrive. This was not about radio play, as it was about seeing and experiencing different performances at each session, and not a strict recording session like many other standard musicians would have. Like jazz, it was feeding off what the other artists were doing and improvising. The movement would eventually influence music outside of Brixton, with the Bristol movement of trip hop from groups like Massive Attack and Portishead as well as the drum n bass movement with artists like Goldie and Roni Size. Sir Coxsone or Blacker Dread's music careers did not have the push from MTV or major labels as those artists would have in the 1990s, though it may have been an issue of being ahead of their time. When Dineen made "Sound Business", it was the same year that MTV debuted in the United States. It was also unfortunately the year that Marley passed away and also when the first of the Brixon riots took place. Dineen has stated that in hindsight she felt that she could have focused on the social issues of the artists she showcases more, as well as the issues in the black community, but as a young filmmaker she was not focused on those aspects at the time. The regret should not be the focus here, as what was captured is utterly unique and one of a kind.

Note this is a region 0 PAL DVD set

Video


The BFI presents "Being Blacker" in the 1.78:1 aspect ratio (anamorphic) in the PAL format and "Sound Business" in the 1.33:1 aspect ratio (non-anamorphic) in the PAL format. "Being Blacker" was shot in HD in 25fps and has been downscaled to standard definition. The transfer is very good, though there are some limitations to be seen with the documentary due to the different shooting conditions across a period of a few years. Colors are fairly well balanced throughout and clarity is very good, but again depending on shot to shot. Overall a pleasing transfer here. For "Sound Business", it was shot on standard definition U-Matic tapes and has been remastered from the original elements. Considering the format and its limitations there are some issues that are quickly apparent, from video noise to blurriness, limited color scale and very dark portions in the low lit dancehall sequences. In comparison to what has been uploaded to sites like YouTube and Vimeo in the past, this is a vast improvement with no issus such as tracking error or static, etc. that can be found from old tape sources. It is not mentioned in the transfer notes but it seems like the title cards and captions for names that occasionally appear to be newly made as they differ from the font and placement found on the above mentioned uploads, and look clear in comparison. While the transfer of the documentary may look rough in comparison to what twenty-first century eyes are used to, it is a great upgrade and well worth the time.

The runtime for "Being Blacker" is 89:33 and the runtime for "Sound Business" is 56:42.


"Bing Blacker":




"Sound Business":


Audio


English Dolby Digital 2.0 stereo ("Being Blacker")
English Dolby Digital 2.0 mono ("Sound Business")

"Being Blacker" is presented with its original stereo audio track while "Sound Business" has the original mono. The stereo track doesn't have a lot of stereo separation as front and centered dialogue from the interviewees (and sometimes the voice of Dineen) are the main focus. There are some instances of music and effects having stereo separation and they are never obtrusive being well balanced against the voices. There are no issues such as distortion, though there may be some voices that are not picked up by the mics that are lower than usual. The mono sound for "Sound Business" shows some flatness and especially becomes cramped during the scenes with music being played in the dancehalls. But on the fortunate side any sort of major damage is not present, with voices sounding fair and without distortion or dropout.

There are no optional subtitles for the documentaries. Though there are instances of burned-in English subtitles on "Being Blacker" for some Patois portions.

Extras


This is a two disc set with "Being Blacker" featured on DISC ONE and "Sound Business" featured on DISC TWO, with the following extras on each disc.


DISC ONE

Q&A with Blacker Dread, Naptali & Molly (30:44)
Prior to the documentary being aired on BBC2 in 2018, "Blacker Dread" was had some special screenings across the country, which was accompanied by Q&A sessions featuring Dread, Dineen, and Naptali and other guests. This is a compilation of Q&As from Brixton, Birmingham, Manchester as well as some in between footage of the drive to the locations, with select questions being answered as not to repeat themselves over and over. Discussed about are Dread's positivity while being incarcerated, the issues with British education, the filmmaking method, the evolution of the documentary, and more. Interestingly, some of the audience members who are able to ask questions have had their faces blurred out in here, though other patrons at the screenings are left untouched.
in anamorphic 1.78:1, in English Dolby Digital 2.0 without subtitles

Trailer (0:31)
The original BBC2 TV trailer is presented here.
in anamorphic 1.78:1, in English Dolby Digital 2.0 without subtitles


DISC TWO

"Sugar Minott" 2010 short by Molly Dineen (11:06)
This short film is a tribute to singer and sound system operator Sugar Minott, who was featured in the "Sound Business documentary. He passed away in 2010 after suffering from heart problems at the age of 54, and Dineen has edited a short by using vintage home video footage of Minott, his family, and his surrounding artists and friends from the 1980s.
in non-anamorphic 1.33:1, in English Dolby Digital 2.0 without subtitles

2017 Interview with Blacker Dread (39:21)
Interviewed by Jacqueline Springer at the University of Westminster for Bass Culture Research (a department founded by Mykael Riley of Steel Pulse), Dread discusses about his life and music, from how he got his nickname, running away from home at the age of 14, his time at a detention center, getting into DJing, the Coxsone sound, and much mpre.
in anamorphic 1.78:1, in English Dolby Digital 2.0 without subtitles

2017 Interview with Blacker Dread and Molly Dineen (38:19)
Taken from the same interview session as above, this interview features Dread and Dineen together as they discuss "Sound Business" and their friendship, the making of the documentary, the differences between British reggae and the difficulties faced, the sound systems of the era, and more.
in anamorphic 1.78:1, in English Dolby Digital 2.0 without subtitles

2017 Interview with Molly Dineen (26:46)
Again taken from the same interview session as above, this has Dineen discussing her life, from her father's encouragement with photography, her introduction to the reggae scene in the 1980s, the reaction to the first screening of "Sound Business", her later career, and more.
in anamorphic 1.78:1, in English Dolby Digital 2.0 without subtitles


Booklet
A 32 page booklet is included with the first pressing. First is a lengthy new director's statement by Dineen, discussing both films, some of her regrets of not being able to go deeper into the social issues with her first feature, her friendship with Blacker Dread and the lengthy filming of his documentary, the initial rejection by the BBC and much more. Next is "Me a Talk Fi You" by Arike Oke, the BFI executive director of knowledge and collections, and formerly the managing director of Black Cultural Archives. Discussed are the insights both documentaries give into the black communities that are far less represented in media, the history of migration of people from the colonial islands to Britain, the social issues that communities faced over the years, and more. "Underground Resistance Within a Hostile Climate: Reflection on Molly Dineen's Sound Business" is by Paul Bradshaw, editor and publisher of Straight No Chaser magazine which looks at the documentary and the importance and impact of sound system culture of the era. There are also special features information, transfer information, acknowledgements and stills.


Other notable clips:


A clip from the film, courtesy of the BFI.


Dread and Dineen reaction during the BBC2 screening from December 2018.


Interview with Dread on "Being Blacker".


Lengthy interview with Naptali on his life.


A clip from a "Being Blacker" Q&A session.

Overall


"The Molly Dineen Collection Volume 4" is yet another great collection of the documentary filmmaker's works, bookending with her very first film and her most recent one with great extras to accompany them both. Highly recommended.
| | | | | |
| --- | --- | --- | --- | --- |
| The Film: A | Video: B | Audio: B+ | Extras: B+ | Overall: B+ |