Madigan (Blu-ray) [Blu-ray]
Blu-ray B - United Kingdom - Powerhouse Films
Review written by and copyright: Rick Curzon (21st August 2022).
The Film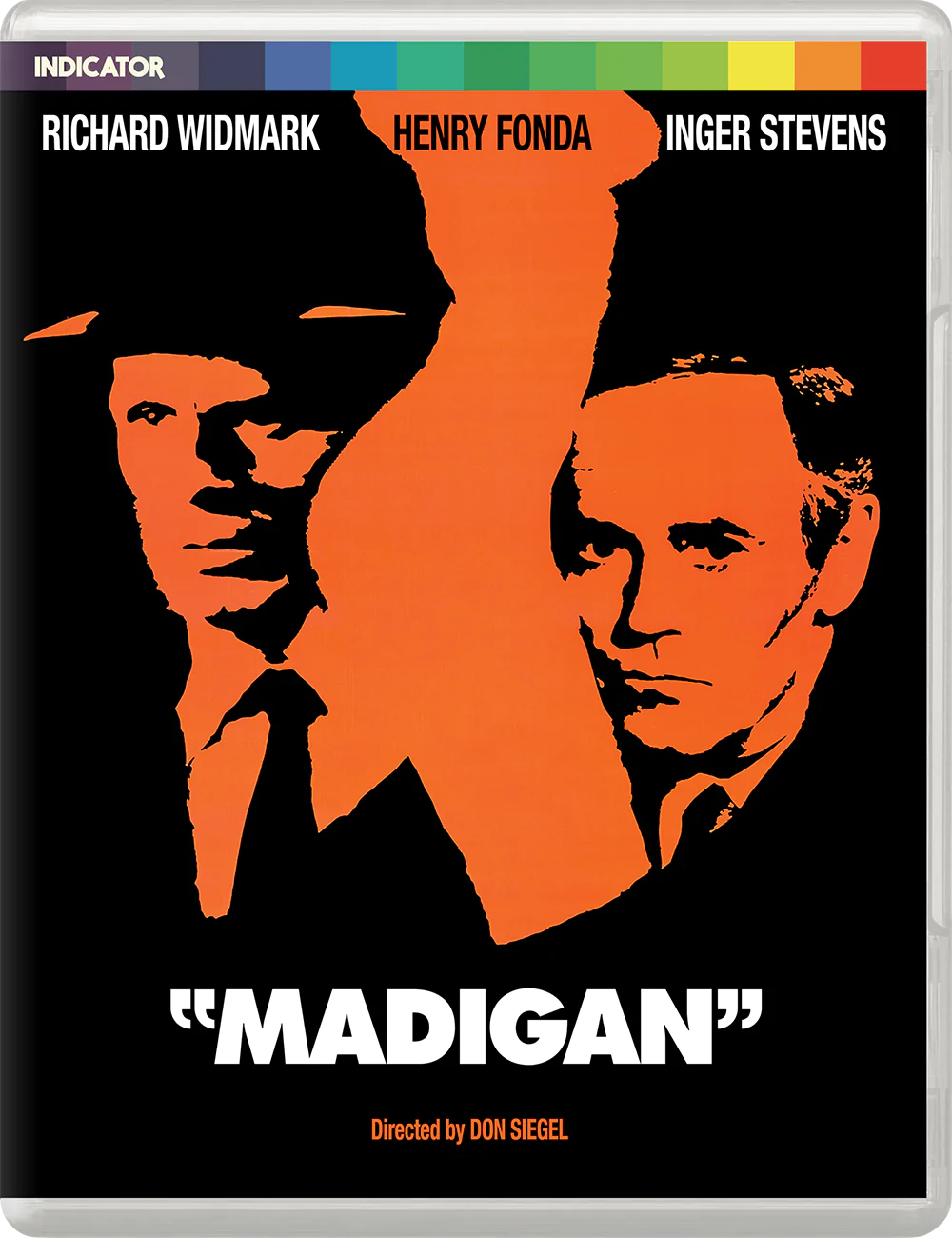 Madigan teams Hollywood legends Richard Widmark (Pickup on South Street, Two Rode Together) and Henry Fonda (Young Mr. Lincoln, Midway) in a brutal tale of crime set in Spanish Harlem. As Commissioner Russell tries to keep his precinct in order, detectives Madigan (Widmark) and Bonaro (Harry Guardino) struggle to balance their personal and professional commitments when they are given just 72 hours to apprehend the spree killer who has stolen their weapons.

Directed by Don Siegel (Charley Varrick, The Lineup) immediately prior to his acclaimed collaborations with Clint Eastwood, Madigan is typical of the director's tough, no-nonsense style, bridging the gap between classic film noir and the gritty police procedurals of the 1970s. Also boasting a script co-written by once-blacklisted writer Abraham Polonsky (Body and Soul, Force of Evil), Madigan's success led to its being turned into a television series.

Video


Don Siegel is one of the foremost action directors of his time helming classics like The Big Steal (1949), Invasion of the Body Snatchers (1955), Coogan's Bluff (1968), Dirty Harry (1971) and Charley Varrick (1973). Madigan is another fine addition to his catalogue about 72 hours in the lives of several cops. It's not his best but it's reliably entertaining and would make a great double bill with the similar The Detective (1968) starring Frank Sinatra and directed by Gordon Douglas.

It was shot using the Techniscope 2-perf widescreen format so popular throughout the sixties and seventies in Europe. Developed by Techicolor Italia in 1960 as a budget format that provided filmmakers with a scope ratio end result it used half the amount of film.

Film has sprocket holes which are used by the cameras and projectors to move the celluloid through the equipment. A standard 35mm frame of film had the ratio of 1.37:1 and had four sprockets, or perforations along each side of the image. Techniscope cut the frame in half to maximise the amount of film used and make it go further thus saving money. The image became a 2.35:1 letterboxed image with two sprockets or perforations spanning the image. As a result of this the grain increased and it has made films shot in this format a little harder to restore.

Universal's fine master is the basis of the transfer here and it's been beautifully restored and encoded with plenty of fine detail along all focal planes. It's probably an older master with some soft softness but the nature of the style of cinematography of the time coupled with the encode means we have a very strong presentation. Colour values are warm but natural with some very vivid primaries (red in the nightclub where Sheree North's character works for instance). Black levels and contrast ensure the image is robust and detailed.

I could see no signs of egregious digital tinkering and no print damage at all. A string transfer that'll only really be bettered by a newer 4K (or higher scan) and an UHD BD release ('B+').

1080p24 / AVC MPEG-4 / BD50 / 2.35:1 / 100:47

Audio


English LPCM 1.0 (48kHz)
Subtitles: English HoH

Standard mono track that serves dialogue very well but is also pretty supportive of Don Costa's jazzy score which makes it's presence felt quite strongly even managing to spike the LFE at times. It keeps the narrative pulsing along nicely with a strong soundscape. Excellent, comprehensive hard of hearing subs are provided ('B+').

Extras


Audio commentary by historians Barry Forshaw and Kim Newman (2022)

Two old pros pack this track from the off with masses amounts of detail. They kick off with a discussion of the career of Don Siegel and his approach to cinema down the years. Covered are the book on which Madigan is based, nudity and violence in cinema of the time, the flawed nature of the title character, the moral ambiguities of policing. Every major cast member gets run through with a particularly interesting discussion of the villain and actor who plays him (Steve Ihnat) and how he's playing a more realistic psychopath. An excellent track presented in lossy Dolby Digital 2.0 mono.

Isolated Music & Effects Track in LPCM 1.0 (48kHz)

What it says on the tin. Dan Costa's great, melodramatic jazz score with sound effects presented in uncompressed LPCM 1.0 (48kHz).

"Cinéma Cinémas: Richard Widmark" 1983 TV excerpt (7:24)

A brief snippet from a French television programme featuring an interview with Widmark who talks a lot about various directors he's worked with, his thoughts on auteur theory, how directors and actors work together. He also mentions those he feels have been the most successful and is generally on fine form. Presented upscaled SD in 1080p24 1.33:1 with uncompressed LPCM 1.0 (48kHz) with burnt in yellow French subtitles.

Super 8 version (17:54)

The usual rather rough early home video digest edition of the film badly cropped and panned and scanned from 2.35:1 down to 1.33:1. It's rather pinkish and has tinny sound. 1080p24 1.33:1 with uncompressed LPCM 1.0 (48kHz) sound.

Theatrical Trailer (2:27)

Vintage scope trailer in 1080p24 2.35:1 with uncompressed LPCM 1.0 (48kHz). Cheesy with highly melodramatic narration.

Madigan Image Gallery: Original Promotional Material (54 images)

Very solid HD still gallery.

36-page liner notes booklet with a new essay by Elena Lazic, an archival interview with Don Siegel, an extract from the director's autobiography, an overview of contemporary critical responses, and film credits

The centrepiece here is the excellent essay by Lazic (not a familiar name but hopefully more to come) who covers in detail the moral ambiguities inherent in this film and antihero nature of it's titular character. Siegel is his usual gruff, opinionated Siegel os on fine form in Kevin Thomas' 1968 interview. If you're fan of Powerhouse Films' work then you'll know this booklet is another winner. Aren't they always a peach?

Packaging


The usual, clear BD Keepcase.

Overall


For me this was a much anticipated release as it was a Don Siegel film I hadn't seen before and from his golden thriller era that also begat Coogan's Bluff, Dirty Harry and Charley Varrick. It's not the best of that bunch but it's still a corker. Image and sound are strong and the extras are very decent with a cracking commentary and booklet being the showpieces. Highly recomended.
| | | | | |
| --- | --- | --- | --- | --- |
| The Film: B+ | Video: B+ | Audio: A- | Extras: A | Overall: A- |

---
Rewind DVDCompare is a participant in the Amazon Services LLC Associates Program and the Amazon Europe S.a.r.l. Associates Programme, an affiliate advertising program designed to provide a means for sites to earn advertising fees by advertising and linking to amazon.co.uk, amazon.com, amazon.ca, amazon.fr, amazon.de, amazon.it and amazon.es . As an Amazon Associate, we earn from qualifying purchases.