The Film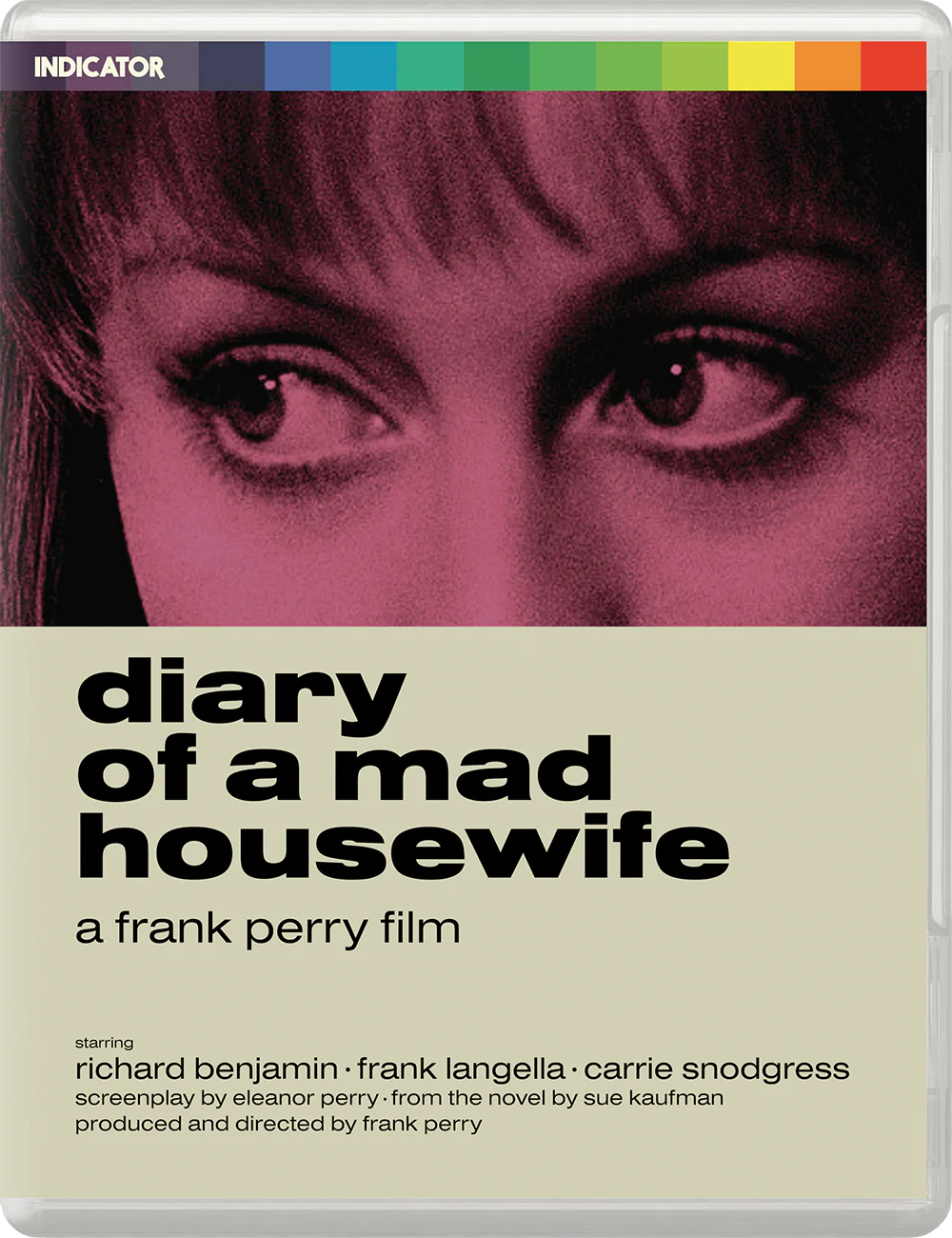 Superbly directed by Frank Perry (The Swimmer, Play It as It Lays), with a scathing screenplay by Eleanor Perry (David and Lisa, Ladybug Ladybug), Diary of a Mad Housewife tells the story of Tina Balser (Carrie Snodgress, The Fury, Pale Rider) a frustrated housewife trapped in an unhappy marriage to an insufferably controlling, status-obsessed bore (Richard Benjamin, Catch-22). Tina seeks solace in a fling with an abusive lover, the arrogant writer George Prager (Frank Langella, Dracula), who treats her like a sex object, leading to therapy and further unhappiness.

A caustic deconstruction of male chauvinism, Diary of a Mad Housewife was a huge critical hit, earning its female lead an Academy Award nomination upon its release. The Perrys' film is presented here in both its theatrical cut, and a long-unseen alternative TV version.

Video


A hard hitting domestic comedy-drama about a housewife (the beguiling Carrie Snodgress in the role of her career) married to a complete narcissistic tool (Richard Benjamin at his irritating best), with two young daughters, so she seeks an affair with another kind of complete narcissistic tool (Frank Langella at his smarmy best). Blackly funny, brilliantly written acted and directed this isn't really my cup of tea but those who like their character drama will be in hog heaven. It also may have some autobiographical qualities for screenwriter Eleanor Perry given that her marriage to director Frank broke down around this time as well.


About the transfers:

Universal's HD remaster was the source of this Indicator edition. The film's original mono audio was remastered at the same time. The alternative TV version is presented from an off-air recording captured to domestic VHS provided by Lydia Wilen. Due to the format's limitations, image and sound quality are compromised.

This is a gorgeous looking film beautifully shot by DP Gerald Hirschfeld in a miasma of warm colours, mainly brown. Flesh tones are solidly defined and primaries really kick out (check out the party scene where Snodgress meets Langella). Black levels are rich, deep and velvety with lowkey contrast. Detail as a result is very strong. Grain is very filmic throughout the film and handled well by the topnotch encode. In my opinion, one of the best looking 1970s American films yet released by Powerhouse Films ... at least of those I've seen.

This is a very filmic transfer with masses amounts of texture. Probably a demo-level disc for how to handle a film of this thpe and vintage ('A+').

The TV version isn't really worth covering much as it's taken from an ancient VHS recording made in 1986 and is included mainly as a curio. It's presented in purely in standard definition from the only known existing source and is preceded by this text:

Proclaiming itself to be 'Edited for Television', this alternative version of Diary of a Mad Housewife not only removes all traces of nudity and strong language, but also includes a substantial amount of material not found in the theatrical cut. It was not authorised or approved by either Frank or Eleanor Perry. This open-matte presentation is from an off-air VHS recording of a broadcast made by the New York TV station WNYW (channel 5) on 17 December 1986. It was captured and archived by Lydia Wilen, who was the Perrys' assistant during the late 1960s, and is thought to be the only copy in existence.

It has all the visual problems you could imagine for an old VHS recording that's

1080p24 / AVC MPEG-4 / BD50 / 1.85:1 / 95:15 (theatrical version), 90:15 (TV version)

Audio


English LPCM 2.0 Mono (48kHz/24-bit) (theatrical version)
English Dolby Digital 1.0 (TV version)
Subtitles: English HoH

Mono track of limited range is still very strong of the type. Dialogue is always clear and unusually there's no score ... only diagetic music. The track gets the job done very well, certainly about as good a mono track from this period as I've heard with the usual excellent hard of hearing subtitles in support for those who need them ('B+').

Extras


Audio commentary on the theatrical cut by actress Rutanya Alda and film historian Lee Gambin (2022)
Audio commentary on the television cut by Frank Perry biographer Justin Bozung (2022)

Two excellent commentaries, one for each version and each focussing on the subject from differing points of view. The Alda-Gambin track comes from the point of view of two historians discussing Perry, the film and the era; Alda was a friend of the Perry's and worked with them on Mommie Dearest (1981). It kicks off looking at cinema of the early '70s, sexual politics of the time, the author of the book (Sue Kuffman) on which Diary is based. We also get lots on the sociopolitical context. Alda is doing her contributions via teams or some other technical format, or it may even be a telephone conversation that has been overlayed over the film. The second track over the TV recording focusses much more on both the film specifically, especially how if differs from the theatrical version. We also get much more about the Perry's specifically and how unhappy they were with the TV cut. Lots more bout their approach to filmmaking as well. Both are presented in lossy Dolby Digital 2.0 mono.

"Feminine Mystique: Chris Innis, ACE on Diary of a Mad Housewife" 2022 interview (30:41)
"A Confident Approach: Richard Benjamin from Acting to Directing" 2022 interview (5:44)

Innis (who bizarrely seems to be wearing an apron!) is the director of the superb Grindhouse Releasing documentary of the Perry's The Swimmer (1968). She gives us a nice overview of the Perry's career and an in depth look at Diary of a Mad Housewife from novel to film. She's also an editor and we get some nice analysis of the film's construction as well as a nice look at the sexual politics of the era and how both of the Perry's felt about this. We also get some great stuff about what's missing from the film but was in the book and much about the slightly sad life of Snodgress (she died young in 2004). The Benjamin piece is much shorter and focusses entirely on his feelings about acting and directing (he's done both), especially about how they interconnect. Lots of great insight for such a brief segment. Both are presented in 1080p24 1.78:1 with lossy Dolby Digital 2.0 stereo sound.

Theatrical Trailer (2:31)
Trailers from Hell with Larry Karaszewski: Diary of a Mad Housewife (2020) (3:59)

Eccentric trailer with an unusual approach to selling the film complete with a gialloesque, Morriconeesque score (the film has none) taken from a worn print and presented in 1080p24 1.37:1 with lossy Dolby Digital 1.0 sound. The Trailers from Hell piece - as always - increases appreciation for the film and is presented in 1080p24 1.78:1 with lossy Dolby Digital 2.0 stereo. This time it's screenwriter Larry Karazewski recording his piece outside (COVID 19) giving is a nice pocket overview of the Perry's, the film and Snodgress and her career. Interestingly, the trailer is matted to 1.85:1 here (it's the same as the main trailer).

Radio Spots (1:33):
- Radio Spot #1
- Radio Spot #2
- Radio Spot #3
- Radio Spot #4

A nice collection of vintage radio adverts presented in LPCM 2.0 (48kHz). Some sound better than others.

Diary of a Mad Housewife Image Gallery: Original Promotional Material (42 images)

Very solid HD gallery.

42-page liner notes booklet with a new essay by Paula Mejía, a profile of novelist Sue Kaufman, extracts from interviews with Frank Perry, Eleanor Perry and Carrie Snodgress, a look at Snodgress and Neil Young's relationship, an overview of contemporary critical responses and film credits

The usual comprehensive hardcopy companion that we've come to know and love from Powerhouse Films. These can frequently (along with the other extras, obviously) be more interesting than the main features and certainly bring loads of added appreciation for the films.

Packaging


Standard, clear BD Keepvase.

Overall


A long unavailable comedy-drama from the team of Frank (directing) and Eleanor (writing) Perry. Image is superb, sound very good and the extras very, very choice and of the highest quality. One thing that I really appreciate from this release is how much of a star director and writer team the Perry's were. I was aware of them but when I was growing up the two Perry films I was most aware of were the Frank-only Mommie Dearest (1981) and Monsignor (1982) which are seen as camp classics. I had seen The Swimmer (1968) when I got the 2014 US BD* and that had started my awakening to their talent (loved it!) but this film really has cemented my respect for both Perrys. Diary of a Mad Housewife from Powerhouse is a knockout of a release and highly recommended even if the film itself isn't my usual kind of film.

* My review of the Powerhouse Films edition of The swimmer is coming very soon.
| | | | | |
| --- | --- | --- | --- | --- |
| The Film: B- | Video: A+ | Audio: B+ | Extras: A+ | Overall: A |