The Film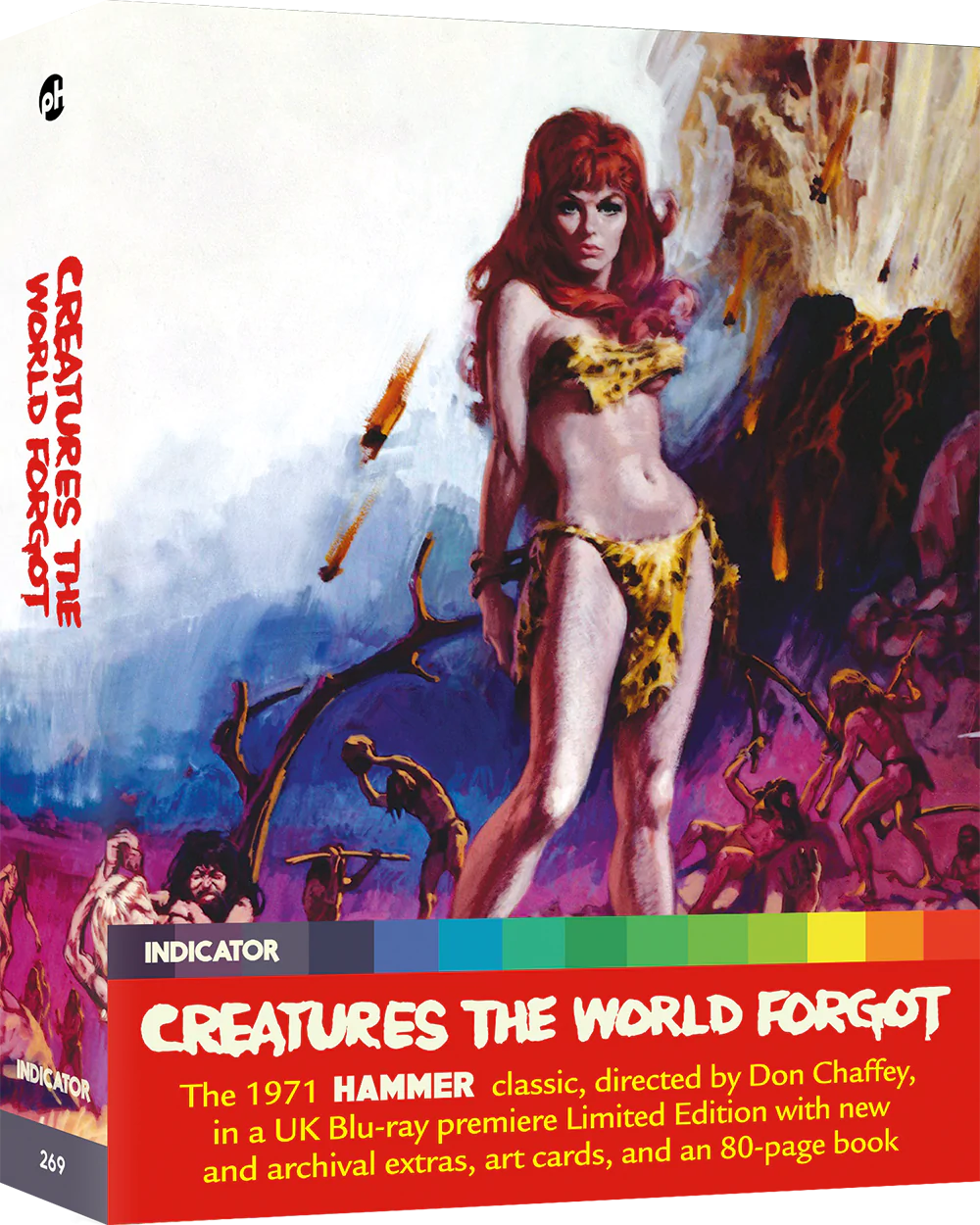 Following the enormous success of One Million Years B.C. in 1965, Hammer embarked on a series of prehistoric adventures over the next five years, concluding with Creatures the World Forgot. Directed by Don Chaffey – previously responsible for One Million Years B.C., not to mention the Ray Harryhausen classic Jason and the Argonauts – the film swapped dinosaurs for more adult content, starred former Miss Norway and ex-Bond girl Julie Ege (On Her Majesty's Secret Service) and earned itself an 'X' certificate in the process. Even today, it still rates an '18' from the BBFC.

Video


Third, last and best of the Hammer prehistoric fantasies, this one has it's humans firmly set in a time period with manageable mammalian and reptile life ... not hulking dinosaurs. It's also firmly targeted at adults in it's content with lots of gruesome violence and casual nudity. Part of the problem with the last entry in the trilogy, bar being utterly daft by having humans and dinosaurs co-existing, When Dinosaurs Ruled the Earth (1970) was that it was pitched at family audiences but had several nude scenes and even a rape sequence involving nudity. Consequently, the 99 minute UK version was cut down to 96 for the USA. A rare occasion where the shorter edit is more enjoyable and tonally even. Creatures is still pretty silly, but it manages to also feel like an intelligent (if flawed) attempt to create a believable, realistic world.

It's impossible to take it all completely seriously but it's certainly the best caveman epic until Quest for Fire (1981). The SPFX, both optical and miniature work are excellent and Mario Nascimbene's score are excellent. Pure visual cinema!

All of the films in the trilogy, which also includes One Million Years B.C. (1966), are gorgeously shot on stunning locations but Creatures probably comes off the best. Every shot could be framed with rich, Earthy colour values, healthy, warm flesh tones and distinct primaries. Overall, the film obviously favours browns and tans bur blue skies really stand out beautifully.

Black levels and contrast are perfectly pitched and detail is exceptional. Most of the film is shot in bright, sunny daylight and is demo quality, certainly for a film of this vintage. It's a very grainy film with plenty of fine grain across practically every shot giving this fun film a strong filmic experience. There's lots of dust and dirt and haze in the air and this coupled with that grain means the encoders really had their work cut out.

Special kudos to Fidelity and Motion and David MacKenzie for superb handling of must have been a tough one. I'd love to see FIM and Powerhouse Films handle Lucio Fulci's misty, hazy, grainy flawed masterpiece Conquest (1983) which would be a similar if even harder challenge.

This transfer is about as good as it can be. Sony's underlying master is exceptional anyway and the dual-layered disc and high bitrate coupled with the exceptional encode mean we have a demo disc here ('A+').

1080p24 / AVC MPEG-4 / BD50 / 1.85:1 / 95:28

Audio


English LPCM 1.0 (48kHz/24-bit)
Subtitles: English HoH

This track is all sound effects and music which come off very well, very little dialogue per se and certainly no human sounds required to enable the viewer to understand anything. Uncompressed and with a fair mount of base that engages The subwoofer at times. The volcano near the beginning of the film really rumbles nicely, dominating the sound stage. Hard of hearing subtitles are purely descriptive of sounds ('A-').

Extras


Audio commentary with historians Sean Hogan and Kim Newman (2022)

Hogan and Newman kick off discussing that this film is largely unloved, neglected and certainly a much more considerable film that it's been given credit although neither would rate the film as top Hammer. Newman jokes that they're doing the commentary presumably because the other usual Hammer experts passed on the assignment. Hogan does a great job more than holding his own but I'm less familiar with him. Newman dominates and is his usual font of knowledge in this essential track for a film I never expected to get such comprehensive treatment. Presented in lossy Dolby Digital 2.0 mono.

"Primitive Rites: David Huckvale on Composer Mario Nascimbene and Creatures the World Forgot" 2022 interview (26:06)
"Signs of Change: Jonathan Rigby on Creatures the World Forgot" 2022 interview (25:03)
"Hammer's Women: Rachel Knightley on Julie Ege" 2022 interview (6:51)

Three new featurettes totalling 58:00 all presented in 1080p24 1.78:1. The first two with old pros Rigby & Huckvale (sounds like a TV show about detectives!) are the meat here and are typically very involving and string. The third is a short piece about Julie Ege from newcomer Knightly (I don't recall coming across her before) and is another in the long line of fine Powerhouse pieces focusing on Hammer's women. All three are packed with plenty of interest and are essential for fans. Huckvale could make a documentary on stock portfolios must see viewing ... he could read the phone book out loud in Sanskrit and I'd be up for it! Rigby covers how Hammer were adapting to the new decade in an informative piece.

"Skid Kids" 1953 short film (with optional 2022 commentary by Vic Pratt) (48:39)
"Watch Out" 1953 short film (with optional 2022 commentary by Vic Pratt) (17:56)
"A Good Pull-up" 1953 short film (with optional 2022 commentary by Vic Pratt) (17:31)

Three fine Children's Film Foundation short films, one substantial two shorter all made by director Don Chaffey. All three are presented in 1080p24 1.37:1 with the first two being genuine HD and the third an upscale. All look great with the upscale obviously being softer. Skid Kids and Watch Out are in excellent shape albeit with signs of age-related damage (nowt major, just speckles), but A Good Pull-Up is very dupey and probably from a 16mm print with lots of dirt and damage and noisy sound. On top of that it's from an aged standard def source. Sound is uncompressed LPCM 1.0 (48kHz). The BFI's Vic Pratt provides these fun little ditties with some superb, essential commentary which is always engaging and filled with trivia (in lossy Dolby Digital 2.0 mono). Skid Kids is a cutdown, early '70s release version (the original ran 64 minutes).

Original theatrical trailer (2:14)
TV Spot (1:02)
Radio Spot (0:50)

A collection of vintage promo pieces presented in 1080p24. The trailer is from a decent looking film print, the TV spot from a standard def source and upscaled. It's very weak quality. Sound is presented in uncompressed LPCM 1.0 (48kHz).

Image galleries:
- Creatures the World Forgot Image Gallery: Original Promotional Material (105 images)
- Creatures the World Forgot Image Gallery: Behind-the-Scenes (69 images)

Seriously chunky and essential HD still galleries.

80-page liner notes book with a new essay on the film, archival interviews and articles, an overview of contemporary critical responses and film credits

Another superb and essential hardcopy companion, this time to one of Hammer's most unloved and neglected films.

Packaging


Standard, clear BD keepcase set in a hard card outer slipcase that holds the Keepcase and booklet.

Overall


One of Hammer's most neglected films and a bit of an unsung little gem. An undeniably silly caveman saga given a lot of great production value and it turns out a visually stunning slab of pure cinema with an excellent Mario Nascimbene score. Image and sound are excellent and the extras are top notch. Highly recommended ('A+').
| | | | | |
| --- | --- | --- | --- | --- |
| The Film: B- | Video: A+ | Audio: A- | Extras: A+ | Overall: A+ |