The Film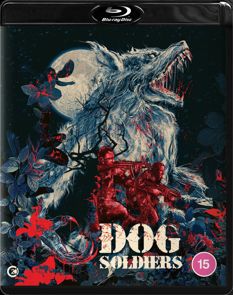 Saturn Award (Best DVD Release): Dog Soldiers (winner) - Academy of Science Fiction, Fantasy & Horror Films, 2003
Golden Raven: Neil Marshall (winner) and Pegasus Audience Award: Neil Marshall (winner) - Brussels International Festival of Fantasy Film (BIFFF), 2002
Chainsaw Award (Best Limited-Release/Direct-to-Video Film): Dog Soldiers (winner), Best Supporting Actor: Liam Cunningham (nominee), and Best Supporting Actress: Emma Cleasby (nominee) - Fangoria Chainsaw Awards, 2003
Best Film: Neil Marshall (nominee) - Sitges - Catalonian International Film Festival, 2002
Narcisse Award (Best Feature Film): Neil Marshall (nominee) - Neuchâtel International Fantastic Film Festival, 2002

After the dictates of his conscience cause Cooper (Trainspotting's Kevin McKidd) to fail a special ops initiation under the direction of ruthless Captain Ryan (The Card Player's Liam Cunningham), he returns to his regular unit under Sgt. Wells (Event Horizon's Sean Pertwee). Weeks later on a training maneuver in the Scottish Highlands, the unit come across a critically-injured Captain Ryan whose own unit has been torn to shreds. When Wells is also attacked by a fast-moving creature, Cooper takes command of the the unit and they take off into the woods where Megan (Doomsday's Emma Cleasby) picks them up in her Range Rover. They take shelter in a farmhouse which is soon under siege from a pack of werewolves with only their firepower to stave off attacks but things are getting dangerous inside as Ryan seems to be making remarkable recoveries despite having been nearly disemboweled by the werewolves.

Despite the derivative plot which as much recalls Night of the Living Deadas it does the eighties pic Scarecrows – indeed the film is rich in film references as well as some subtler literary ones including an amusing one to "goldilocks and the three bears" – Dog Soldiers is an entertaining and amusing horror movie and still marshall's best effort. McKidd, Pertwee, and especially Cunningham are excellent, the script also affords some dimension to the supporting players, and the werewolf effects of Bob Keen (Hellraiser) werewolf effects are reminiscent of Rob Bottin's bipedal creations for the The Howling but more mobile. The framework is that of a horror-tinged siege film but what keeps the film's reveling in war movie cliches from growing tiresome are the engaging performances of "type" characters essayed by the supporting cast who prove adept at balancing humor and fear in terms of their dialogue delivery and body language. The darting shaky-cam and grainy Super 16mm photography are also organic to the rest of the film's elements with the only seeming false element being the Megan character as this film really doesn't need the "we know what's in the shadows now"-type profound dialogue (especially with Cunningham already effortlessly unnerving the other characters); that is, until her "I'm a bitch" monologue subtly calls back to a throwaway line about a character's fears of "spiders, women, and spider-women." While director Neil Marshall's The Descent was more widely seen at the time of its release and Marshall's subsequent less-interesting Doomsday and Centurian (which paved the way in a number of ways for Marshall's subsequent direction of two large-scale episodes of Game of Thrones) are far slicker, Dog Soldiers remains Marshall's most entertaining and underrated picture.

Video


Restricted theatrically to metropolitan centers stateside, the Super 16-to-35mm blow-up production Dog Soldiers was a hit on home video with the film changing hands at least three times between distributors who all used the same disc image with interlaced widescreen and fullscreen transfers and a smattering of extras including a producer commentary. A better choice during the DVD era was UK theatrical distributor Pathe's anamorphic DVD which carried over the US releases' producer commentary and added a cast and crew track and a more solid set of extras on top of a better transfer. The film made its Blu-ray bow stateside via First Look utilizing the HD master optimized for DVD and looking quite poor even in the early days of the format. When Scream Factory prepared their Blu-ray/DVD combo in 2015, Marshall was dismayed to discover that the original negative and intermediate materials could not be found, necessitating a composite of two 35mm prints provided by Pathe with further regrading by Marshall. The older HD master had a relatively naturalistic palette compared to the slightly more neutral, cooler PAL DVD, and Marshall's attempt to alter the 35mm 2K scan to suit his intended mood resulted in a contrasty picture that frequently lost detail in the highlights and shadows like a Xerox photocopy of a photocopy.

The original negative finally turned up a few years ago and served as the as the basis for Koch Media's UHD/Blu-ray mediabook which looked more like the PAL DVD in terms of color timing but with greater visible detail even though the image was only subjected to SDR grading. Second Sight's new UHD/Blu-ray limited edition combo– as well as separate standard edition UHD and Blu-ray released concurrently (along with Scream Factory's stateside UHD/Blu-ray combo) come from a new 4K scan with Dolby Vision on the UHD editions while the 1080p24 MPEG-4 AVC 1.85:1 widescreen Blu-ray under review has a cooler palette in keeping with the PAL DVD. Certain saturated colors still pop but the new master far better contends with the sudden shifts in color grading from forest greens and browns seen through human eyes to black and white werewolf POV shots, green night vision opticals, backlit werewolf sightings, and the blue moonlight, orange fireflight contrasts of the embattled interior scenes, while the combination of omnipresent smoke and dust amidst the grain field of Super 16 seeming entirely suited to the gritty nature of the film.

Audio


Audio options include DTS-HD Master Audio 5.1 and 2.0 stereo tracks which is full of direction effects throughout, even during the more placid scenes, and this gets ramped up during the action sequences, greatly aiding some of the shaky handheld sequences in relaying a sense of danger not only from stalking werewolves but impaling branches. The quieter moments are also ripe for reassessment with the recent viewing, with some snuffling added to the dog's expressive performance and an amusing use of Debussy's "Clair de lune." Optional English HoH subtitles have been included and do include the transcription error of referring to "covert action" as "convert action."

Extras


Extras start off with the Scream Factory audio commentary by director Neil Marshall from 2015 in which he discusses the six year journey from his initial hammered-out script to production with producer Keith Bell and cinematographer Sam McCurdy (who all worked on the little-seen and reportedly terrible Killing Time) thanks to the interest of the Victor Film Company who brought in Hellraiser producer Christopher Figg, and American investor/producer David Allen who stopped by their American Film Market booth and expressed a desire to make a werewolf movie. He also discusses the various tax break locations they explored before winding up in Luxembourg, how McKidd was initially not available for the film but ended up replacing original lead Jason Statham – who bowed out to do John Carpenter's Ghosts of Mars – the training and bonding of the male cast, and looking to his family's military history to create a "fairly authentic" depiction of the "gallows humor" of British soldiers.

Second Sight initially announced among its three commentary tracks the Pathe DVD track featuring Marshall, producer Bell, cameraman McCurdy and actors McKidd, Cunningham and Pertwee; however, that track had to be removed due to legal issues and it has been replaced with the US DVD audio commentary by producers David Allen and Brian O'Toole in which they discuss the battle over the title, their initial concern that the script as "so British," editor Marshall's inexperience as a director leading to an initial two-hour cut that they had to convince him needed to be further honed, the Luxembourg shoot – with Marshall proving resourceful in getting a helicopter unit economically to capture some footage of the Scottish highlands rather than using stock footage – and the boot camp for the cast. Although some stories are shared between the tracks, the creative differences that arouse between Marshall and Allen may offer an explanation as to why both seem reticent to mention the other on their respective tracks. New to the Second Sight edition is the audio commentary by writer and Associate Professor of Film Alison Peirse who discusses the film in terms of the slasher genre, noting the film's atypical emphasis on the male body tormented and "depicted in pain and in fear" with McKidd's Cooper as the "final boy." Moving on from the slasher genre to the werewolf genre, she notes a prevalence in academic discussions of the film in its depiction of Scotland and Scottish national identity with the Highlands as a "historically-charged location" as well as being remote from the center likened to both the American rural horrors of the seventies and areas inhabited by "othered" characters.

"Werewolves, Crawlers, Cannibals and More" (38:18) is a new interview with Marshall in which he discusses his initial Super 8 films as a child, his initial interest in visual effects before being drawn to directing, and finding work during the British filmmaking slump of the seventies and eighties with other creatives in the Newcastle television scene where he made his living as an editor. He expands on his commentary account of developing his "soldiers versus werewolves" and the difficulty of attracting British producers because of the lack of interest in the genre at the time and the budget to undertake a special effects film, scouting the Isle of Man and Manitoba for their tax break incentives as well as their pictorial quality, and some cursory remarks about the actual film as well as noting a planned trilogy for the Cooper character encountering other creatures as well as a direct sequel idea. He then discusses the follow-up The Descent and how it was rushed out in the UK to beat The Cave while Lionsgate waited a year on releasing it stateside – he makes no mention of the reshot ending for the US version – the "insane" Doomsday and how Centurion lead to his being offered to direct the most expensive episode yet of Game of Thrones with only a week of prep when replacing the original director as well as his satisfaction working in television since then.

"A History of Lycanthropy: author Gavin Baddeley on Werewolf Cinema" (33:22) is a new piece in which Baddeley discusses the film in the context of Britain's meagre horror output during the eighties and nineties and its position as a landmark movie in the twenty-first century British horror renaissance. He discusses the genre trends of werewolf as reluctant cursed victim and werewolf-as-sadist, as well as the werewolf trials of the fifteenth century and proto-serial killer Romasanta in the eighteenth century who offered the werewolf curse as a defense, followed by a digest history of werewolf cinema. In "Werewolves, Folklore and Cinema" (23:23), author Mikel J. Koven separates folklore from "fakelore" (the latter represented in werewolf cinema by the gypsy poem of The Wolf Man that was entirely an invention of screenwriter Curt Siodmak), as well as werewolf folkore in the context of othering and dehumanizing pagan peoples with even the reluctant hero werewolf acquiring his curse on the fringes of society and bringing it back to the centre.

Ported from the Scream Factory edition is "Werewolves vs Soldiers: The Making of Dog Soldiers" (61:50) featuring Marshall, Bell, Figg, McCurdy, Figg, production designer Simon Bowles – who had already been working on productions in Luxembourg – as well as cat members Pertwee (who learned of the film from Event Horizon co-star Jason Isaacs and agreed to the part two years before funding came through), McKidd who broke rib during training and hid it because he did not want to leave the film, and Cleasby who felt excluded because she was supposed to be an outsider not entirely trusted by the army unit, as well as co-stars Darren Morfitt and Leslie Simpson (who had previously appeared in Marshall's short "Combat" with Craig Conway who plays the camper in the opening sequence). "A Cottage in the Woods" (13:26) is an interview with Bowles shot at the same time as the documentary in which he shows off the model he designed of the farmhouse, discussing his inspirations as well as some insight as to how it was constructed on location to accommodate the blocking, camerawork, and sustained attacks (only two sides of the exterior were built up while the other two were held up by scaffolding).

The disc also includes the aforementioned 1999 Marshall short film "Combat" (7:54) as well as a combined deleted scenes and gag reel (8:58) with optional audio commentary by Marshall, the four teaser trailers (4:25) that have accompanied most releases, and a photo gallery (4:30).

Packaging


The limited UHD/Blu-ray combo comes in a rigid slipcase with new artwork by Chris Malbon and includes a 108-page book with new essays by Craig Ian Mann, Alison Peirse, Zoë Rose Smith, Anya Stanley, exclusive interview with Neil Marshall by Matthew Thrift, and behind the scenes photos, as well as 6 collectors' art cards while the separate UHD and Blu-ray standard editions come in black keep cases without any of the paper extras.

Overall


While not as slick as Neil Marshall's subsequent filmography, Dog Soldiers remains his most satisfying, as is the new release which only unspecified legal issues appear to have prevented from being truly definitive with exclusion of the UK DVD's cast/crew commentary track.