The Show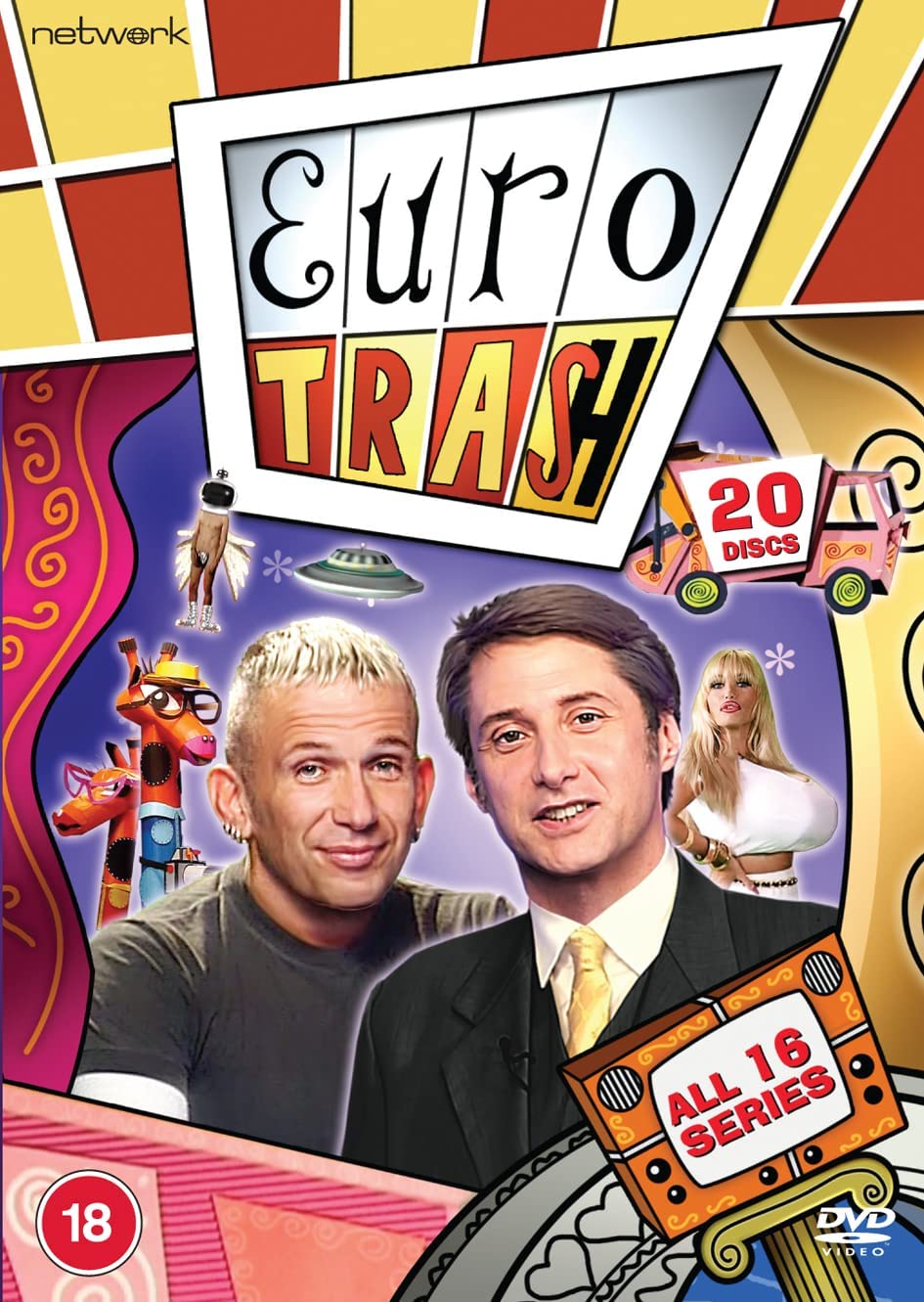 THE OUTRAGEOUS LATE-NIGHT TELEVISION LEGEND!

Let two devil-may-care Frenchmen take you gently by the hand and lead you into a surreal alternative world of weird wonders, celebrity interviews, sexy supermodels – and more smut than you can shake a stick at! Hosted by everyone's favourite Gallic charmers, Antoine de Caunes and Jean-Paul Gaultier, Eurotrash reigned supreme for over a decade and still sends a shiver down the spines of prudes and people of a nervous disposition to this day!

If you can imagine it then it's almost certainly been covered here by our two continental chums! Naked golf, rubber fetish weekends, pubic coiffeurs, Latino drag queens, the world's only brothel-tester, a human penguin, a man who convinced the world that cats can paint and Poland's erotic version of Jeremy Clarkson: if the thought of any or all of these lights up your humdrum existence then this 20-disc set of all sixteen series is just for you!

Video


IT'S IMPORTANT TO STRESS THAT THIS TECHNICAL REVIEW IS BASED PURELY ON DISCS 1, 8 AND 20. THESE ARE THE ONLY 3 DISCS PROVIDED FOR REVIEW FROM NETWORK.

Eurotrash as one hell of a strange programme for UK television, running from 1993-2004, although the last series seems to have sat on the shelf since 2003 before finally being shown in the second half of 2004. It was guaranteed to have copious amounts of nudity and sex and was always dubbed over with regional UK accents for comic effect. It made TV stars of Antoine de Caunes, Jean Paul Gaultier and the late, tragic Lola Ferrari (1963-2000).

It was a slick, big budget show (relatively speaking) but designed to look as gaudy as possible. Lots of back projection for the scenes with presenters but it's all very deliberately tacky. Jokey narration, pisstaky voice overs and the segments can be guaranteed to ridicule their subjects and feature naked people (men and women although more women than men).

Image is bright and colourful with vibrant flesh tones, eye-searing primaries and production design and costuming that emphasises the full spectrum of the colour wheel and the some. Overall quality can shift quite a bit as the programme relies a great deal on footage from other sources but is never terrible, mostly from PAL sources but there might be some French SECAM footage at times. There's no print damage, no dropouts and no digital tinkering. These are taken from off the shelf masters.

Black levels and contrast are decent enough considering the broadcast video sources and the masters are in great shape, but Eurotrash is a relatively recent production when all things are considered and Channel 4 look after their archive. It looks great here nd could only be improved by being upscaled to HD on a BD release with it's superior compression. Encoding here is strong with no signs of compression artefacts that I could see, at least on the three discs provided for review ('B+').

PAL / MPEG-2 / DVD9s x 19, DVD5 x 1 / Each disc seems to contain 7 x 24 minute episodes except the last which contains the final 2 episodes)

Audio


English Dolby Digital 2.0 Stereo / Mono
Subtitles: English HoH

Disc 1 & 8:
These have 2.0 Stereo and when played "straight" via one's amp remain firmly across the front left, front centre and front right speakers. Switch on ProLogic II (or similar) and we do get some of the score sent to the surround channels. However, these sound fields remain firmly front-centric.

Disc 20:
I was surprised to find that the last two episodes of Eurotrash have been transferred in mono. They sound strong and clear but surely as rhe earlier series are in stereo ...

Very good hard of hearing subtitles in English are provided. Overall, The sound here is as good as we can expect shy of a complete rebuild from the sound stems with a view to creating a proper, full surround sound sound field. The anomaly of the final ywo episodes remains unexplained and hopefully that doesn't mean that the rest of series 16 will be mono as it was certainly in stereo ('C+').

Extras


Unknown, they are no extras on the three discs provided and none seem to be listed in any of the online listings for this forthcoming set (26.9.2022).

We're also unclear as to whether the 12 specials have been included.

"Eurotrash Christmas Special 1994" (24.12.1994)
"Eurotrash Christmas Special 1995" (24.12.1995)
"Eurotrash Christmas Special 1997" (24.12.1997)
"A Song for Eurotrash" (12.5.1998)
"Euroballs '98" (16.6.1998)
"Eurotrash: New Year Special" (31.12.1998)
"Eurotrash Christmas Special 1999" (24.12.1999)
"Eurotrash's Big Bang" (31.12.1999)
"Eurotrash: Olympic Special" (22.9.2000)
"Euroballs 2000" (unknown 2000 date)
"Unzipped" (19.11.2001)
"Eurotrash EU Referendum Special" (17.6.2016)



Packaging


Unknown at this time.

Overall


The fondly remembered Eurotrash (1993-2004, 2016) getsa supposedly complete series release. Unfortunately, only discs 1, 8 and 20 have been provided for review. At the time this review goes live, we're only sure that the set contains the 144 regular episodes, but not the 12 specials. As soon as we get more information we shall update this review. Also, at the moment out listing for Eurotrash is limited to the first series but contains the breakdown of the three discs provided for user information.
| | | | | |
| --- | --- | --- | --- | --- |
| The Show: B+ | Video: B+ | Audio: C+ | | Overall: B |