The Film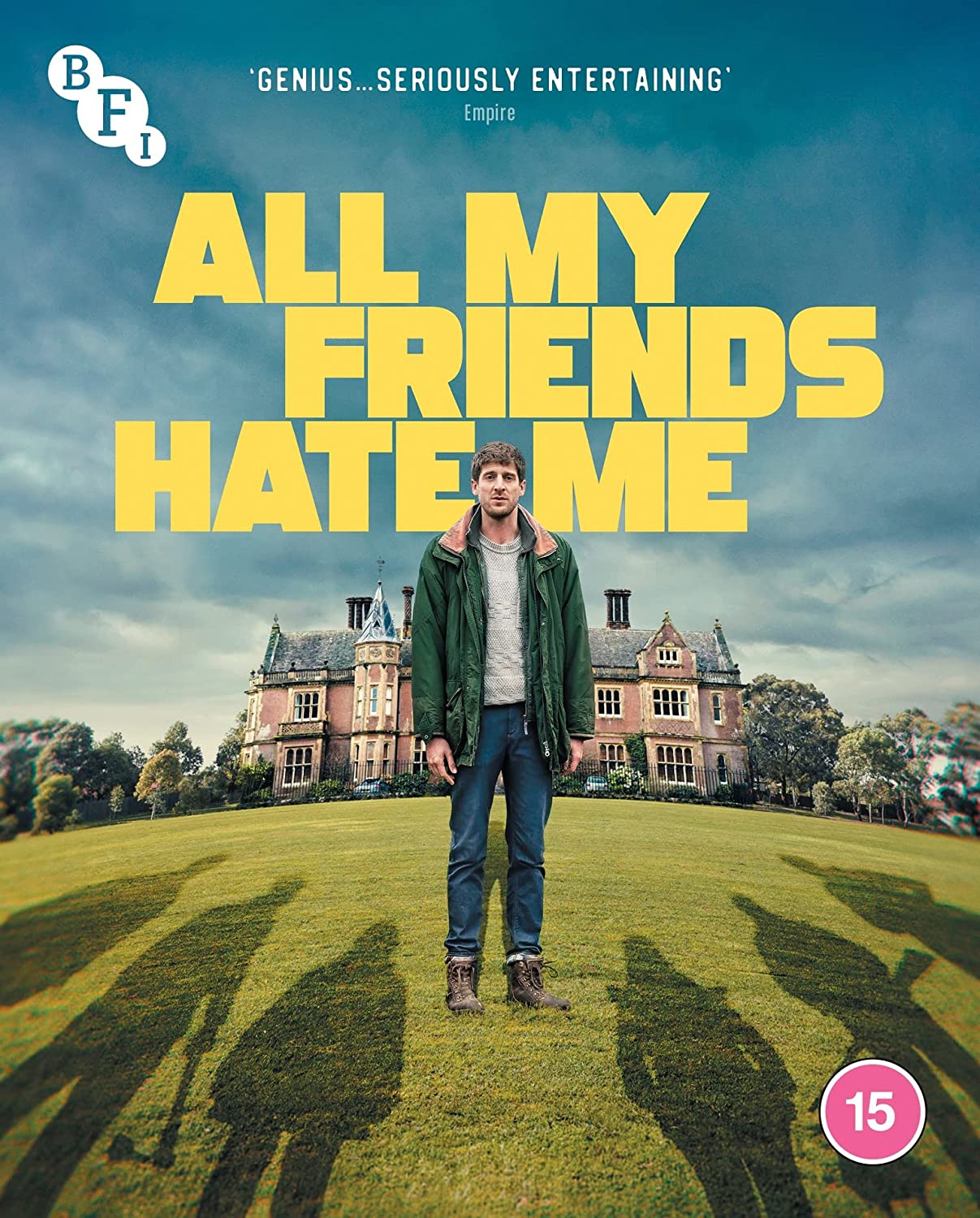 "All My Friends Hate Me" (2021)

To celebrate his 31st birthday, Pete (played by Tom Stourton) is invited by his old university friends to have a celebratory weekend at a countryside manor owned by the parents of his friend George (played by Joshua McGuire). But when he arrives, the place is empty, with no signs of any of his old friends to greet him. Eventually, George along with his wife Fig (played by Georgina Campbell), his dazed bud Archie (played by Graham Dickson) and Pete's former flame Claire (played by Antonia Clarke) arrive a few hours later and ready to celebrate. They also invite a man named Harry (played by Dustin Demri-Burns), a local they met at the pub nearby for fun. But for Pete, everything seems slightly off. Not only do his stories and jokes fall flat with others, but he is strangely criticized by his old friends and he feels slightly creeped out by the presence of Harry. In addition, he is unable to get in touch with his girlfriend Sonia (played by Charly Clive), who is supposed to be arriving the next day. Expecting a fun and laid-back get together with old friends, he suddenly finds himself in a state of unnerving paranoia with his past coming back to haunt him...

"All My Friends Hate Me" was written by by Tom Palmer and Tom Stourton, also known as the sketch comedy duo Totally Tom in their first foray into feature films. The setting of a secluded upscale manor for a comedic yet horrific event can be traced back to multiple cinematic sources, from "The Old Dark House" (1932) to "Ready or Not" (2019). There are also comparisons to the oddity of the English rural area where not all seems to be what is seems such as in "The Wicker Man" (1973) and "Hot Fuzz" (2007), yet this could also be about paranoia and insecurities by the said main character, such as in "Withnail & I" (1986). Though there are a number of other works that can be named with connections, there is something utterly unique and unsettling about "All My Friends Hate Me", and that is the the incredibly relatable aspect of the situation. Without going into too many spoilers, the film is tagged in the horror genre, yet it lacks many of the tropes and cliches of it, as there are no supernatural elements, very minor instances of violence, and basically lacking any blood and gore. What is fed through the eyes and ears of the Pete character are brilliantly twisted into a stacking sense of overbearing paranoia, and each oncoming scene leads to an ultimately unnerving and unsettling weekend with no escape. Essentially, what many horror films set out to do and yet some fail to achieve. "All My Friends Hate Me" hits all the notes precisely, yet it's hard to call it a horror film.

The film does fall more into the comedy genre, as expected with the film's title and the writers being comedians. The awkward humor comes in wonderfully, but this is when the audience is looking at Pete's situation objectively. There are numerous scenes filled with one-liner laughs, reveals from characters that give a burst of laughter, and there are situational ones that are wonderfully perfomed as well. And all of this is carried through the character of Pete, who is in fact quite likeable yet not quite on the same wavelength as everyone else. Working in humaniarian aid for refugees, he has given a lot of positive time and effort in his adult life, which he continuously talks about, or at least tries to talk about with his old friends, who have led completely different lives. But the opening scene of Pete driving to the manor and singing along to The Doobie Brothers' 1978 hit "What a Fool Believes" is in a way a hint and precursor to what is coming. Every time he tries to prove himself as still being part of one of the old gang from uni, the conversation leads the wrong way, or leading to an embarassing situation for him. When things start falling flat each time he speaks, it leads him to feel out of place with everyone else, who are all having a great time, especially with their "new" friend Harry being the life of the party. In addition, Pete's suspicions of Harry continue to grow, as he constantly sees Harry writing in a small memo pad after Pete talks, the amount of Pete's medication changes, and that he has some certainty that he has met Harry somewhere before. Stourton plays Pete incredibly well with his awkwardness and paranoia being brought to life with a natural sense yet with some over the top moments when necessary. The actors playing Pete's old friends are also excellent, with each character having different history with him and each having a quirk that make them memorable and unique. From Archie's crowdfunding scheme and his manic attitude, Fig's down-to-earthness, George's caring yet confused looks, and Claire's emotional past, there is a lot of care put into the supporting characters.

Directed by Andrew Gaynord in his feature film debut after numerous television credits, the film is a wonderful balancing act between paranoia horror and awkward comedy that accentuates each other, yet never becomes a parody or an homage to other works. Visually it is also great, with the beautiful manor, which was located in Devon and was the home of one of the executive producers, with an elegant yet classic home with its interiors that has a history. From slow tracking shots to handheld shakiness, there are a number of visual techniques to accompany the differing scenes and all are done with great care. It is a low budget film with a minimal cast and limited rural locations, yet it never feels "cheap" with a great amount of care gone into the environment and surroundings. There is a lot to love about the film, though the ending might divide audiences, which can be a good element as it can cause discussion of what makes a good ending or a bad one.

Spoiler!
Palmer and Stourton started writing story in 2017 and was a breeze according to them, but trying to find an appropriate ending was the most difficult part. To have a bloodbath conclusion. To have Harry be the brother of the girl that killed herself. To have everyone except Tom be in a zombie cult and having him be the sacrifice. Pete going crazy and shooting Sonia with the shotgun. Being all a dream. The story could have gone in extremely different directions and it is hard to pinpoint which would have been the best, or a combination of them for a true ending, as they have all been done before in various films and stories over the years. But the ending took things in a much simpler yet realistic approach that technically is a fitting conclusion, as hinted from the very beginning. Essentially it may not have had the biggest twist, not at all over the top, yet it can be a surprise to see something more low-key as what was decided on, with Pete just being so out of touch with everyone else, trying to run from his past subconsciously that he became so distant from his actual friends. Although to say, there is a bit of a flaw at how the film doesn't quite explain why Pete's character seems to recall certain facts differently, such as his "Skippy" nickname that no one else recalls and how Harry's reveal took so long for him. But confusion and the jumbled facts in his mind have basically made offleading trails for the audience, this certainly makes "All My Friends Hate Me" a great work for repeated viewing, seeing things from a different viewpoint once the audience knows the truth to the goings on around Pete during the weekend.

The film was conceived and shot pre-COVID and was first screened at the Tribeca Film Festival in June 2021. This was followed by the BFI London Film Festival in October 2021. It received a theatrical and streaming release in the United States from March 11th, 2022 by Super Ltd. For the United Kingdom, the BFI released the film theatrically on June 10th, 2022, and a streaming release coinciding with this Blu-ray/DVD release on August 29th, 2022. With an incredibly relatable experience that is tense throughout while also giving a great amount of uncomforting laughter, "All My Friends Hate Me" is one of the more surprising films of the year and a testament that there is still a lot of to be explored in the horror and comedy genres without falling flat into cliche territory. It's truly best to dive head first into the story without knowing too much.

Note this is a region ALL Blu-ray / region 2 PAL DVD set

Video


The BFI presents the film in the original 2.37:1 aspect ratio in 1080p AVC MPEG-4 on the Blu-ray and in the 2.37:1 aspect ratio with anamorphic enhancement in the PAL format for the DVD. The HD master supplied was to the BFI by Ravanburn Films. Shot and edited in HD, the transfer here is basically as perfect as can be, with excellent colors reflecting the English countryside with the greens of the grass and the greys of the skies, while the golden and brown hued interiors are also wonderfully presented. Sharpness is also great, with no faults to complain about. Excellent from beginning to end. The downscaled standard definition transfer is also great but lacks the depth and clarity obviously in comparison to the Blu-ray's HD transfer.

The runtime for the film is 94:12 on the Blu-ray and 90:26 on the DVD accounting for the 4% PAL speed-up.

Audio


Blu-ray:
English DTS-HD Master Audio 5.1
English LPCM 2.0 stereo
English Audio Descriptive LPCM 2.0 stereo

DVD:
English Dolby Digital 5.1
English Dolby Digital 2.0 stereo
English Audio Descriptive Dolby Digital 2.0 stereo

There are three main audio tracks for the film, with a full 5.1 mix, a 2.0 stereo mix, as well as an audio descriptive track in 2.0 stereo. The 5.1 audio is especially lively when music tracks kick in, from The Doobie Brothers, Darude, Justice, and others, as well as from the score by Will Lowes and Joe Robbins to accentuate the unsettling mood. There are also use of surrounds in nightmare sequences, subtle effects, as well as when guns are blazing in the hunting sequence. It is well balanced against the dialogue which is always clean and clear, with good balance against the music and effects. The 2.0 stereo track is fair, but lacks some of the depth that the 5.1 can offer.

There are optional English HoH subtitles in a white font for the feature. They are well timed and easy to read.

Extras


This is a dual format Blu-ray and DVD set with the film and the extras repeated on both discs.


DISC ONE (Blu-ray)

Audio commentary by Tom Palmer (producer/writer), Tom Stourton (writer/Pete) and Andrew Gaynord (director)
This newly recorded commentary features Palmer, Stourton and Gaynord discussing about the film, though it is not particularly an interesting one. They do give some insights into the some of the scenes such as the character introductions, the hunting scene, and such, the use of dark comedy and timing, and the use of handheld vs Steadicam for differing scenes, but for most of the time they are laughing at the moments and not going in as in-depth as listeners would hope. No information on where the film was shot and the location use, nothing about the individual casting either. It may have gotten a bit crowded, but a moderator could have helped here to flesh out the information more.
in English LPCM 2.0 without subtitles

"All My Friends Hate Me Q&A" (25:33)
Film journalist Leigh Singer moderates this on stage Q&A session with Palmer and Stourton following a screening, with discussions about the balance of humor and discomfort, various films that directly or subconsciously influenced their work, the multiple endings that were thought about, the locations in Devon, and much more. There are both questions from Singer as well as from the audience being addressed. Even with the shorter runtime, the information here in this Q&A is much more concise than found in the commentary track. The Q&A has also been embedded below.
in 1080i50 AVC MPEG-4, in 1.78:1, in English LPCM 2.0 with optional English HoH subtitles



Deleted Scenes (with Play All) (6:34)
- Opening Scene (3:09)
- Dinner Scene (3:25)
Included here is an additional opening scene with Pete and Sonia on the eve of his birthday along with an additional scene taking place after the violent act at the end. Both scenes were smartly left out, as this opening scene makes Pete's paranoia start too early into the film and the dinner scene didn't seem like a fit for the characters to be so calming after the matter. The opening scene was complete and edited while the dinner scene does have some foley sound effect missing and is not as sharp in its video transfer.
in 1080p AVC MPEG-4, in 2.37:1, in English LPCM 2.0 with optional English HoH subtitles

"The Soho Diaries" short film by Tom Palmer, Tom Stourton and Andrew Gaynord (3:39)
A comedic black and white short film shot around the Soho district of London, starring and narrated by Stourton is both a love letter to the area as well as a hilarious mockery of the hipster culture. The short has also been embedded below.
in 1080p AVC MPEG-4, in 2.40:1, in English LPCM 2.0 with optional English HoH subtitles



"All My Friends Hate Me Press Junket Goes Wrong" featurette (2:52)
Tom Stourton and Antonia Clarke are interviewed by "novelist" Christopher Bliss (the character played by Rob Carter) who doesn't ask the best questions but leads to hilarity in the very short runtime. Strangely the menu and booklet call him "American comedian Chris Bliss" which is an error, as he is British and is not the same American comedian of the same name. (Unless Carter is actually an American in disguise and is doing an absolutely perfect English accent for everything he's ever done...) The featurette has also been embedded below.
in 1080i50 AVC MPEG-4, in 1.78:1, in English LPCM 2.0 with optional English HoH subtitles



Brit List script (stills)
Storyboard (stills)
Production Notes Gallery (stills)
A series of stills are included, with the first being the early draft of the script which was submitted to The Brit List, a showcase of unproduced scripts, with a total of 102 pages. There are also five pages of storyboards, as well as notes on the production, with the notes on first day of shooting, notes on the first draft edit, and about the score totalling 14 pages. These are all manual galleries.
in 1080p AVC MPEG-4

Trailer (with optional 5.1 or 2.0 audio) (2:10)
The original UK trailer is presented here, with the option of lossless 5.1 or 2.0 stereo audio options. Though there is an unusual authoring error here, with the trailer actually having four audio options. The 5.1 and 2.0 stereo options for tracks 1 and 2 are as they are labeled in the menu. Track 3 and 4 are actually repeats of the third and fourth audio tracks from the main feature, meaning the audio commentary and the audio descriptive tracks. They run for the course of the trailer and cut off when the trailer ends. Obviously the audio tracks do not sync up with the visuals here, though for a second I though I discovered an easter egg. It wasn't, unfortunately. Still an effective trailer, and has also been embedded below.
in 1080p AVC MPEG-4, in 2.37:1, in English DTS-HD MA 5.1 or English LPCM 2.0 with optional English HoH subtitles




DISC TWO (DVD)

Audio commentary by Tom Palmer (producer/writer), Tom Stourton (writer/Pete) and Andrew Gaynord (director)
"All My Friends Hate Me Q&A" (25:33)
Deleted Scenes (with Play All) (6:18)
- Opening Scene (3:01)
- Dinner Scene (3:16)
"The Soho Diaries" short film by Tom Palmer, Tom Stourton and Andrew Gaynord (3:39)
"All My Friends Hate Me Press Junket Goes Wrong" featurette (2:52)
Brit List script (stills)
Storyboard (stills)
Production Notes Gallery (stills)
Trailer (with optional 5.1 or 2.0 audio) (2:05)
DVD-ROM
- Brit List script (PDF)
- Storyboard (PDF)
- Production Notes Gallery (PDF)
The film and extras are repeated in standard definition on the DVD copy. Note that the stills are also available as downloadable PDFs as DVD-ROM content on the disc, while the Blu-ray only has them as galleries on disc.


Booklet
A 32 page booklet is included for the first pressing. First is a written statement from Tom Palmer and Tom Stourton from the perspective as the writers, from their inspirations in personal experience as well as cinematic, the writing process and many changes along the way, and more. Gaynord provides a director's statement, which is very short, but concisely saying how funny he thought the story was. Next is "A Short History of Comedy-Horror" by Johnny Mains, creator of Salt Publishing's "Dead Funny: Horror Stories by Comedians" series which traces works from silent films to Universal horrors to Corman productions to works by Edgar Wright and everything else in between, and praising how "All My Friends Hate Me" fits in the mold. "Life Is Too Short to Care About Anything" is an essay by Paul Ridd, a programme adviser for the BFI London Film Festival which looks at the characters, the comparisons to other works, and much more in a well written piece. There is also "Archie's Posh Glossary" with some unique vocabulary words from the character and their definitions. Also included are full credits, special features information, transfer information, acknowledgements, and stills.


This is the first and so far only home video release of the film at this time, and it is welcoming to see the extras being almost entirely subtitled, as this was a practice that the BFI has basically abandoned since the DVD days, most likely with the transcription costs. (They are expensive and time consuming...) Also strangely missing is any B-roll or making-of featurettes, as well as interviews with the other cast and crew.


Other notable clips:


A clip from the film, from the BFI.


Critic Mark Kermode's positive review.

Packaging


Although the packaging states region B only, the Blu-ray is region ALL, though the DVD is correctly locked to region 2.

Overall


"All My Friends Hate Me" is one of the most surprising films of the year, with a tension building setting and uncomfortably awkward situations that somehow evades horror and comedy cliches, showcasing something unique and unpredictable. The BFI's dual format Blu-ray and DVD set has an excellent transfer and a great selection of extras making this highly recommended.
| | | | | |
| --- | --- | --- | --- | --- |
| The Film: A | Video: A | Audio: A | Extras: B+ | Overall: A- |