The Film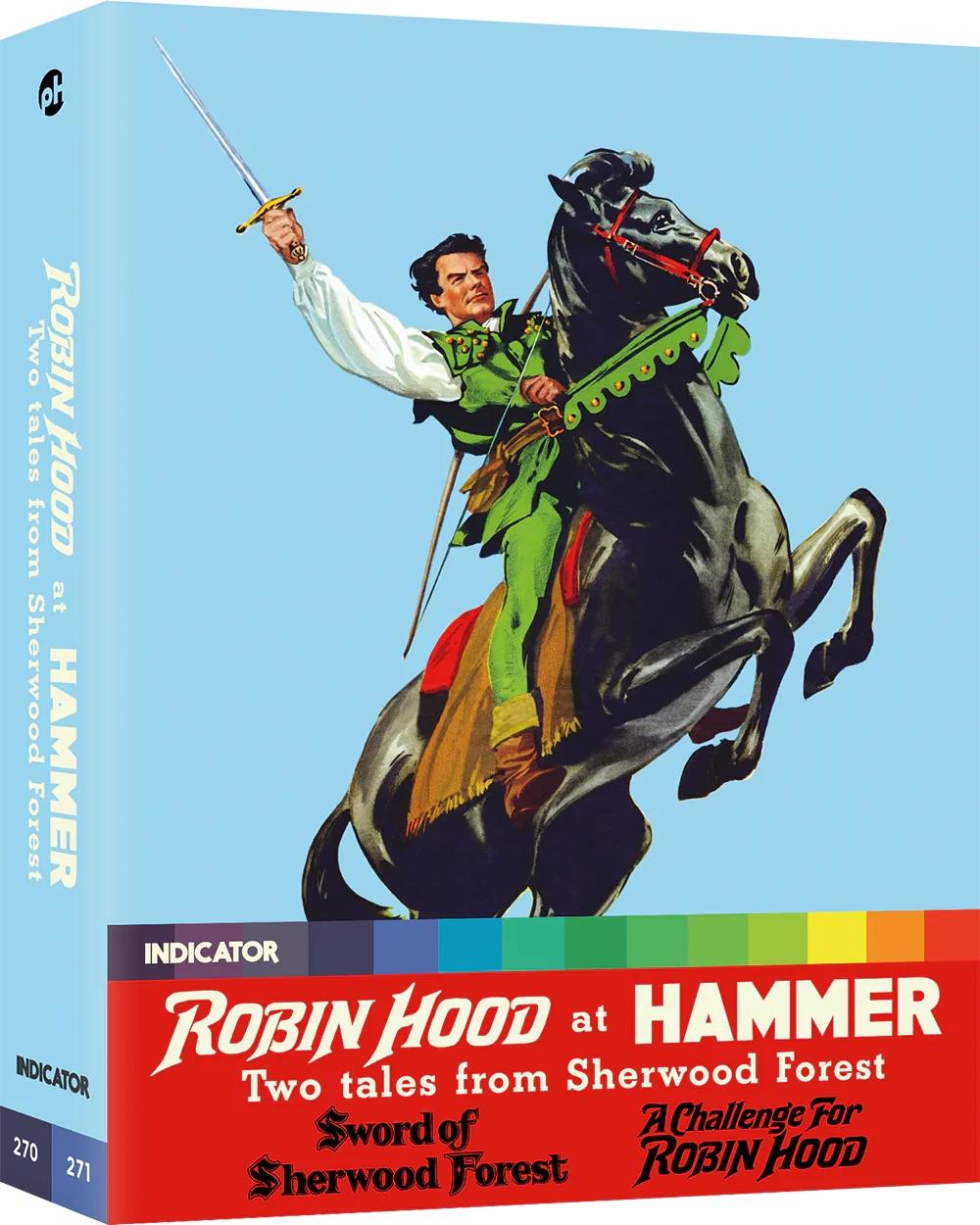 Britainís best-loved outlaw gets the Hammer treatment in Robin Hood at Hammer: Two Tales from Sherwood Forest.

For 1960ís Sword of Sherwood Forest, Richard Greene (The Blood of Fu Manchu, The Castle of Fu Manchu) reprises the role he made famous in the classic television series The Adventures of Robin Hood. Directed by Terence Fisher (The Gorgon, The Revenge of Frankenstein), and starring Peter Cushing (The Devilís Men, Corruption) as the dastardly Sheriff of Nottingham, the film sees Robin Hood thwart a plot to assassinate the Archbishop of Canterbury (Jack Gwillm, Jason and the Argonauts, The Curse of the Mummyís Tomb). The film also boasts an uncredited early role for Oliver Reed (The System, The Damned).

In 1967ís A Challenge for Robin Hood, Barrie Ingham (The Day of the Jackal) dons the Lincoln green as he and his merrie men hide out in Sherwood Forest after his cousin (Peter Blythe, Frankenstein Created Woman) frames him for murder. This action-packed adventure features acting support from Gay Hamilton (Barry Lyndon, The Duellists) and Leon Greene (Adventures of a Private Eye, Adventures of a Plumberís Mate).

This 2-disc Limited Edition set contains a double-sided poster, an 80-page book, and extensive new and archival extra features, including the much-loved Childrenís Film Foundation film Robin Hood Junior (1975), starring Keith Chegwin (Multi-Coloured Swap Shop, Cheggers Plays Pop) as the diminutive hero.

Video


Hammer's third and final trip to Sherwood Forest, not counting Wolfshead (1969) which was made by others but distributed by Hammer. Another bouncy and enjoyable film designed to grace the school holidays. This time Barrie Ingham takes the title role (in brown and red!) backed up by another fine cast. It's not as slick and as polished a production as Sword of Sherwood Forest in that there are some little things here and there where a tighter hand at the helm would've improved things such as the huge pads attached under their costumes to the backs of victims of arrow attacks which are too visible.

The script is a little more black and white as well and perfunctory in it's development but mkes up for it with some great set pieces and tart dialogue. Ingham is very lively and charismatic and this makes up for some minor shortcomings. John Arnatt is wonderfully sly as the Sherif and Peter Blythe and Donald Pickering are sneeringly effective as the main baddies (yup, the Sherif is more of a supporting player here). Special mention to James Hayter as Friar Tuck with his smiley performance and plummy tones. As usual the rest of the cast is filled with recognisable faces culled from British film, television and theatre.

Shot using spherical lens (most likely open matte 1.37:1) and presented matted to the European standard aspect ratio of 1.66:1 it's a colourful storybook production if not quite as vividly coloured as the earlier Hammer Robin Hoods. Approaches to colour cinematography had changed in the seven years. Flesh tones are still warm but a little more naturalistic as is the general palette with plenty of grey and brown in evidence, reds kick out as usual and green is still vivid. No signs of bleed or digital tinkering.

Black levels and contrast are also very robust and detail is very strong on all focal planes but is especially noteworthy in closeups. Fabrics are especially textured. It's a more flatly shot film than Sword of Sherwood Forest but has a more detailed image, no anamorphic distortions here. Overall it looks splendid with the summary weather looking at it's best in this excellent transfer (shot in May 1967 and was in cinemas by July 1st) ('A-').

1080p24 / AVC MPEG-4 / BD50 / 1.66:1 / 96:30

Audio


English LPCM 1.0 (48kHz)
Subtitles: English HoH

Strong and clear mono track lacks depth and range but is typical of it's era. Dialogue and score are the main thing and both come off very well with the former being always clear. Canadian composer Gary Hughes cornered the market at Hammer for swashbucklers and his work on A Challenge for Robin Hood is among his best and it's handled with fidelity here. No signs of distortion every when the volume is turned right up. As with disc one, we have excellent hard of hearing subtitles ('B+').

Extras


Audio commentary by historians Kevin Lyons and Jonathan Rigby (2022)

Lyons and Rigby work well together weaving a tight tapestry of factoids and trivia covering all the usual subjects one would expect cast, crew, locations and production itself. Love the Barrie Ingham anecdote about the physical nature of the role and getting thirsty on the job! Presented in lossy Dolby Digital 2.0 mono.

"The John Player Lecture: Onstage discussion chaired by John Russell Taylor at the National Film Theatre, London in 1971, with contributions from Michael Carreras, Peter Cushing, Terence Fisher, James Needs, Anthony Nelson-Keys and Jimmy Sangster" plays as an alternate audio track over the film (61:08)

To my mind this is the greatest extra on the set as we have an interview with participants who were all dead and gone (bar Sangster) by the 21st century Hammer DVD revolution, so consequently the comments are very fresh. Keys (1911-85) was even dead by the time the BBC made their wonderful documentary Hammer: The Studio That Dripped Blood, screened in the summer of 1987 as part of the celebrations of thirty years of Hammer Horror. Needs has not been interviewed for any documentary that I'm aware of. A lively discussion that rises some interesting things with Taylor (36 at the time) even stating that Mary Shelley's novel is overrated. I was also surprised at hearing him dishing out strong praise for Dracula and Revenge of Frankenstein (both 1958) a reevaluation that I though didn't come about till the '90s. Hugely valuable and very enjoyable. Presented in lossy Dolby Digital 2.0 mono with some hiss.

"The British History Entertainment Project (BEHP) Interview with C. M. Pennington-Richards: Conducted by Alan Lawson and Colin Moffat" 1990 interview that plays as an alternate audio track over the film (96:30)

A valuable career spanning discussion with the lively Pennington-Richards (1911-2005)who comes over as a likeable character and has plenty of tales to tell about his long career in the film business (1937-77). Presented in lossy Dolby Digital 2.0 mono.

"Sherwood on Screen: Kim Newman on the Film and Television Portrayals of Robin Hood" 2022 interview (24:44)
"Songs from the Hood: David Huckvale on Composer Gary Hughes and A Challenge for Robin Hood" 2022 interview (11:23)
"An Excuse for Action: John Gugolka on A Challenge for Robin Hood" 2022 interview (11:13)

47:20 worth of new interviews that kick off with Newman discussing portrayals of the legend in cinema and television right up to the 21st century. Huckvale covers the career of composer Hughes and actor Gugolka (who plays Marion's young brother in the film) tells us his memories of how he got the role and what it was like shooting it in the summer of 1967. All are in 1080p24 1.78:1 with uncompressed LPCM 2.0 stereo sound.

Theatrical Trailer (1:57)

Vintage trailer presented in 1080p24 1.66:1 with lossy Dolby Digital 1.0 sound.

A Challenge for Robin Hood Image Gallery: Original Promotional Material (125 images)

A stacked HD gallery which is extremely welcome accompanying this most unsung of Hammer productions.

"Robin Hood Junior" 1975 short film (with optional 2022 audio commentary with Vic Pratt) (60:45)

Another welcome and enjoyable Children's Film Foundation (CFF) short this time starring the late Keith Chegwin (1957-2017) that tells the Robin Hood story from a different perspective. It's also accompanied by another detailed and passionate commentary by Vic Prat who is a big fan of the CFF and has been involved in many DVD and BD extras packages. Presented in 1080p24 1.37:1 and with uncompressed LPCM 1.0 sound. Image is generally excellent although there is some brief print wear with minor speckles throughout and some water damage late in the game.

An 80-page liner notes book by Frank Collins, an article on Richard Greene, archival materials, contemporary reviews, and film credits

The usual superb hardcopy companion in which A .challenge for Robin Hood is obviously covered extensively throughout along with Hammer's other Robin Hood projects although the two main films and Robin Hood Jr. get the lions share of the coverage. There's also a fine article on the real Robin Hood legends.

A limited edition exclusive poster

Alas, this wasn't provided for review but having had some of Powerhouse's posters in the past it's on good quality paper, great colour reproduction.

Packaging


Unknown at the time of writing.

Overall


Although all three of the Hammer Robin Hoods are about the same in quality which is to say splendid and thoroughly enjoyable slices of swashbuckling escapism, I think .i have soft spot for A Challenge for Robin Hood over the others. It takes up disc two of this welcome duet with the second film in the loose sequence (see my review of disc one under Sword of Sherwood Forest). Image and sound are once again as good as can be shy of a 4K upgrade and the extras are just as good as on disc one. The only thing that could've made this superb, essential set better would've been a third disc with the missing Men of Sherwood Forest (1954) but the rights to that first film were unavailable.

One of the discs of the year for me, highly recommended and make sure you dig out that Robin Hood hat when you sit down with a ploughman's lunch and a cask of ale to enjoy viewing this sets contents!
| | | | | |
| --- | --- | --- | --- | --- |
| The Film: A- | Video: A- | Audio: B+ | Extras: A+ | Overall: A |