Putney Swope (Blu-ray) [Blu-ray]
Blu-ray B - United Kingdom - Powerhouse Films
Review written by and copyright: Rick Curzon (30th August 2022).
The Film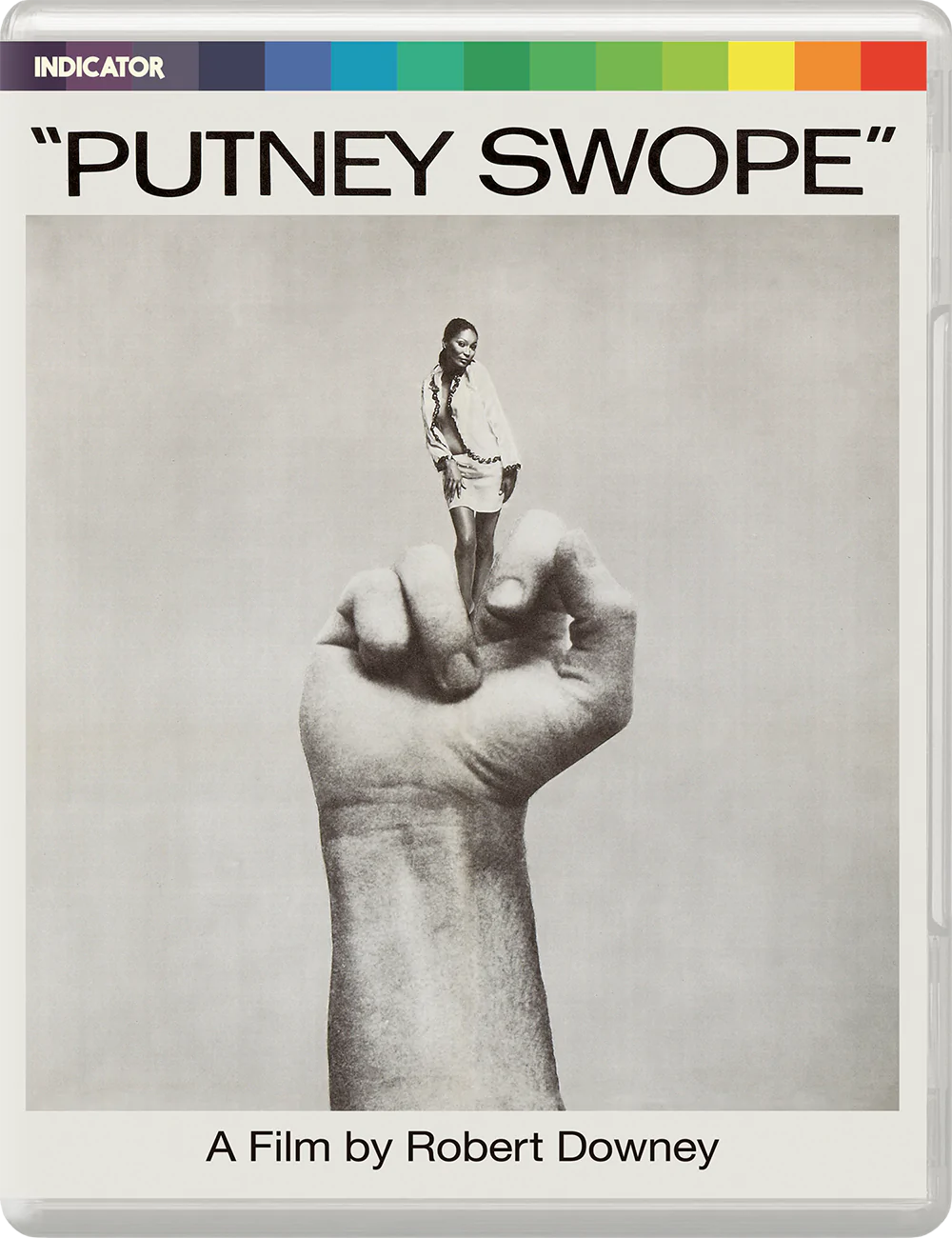 Putney Swope (Arnold Johnson, Shaft) is the only Black executive at a stuffy Madison Avenue advertising agency. When the chairman dies unexpectedly, Putney is unexpectedly elected the new boss – because those voting never thought anyone else would to do the same. Putney proceeds to kick out the white majority, replacing them with young, revolutionary types, and renames the agency Truth and Soul.

A bracing satire, taking well-aimed pot-shots at capitalism, power and racism in America, Robert Downey's Putney Swope is a key entry in counterculture cinema, and a landmark of independent filmmaking, and – after more than a half a century – is still very, very funny.

Video


Most of this strident, dated satire is monochrome and there are some brief colour sections that illustrate adverts created by the advertising agency within the film. It is presented in full aperture Academy ratio (1.37:1) although some previous home video versions were matted to 1.78:1. When screened in cinemas this was certainly screened 1.85:1. It plays well in both ratios and I'm assuming that Director Robert Downey probably preferred it open matte hence why the 2019 Vinegar Syndrome release was also in 1.37:1.

The black and white sections of the film are very strong with plentiful grain, stark but supportive contrast and plenty of shadow detail. No crush and no blowouts mean a well balanced, punchy image. Gamma is also perfectly balance as I could detect no biases. The colour sections favour a naturalistic, warm brown bias with well defined flesh tines and rich primaries. The contrast between monochrome and colour gives the film a striking look that works well in this excellent transfer (check out the cut from B&W to the Miss Redneck advert).

There are no signs of digital tinkering or print damage and the encode is as per usual as good as can be lending the film a filmic feel ('A').

1080p24 / BD50 / AVC MPEG-4 / 1.37:1 / 85:07

Audio


English LPCM 1.0 (48kHz/24-bit)
Subtitles: English HoH

A strong lossless rendering of a fairly limited mono track. There's the odd moment of mild hiss, especially if you crank the volume up but otherwise this gets it's job done well and very clearly. Music can kick out nicely and dialogue is always clear. A very verbal film so the hard if hearing subtitles are essential for some and comprehensive ('B').

Extras


Audio Commentary by director Robert Downey (2001)
Audio Commentary by film critic and historian Sergio Mims (2019)

Two commentaries for this classic. The first dates from 2001 and has the late director (1936-2021) essentially discussing the nuts and bolts of making the film (shots, cast, crew, how he came to make the film etc) whereas the second concentrates more on it's historical perception, reviews, significance to black cinema and it's influence on other films like Boogie Nights etc. It was produced for the US BD. Mims does speculate if the Monty Python team ever saw this film and if the film ever payed in the UK. Well, it was certified 'X' by the BBFC (British Board of Film Classification) on 18.8.1970 (running the correct 85 minutes). The Python team may have been influenced by it but it's unlikely. The film debuted in July '69 in the USA and Monty Python in October '69 on the BBC. I suspect that both reflect the general satirical approach that had been developing since the '50s. In any case a couple of excellent tracks that complement each other well. Both are presented in lossy Dolby Digital 2.0 mono.

2001 Interview with director Robert Downey (16:08)
"Film Forum Q&A with Robert Downey, New York on 20 May 2016" 2016 interview conducted by Bruce Goldstein (33:51)
2019 audio Interview with cinematographer Gerald Cotts conducted by Brad Henderson(19:41)

61:03 worth of interviews covering the film. The first is the only video interview and it was done for the 2001 US DVD release and has Downey discussing the film in fair detail. There is some crossover with the commentary but that's to be expected. We see questions on screen in white text on black backgrounds with no interviewer heard. It's presented in upscaled standard definition in 1080p24 1.33:1 with lossy Dolby Digital 2.0 mono. The other two are audio interviews with the first being a chunky Q&A with Bruce Goldstein from a 2016 screening with Downey in attendance (and on very fine witty form) and the second the cinematographer discusses the film from his point of view. This is conducted by Henderson for the 2019 US BD. Also in lossy Dolby Digital but this time in 1.0. Both audio interviews are set against black screen.

Theatrical Trailer (2:32)
Radio Spots (0:57):
- Radio Spot #1
- Radio Spot #2

Trailers from Hell with Dan Ireland: Putney Swope (2013) (3:00)

The late producer Ireland (1958-2016) gives us his thoughts on the film. Presented in 1080p24 1.78:1 and with LPCM 2.0 mono sound.

Putney Swope Image Gallery: Original Promotional Material (25 images)

Solid HD gallery.

36-page booklet featuring a new essay by Christina Newland, an archival article on the film originally published in the Los Angeles Free Press, an extensive archival interview about Putney Swope with Robert Downey and filmmaker Jonas Mekas, an overview of contemporary critical responses, and full film credits

The usual, comprehensive hardcopy companion that in this case probed more interesting to me the the film did. Worth the price of the disc by itself (along with the extras obviously).

Packaging


The usual clear BD Keepcase.

Overall


A classic American satirical film with a whiff of underground cinema. It's very much a relic of it's time and more than a little self impressed. However, it's an undeniably essential slice of American cinema and should be seen by all film buffs. Essential. Image and sound are superb and the extras better the film and make this release essential in an of itself even if you don't enjoy the film. Highly recommended..
| | | | | |
| --- | --- | --- | --- | --- |
| The Film: C+ | Video: A | Audio: B | Extras: A+ | Overall: A |

---
Rewind DVDCompare is a participant in the Amazon Services LLC Associates Program and the Amazon Europe S.a.r.l. Associates Programme, an affiliate advertising program designed to provide a means for sites to earn advertising fees by advertising and linking to amazon.co.uk, amazon.com, amazon.ca, amazon.fr, amazon.de, amazon.it and amazon.es . As an Amazon Associate, we earn from qualifying purchases.