The Film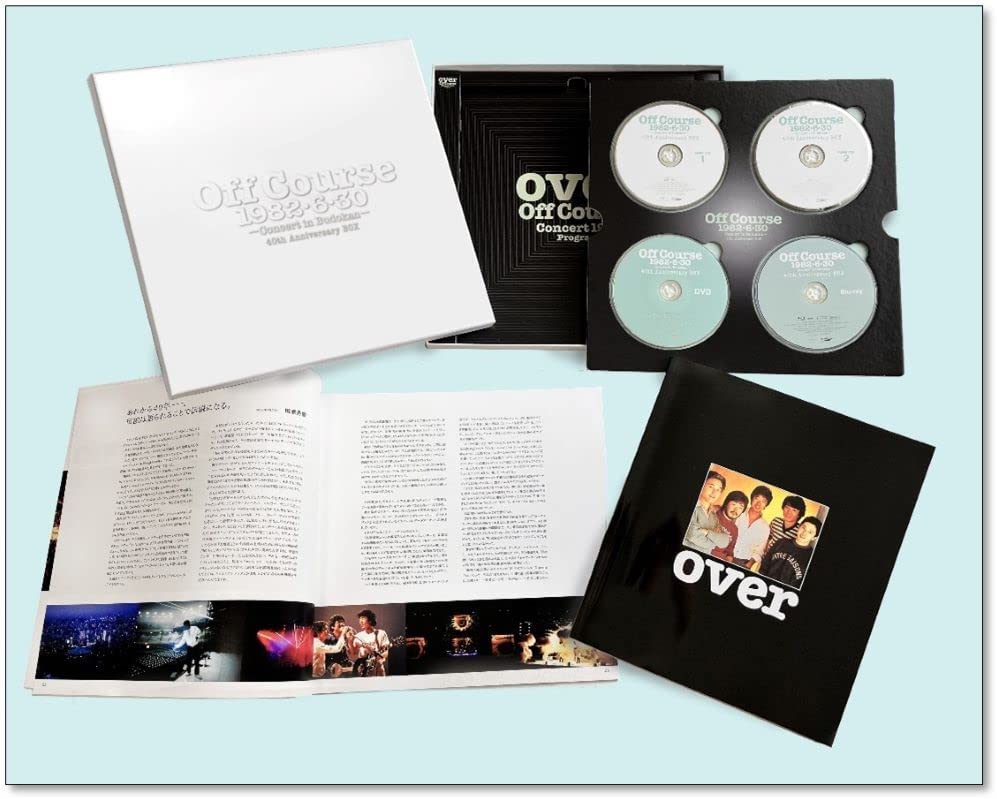 Off Course: 1982.6.30 Concert in Budokan 40th Anniversary Box | オフコース 1982.6.30 武道館コンサート 40th Anniversary Box

1982 was an extremely busy year for the Japanese band Off Course. Their eight studio album and first number one charting album "We Are" won the Best Album award at the 23rd Japanese Record Awards on December 31st, 1981. The same month, their ninth studio album "Over" was released and became their second studio album to hit the top of the charts. From January 22nd, they kicked off their "Over" tour, which would be five months long and culminate with an incredible ten scheduled consecutive performances at the Nippon Budokan in Tokyo, the martial arts indoor arena built for the 1964 Olympics and later becoming one of the most prestigious locations for music concerts in the world. The performances took place on June 15th to the 18th, the 22nd to the 24th, and the 28th to the 30th. Their final day's performance was captured on video, with a total of fourteen cameras for a concert film, which would be theatrically released the following year, with home video releases later on.

While the concert may have captured Off Course at their very peak, that was not at all the end for their year, as just a day after the concert, they would release their tenth studio album "I Love You", which also hit the top of the charts, their self produced television documentary special "Next" airing the same month, and the soundtrack to the documentary being released in September, which would also hit number one. But there was much more going on, with internal troubles between the band and their direction, and the extensive touring and recording taking a toll on the band's future, leading to an eventual two year break in music, as well as one of the founding band members leaving the group.

Off Course was formed by high school classmates Kazumasa Oda and Yasuhiro Suzuki as a folk rock duo, the pair made their recording debut in 1970 with the single "Gunshu no naka de" on Toshiba Records, with their name being "The Off Course", which was shortened without the "The" with their third single "Osaraba", released in 1972. The Japanese folk rock boom followed the success of American artists like Bob Dylan and Simon and Garfunkel, becoming major influential figures for a number of artists across the Pacific. But success was not immediate for Off Course, as their first few singles did not chart, and their first two albums "Off Course 1" (1973) and "Off Course 2" (1974) failed to make an impact. It wasn't until their seventh single "Nemurenu yoru" (Night That Doesn't Sleep), a mid-tempo rock influenced song that the band would see commercial success, hitting #48 on the singles chart. This also helped chart their third album "Wine no nioi" (Scent of Wine) to hit the album chart as well. This also led to a change in direction for the duo, looking at a direction of rock music and expanding their sound more, in which they would receive help by bassist Hitoshi Shimizu, guitarist Kazuhiko Matsuo and drummer Hitose "Jiro" Oma with their subsequent albums, and Oda focusing on keyboards and vocals while Suzuki would be lead guitarist and also on vocals. They would officially become a five-piece band in 1979 with the release of their album "Three and Two", hitting number 2 on the charts, and would also see their biggest hit yet on the singles chart with the non-album song "Sayonara" also hitting #2 and becoming one of their best known songs. Their sound at the time was influenced by folk, classic rock, soul, and pop music that struck a chord with young listeners, with soft yet powerful sound, beautiful and harmonious vocals from the two leads, and songs of love and heartbreak with power that stood them above the crowd. They were a seminal band part of the mid-70s genre that was called "new music", which was a continuation of the folk rock movement with an expansion of differing genres. While they had the folk sensibilities of Kaguyahime, they also had the rock experimentation of Godiego with elements of funk and early electronic hints as well, from song to song from album to album, each expading with age and time.

By 1982, the band had become one of the biggest and most successful bands in Japanese pop, with their eighth and ninth studio albums topping the charts as well as their "best of" album released in between also hitting #1. With sales of 4.5 million albums and at the top of the industry, they had the ability to pull off the amazing feat of performing ten straight performances at the Nippon Budokan arena, with each night to a sold out packed audience. The venue is world renowned for being the ultimate concert location in Japan, but in reality is it not the biggest in the country, with a capacity of a little over 10,000, and the construction not being built with plans to accomodate music performances. What made it legendary was that The Beatles became the first ever music group to perform there in 1966, which made it a benchmark for any artist in Japan and around the world to say "We've made it" if they were to perform at the venue. For Off Course, it was not the first time that they performed at Nippon Budokan in 1982, as they had previously stood on the stage there as far back as 1972 for the first Tokyo Music Festival, in which they performed only a few songs. Once they hit success, they performed there once in 1980, then on their next tour in 1981 for four nights. It was unheard of for any musical act to perform ten consecutive days at the same venue, but the demand was especially high at the height of their career in 1982. But it wasn't a simple setup, as the band were disappointed by the sound quality of their previous performances at the venue. When the band heard Fleetwood Mac and Boston perform at the Budokan, they knew it was possible to achieve a richer and fuller sound, and that led to them experimenting with a 4-way speaker setup with massive speakers that were not part of the Budokan's own PA system. (The diagrams of the setup and what was used are included in the booklet of this boxset.)

For the set list, it would be comprised mostly of recent hits as well as a few older tracks. The concert film's tracklist is as follows:


Introduction
1. NEXTのテーマ -僕等がいた- ("Theme of NEXT - Bokura ga ita") (album: "NEXT Soundtrack")
2. 心はなれて (インストゥルメンタル) ("Kokoro hanarete" (instrumental)) (album: "Over")
Main Concert
3. 愛の中へ ("Ai no naka e") (album: "Over")
4. メインストリートをつっ走れ ("Main Street o tsuppashire") (album: "Over")
5. 君を待つ渚 ("Kimi o matsu nagisa") (non-album song)
6. 思いのままに ("Omoi no mama ni") (album: "Three and Two")
7. 哀しいくらい ("Kanashii kurai") (album: "Over")
8. 夜はふたりで ("Yoru wa futari de") (B-side of the single "I Love You")
9. さよなら ("Sayonara") (album: "Selection 1978-1981")
10. 僕のいいたいこと ("Boku no iitai koto") (album: "Over")
11. 心はなれて ("Kokoro hanarete") (album: "Over")
12. 言葉にできない ("Kotoba ni dekinai") (album: "Over")
13. 一億の夜を越えて ("Ichi-oku no yoru o koete") (album: "We Are")
14. のがすなチャンスを ("Nogasuna chansu o") (album: "Off Course 2")
15. Yes-No ("Yes-No") (album: "We Are")
16. 愛を止めないで ("Ai o tomenaide") (album: "Two and Three")
17. I LOVE YOU ("I Love You") (album: "Selection 1978-1981")
Encore
18. Yes-No ("Yes-No") (album: "We Are")
19. YES-YES-YES ("Yes-Yes-Yes") (album: "I Love You")
20. NEXTのテーマ(インストゥルメンタル) ("Theme of NEXT" (instrumental)) (album: "NEXT Soundtrack")


The introduction portions are prerecorded tracks, with "Theme of NEXT" playing against helicopter footage over Tokyo leading to Nippon Budokan. The instrumental "Kokoro hanarete" plays as the band gets onto stage where they are met with thousands of screaming fans. When comparing the songs to their album versions, the experience is not just a reproduction, but an extension of making them bigger and grander in sound. The folksy up-tempo "Nogasuna chansu o" from their second album becomes an anthemic heavy guitar themed song that is fitting for a large venue. In addition, it is bridged with their more recent song "Ichi-oku no yoru o koete" with an insanely long and powerful drum solo by Oma that is unlike anything on any of their studio recordings. "Main Street o tsuppashire" had a funky vibe with the soul influenced sound that gets enhanced with their stage version being a thumping dance rock track. Other tracks like the opening "Ai no naka e", "Ai wo tomenaide" are also big with their heavier guitar sounds creating a wall of sound alongside the harmonious vocals of Oda and Suzuki playing off each other beautifully.

But not all is loud and rocking, as the band was also known for their quiet ballads and soft love songs. "Kanashii kurai" is a gem of a song that is a hidden City Pop masterpiece that gets a great makeover in the live version with the synthesizers taking center stage. In addition, the iconic "Sayonara" as well as "Kokoro hanarete" get beautiful quiet renditions that showcase Oda's soulfully smooth vocals. One of the highlights of emotions comes from one of their best known songs "Kotoba ni dekinai", literally meaning "Can't put into words". Possibly in a fitting happening, Oda gets incredibly emotional in this rendition, as he starts to cry at the start of the song and his voice cracking. While the crowd cheers him on to continue, he brings it all back home with his voice returning for an insanely powerful ending of the beautiful song. It's never been said what made him choke up, but it's been speculated as part of the band's inner turmoil and possible chance of of breaking up, as their last two albums were titled "We Are" and "Over", looking to signal their demise. There was some truth to the fact as after the Budokan concert, they would stop performing live for a full two years. In addition, co-founder Suzuki would leave the band in the summer of 1983 as a solo musician due to creative differences.

Their hit song "Yes-No" which was a classic power pop song to begin with gets a slightly uptempo reworking with the keys and guitars. Also in a slightly unusual end, the band actually performs the song twice, with them returning to stage for an encore performance of the song. There is not much of a difference between the versions, though the final performance is a bittersweet one, with the ending of the song having Jiro hitting the drums in a solo run while the other four members sing the chorus lyrics into a single microphone, which would be the last time for the band as a five-piece group.

Finally their song "Yes-Yes-Yes" from their then upcoming album is played over the PA in instrumental form while the audience stay and sing along as the group leave the stage. And at last a short clip of the Budokan aerial view and credits roll as the "Theme of NEXT" is played.

Only the final night of their Budokan shows was captured by cameras, with the use of 14 professional video cameras for a single feed and edited in realtime as would a live broadcast. Not only were the setup of speakers be exactly defined, but also the placement of each musician, the light show, fog machines, and background visual projections for the full concert experience. The direction and editing changes with each song, with some having longer takes of band members while others like the lengthy drum solos having extremely quick cuts to every camera pointed around him. Some are shots of the band directly on stage while others are long shots from afar, yet surprisingly it is rare if never seen for a camera to pick up another camera in shot. There are a lot of dark corners of the stage where the crew members are hiding so that may be the case of justbeing well hidden from view. There are a few edits in between songs, with band members having to change clothes as they sweat away in the intense environment, so the concert itself is slightly shortened in the concert film in comparison to the actual show.

Being one of the biggest and most legendary live concert films in Japanese music history, this was the peak of Off Course but it was not at all the end. Suzuki's direction of going in a rock based direction and Oda's synthpop based direction did essentially divide the band, with Suzuki's departure. But the band continued as a four-piece. Their "I Love You" and "NEXT Soundtrack" albums, both released in 1982 went straight to number 1 on the charts, and their next two albums, "The Best Year of My Life" (1984) and "Back Streets of Tokyo" (1985) (their first all English album) which were recorded as a four-piece also went to number 1. This was followed by "As Close As Possible" (1987) and "Still a Long Way to Go" (1988) which both hit number 3 on the charts. Even with successful albums as well as singles in their final phase, it would sadly come to an end on February 26th, 1989 after the final performance of their tour at Tokyo Dome, which was essentially the final show of the band's career. After Suzuki departed the band in 1983, he continued on as a solo artist with fair success though never as big as with his former band. In addition, he produced and wrote for a number of other bands and artists, and also hosts a popular radio show. Though it seemed that he and Oda were not on speaking terms for many years, it came as a major surprise when Oda was a guest on Suzuki's radio program in 2017, becoming the first time the two collaborated for 35 years. Shimizu, Oma, and Matsuo dabbled in solo careers as well as being studio musicians for a number of years until they reuinited as a new band called Acoustic Beatles Club and releasing two albums together. All are still somewhat active in music to this day, though not as consistently as in the past. The biggest success went to Oda whose solo career at many points eclipsed that of his days in Off Course. His first two solo albums were major hits, but it was his 1991 song "ラブ・ストーリーは突然に" ("Love Story wa totsuzen ni") which was the theme song to the massive hit TV drama "Tokyo Love Story" that made him an even bigger superstar. Selling more than 2 million copies, it is currently the ninth best selling single in Japan and continuously covered by other musicians over the years as a masterpiece of pop songwriting. While others have tried, there really is no substitute for his vocal power in his original version. In the 1990s and 2000s, with all then of his studio albums hitting the top five on the charts, with countless top 10 singles. His most recent release, "Early Summer 2022" still shows that the 74-year-old still has the vocal range to show off and his sold out concerts with him running all around the stage through sweat and tears show that little has changed in his energy since the legendary Budokan 10-day event. While their influence has certainly shaped the Japanese music scene while they were active as well as for later artists, they are not much mentioned when discussing the recently popular City Pop genre, even though a number of their songs are part of the sound. As they crossed over various genres, it is fair not to pinpoint them into one specific period genre. It's been that long since the show and for all five members to reunite one day to perform is a dream that many Japanese music fans would dream to see. Hopefully one day it will happen. But if it doesn't (which is the most likely scenario), the world will still have the memories and recordings of their past.

Note this is a region ALL Blu-ray / region 0 NTSC DVD set

Video


Universal Music presents the concert in the 1.33:1 aspect ratio in 1080i60 AVC MPEG-4 on the Blu-ray and in the 1.33:1 aspect ratio with anamorphic enhancement in the NTSC format on the DVD. As the concert was shot on standard definition NTSC video, the Blu-ray presents it upscaled to HD while still keeping the original 30fps rate. Considering the limitation of the analog video source, the concert film was never going to look significantly better than what had previously been available on VHS, Laserdisc, or on DVD. But this is not a simple port of a previous transfer slapped with an HD logo, but one that has been newly transferred from the original video master which does showcase some improvements. Compared to the previous master used for the previous DVD and Blu-ray releases, digital artifacts such as zigzags that were inherent to the older standard definition digital transfer have been improved for a smoother look without any sort of digital ringing. In addition, colors that bled or had blocky issues before have also been fixed, and colors that looked flat before look a bit richer now. These improvements may be hard to spot as it still is basically from standard definition, they are noticeable side by side. The improvements can also be found on the remastered DVD as well. Though a major difference is that the new remastered DVD is anamorphically enhanced, meaning it is encoded with black bars on the side of the frame for widescreen TV playback. If this new DVD were to be played on an old school CRT or other 4:3 monitor, it will unfortunately be windowboxed with black bars on all four sides. The older DVD was non-anamophic, without the presence of thick black bars on the sides. Examples can be seen below in the screenshots.

The following screenshots have the 2022 remastered edition first, followed by the 2001 DVD transfer:




The runtimes are 97:36 for the Blu-ray and 97:30 on the DVD. Note that the runtimes are about 30 seconds longer than the previous DVD and Blu-ray releases, due to the opening "Off Course Film Presents..." portion being a separate title before the concert film on the older discs, while it is combined on the new remastered edition.

Audio


Music/Japanese LPCM 2.0 stereo
The original stereo audio has been remastered from the original masters for this release. For the Blu-ray it is presented in 48kHz/24bit while on the DVD it is in 48kHz/16bit. This new mix was supervised by engineer Shigeki Fujino who has engineered everything from Studio Ghibli soundtracks to remastered works of Miles Davis. While he was not the original engineer for the concert, nor were members of the band consulted in the mix, it stays true to the source with the standard stereo mix that the band originally made, rather than remixing it for surround. While it would have been interesting to hear what a surround mix would have been like to recreate the enclosed environment, the stereo track does sound very natural, with the even mix between each instrument and vocal cues, as well as the screams from the audience members not being overwhelming. In comparison to the old DVD and Blu-ray releases which also had an LPCM 2.0 track, there is certainly improvement in depth as well as stereo separation. Songs sometimes felt flat and underwhelming in the older mix, sometimes sounding closer to mono in certain tracks. The remastered soundtrack is absolutely great and should be played loud. If Pro-Logic surround is enabled, it will certainly give and extra kick to the experience.

There are no subtitles offered for the concert.

Extras


There are no extras on the Blu-ray or DVD, with each only offering the concert. Both discs immediately default to playing the concert without going to the menu screen first. The Blu-ray has a nice touch with the pop-up menu having the song chapter listing appear on screen for those interested to see the track title of the song currently playing being highlighted. For "extras", there are also the soundtrack on two CDs plus booklets.

DISC THREE (CD)
1. "Theme of NEXT - Bokura ga ita" (2:04)
2. "Kokoro hanarete" (instrumental) (2:05)
3. "Ai no naka e" (5:44)
4. "Main Street o tsuppashire" (4:37)
5. "Kimi o matsu nagisa" (5:36)
6. "Omoi no mama ni" (4:09)
7. "Kanashii kurai" (4:57)
8. "Yoru wa futari de" (4:20)
9. "Sayonara" (5:10)
10. "Boku no iitai koto" (5:50)
11. "Kokoro hanarete" (3:59)

DISC FOUR (CD)
1. "Kotoba ni dekinai" (6:59)
2. "Ichi-oku no yoru o koete" (4:07)
3. "Nogasu chansu o" (7:44)
4. "Yes-No" (6:00)
5. "Ai o tomenaide" (5:56)
6. "I Love You" (7:48)
7. "Yes-No" (5:07)
8. "Yes-Yes-Yes" (1:26)
9. "Theme of NEXT" (3:08)

For forty years, there had not been an official CD release of the concert. Not on vinyl or cassette either. This marks the first time that the concert is available on a non-video format. Both discs are in the SHM-CD (Super High Material CD) format, which uses polycarbonate material for better sound quality than a standard CD. They are fully compatible with any standard CD player (or DVD, Blu-ray players for that matter as well). Like the Blu-ray and DVD in the set, all tracks are newly remastered. For fans that couldn't wait for the Blu-ray release, the CDs were actually available two months earlier in a separate form.

Booklet
An LP sized 36 page booklet is included. First is a lengthy essay by music critic Hideki Take written especially for the release, as he looks back at the band's rise to fame, their impact, the Budokan shows and more. Next is "Log" which is a reprint of the band's diaries from January 1982 until their Budokan performances in June 1982. These were originally published for their fanclub magazine in August 1982. There are also detailed handwritten sketches of the stage layout, the speaker setup, the lighting setup plus notes on each as well as the background video visuals that were projected. This is followed by comments from the band members just after the tour wrapped, plus song lyrics for each performed song, credits, and a lot of stills. The text is in Japanese, except for the credits which are in English.

Concert Program
The 64 page concert program book is reprinted here, with the softback book having rare stills, biographies of the band members, interviews with the band, and more. With a glossy cover and thick pages, it is the heaviest part of this boxset.


As the band members have gone their separate ways (though on occasion collaborating on projects together years later), it's unfortunate that no new extras were made with the five of them, as they are as of this writing still working in music, with some busier than others. No interviews, no retrospective documentary, no vintage news clips. It seems there is no footage available of the other nine nights of performances to exist, so there are no alternate performances either.

Other notable clips:


A promo reel for "Ever", Off Course's best-of album from 2015, featuring clips from the 1982 Budokan performance. Note that the clips are not the remastered version.


A clip of "Ai o tomenaide" from the Budokan concert. Note that the clip is not the remastered version.


A local news interview with the band during their 1982 tour, in Miyazaki prefecture.


Behind the scenes during their studio recording of "Kanashii kurai", taken from a television documentary which aired in January 1982.

Packaging


The package is an LP sized 12"x12" box, with the discs being held on a sturdy cardboard piece with hubs for each disc. The front cover has the band's logo and title embossed ever so lightly.


Overall


"Off Course: 1982.6.30 Concert in Budokan" may not be the best way to show off the technology of Blu-ray as it is an upscaled standard definition video shot concert film, but it is the best way to enjoy the legendary concert by the legendary Japanese rock band at their height. The remastered video and audio are improvements over the previous editions, though it may be marginal for most eyes and ears. Great packaging for the limited edition set, though the high retail price of ¥16,500 for the 4-disc set will turn off newcomers, it is an essential box for fans.
| | | | | |
| --- | --- | --- | --- | --- |
| The Film: A | Video: B | Audio: A- | Extras: C | Overall: B |