The Film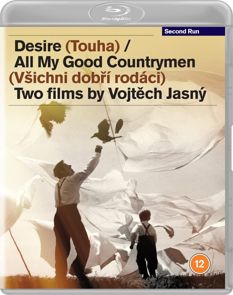 In Desire, the four seasons represent the four stages of human life. In the spring, "The Boy Who Wanted to Find the Edge of the World" is young Joska (Jan Jakes) who has come to neither share his friends' belief that the edge of the world is just beyond the border of the woods nor does he believe the raven-keeping old timer who tells him that the world stretches on forever. His father (Václav Babka) repeatedly leaves the village for parts unknown to visit his mother, and Joska does not understand why she had to go away when the stork is supposed to bring his baby sister to them. On the day that his mother and little sister are set to return, Joska gets an inkling and what might be a rude awakening when he follows the raven and makes a discovery in the barn.

In "The People of the Earth and Stars in the Sky", first love finds land surveyor Jan (Jirí Vala) and student Lenka (Jana Brejchová) when he is called to a village to settle a bitter and violent land dispute between her father (Distant Journey's Frantisek Vnoucek) and his brother-in-law (Otto Simánek). A city boy, Jan has settled into village life to enjoy his love of the stars and the simple pleasures of afternoon dips in the stream. The more Jan and Lenka bask in these idylls – with some impressive for the time shots that follow and lead the couple on bicycles and even gets on their level in a rushing stream, contributions of Czech New Wave regular Jaroslav Kucera (Daisies) – the more she begins to feel hemmed in and has to make a choice between staying with Jan or going to stay with an aunt in the city to attend college.

It is a bitter fall for "Andela" (Vera Tichánková) who took over the family farm after her father (Frantisek Musálek) took ill, only to have the best of her family's lands confiscated by the farming collective – for personal rather than professional reasons, she insists as she rails at the commissioner Pavelka (All My Good Countrymen's Zdenek Kutil) who was a nobody in her family's eyes before the collective – and further burdened by having to donate a quota of her harvest even though she does not belong to the collective and refuses their help. The only person she trusts is itinerant worker Michal (Witchhammer's Václav Lohniský), but her rejection of his romantic overtures may reveal to herself that her bitter refusal to mix with others has left her alone with herself when she needs others the most.

In the winter, "Mother" or "Maminka" (Anna Melísková) is feeling her age. Long loved as the village schoolteacher with the loyal love of her dog to make up for the absence of her sons – Frantisek (Ferat Vampire's Ilja Racek) living in the city with his family, and Vaclav (Jirí Pick) who only seems to "need" her intermittently. Her passing will be a bitter pill, particularly for one of the three.

Although the first two episodes feature visuals that look forward to the French nouvelle vague, the second narrative feature-length solo directorial effort of documentary filmmaker Vojtech Jasný – whose actual first feature-length film was his graduate project It's Not Always Cloudy co-directed by Coach to Vienna's Karel Kachyna – Desire seems to have little in common with the Czech New Wave to come. It is an anthology of open endings, mirroring the ambiguities of life. Joska does not find the end of the world; in fact, he does not even go in search of it. His dreams are tempered by reality while his father, after a misunderstanding that brings on tears, remembers what it was like to be his boy's age and decides to be the one who helps his son to understand the world as it really is without killing his imagination. For Jan and Lenka, it appears to be a case of "if you love something, set it free." We get no closure for this tale either, but it appears that one of them is willing than the other not to stand between the other and the nagging what-ifs while the other cannot let the fear of losing their loved one to distance hold them back from exploring their own possibilities for growth.

Although Andela is the viewpoint character, Jasný does not take a side in exploring the effects of collective farming on the individual. Perhaps inspired by Zoltán Fábri's Merry-Go-Round, Jasný tempers the audience's reaction to Andela's off-putting pride and bitterness with hints not so much of corruption on the part of the commissioner but of throwing his weight around, especially when Andela insults him but also suggesting in the reproaches of one of Andela's friends to him that he really does not see things from her point-of-view. When Andela falls ill, it takes machinations on the part of rebuffed Michal to secure her help her; and it may be in the end that her bitterness is tempered and her continued stubbornness is for show. "Mother" seems to have closure in that the main character dies, but her absence actually leaves a lack of closure in her loved ones; perhaps cruelly so for her pet who is last seen wandering the village searching in vain for his mistress. Jasný followed the film up with the fanciful Cannes Jury Prize winner The Cassandra Cat and then this disc set's co-feature All My Good Countrymen.

All My Good Countrymen: In 1945, the Bohemian city of Kladno are celebrating their liberation from the Nazis and hoping for a return to normal and a bright future under the Soviets. There's church organist Ocenás (Jakob the Liar's Vlastimil Brodský) who has already woven in socialist platitudes into the new hymns, reserved farmer Frantisek (The Ear's Radoslav Brzobohatý) who is still clearing landmines out of his fields, neighboring farmer Fafka, clock-obsessed lovable town thief Jorka (Tomorrow I'll Wake Up and Scald Myself with Tea's Vladimír Mensík) – also known as "Lithpy" for his lisp – lamp-fixated tailor Franta (Rose Tinted Dreams' Václav Babka), bricklayer Joza (Stalingrad's Karel Augusta), and handsome young postman Bertin (Pavel Pavlovský) who is in love with the butcher's wife known as the Merry Widow (Drahomíra Hofmanová) whose two small children run wild terrorizing the locals. The comic, slightly dysfunctional pastoral idyll is short-lived, however. The ravages of the war on the countryside leads to a few seasons of less-than-bountiful harvests, and the local Communist party is pressing collectivist farming on the village.

Ocenás, photo studio owner Plécmera (The Cremator's Ilja Prachar), and Joza place themselves in positions of power on the collectivist farming council, seizing the lucrative properties of "exploiters" and allocating their homes and furniture to "good workers." While Frantisek and many of the older farmers who have not joined the collective focus on their crops, others more immediately effected by the council's actions threaten violence. When Bertin is killed in an assassination attempt against Ocenás, the older man flees the town with his wife. A now unfettered Plécmera takes over his friend's position and starts using intimidation and threats of "disappearance" to try to force the rest of the farmers into the collective. When Frantisek speaks up in opposition, it does not go unnoticed by the council how others follow his lead, and they turn their tactics onto him to the ultimate detriment of all.

Although All My Good Countrymen is a feature film with characters who recur throughout the length of the film, director Vojtech Jasný structures it as a series of vignettes spread throughout the time period of 1945 to 1968; as such, it is as difficult to decide whether to ascribe the role of principal villain to either Ocenás or Plécmera as it is to call Frantisek the protagonist. While the members of the council frame the alternative to membership in the collective as the choice of "those who will be excluded from public life," Frantisek is like a more mild-mannered version of Desire's Andela, voluntarily excluding himself from public life if only because he not only has living parents but also a wife (Larks on a String's Vera Galatíková) and four small children. While we are shown the venal motivations of the council – not "good farmers" but men who evade the label of "exploiter" by virtue of being the only person in their occupation in the town – against those who resist them (and those who possess things they covet like former friend Franta who is suddenly labeled an "exploiter" for having two apprentices as well as his wife working under him and whose home they split into flats while "allowing" him to stay as caretaker), it is difficult to determine if Frantisek really does intend to speak on behalf of others as a moral authority or if he is only speaking for himself and others are following his example (the elder men seem to look to him for an example while the elder women seem to observe everything like a Greek chorus).

Frantisek is one of many directly victimized by the council while the bad characters get their just deserts either from backstabbing – in which changes in policy or personnel allow them to make crimes out of malfeasance by their partners of which they were aware and previously looked the other way (when Joza responds to charges of his "borrowing" enough money from the council to build himself an entire new house with the entire house and furniture he "allocated" to Plécmera, the latter is able to order the secretary not to write that response down as libel) – or by more ambiguous means that could either be divine or a projection of their own guilt, with the fate of one of the more odious council members mirrored in the mental deterioration and ultimate death of shirking farmer Zásinek (A Night at Karlstein's Waldemar Matuska) who otherwise managed to evade having his farm and goods seized by the council by possibly being too rich but who cannot escape his conflicted feelings about his wife (Marie Málková) who had been taken away by the Nazis for looking Jewish. One might argue that the episodic nature is an effect of the characters who create a discontinuity beyond the first episode, only intersecting when they have a use for one another. The episodic nature also suggests that the political mechanisms that have allowed them to exploit others.

Jasný, Czech New Wave muse Ester Krumbachová (Daisies) as costume designer, and her then-husband cinematographer Kucera weave a striking visual texture of shabbily-dressed people positioned either against breathtaking landscapes or arranged in idle tableaux (looking almost the same whether around a conference table or a tavern one), with some of the natural beauty of the landscape so stunning to behold that it may be difficult for contemporary audiences to believe they really exist in nature and are not complex glass matte paintings. The largely static compositions are occasionally broken up by the experimental, from simple handheld camera to document the dizzying dancing revelry of the characters in more escapist moments to the stimulating combination of slight under-cranking and shaky handheld camera to document the moments in which two characters meet abrupt deaths. While 'Andela" struck a balance between the protagonist's views on the collective – not unfounded given the petulant nature of the representative who had been a "nobody" before – and the seeming good intentions of the collective in terms of the actual workers (who Frantisek charges that the council "treat people like cattle"), Jasný presents here the loss of what could have been and the bed they have ultimately made. It should be no surprise, then, that the film was banned after the Prague Spring and Jasný went into a twenty-year self-imposed exile working prolifically in German television until after the Velvet Revolution when he would mount the sequel Return to Paradise Lost with some of the surviving cast resuming their roles.

Video


Little seen outside of its home country apart from the Cannes Film Festival showing, Desire comes to 1080p24 MPEG-4 AVC 1.37:1 pillarboxed fullscreen Blu-ray from a new high definition master from the Czech National Film Archive. Little restoration has been done but the presentation is pretty strong for the most part, with some rare instances of minimally cleaned-up damage. All My Good Countrymen had life beyond its Cannes showing and banning with a poor quality stateside DVD from Facets in 2006 while the 4K restoration carried out by the Czech National Film Archive that Second Run released to DVD in 2015 (while some other Czech DVD and Blu-ray releases have been English-friendly, Bontonfilm's 2015 region free disc was not). Second Run's 1080p24 MPEG-4 AVC 1.37:1 pillarboxed fullscreen Blu-ray is frequently stunning to behold with crisp detail and naturalistic colors. The landscapes are so lovingly rendered that some shots seem as though they must be augmented with matte paintings simply because it is hard to believe such beauty exists in nature.

Audio


Desire comes with a Czech LPCM 2.0 mono track while All My Good Countrymen comes with a Czech LPCM 1.0 track. As part of the 4K restoration, the latter is cleaner and relatively hiss-free while the 2.0 mono track of the former probably has not been as rigorously cleaned in keeping with the image but is overall free of any issues. The optional English subtitles are error free for the most part (apart from one line where I could not tell if the "Mr Mr" is a transcript error or "Lithpy" stuttering).

Extras


Desire is accompanied by an English-language interview with director Vojtěch Jasný (25:56) from 1988 in which he discusses his film school education and his dislike to social realism which he saw as false, the developmen of All My Good Countrymen over several years and the Communist Party's reaction to the script – the films he made between his first attempt to get it made and the actual production – and the censoring of the film. Also included on the disc is the 1949 semi-documentary graduation film "It's Not Always Cloudy [Není stále zamračeno]" (68:15) - co-directed by Karel Kachyňa and also included on Second Run's Blu-ray of Coach to Vienna released earlier this year – which seems a parody of communist propoganda films as an economics expert travels to the countryside to make a go at farming as part of an effort to rebuild rural areas after the war and deals with inexperienced young volunteers whose lack of practical experience is an effect of years of German occupation, lackadaisical and corrupt bureaucratic functionaries, as well as mercenary self-interest.

All My Good Countrymen is accompanied by an audio commentary by The Projection Booth podcasters Mike White, Chris Stachiw, and Spencer Parsons in which they discuss the film's combination of naturalism and color, its tableau compositions and the instances of handheld movement, the film's allegories, its censorship and banning, as well as Jasný self-exile and work in Germany. None of the interviews from the Facets or Czech DVDs have been ported. Instaed we have a trio of extracts from a 2015 programme of Jasný films. First up is an introduction by director Vojtěch Jasný (4:59) who could not attend but was apparently at work on another project. He reminisces of his time in London following the banning of the film and the promises of help from actor Sir Lawrence Olivier and director David Lean. The short interview with actress Drahomíra Hofmanová (1:08) finds her recalling her disappointment in 1968 when she realized the film of which they were so proud of working on would not be seen, while "Peter Hames on Vojtěch Jasný" (1:19) focuses on the festival itself.

Ported over from the Second Run DVD is the 1969 short film "Bohemian Rhapsody [Česká rapsodie]" (15:50) that seems at first like a series of outtakes from the feature but actually seems to reflect Jasný image of Moravian village life however much his footage of seemingly real life people mirrors that of characters in the film.

Packaging


Packaged with the disc is a nineteen page booklet by Peter Hamesin which he discusses both films but also attempts to fill in the gaps in Jasný's career with the films that came in between and after, as well as recurring images throughout both films and his other films.

Overall


Two Films by Vojtech Jasný sheds light on yet another Czech filmmaker whose career path was diverted by the period between the end of the Prague Spring and prior to the Velvet Revolution with two films that are worthy of praise beyond that context.