The Film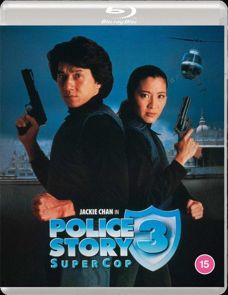 In spite of near-singlehandedly taking down a major Hong Kong drug ring at the end of Police Story 2, Hong Kong police officer Ka Kui (Rush Hour's Jackie Chan) is back on street patrol. Things are looking up in his personal life with him having mended his relationship with fiancee May (In the Mood for Love's Maggie Cheung), but his uncle Biu (Project A 2's Bill Tung) would like to see his nephew's "super cop" abilities recognized and conspires with his superior Inspector Chen (Hard Boiled's Philip Chan) to manipulate Ka Kui into accepting a mission with Interpol to take down the operation of drug lord Khun Chaibat (The Killer's Kenneth Tsang) but they have no idea where he is hiding. When Intelligence discovers that Chaibat has hired mercenaries to spring his second-in-command Brother Pau (The Iceman Cometh's Yuen Wah) from a Chinese labor camp, Ka Kui liaises with Chinese Interpol officer Yang (Royal Warriors' Michelle Yeoh) who provides him with a false identity.

Ka Kui slips in with the mercenaries amid the chaos of the jail break and becomes the only survivor who earns Pau's trust by helping him escape and then hiding him in his false identity's home town where Yang poses as his sister and Uncle Biu as his mother. When guards from the camp recognize Ka Kui as the man who sprung Pau, Yang intervenes and contrives the death of a security officer to get herself recruited alongside Ka Kui by Pau who takes them both to Hong Kong where they endure tests of their loyalty before being inducted into Chaibat's "family" including Yang being used as a literal human shield when Chaibat explosively eliminates all of his competition for the Golden Triangle drug crop of a corrupt Thai general (The 36th Chamber of Shaolin's Lo Lieh). Chaibat next takes them to Kuala Lumpur where his wife Ching (To Live's Josephine Koo) who is facing the death penalty and is using her sole access to a Swiss bank account to get her estranged husband to spring her. Unfortunately, May is also there as a tour guide and may expose Ka Kui's true identity when she assumes the worst about the closeness between her fiance and Yang.

The third installment in the Police Story series, Police Story 3: Supercop marks a new direction in Chan's career with a move towards attracting an international audience with higher production values, more expansive locations, even larger scale action sequences, and the move from Chan as action hero to "super" hero. The film made a splash upon release in Hong Kong in 1992 and it would make one stateside in 1996 when Miramax picked it up – to compete with New Line Cinema's surprise box office success with a theatrical relesae of Rumble in the Bronx and their planned follow-up with First Strike which was actually the fourth Police Story film although significantly different – redubbed and rescored it and further tarted it up with Dolby Digital sound and a compilation soundtrack featuring Warren G, Devo, Tupac Shakur, and Tom Jones (his cover of "Kung Fu Fighting") for theatrical release through their Dimension Films label. The plotting is threadbare, stringing action set pieces together, although this one more so than the earlier films in the series – and Jackie Chan films in general – does let the audience do some of the work in ferreting out the motives of the characters; that is, apart from poor Cheung in what is her most thankless outing as Chan's love interest (this would be her last film with Chan and she would be better-known internationally by the time of the film's US release as Irma Vep). Yeoh is on equal footing with Chan both character- and action-wise in a series of escalating set pieces that culminate in Chan doing some deadly variations on Harold Lloyd/Buster Keaton-esque stunts atop a train and Yeoh landing a motorcycle atop said train. Chan made nine films in between Supercop and his Hollywood vehicle Rush Hour, but the three between the US release of the film and Rush Hour – the aformentioned First Strike, the New Line theatrically-distributed Mr. Nice Guy, and the Columbia Pictures direct-to-video-distributed Who am I? (along with Dimension's recut, rescored, and redubbed follow-up of the 1991 film Operation Condor) - are indicative of the direction of Chan's American vehicles, while Yeoh would reprise her character in the quasi-sequel Project S alternately titled Mega Cop and then Supercop 2 for Dimension's recut, rescored, and redubbed direct-to-video release).

Video


Given scant release in Chinese-American theaters in its original Hong Kong and export versions circa 1993 and direct-to-video in its export version in the UK in 1994, Supercop had its aforementioned Dimension Films/Miramax cut theatrically released in 1996 followed by a 1997 panned-and-scanned VHS edition and a widescreen Criterion Collection laserdisc (which featured the 5.1 redub and the Cantonese track fitted to the shorter version with closed captions giving the option of watching the film in a "dubtitled" version). The same non-anamorphic widescreen master turned up on DVD in 1998 while the Hong Kong cut was only available in similarly less-than-optimal non-anamorphic form until IVL's 2012 Hong Kong DVD. The US cut got an anamorphic upgrade as part of Dragon Dynasty's two-disc "ultimate" edition which, unlike some others in the Dragon Dynasty series, did not restore the longer cut or the Cantonese audio. The film's Blu-ray history has been similarly messy with the 2009 Hong Kong Blu-ray being an upscale of the IVL master while Echo Bridge's stateside 2011 Blu-ray was an actual HD master but of the Dimension cut and cropped to 1.78:1 (followed by two reissues, one replacing the stereo track with lossless 5.1 audio and the other with the correct aspect ratio). A 4K-mastered restoration debuted on Blu-ray in Japan from Paramount in 2018 followed by a new Hong Kong edition the following year.

Eureka's 1080p24 MPEG-4 AVC 2.35:1 widescreen Blu-ray comes from a new 4K master, possibly the same raw scan but newly-graded with Dolby Vision for the concurrent UHD edition. We have not seen the remastered Japanese and Hong Kong Blu-rays, but the new transfer is not only sharper and finer-grained as expected – with some expected softness and minor flaring from the older anamorphic lenses still used on Hong Kong productions even in the nineties – and more colorful without the yellow-tinge of the Dimension HD master towards a more neutral color balance, an appreciable sense of depth from an overall brighter image that does not obliterate the shadows and preserves the blacks, as well as better overall framing (with the scope version of the Dimension version looking cropped beyond the acceptable 4%).

The 1080p24 MPEG-4 AVC 2.35:1 widescreen transfer of the Dimension version appears to be a recreation using the new master. The Dimension logo has been replaced with the Fortune Star one and the Garson Yu title sequence looks a tad soft with the sliding credits fuzzy in motion, but the framing appears to match that of the main feature presentation.

Audio


Audio options include the preferred original Cantonese LPCM 1.0 mono track – this was the first Jackie Chan film to be shot with sync-sound – as well as a LPCM 2.0 stereo remix prepared for the home video releases with original unaltered sound effects as well as a brand new Dolby Atmos track presumably built up from IVL's DVD-era 5.1 remix which has some added sound effects. The Atmos track is no more gimmicky than most of the better Hong Kong remixes but is hardly state of the art (dialogue levels can be lower in some scenes but always clear). The English LPCM 1.0 export mono mix sounds fine and the vocal performances are generally superior to the those of the Dimension redub (although the export dub lacks the iconic corny reading of "What we need is a supercop!"). Optional English subtitles are provided for the Cantonese audio.

The Miramax cut includes the rescored, redubbed English 5.1 track – which features the real voices of Chan, Yeoh, and Cheung as well as a more rousing foley track – in Dolby Digital as well as the Criterion Cantonese composite track in Dolby Digital 2.0 stereo. This version has no optional subtitles.

Extras


Extras start off with an audio commentary by Asian film experts Frank Djeng (NY Asian Film Festival) and F.J. DeSanto who also recorded new tracks for the first two films that are currently exclusive to the UHD trilogy set in one day with DeSanto spreading his Jackie Chan anecdotes over the three films. They both regard the third film as the pinnacle of the series, note that the film marks the transition from Chan as his Ka Kui character to "just Jackie" – with First Strike breaking continuity with the first three films – his increasingly Bond-ian persona and the broader, increasingly cartoonish bent to appeal to international audiences. Djeng refutes the claim that it is the first sync-sound Hong Kong picture, noting that it was the practice in the fifties and sixties before dubbing for export and that both Sammo Hung and Wong Kar Wai were also starting to shoot with sync-sound concurrently. Djeng notes that audiences were indeed shocked to hear Chan's real voice when the film was released – Chan having been dubbed by a regular voice artist throughout the eighties and the unease with Hong Kong audiences about the film's depiction of Mainland China five years before the handover. They also mention the US version in disparaging terms.

A lot of the production anecdotes and factoids from the first track find their way into the second audio Commentary on the Hong Kong cut by action cinema experts Mike Leeder & Arne Venema including Yeoh's injuries and her vanishing from the industry for five years when she got married, her return here and the suggestion that a badass female character was not only a means of Chan helping her return to the industry but also part of reaching a broader audience, and Cheung's increasingly thankless role in the series. They also point out that not only does Chan regular Mars (Fist of Fury) go from playing one of Ka Kui's colleagues in the first two films to playing one of the mercenaries, he also appears as one of the camp guards in the same scene after his first character is killed and subsequently doubles for Chan during the driving stunts in Malaysia, as well as providing background on the supporting cast including the Western performers like former American Mormon John Wakefield (Man Wanted) and Kim Penn (Knock-Off).

Next up is a new interview with stunt coordinator and action historian John Kreng (22:35) who did not work on the film but came of age during the height of Bruce Lee's popularity and that of the show Kung Fu, met a producer from Golden Harvest at UCLA during a conference and got them interested in his stand-up comedy for a special that fell through. When Golden Harvest put him on the Los Angeles shoot of the Jet Li film The Master, he got to learn martial arts choreography and play several extra characters and double for others. Of Supercop, he recalls seeing the original cut at a film festival and being blown away by its innovations.

Leeder returns in "The Ultra Violent Jackie Chan Video Games" (11:11) discussing the Kaneko Jackie Chan video game "Kung Fu Master: Jackie Chan" and its follow-up "Jackie Chan: Fist of Fire" that are little known outside of Japan – even little known in Hong Kong – because their extreme violence clashed with Chan's family-friendly image; however, it did pave the way for the production of the Chan vehicle Thunderbolt with heavy product placement and a prominent villain role for German actor Thorsten Nickel (The Enforcer) who was digitized as an opponent in the video games and appears briefly here in new interview footage as well as in video from a Tokyo promotional appearance with Chan for the video game. Venema appears onscreen for a visit to the trilogy's Hong Kong locations (11:21).

Archival extras start with the Dragon Dynasty interview "Flying High" (19:21) in which Chan focuses on collaborating with Tong – inferring but never stating clearly the reasons for the friction between himself and director Kirk Wong on Crime Story in discussing films on which he worked with other directors – and Yeoh as well as his anxiety about shooting the helicopter sequence in Malaysia. Also from the US disc is "Dancing with Death" (21:12) in which Yeoh discusses studying dancing in London, suffering an injury and pursuing acting instead, and how appearing in a television commercial in Malaysia with Chan lead to a film contract. She glosses over her marriage and absence from the screen but recalls working with Chan and Tong on the film and her multiple injuries on the set of the film (noting that Chan was reticent about letting her continue shooting after one accident but that Tong knew her limits better than he).

Tong appears in "The Stuntmaster General" (19:33) in which he speaks warmly of his working relationship with Chan who had his input into the shoot but held back when he realized how well-planned Tong was with his heavy use of storyboards and how Tong soon realized the he could seek Chan's input without fearing that the actor would take over. In "The Fall Guy" (21:45), Chan's bodyguard and co-star Ken Lo(Legacy of Rage) recalls meeting Chan when he was a club bouncer, drinking with Chan's stunt team, and being recommended by them to Chan to join the team. He discusses Chan and the team as a big family and the moment that Chan told him that he was no longer his bodyguard but part of the team, and then recommending that he sign onto an agent as an actor while still doing stuntwork when suited to the part.

Also included are a pair of interviews with Tong, the first from 2004 (17:16) focusing primarily on his Supercop anecdotes while the 2005 one (31:06) covers his pre-Chan career as a stuntman until he suffered an injury and his decision to move behind the camera as script supervisor, assistant director, production manager, camera operator, and eventually producer and director. A welcome addition is a lengthy reel of outtakes (51:33) scored entirely with soundtrack cue and covering the entire shoot with a fun look at Chan training with the Chinese police officers, the drug compound shoot, and some extended looks at some of the injuries beyond what was seen in the end credits montage of the film. The disc closes out with a comprehensive array of trailers and promotions for the film including the Hong Kong theatrical trailer (3:00), the Japanese teaser trailer (0:41), the English export trailer (2:10), as well as the US theatrical teaser (1:39), US theatrical trailer (1:38), seven US TV spots (2:49), and the US video promo (1:37).

Packaging


The first 3,000 copies come with a slipcase featuring new artwork by Darren Wheeling and a 27-page collector's booklet featuring new writing by James Oliver who notes that the then-mostly widely available Dimension Films version was fully-sanctioned by Chan and was the version that the "bowdlerisation certainly hasn't stopped it being highly regarded, most especially in the all-important action which was, of course, preserved in its entirety." Initial discussion of the American version dovetails into the ways in which the film escalated trends from the first two films and gave way to new innovations that would inform Chan's subsequent filmography, showing "shows Jackie beginning to disengage from Hong Kong" and helping "smooth his path to Hollywood, a proper bridge from east to west."

Overall


The third installment in the Police Story series, Police Story 3: Supercop marks a new direction in Chan's career with a move towards attracting an international audience with higher production values, more expansive locations, even larger scale action sequences, and the move from Chan as action hero to "super" hero.