The Film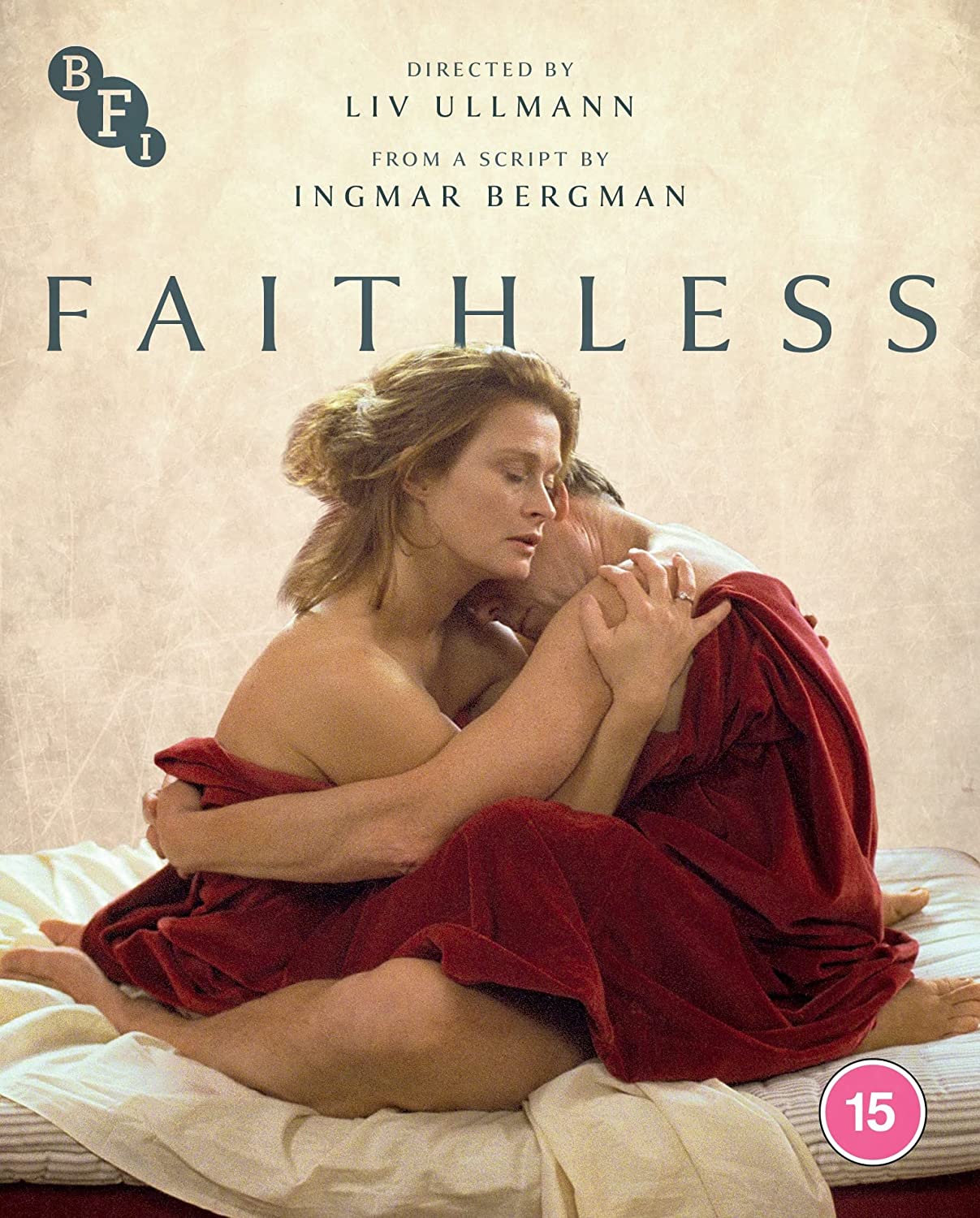 "Faithless" (Trolösa) (2000)

Marianne (played by Lena Endre) tells her story of love, loss, and sacrifice to Bergman (played by Erland Josephson), an aging film director at his secluded home. Though she had a loving home life with her husband Markus (played by Thomas Hanzon) and young daughter Isabelle (played by Michelle Gylemo). But things became complicated when Marianne and Markus' friend David (played by Krister Henriksson) enters the picture, leading to Marianne becoming unfaithful. As she recalls her time with David and the consequences it had on her life, the lines start to blur with reality and fiction...

Filmmaker Ingmar Bergman announced his retirement from theatrical filmmaking with his celebrated film "Fanny and Alexander" in 1982, but that didn't mean he stopped working. He directed a number of television films, including a reworked extended television series version of "Fanny and Alexander" for the following year, all the way to "Saraband" in 2003, his final work as director and also his first working in the digital format. In addition he wrote a number of scripts that would be adapted by other filmmakers. Liv Ullmann, the actress that worked on a number of films for Bergman and also one of a number of loves of his life directed his script of "Private Confessions" in 1996. "Faithless" would be her next film as director, and her second adaptation of a Bergman script. Like a number of other works by Bergman, "Faithless" is an exploration of human nature, sexual desire, tension, jealousy, and guilt, which are highly autobiographical, coming from experiences in his own life. It was no secret that Bergman had numerous affairs and lovers during his lifetime, and while one might see that as a sign of a womanizer, the women in his life saw him as a broken genius, as a loving figure that was untamed. With "Faithless" it does seem obvious that the elderly filmmaker living in his secluded home and named "Bergman" is the filmmaker himself, but there is a much more complex element with the other characters. Essentially, every character in the story is an extension of Ingmar Bergman, and he is basically interacting with varying versions of himself in different scenarios.

The character of Marianne starts the affair with David extremely nonchalantly. She does not feel any unhappiness with her home life and her and her husband's relationship with David is friendly as can be. She even states to Bergman that she is not exactly sure why it started and why it continued. With David's character, he lends his hand in a friendly manner that goes beyond mutual friendship with Marianne. While it doesn't seem like the initial response from each other is one for sexual desire, it eventually leads in that direction, especially with their trip together to Paris. The secret couple experience love as well as jealousy and sometimes anger, as seen in the frightening scene while David becomes quite aggressive with her. There are a number of parallels with Marianne's character and Ingmar Bergman as well as with David and Ingmar Bergman, and the guilt that both of them handle following the confrontation by Markus at their shared hotel room, being one of the most powerful and intense moments in the film, even if there are some uncomfortably awkward chuckles to be had. Bergman had gone through similar confrontations in his life and it wouldn't be surprising if he had something exactly as that happen to him.

While the first half of the film tells the start of the affair in flashback form through the eyes of Marianne, the second half is where a number of changes occur due to the confrontation by Markus. The custody battle for their daughter Isabelle, how she is not fully understanding the situation, as well as the emotional and psychological destruction all the adults involved. More secrets are revealed, there is blackmailing, and a complete destruction of relationships in every direction. With such heavy material to handle, director Liv Ullmann does an admirable job of giving the characters the center stage rather than through technical work. Long takes are used for characters to fully express themselves and camera movement is minimal in long takes to center the attention on the actors. It is closer to a theater production with the performers giving it their all through body language, as close-ups are reserved for solo shots and full body shots for scenes with multiple performers. Not to say that the visuals are secondary, as the setpieces are wonderfully shown, from the secluded home of Bergman on his island to the beautiful and cozy home of Markus and Marianne.

Ullmann stated that the story was about guilt and forgiveness, though she knew that Ingmar Bergman was one that was never able to forgive himself for a number of his personal failures. While the script itself didn't call for the aging director to look at the figures of Marianne and David to forgive them for their actions, Ullmann was able to bring sequences to have the movie character of Bergman to become a figure that would do so, in effect having the real Bergman be able to look back at his actions and feel free to forgive his past actions. It's most likely that if Ingmar Bergman directed the story himself, there would have been a number of differences including that of having the elderly character do that in conclusion, rather than being just a distant observer. In addition, Ullmann directed an ending sequence in which the eldery Bergman would look out the window and see an image of himself walking along the beach, but Ingmar Bergman disliked the scene and requested her to remove it, even though she was adamant that it should be part of the film. Reluctantly, she removed the short scene for the premiere at the Cannes Film Festival on May 13th, 2000, where it was nominated for the Palme d'Or. It would later play at the Edinburgh, Toronto, and Norwegian Film Festivals in the following months. But after she happened to see a documentary on Bergman which had a shot of Bergman himself looking out the window and then a shot of him on the beach, she went ahead and reinstated the original ending for the theatrical version, which opened on September 15th, 2000 in her home country of Norway and in Bergman's home country of Sweden. The United States received a theatrical release in January of 2001 in which distributor First Look removed about 12 minutes from the original theatrical 154 minute runtime. A month later it would be released in the United Kingdom without alterations for the full length runtime. Ullmann won major praises for her direction and adaptation, winning a number of awards and nominated for more. The film was released on DVD in a number of countries soonafter, and finally in 2022, the film has been released on Blu-ray for the first time by the BFI, which coincided with a celebratory year for Ullmann, who at 83 years old received an honorary Academy Award in Hollywood and was part of the film retrospective "Liv Ullmann: Face to Face" in the UK. "Faithless" may have more attention with Ingmar Bergman's name attached as the writer, but Ullmann has definitely proved herself as an extremely capable director of the difficult subject matter with the film.

Note this is a region B Blu-ray

Video


THe BFI presents the film in the 1.85:1 aspect ratio in 1080p AVC MPEG-4. The 35mm original negative and a 35mm duplicating positive were used for the 2K restoration by the Swedish Film Institute, which was the transfer source of this Blu-ray release. The restoration looks great, restoring the colors for vibrant yet natural hues. Deep blacks also look excellent, while detail also being very strong, with close-ups on faces looking wonderful. Film grain is particularly strong here, with no minimization applied, for a very organic look. There are no issues of instability, color fluctuation, or minimal damage marks, though there is one shot near the end of the film in which a prominent vertical scratch mark can be seen on a close-up of the character of Isabelle's face for a moment, which was almost like a reminder saying that this was a production shot on actual film and not on digital.

The film's runtime is 154:02.

Audio


Swedish DTS Master Audio 5.1
Swedish LPCM 2.0 stereo
There are optional lossless 5.1 and uncompressed 2.0 stereo options available. As it is a very dialogue driven film, most of the work comes from the center speaker in the 5.1 track, with the surrounding channels used for the effects and music which are used sparringly. But when sounds as distant thunder or theater echoes are present, they certainly come to use. There are no issues of dropout, hiss, or other damage and the dialogue is clear and well balanced against the music and effects.

There are optional English subtitles for the feature in a white font. They are easy to read and are well timed.

Extras


Audio Commentary by Adrian Martin
In this newly recorded exclusive commentary, critic Adrian Martin discusses a lot about the production of the film as well as its background and references to Bergman's personal life. From Ullmann's style of directing, Bergman's career after "Fanny and Alexander", the frequently explored topic of infidelity in his works and connections to his personal troubles, influences on other films, and much more. Even with a lengthy runtime and having to run solo, Martin is well versed with great information throughout.
in English Dolby Digital 2.0 without subtitles

2000 Interview with Liv Ullmann (31:29)
In this vintage interview made for the UK Tartan DVD release, Ullmann discusses about her working and personal relationship with Bergman, about the characters and their choices made, working with the crew and her methods in directing, and more.
in 720p50 AVC MPEG-4, in 1.33:1, in English Dolby Digital 2.0 without subtitles

The Guardian Interview: Liv Ullmann (2001) (69:00)
Film critic and writer Shane Danielson moderates this on stage interview with Ullmann for the UK theatrical release of "Faithless" in January 2001. Discussed are her working relationship with Bergman, the challenges in directing a Bergman script, her long friendship with fellow actress Bibi Andersson, her love of cinema, as well as a hilariously awkward story of Woody Allen and Bergman meeting for the first time.
in 576i AVC MPEG-4, in 1.33:1, in English Dolby Digital 2.0 without subtitles

In Conversation with Liv Ullmann (2018) (71:57)
Here is an on-stage conversation with film critic Geoff Andrew and Ullmann, as part of a Bergman retrospective. Her prepared speech at the beginning brings some emotional tears, especially when she recalls about seeing him on his very last day of his life. But this is not all about tears as she is able to discuss quite a lot and even bring some laughter to the audience with her stories, from her start as an actress, her discovery by Bergman, the box office bombs of her work in Hollywood, making "Faithless" and the trouble she had with the ending as Bergman hated her idea, her biggest regret of turning down a role in "Fanny and Alexander", and much more. The full conversation has also been embedded below, courtesy of the BFI.
in 1080i50 AVC MPEG-4, in 1.33:1, in English Dolby Digital 2.0 without subtitles



Behind the scenes gallery (1:31)
An automated silent slideshow gallery of color stills with the actors on set, Ullmann and the crew, and more.
in 1080p AVC MPEG-4

Stills gallery (8:31)
Another automated silent slideshow this time features continuity production stills.
in 1080p AVC MPEG-4

Original trailer (1:44)
The original Swedish trailer is presented here in a slightly odd form. First it is slightly windowboxed having thin black bars on all four sides of the frame. Second, there are burned-in subtitles for the dialogue and title so it seemingly is an export trailer for the non-Swedish market. But the burned-in subtitles are strangely incomplete, with much of the dialogue having no subtitles. The BFI have included subtitles for these missing portions, with an optional English subtitle track. With two different types of subtitles, the font, color, and size are very different from line to line.
in 1080p AVC MPEG-4, in 1.78:1, in Swedish Dolby Digital 2.0 with burned-in & optional English subtitles


Booklet
A 32 page booklet is included for the first pressing. First is a short statement by Ullmann from 2000. First is an essay by Sarah Lutton, programme advisor on Nordic cinema for the BFI London Film Festival and programmer for 2022's "Liv Ullmann: Face to Face" retrospective, which looks at the film, the themes presented and the blurring of reality and fiction, and more. Next is a printed conversation with Ullmann by Geoffrey Macnab from December 2000 which was first printed in Sight & Sound, which covers quite a lot of information from the themes presented in the film and the background. There is also "Lies and Whispers", a review of the film from 2001 by Philip Strick first printed in Sight & Sound. There are also special features information, transfer information, acknowledgements, and stills.


The film was previously only available on DVD in the UK from Tartan, as well as having releases elsewhere including the United States and Italy. The Blu-ray ports over the excellent interview from the UK DVD as well as the original trailer and adds other great exclusive extras.

Other notable clips:

A clip of the film, from the BFI. Note that the BFI is not allowing the clip to be embedded on other sites, but can be seen exclusively on their YouTube channel.

Liv Ullmann in conversation, 2022 at the BFI Southbank in celebration of the "Liv Ullmann: Face to Face" retrospective, moderated by film writer Christina Newland. Note that the BFI is not allowing the Q&A to be embedded on other sites, but can be seen exclusively on their YouTube channel.


Liv Ullmann presenting "Faithless" at the 2018 Toronto International Film Festival.


Actor John Lithgow honoring Ullmann at the 12th Governors Awards for her 2022 Honorary Academy Award.


Ullmann accepting her 2022 Honorary Academy Award, in which she recalls some great stories, especially her story about Greta Garbo.

Overall


"Faithless" is Liv Ullmann's high point in her career as a film director and one that would have looked and felt quite different if made by anyone else. With excellent subtle and powerful performances by the actors and being able to let them play the characters with brutal honesty, it's a difficult yet satisfying emotional film of desire and guilt. The BFI has given the film an excellent Blu-ray release, with the restored film with a number of lengthy new and vintage extras. Highly recommended.
| | | | | |
| --- | --- | --- | --- | --- |
| The Film: A- | Video: A | Audio: A- | Extras: A | Overall: A- |