The Film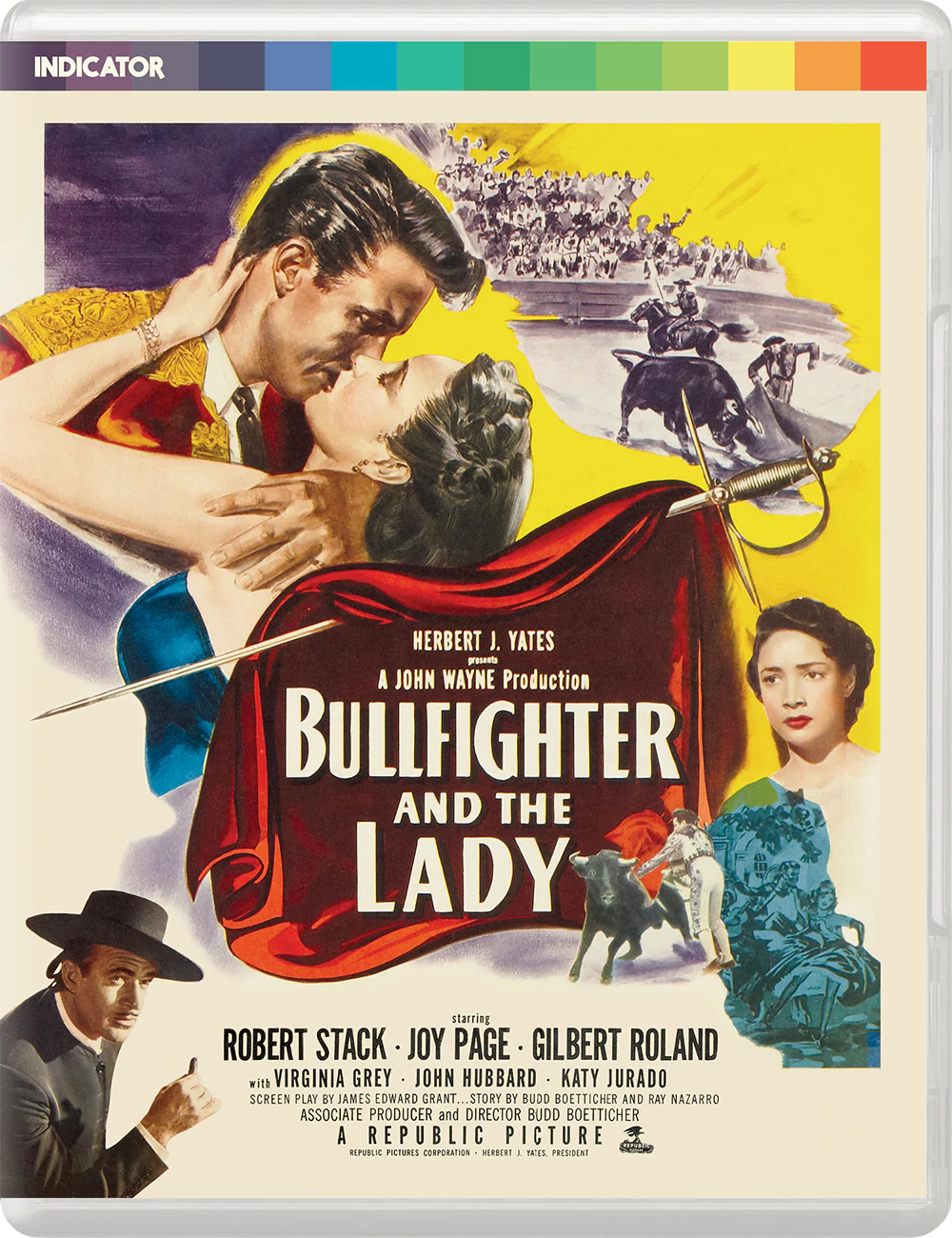 American sportsman Johnny Regan (Robert Stack, Written on the Wind) goes to a bullfight while holidaying in Mexico and witnesses the great matador Manolo Estrada (Gilbert Roland, She Done Him Wrong) in action. The two men meet later that evening, and Johnny becomes entranced by Anita (Joy Page, Casablanca), a friend of Manolo's. Impressed by the world of bullfighting, and seeking to impress Anita, Johnny becomes Manolo's pupil so that he, too, may become a champion torero.

Produced by John Wayne, and based in part on Budd Boetticher's experiences as a novice bullfighter, Bullfighter and the Lady was initially released in a shorter 87-minute cut, reputedly edited by John Ford. In 1986, with the aid of Boetticher and Stack, the complete 124-minute version was restored, revealing the film to be a true masterpiece. Both cuts are presented on this edition, alongside Boetticher's final work as a director, the 1985 documentary My Kingdom For … which is part autobiography, part history of the bullfighting art of rejoneo.

Video


American Robert Stack travels to Mexico where he falls for Joy Page and ends up becoming a bullfighter to impress her. This obviously all goes a bit pear shaped with tragedy ensuing as well as romance. Having worked on smaller, B-level productions this was Budd Boetticher's big break with him working for Batjac, John Wayne's production company and the film is somewhat autobiographical. Very much made by an alpha male American showcasing a bloodsport with Boetticher having been a bullfighter in his youth when his sports career ended after an accident. I can't fault the acting, writing, direction or production values with Bullfighter and the Lady being a slick, healthily budgeted film. My main problem is that I find the very alpha lead male characters (Stack, Gilbert Roland, Rodolfo Acosta) not very interesting or likeable, with only Katy Jurado's superb, emotionally engaging turn as Acosta's wife getting any sympathy from me. Given Boetticher's heterosexual alpha qualities, this is amusingly a very homoerotic production, which he was aware of (see the story of his meeting with John Ford in the screen talk extra) with the gorgeous male leads shot like gods and a few bits where they're all manly and bare-chested. Overall, a thoroughly enjoyable, technically impeccable slice of Hollywood melodrama although the bullfighting scenes are predictably disturbing, albeit not very graphic.

The transfer:

The Director's Cut of Bullfighter and the Lady was restored by the UCLA Film & Television Archive in 1987. The film's original mono soundtrack was restored at the same time. Paramount's HD master was the source of this Indicator edition. The theatrical cut of Bullfighter and the Lady was sourced from a rare NTSC VHS edition. Due to the format's limitations, image and sound quality are compromised. My Kingdom For ... and Budd Boetticher: One on One were digitised by the Academy of Motion Picture Arts and Sciences Film Archive and supplied in SD, as per their original production. The audio recording of An Evening with Budd Boetticher was supplied by the Pacific Film Archive.

Shot in monochrome and in the Academy ratio (1.37:1) we have a terrific looking beautifully restored and encoded transfer. Gamma is perfectly balanced, with absolutely no colour bias invading the experience. I found the image wonderfully evocative with it feeling like a nitrate film although I'm not sure if that was used on this production. Due to it's combustable nature nitrate film was phased out around the time Bullfighter was made. Black levels are superb with very good shadow detail and I could detect no unintended crush. Contrast is lowkey in the modern tradition allowing plenty of detail to shine through with no brilliant whites and no blown out highlights.

Detail is generally excellent although at it's strongest in closeups. I saw some minor print damage in the form of the odd speckle here and there, but nothing more egregious than that. No signs of digital manipulation and the ever present fine grain is filmic and attractive. Occasionally some coarseness is apparent but it's rare and always natural looking, organic to the photochemical process.

The theatrical version is taken from an NTSC VHS and not a standard definition tape master so has all sorts of problems. I assume that there are no film elements available for the short version hence why this substandard presentation being all we get for it. It's soft, flat, gray and lacking in detail, grain and punch. Pretty typical for a VHS transfer. I only sampled this edit.

Director's Cut
1080p24 / AVC MPEG-4 / BD50 / 1.37:1 / 124:41
Theatrical Version
1.33:1 / 87:22 NTSC

Audio


English LPCM 1.0 (48kHz / 24-bit) (complete version)
English Dolby Digital 1.0 (theatrical version)
Subtitles: English HoH

A single channel mono track has little range but the sound design is geared towards clarity in the dialogue sequences and emotions in the score. This it achieves admirably and clearly. Sound effects are well rendered although occasionally I though I could detect some minor hiss and some very mild distortion when the volume was cranked up. However, overall this track serves the film and it's emotional core well. Essential and well done subtitles for the hearing impaired are provided ('B').

Extras


Audio commentary on the complete version with critics and authors Glenn Kenny and Farran Smith Nehme (2022)

These two pros kick off with a tale about Beotticher rejecting the great Mexican cameraman Gabriel Figueroa (1907-97) for the entirely spurious reason that Beotticher feared that the audience would be so in love with the great monochrome images (Figueroa's forte) that they would ignore the dialogue! Thus, Jack Draper (1892-1962), a Mexico-based American cinematographer was chosen. Topics covered here are all the usual topics one would expect from the cast and crew as well as the history of Beotticher and this film. They touch on the psychological underpinning of the story and the characters and hero's journey. Presented in lossy Dolby Digital 2.0 mono.

"An Evening with Budd Boetticher: Interview Conducted by Robert Gitt at the Pacific Film Archive Theater, California on 17 March 2001, with an Introduction by Senior Alm Curator Edith R. Kramer" 2001 audio recording (plays as an alternate audio track over the complete version) (91:14)

A career and life-spanning screen-talk with Beotticher and his wife following screenings of Bullfighter and the Lady (1951) and Seven Men from Now (1956). It kicks off with talk of his earlier life as an athlete and as a bullfighter which segues into films when he's hired as a consultant on the production of Blood & Sand (1941). There's a 16 minute introduction from Kramer and Gitt which leads into the films and then we're back with the big man himself and lots of tales. Beotticher doesn't sound well, which he brings up at the beginning and indeed he died only eight months after this recording was made. He pulls no punches in his opinions and we get a frank assessment of the history Bullfighter and the Lady. Presented in Dolby Digital 2.0 mono.

"My Kingdom for …" 1985 documentary (84:54)

Opening with a Xenophon quote, Beotticher's final film is this, at times, incredibly stagy documentary about his life and his love of horses and bullfighting featuring his family and Robert Stack and his wife. Narrated by Stack it starts by mentioning how the he considered Beotticher the craziest of directors and he certainly does sound it. He had a colourful adventurer's life prior to working in films and after he left the business he and his wife imported Portuguese Lusitano and Spanish Andalusian horses and trained them. He told Stack once "That if a man, upon arising each morning, doesn't have a formidable challenge to overcome, he damn well better invent one or suffer the consequences of getting very old in a hurry". That about sums up nicely what we learn about Beotticher in the extras on this set. The presentation of this film is from a very soft NTSC broadcast master presenting this TV production mainly on video Standard definition 1.33:1 with lossy Dolby Digital 1.0 sound and optional hard of hearing subtitles. An entertaining, bizarre relic with lots of scenes of the then contemporary Boetticher performing with his horse and clips from Bullfighter and the Lady.

"Budd Boetticher: One on One" 1989 documentary (57:21)

An interview with Beotticher in which he opens the doc with "I don't really tolerate a lot of dull people, I ... ya know I just don't have much time for them". It's a career overview and interview with the big man discussing his early life, love of bullfighting, his films etc. The most interesting section is the bit where he tells the troubled story of the making of Aruza (1968) and it's lengthy production. His attitude that bullfighting wasn't a sport but an art is somewhat tough to take these days but he's an engaging storyteller and interesting enough to listen to even if I suspect that were I to have met him I wouldn't find him sympathetic. Standard definition 1.33:1 with lossy Dolby Digital 1.0 sound, no subtitles.

"A Rollercoaster and a Merry-Go-Round: Mary Boetticher on Dancing, Horses and the Life and Films of Budd Boetticher" 2022 interview (35:42)

Beotticher's daughter tells us about herself and her relationship with her late father. 1080p24 1.78:1 with lossy Dolby Digital 2.0 stereo

Theatrical Trailer (2:03)

1080p24 1.37:1 with lossy Dolby Digital 1.0 sound.

The Bullfighter and the Lady Image Gallery: Original Promotional Material (28 images)

The usual, welcome HD still gallery containing a selection of choice images used to promote the film down the years.

38-page liner notes booklet featuring a new essay by Matthew Thrift, an archival letter from Budd Boetticher discussing his love of bullfighting, archival profiles of Katy Jurado, an overview of contemporary critical responses, new writing on My Kingdom For … and full film credits

Another wonderful hardcopy companion to the film with bags of interest and added value.

Packaging


Clear BD Keepcase.

Overall


Budd Beitticher's big break gets the deluxe treatment and it's best ever home video release with both versions of the film on disc and a wealth of superb extras as backup. Image and sound are top class. Highly recommended!
| | | | | |
| --- | --- | --- | --- | --- |
| The Film: B- | Video: A- | Audio: B | Extras: A+ | Overall: A |