The Film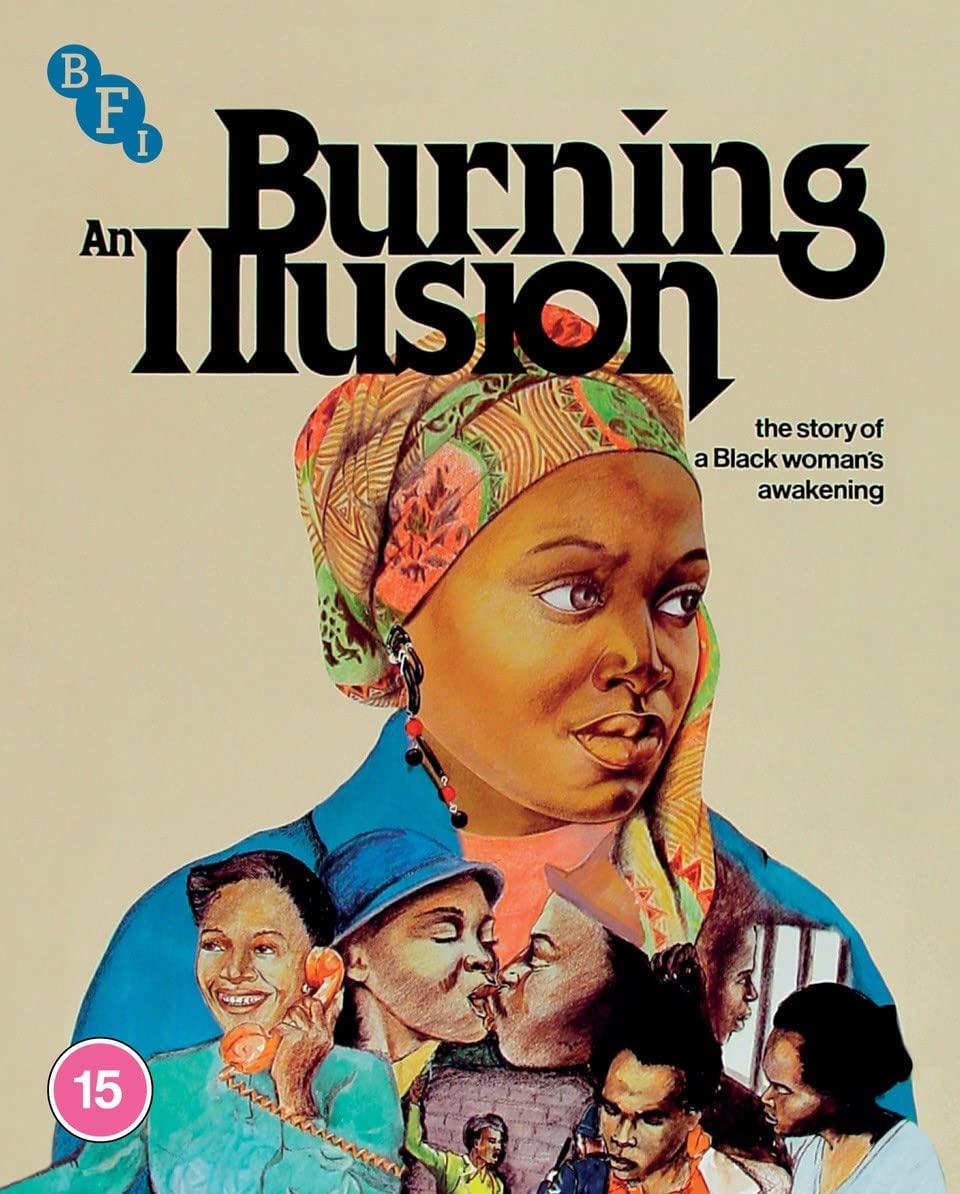 "Burning an Illusion" (1981)

Pat (played by Cassie McFarlane) is a 22-year-old Black woman who is leading a successful life with a good job and having her own flat in the Notting Hill district of London. The only thing she feels is missing from her life is love, and things change when she meets Del (played by Victor Romero Evans). As soon as their romantic relationship blooms, trouble also comes into the picture. Del suddenly needs a new place to live so he immediately moves into Pat's flat. He loses his job so she becomes the breadwinner, while his ambition to find new work or move out becomes extremely low. In addition, his stance of being the leader of their home as he is the man creates conflict and a violent strain on their relationship, leading the couple towards differing paths in their lives.

Prior to the release of "Burning an Illusion" in 1982, there had only been one feature film by a Black director in British cinema, and that was 1976's "Pressure" by Horace Ové. Representation of Black life in British cinema and television had been extremely sparse at the time, and even more so for the struggles for Black women. Barbados born and British raised filmmaker Menelik Shabazz had directed the documentary short "Step Forward Youth" in 1977, which featured interviews with young Black men and women talking about their lives and identities. For his first feature length film, which was funded by the BFI, Shabazz focused on one woman's struggles and transformation that was unlike anything seen on British screens. Sure, there were female centered stories of women struggling in a male dominated world, but "Burning an Illusion" would put things in a Black context, with racial identity, police brutality, and cultural acceptance.

The journey that Pat takes is one that is extremely relatable. A young woman who is independent, close to her family, working in a corporate office and living without particular struggles, is a model example of a successful woman. Being Black and growing up in Britain, she must have had her share of seeing racial injustice and differences in cultures, but working in an office job with a multi-racial staff shows that she has been able to be part of the working society while also being close to her born identity, as seen with her close relations such as with her best friend Sonya (played by Beverly Martin) and her boyfriend Chamberlain (played by Malcolm Fredericks). But as society's standing of a successful life is also about having a successful relationship, this is one area that Pat is lacking. Her early encounters with Del have a few yellow flags, such as when he tries to invite himself into her flat after their first one on one date as well as some of his mannerisms at the restaurant. But as a fault with quite a lot of women, it is not the sweet good boy that they are attracted to, but the one with the bad boy edge. Del certainly has that and his slightly aggressive and strong mannerisms are what makes him stand out for her, though the escalation in his attitude and her reluctance to confront the small changes turn into major issues that ultimately fall into the sadly too common nature of male-female relationships.

The first half of the story is not particularly a story centered on a Black perspective but generally through women's eyes, though it is the second half that takes interesting strides. Following the arrest of Del and his incarceration, there are issues raised of police brutality and injustice and inequality towards Black prisoners, which are sadly issues that are still being dealt with in the country more than four decades later. Pat's decision to stay and wait for Del's release which is scheduled at four years later also shows her transformation, seeing that she is not the only Black woman that has a partner being bars, and her increasing interest in activism and change through literary works and studying of Black culture from both sides of the Atlantic. It is also interesting to see her change not just in mind and spirit, but also in her way of speaking as well as picking up a smoking habit. Not to say that the first half is absent of Black culture, as there are some wonderful segments of the city life in the Black districts, as well as a memorable nightclub scene featuring singer Janet Kay in a cameo appearance. Kay was the first the first black female artist to have a reggae song hit the top of the singles charts in the United Kingdom with "Silly Games", and became a prominent figure in the reggae influenced Lovers Rock genre. Shabazz would later direct a feature length documentary on the genre with "The Story of Lovers Rock" in 2011, which also featured Kay.

During the 1970s there was an explosion of Blaxploitation films in the United States that had black culture put on a fantastical pedestal with badass men ("Shaft", "Super Fly") and badass women ("Coffy", "Cleopatra Jones") and many more throughout the decade from both studios and independents. While the characters and situations may have been larger than life, down at the base were depictions of Black culture that cinema and television had never showcased. In addition, "The Harder They Come" from 1972 was the first ever Jamaican feature film that spread reggae music and Caribbean culture around the world, resonating to this day in its impact. The United Kingdom never had such a movement, and "Burning an Illusion" doesn't quite fall into an exploitation category. Nothing is larger than life, nothing is played against type or for the sake of sensation. Instead, the film is deep in realism, pointing out the struggles that are relatable on a human level and mirroring what most of the country's society had not seen or realized, as the title even suggests.

Shot in and around the Notting Hill district on a small budget of £80,000, "Burning an Illusion" is both a snapshot in time while also extremely relevant today. The struggles of women that face them through relationships and their stance in society, the complications of policing and the treatment of Blacks are eye opening and disheartening to see. The film did receive some acclaim on its release in 1981, with McFarlane receiving the Evening Standard Award for "Most Promising New Actress" and winning the Grand Prix at the Amiens International Film Festival in France, but it didn't have much of an impact in its home countrry. Cassie McFarlane may have been an award winner, but she found it difficult to find roles for Black women on screen. Victor Romero Evans would continue his acting career in a number of roles on television throughout the decades, as well as work as a recording artist. Menelik Shabazz would have a sporadic career in directing documentaries, though he also was an important figure in Black filmmaking by co-founding the Kuumba film production company and Ceddo Film and Video Workshop, in addition to establishing Black Filmmaker Magazine (BFM) and the BFM International Film Festival. While starting production on the film "The Spirits Return" in 2021 in Zimbabwe, Shabazz passed away from diabetes complicationss on June 28th, 2021 at the age of 67. The film was issued on DVD in 2005 by the BFI, which included a retrospective commentary by Shabazz, McFarlane and Romero Evans, an introduction by Shabazz, and the director's documentary short "Blood Ah Goh Run". 41 years after its original release, the BFI have restored the film for this Blu-ray release, with the vintage extras being included alongside a number of new additions. "Burning an Illusion" was groundbreaking at the time of its release and has not lost its relevance at all, with brutal honesty and unflinching realism that is a must watch for cinema fans.

Note this is a region B Blu-ray

Video


The BFI presents the film in the theatrical 1.66:1 aspect ratio in AVC MPEG-4. The transfer comes from a 2K remaster which looks absolutely great. Shot in exisiting locations with a very limited budget, the film may look a bit rough and slightly flat, but this restoration certainly breathes new life to the film by restoring it to a pristine condition. Colors are given depth, detail is strong throughout, and film grain is intact while the restoration has removed examples of dust, scratches, and other debris for a very clean image. There are some shots that seem a bit faded though overall the colors are well balanced for the most part. A great transfer for the film.

The film's runtime is 105:38.

Audio


English LPCM 2.0 mono
The original mono track is presented uncompressed. Due to the issues of on location recording, there are some instances of echo and slightly unclear dialogue, but for the most part the dialogue is fair and well balanced against the music and effects. There are no issues of hiss or crackle for a clean sounding audio track.

There are optional English HoH subtitles for the feature in a white font. They are well timed and easy to read, as well as thankfully being direct captions of the dialogue including the slang rather than "Anglicising" the dialogue.

Extras


Audio commentary with Menelik Shabazz, Cassie McFarlane and Victor Romero (2001)
n this vintage commentary, the director is reunited with the two leading stars twenty years later as they discuss the film in detail. From the behind the scenes information such as the budget of £80,000 and funding from the BFI, the locations of Notting Hill, the audition and rehearsal process, as well as details about character development and use improvisation, there are a lot talked about in this excellent commentary. The three have a lot to talk about in hindsight and almost never falls to silence. An excellent listen. Note this was previously released on BFI's 2005 DVD release.
in English Dolby Digital 2.0 without subtitles

2005 introduction by Menelik Shabazz (10:04)
This vintage introduction by Shabazz is for both "Burning and Illusion" and the documentary short "Blood Ah Goh Run", the reasons for producing them, the difficulties involved as well as gratitude towards the BFI for helping him fund his first feature length film. Note this was previously released on BFI's 2005 DVD release.
in 576i AVC MPEG-4, in 1.33:1, in English Dolby Digital 2.0 with optional English subtitles

2022 introduction by Cassie McFarlane (7:19)
This new interview with McFarlane has her discussing her acting career prior to her role of Pat in "Burning an Illusion" and the difficulties faced for black actors on stage and in film at the time and onwards. There aren't particular spoilers to be said here as it is an "introduction", but it would have been interesting to see and hear more from McFarlane about the film as well as her later career in detail, though she does have a lot to say in the commentary listed above.
in 1080p AVC MPEG-4, in 1.78:1, in English Dolby Digital 2.0 without subtitles

"Blood Ah Goh Run" 1982 documentary (13:12)
On Sunday, January 18th, 1981, a house fire broke out in New Cross, London, claiming the lives of thirteen black youths, aged between fourteen and twenty-two, as they were celebrating a birthday party. While there was speculation of it being a racially motivated attack, the New Cross house fire was left unsolved, leading to unrest in the community as they felt law enforcement officials were not giving justice to the dead. The Black People's Day of Action was organized for a peaceful march in London on March 2nd, 1981, where Shabazz captured the footage of the event with over 20,000 attendees, heard with the chants such as"13 dead, nothing said!" and "Blood ah goh run if justice na come!" being shouted across the city. The documentary short showcases the people involved in the march with interviews about the case, as well as instances of police officers who try to manipulate the march by instigating the attendees without remorse. There have been countless examples of black protests over the years on both sides of the Atlantic and what is disheartening to see is that history tends to repeat itself over and over with little change over the decades. Black Lives Matter may be a slogan that has reached the masses in name in the recent years, but the struggle extends generations and centuries. The documentary may be a small snapshot in time and edited down into a short thirteen minutes, it is all these years later still incredibly powerful and unforgettable. Shot and edited on film, it is unfortunate that the transfer here comes from a videotape source, and it is a weak one. There is no information in the booklet or otherwise about the source, but it is similar to that of what can be found on Shabazz's YouTube and Vimeo pages, with a faded picture, tape errors, and other common issues with dated tape transfers. The short has been embedded below.
in 576i AVC MPEG-4, in 1.33:1, in English Dolby Digital 2.0 with optional English HoH subtitles



"Step Forward Youth" 1977 documentary (29:08)
Shabazz's first documentary short, made alongside his friend, editor, and camera operator David Kinoshi features interviews with a number of Black youths from London on their lives, their culture, and their identity. Shot on 16mm film with funding mostly coming from Kinoshi's uncle, the documentary unfortunately would be the first and last work for David Kinoshi, who passed away from sickle cell anaemia the same year. The transfer here seems to be a standard definition master from the original film source, which has not been given a new master. There are scratches and debris throughout with colors being fairly on the dark side, though is in a watchable state.
in 576i AVC MPEG-4, in 1.33:1, in English Dolby Digital 2.0 without subtitles



Gallery (1:48)
A series of black and white and color stills in a silent automated slideshow.
in 1080p AVC MPEG-4

Trailer (2:25)
The original trailer, in fairly good condition with the picture and sound even in standard definition, is presented here.
in 576i AVC MPEG-4, in 1.33:1, in English Dolby Digital 2.0 without subtitles

Booklet
A 28 page booklet is included in the first pressing. First is "Reigniting the Flame: Menelik Shabazz's Burning an Illusion 40 Years On" by film critic and programmer Alex Ramon, looking at the film's themes and impact in detail. "Burning an Illusion: Landmark and Legacy" by Dr Clive Nwonka is another excellent essay looking back at the film which was first published in Sight & Sound in March 2022. There is also "The Good and the Bad, the Heart and Money", a text interview with Shabazz, speaking James Leahy and Monthly Film Bulletin from 1988, discussing about Black filmmaking in the United Kingdom in detail. A written biography of Shabazz by Leila Latif is next. There are also full film credits, special features information, transfer information, acknowledgements, and stills. Note that in the booklet, the notes on "Step Forward Youth" written by Shabazz has a spelling error with Malcolm X's name being spelled Macolm X, though it should be noted that the original article which was taken from Shabazz's website also has the same misspelling.


The selection of extras is great here, though it's a bit unfortunate that the shorts were not given new remasters. The same for the trailer as well. As the Blu-ray carries over all of the extras from the DVD release from over a decade ago and adds a number of great, relevant extras, but there is one curious omission, and that is the lengthy remote Q&A for the film recorded for BFI at Home for the 40th anniversary, featuring Shabazz in March 2021, which was only three months before his passing, and his last published interview on the film. While it is available on the BFI's YouTube channel, it would have been most welcome on the disc as it features some great stories of the film, its themes and impact as well as its relevance four decades later. The Q&A has been embedded below.


Other notable clips:


Burning an Illusion: 40th Anniversary Q&A with director Menelik Shabazz, actors Cassie McFarlane and Victor Romero Evans, singer and performer Janet Kay and UNISON Race Equality office and activist Margaret Greer.


A clip from the restored version of the film, courtesy of the BFI.


Shabazz on the influence "Shaft" (1971) and "The Harder They Come" (1972) had on him.

Overall


"Buring an Illusion" has lost none of its impact after more than forty years, with the depiction of Black struggles, the showcase of police brutality, and the importance of standing up for one's own culture and identity being even more pronounced in the post George Floyd world. The BFI's Blu-ray release is an essential upgrade over the previous DVD release, with a great restoration of the film with a great selection of extras included. Highly recommended.

Note the film and the short "Blood Ah Goh Run" are both available on the BFI Player:
- "Burning an Illusion"
- "Blood Ah Goh Run"
| | | | | |
| --- | --- | --- | --- | --- |
| The Film: A | Video: A- | Audio: B+ | Extras: A- | Overall: A- |