The Film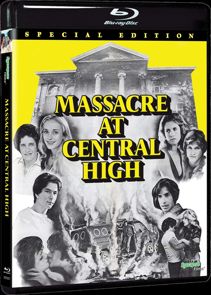 The student body of coastal California's Central High live in fear of the rule of the "Little League Gestapo" of privileged students Bruce (Jennifer's Ray Underwood), Craig (Gas Pump Girls' Steve Bond), and Paul (Bad Company's Damon Douglas). Mark (The Fury's Andrew Stevens) has carved out a cozy place between them and girlfriend Theresa (Friday the 13th: The Final Chapter's Kimberly Beck), and he hopes to share the wealth with David (Who'll Stop the Rain's Derrel Maury) who had helped him out of an unspecified jam at their previous school and has just transferred to Central High. David, however, gets on the gang's bad side from the start in trying to diffuse a confrontation between them and weedy school anarchist Spooney (Revenge of the Nerds' Robert Carradine). The gang do not take kindly to David's radiating disapproval as they demolish the jalopy of underprivileged student Rodney (Goodbye, Norma Jean's Steve Sikes) under the guise of a "safety check," and David starts to distance himself from Mark when he sees that his former friend is more afraid of not fitting in than the various injustices of his friends including the bullying of fat kid Oscar (Jeffrey Winner) in gym – which Mark lamely describes as "motivation" – rich kid Harvey (The Beach Girls' Tom Logan), and of deaf library assistant Arthur (Angel's Dennis Kort).

A conflicted Mark absents himself from the gang's decision to "teach a lesson" to Theresa's "frigid" friends Jane (Eight is Enough's Lani O'Grady) and Mary (Lemora: A Child's Tale of the Supernatural's Cheryl Smith, billed under her "Rainbeaux Smith" pseudonym for roles requiring nudity). The gang receive a sound thrashing and retaliate by permanently crippling David by dropping Rodney's car on his legs while he is attempting to repair the damage they caused to it. David cuts off all communication with Mark, Theresa, and even the friends he has made among the oppressed in the student body. He tells Bruce that he did not implicate him or his friends in his accident because "ratting on people isn't my style." Bruce believes that they have tarnished David's image at the school as a knight in shining armor, but it does not take a lot of investigation to surmise who is behind the increasingly deadly accidents orchestrated against the school's bullies that predicate the titular "massacre" come prom night.

Less of a precursor to the slasher genre than the likes of subversive high school pictures like Heathers, Massacre at Central High – the first international feature of Dutch music producer-turned-filmmaker Rene Daalder – is less concerned with the body count and the increasingly absurd deaths (once comparable to Looney Toons but perhaps less so in an age where school massacres are the norm) than in its cynical depiction of the high school food chain and parallels in the outside world. David seems noble and attempts to foment resistance among the bullied believing that he is giving them a chance; however, he admits to Theresa that he often acts in blind rages including those moments where he is meting out physical brutality to bullies. If the main trio of bullies seem to get their comeuppance pretty quickly, it is because the film's focus shifts to the way their victims move from a brief period of commiseration and encouragement to new divisions as they attempt to grab power themselves, including Spooney, Albert, and Harvey who each think to exploit David's standing among the student body – who all seem to know about and approve of his violence – each of whom seem to believe that David's subsequent murders are a means of thinning out their own competition. While Theresa remains a sympathetic character, the script succeeds in redeeming Mark for his passivity as he cares less about whether he is on David's victim list than saving his friend from himself and stopping more violence; indeed, most of his subsequent victims seeming to have earned their fates based on big talk and hypotheticals rather the actual acts that go little beyond Spooney instigating food fights, Oscar using his bulk to bump people out of his way while strutting down the halls, Rodney taking advantage of the grief of Bruce's parents to get a good deal on his sports car, Albert's delusions of grandeur, and Harvey thinking to blackmail David into supporting his attempt to seize power. There are no adults in the film, including teachers, suggesting both that the school is a place where the kids are contained and allowed to run wild as well as the tacit approval of their elders in the regulation of the school's power structure.

After a title sequence that contrasts the schmaltzy theme song "Crossroads" with a montage of the violence to come, the film boasts a compelling setup bolstered by good performances, only to falter in the middle. Either due to scheduling or extensive re-editing, the second act feels more like a series of bullet points than an organic flow as fade transitions move from scene to scene, reducing established characters to caricature leading to the cartoonish feel of the escalating violence. A beach sex scene between Mark and Theresa seems like it was intended for earlier in the film rather than the middle, especially as it is followed up by a scene of Mark looking numb and Theresa telling David that Mark has been "dead inside" since he discovered that David was behind the murders (suggesting that the filmmakers shot the scene, did not have a place for it in the first act, and just needed to insert it somewhere to up the nudity quotient). In addition to the onscreen talent who went on to future fame, the crew includes assistant editor J. Larry Carroll – who would go on to edit The Texas Chainsaw Massacre and from a tenure with producer Charles Band (including the scripting of Tourist Trap and producing Laserblast) to head writer and supervising producer on shows like Diagnosis Murder and Star Trek: Deep Space Nine – script supervisor Ana Maria Quintana who paid her dues in low budget exploitation before moving up to the likes of Blade Runner, American Beauty, and various Steven Spielberg films from the nineties onwards, and cinematogapher Bertram van Munster who moved up from National Geographic documentaries to creating The Amazing Race and having a stake in its various international franchise spin-offs.

Video


The sole theatrical release of Brian Distributing, Massacre at Central High had a VHS release at the dawn of the format but was more accessible via MPI's Gorgon Video VHS from the late eighties. Cult Epics announced the film for DVD release a few years ago but that failed to come to fruition – although they distributed a few other Daalder films like the more obscure Hysteria – while VHS-mastered versions turned up overseas (including the Italian version titled "Sexy Jeans" which inserts hardcore footage into the rape and sex scenes). If it was a matter of elements, Synapse Films' 1080p24 MPEG-4 AVC 1.78:1 widescreen Blu-ray does not reflect this. Apart from some less-than-convincing digitally-recreated opening credits, the presentation is spotless with rich colors and deep shadows. Only some underexposed grain during some of the exteriors and a few insert shots look less than optimal due to the photography.

Audio


The only audio option is a DTS-HD Master Audio 2.0 mono track that is crystal clear in terms of dialogue, music, and effects with nary a trace of hiss. Optional English SDH subtitles are also included.

Extras


In place of a commentary are two additional audio tracks featuring interviews. The first track features four audio interviews with cast members Andrew Stevens, Robert Carradine, Rex Steven Sikes, and Derrel Maury conducted by Mike White of "The Projection Booth" podcast who notes that the first two were already in the can at the time he started compiling the track while the latter two were lined up, and that he hoped Sikes and Maury remembered more than Stevens and Carradine. Stevens' interview encompasses his career, starting with how he got the acting bug by way of his high school libido rather than because of his mother Stella Stevens (The Poseidon Adventure) who was in Hollywood while he was growing up in Tennessee. He only discusses the film in vague terms amid his other work of the period including The Boys in Company C, and auditions for Star Wars and Carrie (which lead to his casting in The Fury). He sheds some light on his move behind the camera following his days with Roger Corman (while glossing over his erotic thriller period and producing a number of films for Fred Olen Ray) and how penetrating the market comprehensively with his Royal Oaks Entertainment company paved the way for his later bigger budget producer credits. Carradine recalls being pushed into the business by his brother David, some of his offbeat seventies credits, and a frank assessment of the quality of the Revenge of the Nerds sequels. Sikes recalls getting the film because cinematographer van Munster told Daalder that he was "photogenic" and his subsequent character roles while Maury reveals that he auditioned for the Rodney role but that, in helping Daalder find actors for the principal roles in a short pre-production period, he was offered the lead because Daalder recognized in him David's "mensch" qualities (in spite of the producers wanting Mark Hamill). Daalder – who passed away in 2019 – appears in a audio interview conducted by writer/horror historian Michael Gingold over the first twenty-five minutes of a third audio track accompanying the feature. He reveals that the American producers only had the title and supplied him with a vague brief with which to shape the script, his decision to include no adult roles in the film, and that the distributors never cared for the film. He also notes that his own opinion of the film has improved, including the "schmaltzy" theme song.

The documentary "Hell in the Hallways: The Making of Massacre at Central High" (42:27) features onscreen appearances by Maury, Stevens, Carradine, Logan, Winner, and Sikes along with cinematographer van Munster and assistant director Eugene Mazzola (Brainstorm). Topic include Daalder's dialogue (and attempts by Maury and Sikes to rework their scenes), the party atmosphere of most of the cast while Maury took himself seriously, the mix of locations all over Southern California including Claremont College for the settings, and some of the stunt and effects mishaps including the locker explosion. The disc also includes the film's theatrical trailer (2:23), a TV spot (0:33), a radio spot (0:27), and a still gallery (3:14).

Packaging


The Michael Gingold booklet and DVD copy included in the 4,000-copy limited edition steelbook still available directly from Synapse Films are not included in the standard edition.

Overall


In spite of some increasingly cartoonish death scenes, Massacre at Central High is not so much a precursor to the slasher genre so much as it anticipates the likes of Heathers.