Mutant Hunt [Blu-ray]
Blu-ray A - America - Vinegar Syndrome
Review written by and copyright: Eric Cotenas (26th September 2022).
The Film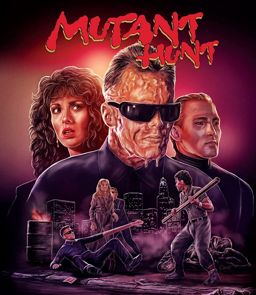 Inteltrex is the leading manufacturer of cyborgs and have been able to operate with impunity following strict laws meant to tamp down rebellion. All this power has gone to the head genetic scientist Z (Bad Girls Dormitory's Bill Peterson) who has discovered that illegal drug Europhon has effects the psychosexual centers of the cyborgs turning them into brutal killers who murder for the fun of it. The Delta 6 cyborgs could not handle the dosages, so Z has had Dr. Paul Haynes (Cold Hearts' Mark Umile) design the new Delta 7 cyborgs without knowledge of Z's intent to weaponize them and sell them to the highest bidder. After witnessing the carnage done to some of the last Delta 6 cyborgs by three Delta 7 prototypes that subsequently escaped Inteltrex – with Z playing ignorant about the nature of their malfunction – he and his sister Darla (Riot on 42nd Street's Mary Fahey) investigate. Upon discovering Z's intent, Paul is taken into custody while Darla escapes. She has a difficult time convincing bounty hunter Matt Riker (Fatal Frames' Rick Gianasi) of the danger until two of the cyborgs break into his apartment. Riker is able to fight off and kill one (all the while wearing just tighty-whities) while the other – whose synthetic flesh has started to break down as his insides go haywire under the effect of the drug – escapes into the night.

Riker and Darla team up with operative Elaine Eliot (Warbirds' Taunie Vrenon) who is undercover as a stripper investigating the trafficking of Euphoron and weapons expert Johnny Felix (stunt coordinator Ron Reynaldi). As Elaine attempts to trace the destination of the latest Euphoron shipment that has been entirely bought up by an unknown party, Riker and Johnny need only to follow the trail of mutilated bodies to take out the other two cyborgs. Holed up in Riker's apartment, Darla discovers that the cyborg is not entirely dead and its own desire for survival overrides its programming. Z is confident that his creations will be able to handle the bounty hunters, but he has severely underestimated the wrath of his screwed-over former partner Domina (Stormy Spill) who knows the full potential of Euphoron and has the next cyborg evolution under wraps waiting to unleash it upon the world.


One of a handful of direct-to-video productions for then-Empire Pictures/future Full Moon Entertainment head Charles Band's home video label Wizard Video – with the hyperbole "Too Gory for the Silver Screen" – Mutant Hunt was helmed by actor-turned-gay pornographer Tim Kincaid (better known to XXX fans as "Joe Gage") along with the Wizard entries Robot Holocaust and Breeders (along with David DeCoteau's Dreamaniac) following Kincaid's transition into the mainstream market with Bad Girls Dormitory. Whereas Robot Holocaust made some imaginative use of the ruined New York docklands, strategic shooting of Central Park, and some quaint glass matte paintings to create a post-apocalyptic future New York, Mutant Hunt's minimalist warehouse interiors cannot make up for the fact that every exterior shot appears to have been captured guerrilla-style in a very eighties New York where passersby merely gawk at melting cyborgs carrying off screaming women; and that's part of what makes the film immensely entertaining. The story rushes by painlessly for roughly an hour of the seventy-seven minute running time before an awkwardly-staged climax in which characters observing the combat between the heroes and the cyborgs seem to have been shot with no real sense of screen direction to give the sequence any sort of visual continuity. The survival of one villainous character who definitely was not there when the rest of the sequence was being shot suggests an open ending with a sequel in mind. Rather tame in terms of sex and nudity – lensed with video in mind, it is actually the sides of the frame rather than the vertical of matted widescreen films that reveals that the actors are clothed below the waste during a sex scene – and definitely not "too gory for the silver screen" in spite of a few striking bits of cyborg mayhem designed by Ed French (Blood Rage), Mutant Hunt's charms are meager but the effort still feels more ambitious than some of the latter day Full Moon quickies.

Video


Released straight to VHS by Wizard Video, Mutant Hunt ended up with MGM through Trans World Entertainment's distribution of the Wizard library, but Full Moon still released the film on DVD from the old video master. Vinegar Syndrome easily bests that disc with a 4K scan of the original 35mm camera negatives. While Scorpion Releasing's Blu-ray of Robot Holocaust and Olive Films' Blu-ray of Breeders were framed at 1.85:1, Vinegar Syndrome's 1080p24 MPEG-4 AVC encode of Mutant Hunt is framed at the intended aspect ratio of 1.33:1. Even before we get to the first image, the transfer stuns with the vivid neon green of the credits opticals. Night exteriors can be grainy with variable blacks but the interiors all look quite sharp and reveal that more consideration went into the color scheme that previously apparent. The prosthetic effects hold up well and are more of a testament to the hunger of the artists rather than an overall high standard of production.

Audio


The sole audio track is a DTS-HD Master Audio 2.0 mono track – mislabeled stereo on the back cover – that features clear dialogue recording, some exaggerated foley effects, and a synth score credited to stock music composer Don Great that was recycled in part in some of the other lower budget Band productions of the period. Optional English SDH subtitles are also included.

Extras


Extras start off with an audio commentary by film historian Elizabeth Purchell who notes that Kincaid's career as an adult filmmaker has usually been brought up disparagingly in discussing his mainstream work, but that there is a sense of continuity between his works of gay pornography – which sought to redefine gay identity at a time of massive push back from so-called moral authorities and macho toxicity, and how he shaped the notion of the "Gage man" – and Mutant Hunt's easygoing protagonists. Purchell also provides some much-needed context on Kincaid's porn career, his move into the mainstream and how he became involved with Band – also noting that Gianasi was Kincaid's muse during the period – and his return to adult filmmaking in the nineties.

In "Mutant Maker" (18:21), special makeup effects artist French discusses his early credits including Nightmare, Amityville II: The Possession, and Sleepaway Camp as well as Alphabet City whose special effects supervisor Matt Vogel recommended him for Breeders. Of the film at hand, he gives a rundown of the effects including the oversized puppet for the android whose skin has deteriorated and exposed his exoskeleton while also regretting his design choices for the look of the android including a very unflattering haircut.


"If You Want Me to Box with a Kangaroo..." (55:41) is an interview with actor/future Court TV presenter Dr. J. Buzz Von Ornsteiner – who attended NYU for photojournalism but got into acting and appeared in Breeders. He recalls that the hair cut for his android character lost him some jobs in his other night job working for a caterer along with some other acting roles. He recalls the old navy yard shooting location and spending downtime with his castmate drawing parallels between the specifics of their android deterioration and the then-current AIDS panic. He also displasy several stills from the production in his possession.

"Long Arm of the Hunt" (24:17) is an interview with actor Mark Legan who recalls being offered the role of one of the android after Bad Girls Dormitory and Breeders and also bemoans the haircut as well as not being aware that Kincaid was a porn director at the time.

Packaging


The disc comes with a reversible cover with the more familiar Wizard artwork on the inside while the first 5,000 copies ordered directly from Vinegar Syndrome come with a special limited edition embossed and spot gloss slipcover designed by Ralf Krause.

Overall


Mutant Hunt's charms are meager but the effort still feels more ambitious than some of the latter day Full Moon quickies.

---
Rewind DVDCompare is a participant in the Amazon Services LLC Associates Program and the Amazon Europe S.a.r.l. Associates Programme, an affiliate advertising program designed to provide a means for sites to earn advertising fees by advertising and linking to amazon.co.uk, amazon.com, amazon.ca, amazon.fr, amazon.de, amazon.it and amazon.es . As an Amazon Associate, we earn from qualifying purchases.