The Film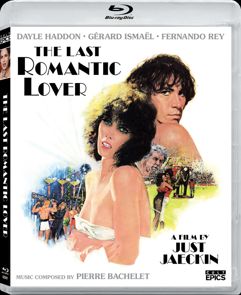 The editor-in-chief of a New York magazine that has catered to men's fantasies for several decades, Elisabeth (North Dallas Forty's Dayle Haddon) decides to turn the tables with a contest in Paris to find "The Last Romantic Lover" which she describes as a mix of "Romeo, Valentino, Casanova, and Warren Beatty." Her endeavor is met with hostility by both male press members – especially when they learn the judging panel will be made up of women and gay men – and feminists even though she states that she is one as well. From five-hundred-and-fifty-thousand submissions, Elisabeth and her screeners select twelve including pimp Robert (A Girl Cut in Two's Etienne Chicot), businessman Simoni (Love at the Top's Georges Beller), a handsome young artist (The Skin's Yann Babilée) – possibly gay since he is always closely accompanied by an older man who claims to be neither his father nor his agent – and Pierre (Immoral Women's Gérard Ismaël), the lion tamer of a rural circus guilted into entering the contest by aging ringmaster Max (The Discreet Charm of the Bourgeoisie's Fernando Rey) when the death of their lion from old age – although Max suggests he died because he could no longer scare an audience addicted to television – potentially means the end of their troupe.

Pierre has a lot of competition but his own resentment of being paraded around in a beauty contest does not immediately endear him to Elisabeth however much Max tries to sell the younger man's standoffishness as "provocation." Elisabeth's private life is also beginning to suffer with her long-suffering boyfriend James (David Simon) having taken off work and flown to Paris only to spend his days in their hotel room waiting for her to turn up for thirteen minute nooners. It is not Pierre's pride that costs him the contest but his compassion, but he gets the runner up prize which is a paid vacation for ten days with the woman of his choice. Pierre shocks Elisabeth by picking her and spiriting her back to the circus where she gets a hostile reception from the troup, particularly the lovelorn bearded lady Thérèse (Zorica Lozic). Pierre finds amusement in Elisabeth's discomfort until she starts stubbornly decides to show that she can adapt to the circus life for the remainder of their holiday; whereupon things heat up between them physically and both become disturbed by their growing feelings for one another (for different reasons). The circus' fortune teller correctly predicted that be picked for the contest. While he did not foretell whether Pierre would win or not, the fortune teller did insist that he would find love.

Like his previous film Madame Claude, The Last Romantic Lover was an attempt by fashion photographer-turned-filmmaker Just Jaeckin to get away from his "master of eroticism" persona gained from the worldwide successes of his debut Emmanuelle – a project originally offered to photographer David Hamilton who went on to his own career in soft focus softcore erotic with the likes of Bilitis and Tendres cousines – and its followup The Story of O; indeed, Jaeckin and co-scenarist Ennio De Concini (Salon Kitty) do indeed take the turning the tables scenario seriously, objectifying the men both in visuals and Elisabeth's master of ceremonies speeches on stage while Pierre telling Max that he feels like a "hunk of meat" finds parallels in Elisabeth describing to her boyfriend the contestants as "lambs to the slaughter" (further behind the scenes cynicism includes a cameo by model-turned-actress Dalila Di Lazzaro playing the maneater for the audience and then whispering to Pierre to "play the part" like she does). The second half of the film seems like the romantic comedy "battle of the sexes" scenario of the man taking the careerist woman down a peg under the guise of showing her tenderness and simplicity in an idyllic rural setting. It does indeed follow that pattern including a third act breakup, but Jaeckin obviously identified with Elisabeth and allows Haddon to give a bit more nuance to her epiphany about what really matters in life (certainly compared to her secondary lead role in Madame Claude); indeed, Haddon's Elisabeth is the focal character and Ismael's Pierre the secondary lead in a scenario that does indeed only mock the male characters (even the bearded lady is not a comic relief character but one whose tender heart shows through her costume and make-up).

Befitting a fashion photographer director and a model-turned-actress lead, Haddon looks glamorous throughout, but her nudity is shot in a more matter-of-fact fashion; in contrast, the film is not heavy on male nudity but the contestants are treated more like what the audience would expect of female characters in what is ostensibly an "erotic" film from striking idealized mythical poses while covered in gold glitter to having their hair, skin, and clothing (however skimpy) fussed over backstage for the camera of Jaeckin regular Robert Fraisse (Ronin). Jaeckin's regular composer Pierre Bachelet is back after having to bow out of Madame Claude due to scheduling issues – that scoring job went to singer Serge Gainsbourg and his romantic partner Jane Birkin (Blow-Up) who would also score Goodbye, Emmanuelle the same year – with a greater emphasis on disco along with some ethereal electronics that recall the work of Francis Lai on Emmanuelle 2. While the film may still disappoint contemporary viewers expecting more Jaeckin erotica – as it did audiences at the time – The Last Romantic Lover is far from the sort of commercial fluff viewers were seeing in R-rated cinema at a time when hardcore had reclaimed the X-rating from Emmanuelle, and the Blu-ray release makes a fitting tribute to the director whose death just a few weeks ago came after the disc went to press.

Video


Never dubbed into English, The Last Romantic Lover was released theatrically in the United States by New Line Cinema during their more adventurous pre-A Nightmare on Elm Street where they put out as many arthouse films as grindhouse. Unavailable officially on home video stateside, the film makes its physical media debut from Cult Epics in a 4K-mastered 1080p24 MPEG-4 AVC 1.66:1 widescreen transfer supervised by cinematographer Fraisse in all of its glittery, star-filtered beauty with creamy skintones and popping primaries. Grain is heavier during the few night exteriors and the credits opticals but this is part of the film's texture.

Audio


Three French audio tracks are featured on the disc including a French DTS-HD Master Audio 5.1 track and a Dolby Digital lossy version as well as the original mono mix in LPCM 2.0. The surround tracks are not a revisionist remix, merely giving more breathing space to the music and effects tracks. While there is a smattering of English dialogue, Haddon and Simon continue speaking French to each other even in Las Vegas, and this is a film in which Elisabeth remarks on the particularities of the French language including her switch from the informal you to the formal when angry at Pierre. English subtitles are provided for the dialogue but song lyrics and poetry remain unsubtitled.

Extras


Extras start off with an overflowingly informative audio commentary by Jeremy Richey, author of "Sylvia Kristel: From Emmanuelle to Chabrol" who provides background on Jaeckin and his chief collaborators as well as Haddon and the supporting cast – while also pointing out how Jaeckin's talent for casting interesting faces included a number of extras who went on to successful acting careers including Cyrielle Clair (La belle captive) and Catriona McColl (The Beyond) as well as famous cabaret director Jean-Marie Rivière – as well as reflecting on Jaeckin's attempt to move towards more personal work and how the quality of his films went up in contrast to the waning audience reception. He also makes a case for Jaeckin's female characters that makes one want to reassess his other films.

The disc also includes a pair of new interviews. The interview with director Just Jaeckin (18:01) has him recalling the difficulty he had finding a backer for the film, the personal and autobiographical nature of the story – he was working at a magazine at the time and fell for a model who came to the city to work when the circus she was in lost its elephant – and Concini's suggestion to make the editor female and the "model" male. He recalls the film's poor reception in France in spite of good critical notices and being moved to tears when he was flown to Canada to promote the film where it was a hit.

In the interview with actress Dayle Haddon (23:23), she expresses an affection for not only Jaeckin but also French cinema, noting that it was her French works more so than her early American and Canadian ones that gave her opportunities to express herself. She recalls jumping at The Last Romantic Lover after getting used to Jaeckin's style as a director on Madame Claude as well as her recollections doing circus training and her fear of snakes and elephants.

The disc also includes a 2022 presentation at the Cinémathèque Française (15:03) with Jaeckin and Haddon surprised by a moving tribute from filmmaker Costa-Gavras (Missing) and author Philippe Labro who had "adopted" him as a younger brother while they were all stationed in Algerias during the war. The disc closes out with a photo gallery (1:26) and trailers for six other Cult Epics releases.

Overall


The Last Romantic Lover is far from the sort of commercial fluff viewers were seeing in R-rated cinema at a time when hardcore had reclaimed the X-rating from Emmanuelle, and the Blu-ray release makes a fitting tribute to the director whose death just a few weeks ago came after the disc went to press.