Tales of Unease (TV)
R2 - United Kingdom - Network
Review written by and copyright: Rick Curzon (27th September 2022).
The Show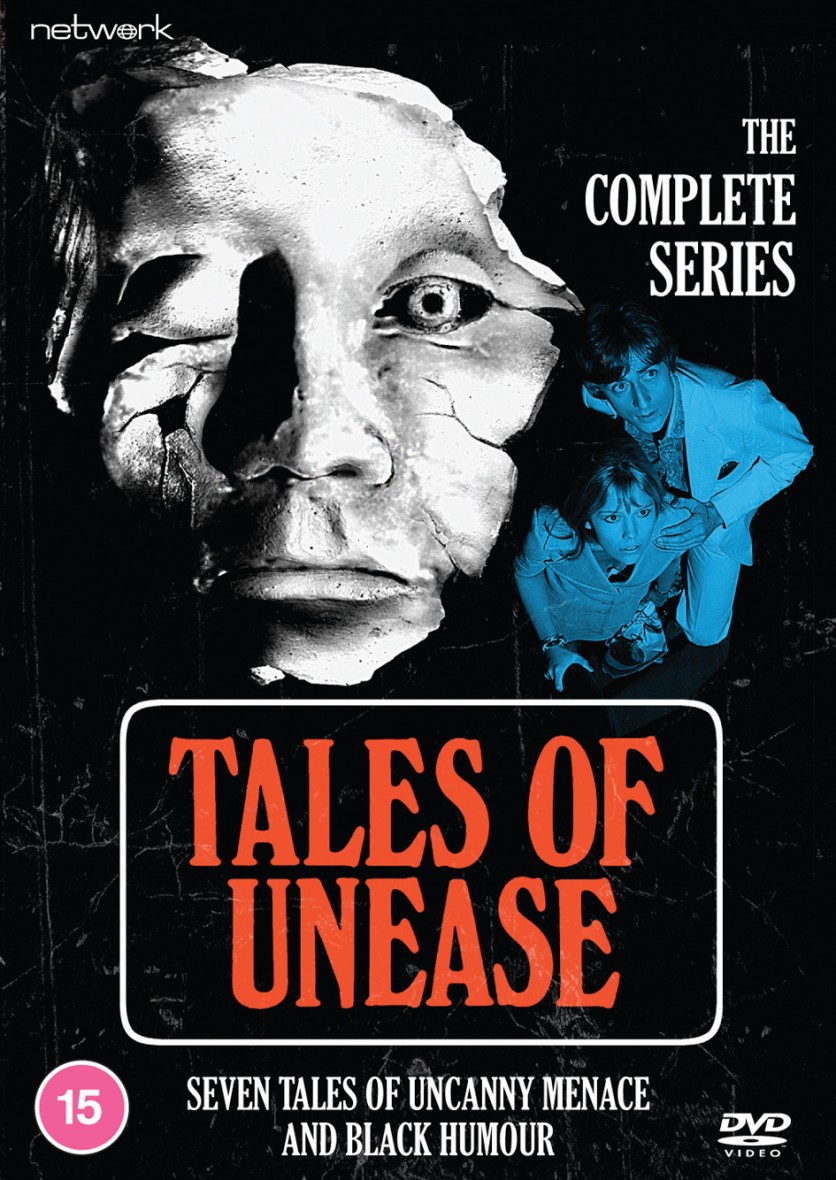 A rarely-seen anthology drama series featuring stories full of menace and black humour, Tales of Unease avoids overt horror for a subtler and altogether more unsettling sense of the uncanny. This atmospheric series features stories from novelist John Burke, playwright Michael Hastings, A Bouquet of Barbed Wire's Andrea Newman and James Leo Herlihy – author of Midnight Cowboy.

Video


An obscure, largely unknown horror portmanteau series broadcast in November to December 1970 has been dug up from deep in the ITV archive. Off the shelf masters from the LWT vaults presented on disc by Network.

16mm material suffers from being transferred at the time to PAL broadcast videotape so there's slightly washed out colours, lack of detail and moments of crush as befitting the standards of film to tape transfer of the era. Black levels are generally fairly deep and rich, contrast a little blown out, not much but just a little. There are no white outs of signs of loss of detail in highlights. Essentially what I would expect from an off the shelf master presented with no restoration having been done.

Videotaped material has richer colour and more detail although the image is still a little soft. Black levels and contrast and satisfying with the videography having that slightly over lit studio quality typical of television studio productions of the era. There are some fleeting moments where tape drop out appears. These appear as lines that flash up in a fraction of a second. Collectors of vintage television will be familiar with dropouts and there are very few. I saw no other artefacts typical of taped material of vintage.

The transfers are fine and precisely what collectors have come to expect from these Network discs in that they're using well looked after off the shelf broadcast masters. Most likely more modern master formats where the originals have been ported across.

M-PEG 2 / DVD9 / 186:34 PAL

Audio


English Dolby Digital 2.0 Mono
Subtitles: English HoH

Standard mono typical of a vintage ITV-LWT television production. There's little or no range or depth but it gets the job done very well. It was designed for broadcast along a single channel mono track with dialogue being the main priority. Music is mainly relegated to the opening and closing theme with little by way of incidental score, perhaps five minutes per episode at most. Sound effects and ambiance are naturalistic and not bombastic. Adequate English subtitles for the hearing impaired are provided and essential although they're not always so accurate and keep describing the opening theme music differently.

Extras


Image Gallery (0:30)

Solid image gallery of promotional and behind the scenes photos. 56 images in all from every episode bar #4 "It's Too Late Now".

O-card slipcase

This is only available if you order the disc from Network's own website. Not provided for review.

Liner notes booklet by Andrew Pixley

Not provided for review. If it's anything like other Pixley series guides it'll be superb.

Packaging


Standard clear DVD Keepcase.

Overall


Network in the UK continues to trawl through the ITV vaults and this little gem of a anthology series gets it's moment in the sun for new generations to savour. Seven tales of horror, all worth seeing will no doubt be viewed by plenty of fans this coming Halloween in their home cinemas. Image and sound are solid for a series such as this made on combination of 16mm film and PAL 625 line videotape. Disc extras are limited to a single fine still gallery but another Andrew Pixley viewing notes booklet is also included, although not provided for review. Highly recommended.
| | | | | |
| --- | --- | --- | --- | --- |
| The Show: A- | Video: B- | Audio: B+ | Extras: C+ | Overall: B |

---
Rewind DVDCompare is a participant in the Amazon Services LLC Associates Program and the Amazon Europe S.a.r.l. Associates Programme, an affiliate advertising program designed to provide a means for sites to earn advertising fees by advertising and linking to amazon.co.uk, amazon.com, amazon.ca, amazon.fr, amazon.de, amazon.it and amazon.es . As an Amazon Associate, we earn from qualifying purchases.