The Film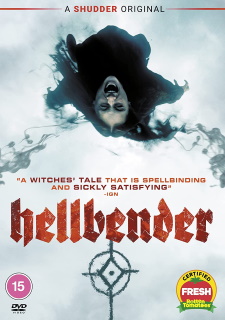 Cheval Noir (Best Actress): Zelda Adams (winner), Sandro Forte Award (Best Motion Picture Score): John Adams (winner), and Cheval Noir (Best Film): Zelda Adams, John Adams, and Toby Poser (nominee) - Fantasia Film Festival, 2021
Best Acting: Zelda Adams (winner) and Best Film : Zelda Adams, John Adams, and Toby Poser (nominee) - Mar del Plata Film Festival, 2021

Due to an autoimmune disease, teenage Izzy (Zelda Adams) has lived isolated on a mountain with her mother (Tobey Poser) for as long as she can remember. Her mother is not only her sole caregiver but also her best friend, writing and playing songs with her in their basement rock band and picking up macabre inspirational knickknacks for her daughter during her solo trips to town. While her mother is away, Izzy wanders the woods of their vast private property. One day, she is startled by a lost hiker (John Adams) who reveals to Izzy that he is visiting his niece who lives nearby before her mother appears and sends her away. Curious about other people and wanting friends despite her mother's claims that she is too ill to be around other people, Izzy spies Amber (Lulu Adams) who has a habit of sneaking into the pool of a well-to-do neighbor who rarely uses his country residence. Friendly Amber puts Izzy at ease, seeming impressed when she tells her that she is in a rock band, and invites her to come back in a couple days for a small party with friends. Unbeknownst to her mother, Izzy keeps her date with Amber and her friends and starts to question how sick she really is when medical school-bound AJ (Rinzin Thonden) informs her that the autoimmune disease her mother told her she has is usually found only in boys and has a high infant mortality rate, but then Amber gives her the chance to show up rocker friend Ingrid (Khenzom) on the drums. When Izzy drinks a tequila shot with a live worm, however, she starts to feel sick, which ends badly for the owner of the house (Rob Figueroa) when he catches her on his property. Returning home, Izzy demands the truth about her supposed illness from her mother who reveals that neither of them are entirely normal, and Izzy's coming-of-age is about to get as gory and violent as it is cool.

The fifth feature film co-directed by John Adams and his wife Toby Poser, and the third jointly directed with their daughter Zelda Adams as "The Adams Family" – following The Deeper You Dig and The Hatred – Hellbender is a coming-of-age drama crossed with an American strain folk horror with references to the Puritan witch hangings combined with an entirely original and feminine mythos that as anarchic and punk as the characters' music. The script is slight but never feels underdeveloped, giving just enough backstory and carrying the rest of the narrative through the chemistry between mother and daughter as the latter's keeping her daughter in ignorance of her powers through deception has parallels in dysfunctional relationships between parents and children while Izzy exploring her powers and finding enjoyment in its darker aspects are not unlike teenage rebellion and the general pulling away that so frightens some parents. The musical interludes featuring original songs by the Adams family and the montages they underline feel more organic to the storytelling style and less like self-promotion, and the lack of communication between parent and child allows the narrative to move rather fitfully and the tone to shift abruptly from moments of tenderness and joy spiked with black humor to chilly silences and horrific discoveries. The black humor extends to the horrific ending with a wonderfully cheeky final line of dialogue. Including Hellbender, the trajectory of the Adams Family's horror filmography shows an increasing DIY mastery of the new wave of minimalist, deliberately-paced, intimate horror films and it will be interesting to see what they tackle next.

Video


Shot on Canon DSLR cameras, Hellbender's 16:9 anamorphic 1.90:1 widescreen image has a deliberate "cinematic" softness combined with grading which contrasts warm and well-saturated interiors and a few summer exteriors with stark, almost blindingly white snowy landscapes and supernaturally-pale skin that seems more due to the grading than any physical make-up effects. Some of the more obvious digital effects are forgivable for there artifice while the extras reveal a handful of effects that went unnoticed while viewing the film.

Audio


The sole audio option is a Dolby Digital 2.0 stereo track that suits the film's predominantly intimate tone and seems up to the task of the moments of busier sound design and enveloping music. Optional English SDH subtitles are included.

Extras


Extras start off with "The Visual FX of Hellbender by Black Magic Tricks" (9:48) narrated by effects supervisor Trey Lindsay who gives a rundown of the film's digital effects work. The bloopers (1:43) is an appropriate companion to the effects piece showing John Adams holding on for dear life as he is suspended by a makeshift harness to a tractor (subsequently painted out) for his levitation scene and the adverse weather conditions blowing away both actors and makeshift greenscreen backgrounds. The behind the scenes footage (6:38) shows more of these mishaps as well as a look at the make-up effects workshop, drone testing, and the shooting of some of the images of the characters' ancestors buried under various overlays and contrasty grading in the finished film. "Zelda's Alter Ego: Eville Adams" (0:28) is an arty TikTok video while "Travelling with Wonder Wheel" is a weblink for the production company.


The disc also includes four music videos of songs heard in the film: "Lovely" by Zelda Adams (2:33), "Drive" by Zelda and John Adams (1:44), "Black Sky" by John Adams (2:52), and "Falling in Love" by John Adams (1:44).

Overall


A vaguely folk horror take on the coming-of-age drama, Hellbender is slight but satisfying.