The Film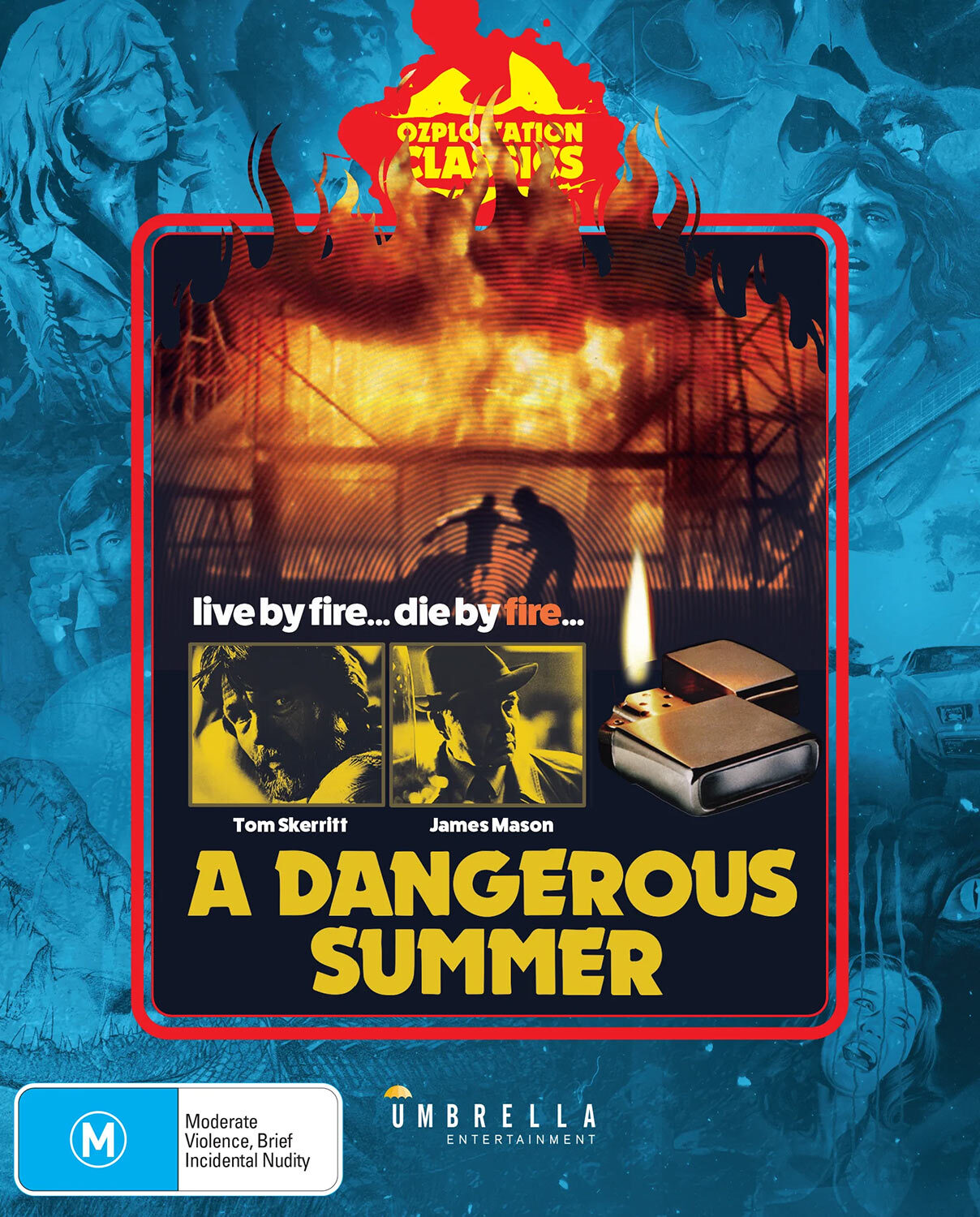 "A Dangerous Summer" (1982)

A number of bushfires in the Blue Mountains near Sydney have caused extensive damage to the forests as well as the property in the area. Howard Anderson (played by Tom Skerritt) is an architect that is grossly concerned about these incidents destroying his works, as is insurance agent George Engels (played by James Mason) who flies in to investigate the claims. In addition there is Sophie McCann (played by Wendy Hughes), an insurance lawyer looking to find any evidence of fraud, as arson is a potential cause of the fires. But the more they look into the clues, the more danger comes their way...

Inspired by the devastating 1980 Ash Wednesday bushfires that destroyed nearly 40 square km and caused AU$34 million in damages, "A Dangerous Summer" was aimed to create an exciting and tense action film filled with dangerous stunt sequences and with Hollywood star power in the leads. Unfortunately, the film was riddled with troubles especially during production which was started without a completed script and having rewrites almost every day. Character motivations and connections, an inconsistent tone and a plot that is too thin are only a few of the issues with the finished feature. But does it have any redeeming points?

The plot is fairly straight forward with a mystery as to who or what is causing these weekly bushfires and the people that are affected by it. With the character of Howard at the center, it is easy to put faith in him and it is never a question as to his loyalty to his creations over money. Skerritt does an admirable job with the character but there is still very little to deal with. His relationship with his daughter Maggie (played by Kim Deacon is not given enough depth until the very end, as well as with anyone else in the story. As the lone American character he does feel quite alone until he finds an ally with the character of George. As for Mason, he is gentlemanly as expected, but he always seems a bit surprised and confused as to what is going on, though he is at his best when he has people to play off of, especially Skerritt. Guy Doleman does a fair job as executive Julian Fane who is quite alright with the burnings of the properties, caring about the financial status more than anything else, though it is a standard evil corporate businessman role that wasn't given enough time on screen.

An obvious highlight is the dangerous fire sequences in the film, and they do not disappoint. Some of the firefighter footage was originally filmed by director Brian Trenchard-Smith for the documentary short "That Dangerous Summer" in 1980. Producer Jim McElroy would recycle some of the footage two years later for the fire scenes in "A Dangerous Summer" and since the footage is real, there is no doubt about the seriousness of the flames. They are well integrated with the newly shot footage with Skerritt and others which are also quite intense, and quite seamless. The train fire sequence is another well done sequence showcasing great use of special effects and real danger, though this is one scene that is a bit on the far fetched side of things, and more to show off things visually. There is also a dangerous underwater stunt which was highlighted in the trailer and features some topless nudity, which is skillfully edited and choreographed to not let the audience know who the killer is.

The writing is where things get confusing, as the story has four credited writers, with Kit Denton and McElroy credited for the orignal idea and David Ambrose and Quentin Masters are credited as the screenwriters. Apparently the production was started without a fully realized script. Masters, who also was the director, would rewrite scenes and dialogue during the production and scenes given to the actors on those days, causing confusion among the actors on their motivations and where the story was going. The interactions between characters are not very strong, the movement in plot seems closer to being conveniences to move the story along rather than calculated plot points.

"A Dangerous Summer" has too many factors working against it to make it worthwhile or captivating as a whole. There is little to care about the characters and there are too many holes in the narrative to make things cohesive. Released on October 21st, 1982 theatrically in Australia, it was a small grosser, taking in only AU$33,000 theatrically, and not having much of an impact internationally. It eventually received a DVD release in 2006 from Umbrella Entertainment, and now it has finally gotten the HD treatment on Blu-ray in 2022.

Note this is a region ALL Blu-ray

Video


Umbrella Entertainment presents the film in the 2.35:1 aspect ratio in 1080p AVC MPEG-4. The remastered transfer looks quite good with major damage being removed and the image being cleaned. There are few if any instances of damage marks but colors seem a little pale and lifeless. From skin tones to backgrounds, everything feels a bit lifeless in the transfer, and in comparison to the remastered theatrical trailer that is available on this disc where the colors are more vibrant and bold, it is curious as to why the film itself has this look. In other positives, detail is very good with sharpness and the image is stable throughout. But on another odd moment, around the 53:40 mark when Mason and Skerritt are talking at the bar, there is an odd shift in pixels on the very bottom of frame, above the black bar for a few seconds. Seems like some digital error in the transfer.

As a bonus there is also an alternate transfer on the disc. "The VHS Experience" is a transfer directly from a standard definition VHS of the 1985 Roadshow Home Entertainment tape upscaled to HD, presented in the 1.33:1 aspect ratio in 1080p AVC MPEG-4. The PAL tape at 25fps has been slowed down 4% and transferred to 24fps to stay accurate to the theatrical version's runtime. The cropped transfer is washed out and not in the best of shape as expected, with no clean-up or restoration, keeping true to the "experience" as they intended as a special feature.

The remastered version's rutime is 89:40 while the VHS version's runtime is 89:49, with the VHS version having some text about the version in the opening. Content-wise they are identical.

Audio


English DTS-HD Master Audio 2.0 mono (restored version)
English Dolby Digital 2.0 mono (VHS version)

The original mono audio track has been remastered and presented lossless for the theatrical version. The audio is quite clear and crisp throughout, with dialogue being easy to hear and well balanced against the music and effects. There are no major issues with hisses or pops to be heard. A good job on the sound restoration here. As for the VHS version, the audio does have some issues with fidelity, hiss, and crackle but as it is, that's what's to be expected from a more than 30-year old commercially released tape version.

There are optional English HoH subtitles for the theatrical version in a white font, which are well timed and easy to read. The VHS version has no subtitles.

Extras


"The Reluctant Auteur" visual essay on filmmaker Quentin Masters by author and film historian David Del Valle (17:47)
This new and exclusive interview with David Del Valle is a discussion about the films of Quentin Masters, with his four feature films as director, with his second, "The Stud" and third, "A Dangerous Summer" taking the most time for discussion. There is little said about the director himself, as Del Valle admits there is very little if any biographical information on Masters anywhere. Using clips from the four features directed and giving some behind the scenes information on the films, it's able to showcase the various differences of Masters' works in varying genres. Del Valle provided a commentary track on the US Blu-ray of "The Stud" and more details can be heard there. He also gives interesting information about "A Dangerous Summer" and its troubled production
in 1080p AVC MPEG-4, in English Dolby Digital 2.0 without subtitles

"That Dangerous Summer" 1980 dramatized documentary produced by Jim McElroy and directed by Brian Trenchard-Smith (23:01)
This short film (which is titled "The Dangerous Summer" in the opening credits was directed by the famed Brian Trenchard-Smith, showcasing the work and bravery of the Australian firefighters and dispatchers battling a number of bushfires. Featuring a number of creative shots including tracking moves in the firehouses, aerial shots, and being well edited, it's a tense and intriguing experience of the dangerous situations. The transfer here is less than ideal, as it is riddled with heavy scraches and damage marks throughout. But on the positive side, colors are fairly good, without being washed out or faded, and the audio is quite good.
in 1080p AVC MPEG-4, in 1.33:1, in English Dolby Digital 2.0 without subtitles

"Dangerous Summer Rekindled" 2006 featurette (12:11)
This featurette includes interviews from actresses Kim Deacon and Wendy Hughes discussing the making of "A Dangerous Summer". They recall the script being written and rewritten during production which caused a lot of issues with actors being fed new scenes and lines so suddenly, the dangerous scenes with the fire and underwater, as well as their memories of the other actors. Note this featurette was previously available on the 2006 DVD reelase from Umbrella Entertainment.
in 1080p AVC MPEG-4, in 2.35:1 / 1.78:1, in English Dolby Digital 2.0 without subtitles

Stills and Poster Gallery (3:49)
A series of posters and stills from the film in an automated slideshow with a selection of score cues as background music.
in 1080p AVC MPEG-4, Music Dolby Digital 2.0

Original Theatrical Trailer (2:43)
The original trailer is presented here, and is also available in the trailer reel below.
in 1080p AVC MPEG-4, in 2.35:1, in English Dolby Digital 2.0 without subtitles

FILMCO trailer reel with "Turkey Shoot", "Next of Kin", "Far East", "A Dangerous Summer", "The Dark Room", "Early Frost", "Midnite Spares", "Double Deal", "Undercover" (22:14)
Presented here is a series of trailers from FILMCO productions, with a number of them having Blu-ray releases from Umbrella (and others hopefully forthcoming). The trailers have been remastered and look quite good, though there are some of the usual damage and color fluctuations that can be found. As stated above, the trailer for "A Dangerous Summer" has much more vibrant colors to be seen here than in the remastered feature on the disc. On the other hand, some look and sound much weaker, like "The Dark Room" coming from an analog video source.
in 1080p AVC MPEG-4, in various aspect ratios, in English Dolby Digital 2.0 without subtitles


While it is nice to see both new and vintage extras included, it does feel a bit lacking. No commentary track, a very damaged image for the documentary with no clean-up, and no additional interviews with the crew involved.

Packaging


This is #18 in Umbrella's Ozploitation Classics range, coming with a uniform slipcase. The keep case inlay has alternate poster art on both sides and a still of the underwater sequence with Hughes a quote by her printed. In the keep case is a set of eight postcards, with six lobby card reproductions, one having the original poster art, and one being a poster with the working title "A Burning Man" which was never used.

Overall


"A Dangerous Summer" is quite weak altogether, and it was not surprising to see that there were production troubles with a barely cohesive script and not many memorable characters. While there are some good special effects and action sequences, it is not enough to save the film entirely. The Umbrella Entertainment Blu-ray has a good but troubled transfer with the image, and a fair amount of extras included.
| | | | | |
| --- | --- | --- | --- | --- |
| The Film: D | Video: B- | Audio: A | Extras: B- | Overall: C |