The Film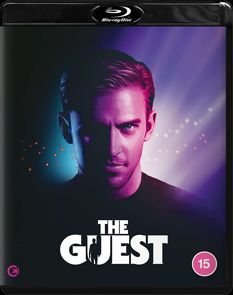 The Peterson family are mourning the death of eldest son Caleb in different ways: mom Laura (Matchstick Men's Sheila Kelley) focuses obsessively on the outer appearance of their home, dad Spencer (The Bone Collector's Leland Orser) is trying to move up from middle management to give his family more security and focuses his frustrations on the bottle, sister Anna (It Follows's Maika Monroe) is reassessing her relationship with forbidden boyfriend Zeke (John Dies at the End's Chase Williamson) who has no plans for the future, and younger brother Luke (Colour Out of Space's Brendan Meyer) stoically endures brutal bullying from his classmates. Into this dysfunctional world comes David Collins (The Rental's Dan Stevens) claiming to be a friend of Caleb's from the military, having come straight to the family after being discharged from a military hospital to honor a promise he made to look in on Caleb's family. His presence in one of Caleb's photographs is all Laura needs to welcome him into their home and seek comfort in his stories. Spencer is more reluctant but soon finds comfort of his own in David's seemingly sincere attention as he vents work and family frustrations he is afraid to discuss with Laura.

The children, on the other hand, are tougher nuts to crack. Luke is apprehensive when David picks him up at school and stalks his jock bullies, picks a fight with them, and takes them out of practice for the season while also demonstrating his deviousness in smoothing over the potential legal consequences of his brand of problem-solving. Anna is more hesitant as she witnesses the ways in which David easily charms her family and friends – including co-worker Kristen (Tabatha Shaun) who sleeps with David after he slams her abusive ex-boyfriend Drew (Justified's Jesse Luken) face-first into a wall – but even she cannot help confiding in a sympathetic ear of someone who manages to be both paternal and easygoing. When Anna overhears a phone conversation in which David discusses getting rid of fingerprints and altering dental records, she starts to suspect that he is not who he claims to be; however, when Zeke is arrested under suspicion of murder of his drug-dealing friend Craig (Savages' Joel David Moore) and gun-dealing associate Higgins (Can't Hardly Wait's Ethan Embry), and her father land a promotion when his white bread boss mysteriously overdoses with his girlfriend, Anna and Luke make the fatal mistake of trying to discover David's real identity of which he is not the only one who will go to extreme measures to keep secret.

The follow-up to director Adam Wingard's and writer Simon Barrett's cult hit You're Next, The Guest at first seems inspired by the likes of more obscure works like the Thriller episode "In the Steps of a Dead Man" and Helen Fowler's novel "The Intruder" in which characters claiming to be friends of a dead soldier infiltrate their way into a fractured family, offering comfort and even emotionally taking the dead man's place while harboring secrets and ill intentions. There is also something of Alfred Hitchcock's Shadow of a Doubt and the Drew Barrymore-pops-her-top nineties thriller Poison Ivy in which the protagonist is unable to convince her family of the dangers of she herself only suspects. The film plays on audience expectations of the familiar and takes things in an entirely different direction that is entertainingly-absurd but also dramatically less than satisfactory. The first half of the film sets up some interesting character dynamics including the use of Caleb's memory as a means of emotional manipulation not only by interloper David but within the family themselves, particularly mother Laura who is willing to overlook much for the sake of her son's memory including responding to her husband's concerns that a supposed friend of their son might have PTSD and be danger with "What if Caleb had come back different?" When the film opens up the claustrophobic setting midway through and gives way to action and mayhem, it devolves into stalk-and-slash territory; which, perhaps, should not be surprising given the filmmakers' love of the genre as reflected in the candy-colored, smokey photography of Robby Baumgartner and the synthesizer scoring of Steve Moore (Bliss) that veers between John Carpenter and Giorgio Moroder but feeling less Carpenter than Michael Mann in its intoxicating mood conveyed through the seamless blending of original score and songs that finds parallels in the mix CD that Anna makes for David as an olive branch early on that figures into the climax.

Coming off of his tenure on Downton Abbey in which his character's death was a season-ending shocker and preceding the wide release of his more mainstream A Walk Among the Tombstones, Stevens is more than a handsome face, playing his character poised halfway between psychopath and robotic killer with a twinkle of humor; indeed, it is a subtly humorous approach that allows for the tension between David and Anna to be refreshingly non-sexual while simultaneously offering up Stevens' buffed physique in a bath towel under glamour lighting and plumes of steam for fan service and simultaneous titters. Monroe and Meyer have less showy roles but both manage to convey volumes in their underplayed and uncertain reactions to David's increasing threat, so much so that it is easy to overlook the work of Orser and Kelley as merely functional and contrived (and it may take further viewings to appreciate how disaffected their characters are and only just inhabiting their familial roles). Ultimately, while the film does not quite exploit what it initially establishes in terms of drama, The Guest does strike the right chords as an eighties throwback.

Video


Shot on the Arri Alexa in 2K 4:4:4 ProRes, The Guest was initially released on Blu-ray in the UK in 2014 by Icon Home Entertainment. Second Sight's 2021 limited edition UHD/Blu-ray/CD soundtrack combo and their current standard edition Blu-ray (as well as the separately-released standard edition UHD come from a new 2021 color grade supervised by Wingard who felt the original grade was rushed for the Sundance release. The newer grade is slightly brighter but also contrastier in the shadows and the highlights of the bright New Mexico exteriors along with bolder saturation in the gel lighting. The difference may not be drastic for the most part – and may be constrained by the limitations of the source – but it is regarded by the director as "definitive" and likely the last word on the matter unless we move into AI-upscaling for the next resolution.

Audio


The sole feature audio option is a DTS-HD Master Audio 5.1 track. We do not know if any additional work has been done on the mix but it does not appear on the surface to be different from the track on the U.S. DVD (which was within immediate reach). Dialogue is clear while it appears that the music and sound design are intended at times to be overbearing, particularly in moments when the music builds up and then shifts tonally with a hard cut of the image. Optional English HoH subtitles are included.

Extras


Extras start off with an audio commentary by director Adam Wingard and writer Simon Barrett recorded for the 2014 Blu-ray and DVD editions in multiple territories as well as a new audio commentary by director Adam Wingard and writer Simon Barrett recorded for the Second Sight limited edition which complement each other nicely. They discuss the desire to open the film with the Cannon Films logo, inspirations including Asian cinema and The Shoes' "Time to Dance" music video in which actor Jake Gyllenhaal plays a serial killer, working on their first union shoot, and how the tax incentive-friendly New Mexico setting reshaped their vision of the film which was originally set in the Pacific Northwest. They also discuss casting Stevens and his workout routine for the film – pointing out scenes shot earlier in the film where was skinnier – and the discouraging reports of You're Next's theatrical performance while they were shooting (along with having to take time off from the production to promote that film at San Diego Comic Con). The 2021 track finds them more reflective on not only the film and its underwhelming reception upon initial release but also the 2014-2018 period of studio work where they second-guessed themselves and "played it safe" with regard to the deservedly-maligned Blair Witch. They also note that they are on the cusp of a project that is a return to their indie roots.

In terms of interviews, the U.S. Blu-ray offered only a short Q&A with Stevens, so it is just as well that Second Sight has dropped that in favor a slew of brand new interviews. First up is "The Uninvited Guest" (19:40) in which Stevens recalls his move to the United States to reinvent his career and image as an actor and wanting to work with Wingard after seeing You're Next. He recalls that Wingard liked the idea of casting the "Downton Abbey guy" in a horror film and that he himself found the script hysterically funny while his agent was horrified. He notes the similarities between British and Southern charm, and describes his character as a "twisted knight in shining armor" who genuinely believes he is keeping his promise. He also recalls his workout routine and weapons training as well as his co-stars and his faith that Wingard would always put him in a "great frame."

In "A Perfect Stranger" (7:29), actress Monroe recalls getting into acting and her love of the genre – noting that the script for the film seemed like a good horror film in an era with a lot of bad ones, possibly including her earlier slasher Bad Blood – Wingard's style, the New Mexico locations, doing her own stunts, and her initial concern about whether posh Stevens could pull off the role.

A perfect companion to the commentary tracks is the Wingard-Barrett interview "By Invitation Only" (48:52) in which they recall meeting on the set of the Barrett-scripted Dead Birds which Wingard – who had just wrapped Homesick which was shot in 2003 but not released until 2007 – visited with Evan L. Katz who was covering the film for Fangoria. They discuss their shorts and their attempt to raise funding for A Horrible Way to Die for two years before just going ahead and shooting it, and how the sale of You're Next cruised them right into The Guest. Most interesting is how Barrett recalled starting the script a decade before as an Iraq war drama before setting it aside only to recall it later on when Wingard proposed a cross between Halloween and The Terminator (Barrett had no interest in a robot killer, so his take was a cross between the Carpenter film and In the Valley of Elah). They also recall how the tone of their work was shaped by their economic circumstances, with Barrett's unproduced early scripts and even the earlier script iterations of The Guest darker and grimmer than their later work. They also highlight some casting considerations including Michael Shannon (who would have been more appropriate for the grimmer version) and Chris Evans – they shut down proposals for the likes of Jason Statham by conveying it is not a question of whether the actor is believable beating up other people but that the mother would even invite him into the house – and Margaret Qualley who better resembled the Anna in the script who was modeled on Lydia from Beetlejuice.

In "Producing The Guest" (23:19), Keith Calderand Jess Wu Calder who note that they have more creative input on the Wingard-Barrett projects than most productions on which their input is more administrative (with the exception of Lionsgate's Blair Witch in which they were brought in during production). They note that the project resulted of their shared love of Halloween and The Terminator but they also highlight the influence of heretofore "The Monkey's Paw" – which previously inspired another tale of a family mourning a son killed in battle in the Vietnam-era Deathdream – as well as the tax incentives offered by New Mexico, setting up their production office in a local school, and noting that the city in which they shot was so flat that they often did not tear buildings down but just built new ones next to them, allowing them to utilize a number of locations within walking distance of the production office. Unfortunately, Second Sight did not interview co-producer Chris Harding who was unaware he would be "playing" Caleb in still photographs.

"Light and Fog" (21:42) is an interview with director of photography Baumgartner who recalls watching Halloween with Wingard and establishing a color palette and rules for shooting which included only moving the camera with purpose. He also notes that he strove for naturalism in the lighting at first before the mayhem of later scenes, and that lighting exteriors was more of a matter of time management. He also provides some details on the shoot including the use of older Panavision lenses (spherical ones rather than anamorphic despite the final aspect ratio) and the film's grading, and urging the production to shoot until the image was black since he could still salvage an image digitally.

In "Lightning Strikes" (13:32), production designer Tom Hammock discusses collaborating with Baumgartner on the color scheme and in the use of practical lighting, as well as Monroe's input into the set dressing of her bedroom, and looking to The Lady from Shanghai for staging the hall of mirrors scene.

In "The Sounds of The Guest" (12:26), composer Moore reveals that he knew Wingard for a decade before the film but that the director contacted him about scoring the film based on his album "Light Echoes" and shows off his vintage synthesizer collection. He also recalls that Wingard wanted pre-recorded music to help him, the cast, and the crew get into the vibe during the shoot, and how there were both earlier iterations of tracks for the shoot but that he also did some improvisation while watching the film a la Carpenter and his collaborator Alan Howarth.

The disc closes out with the deleted/alternate scenes & outtake gag reel (15:12) from the earlier Blu-ray editions with optional commentary by Wingard and Barrett who reveal that the original opening sequence had some of their most beautiful images but they had to cut it because it was "boring" while some other scenes were cut or trimmed because of audience confusion, pacing, and Wingard admitting as director and editor that he did not always know what he wanted to do in terms of coverage – including reshooting an early scene with Anna and Zeke in a different location – as well as the film's one instance of pranking one of the cast members.

Packaging


The disc is housed in a standard black keepcase without the 160-page book, CD soundtrack, and art cards of the limited edition from last year.

Overall


While The Guest fails to exploit what it initially establishes in terms of drama, it ultimately strikes the right chords as an eighties throwback.