The Film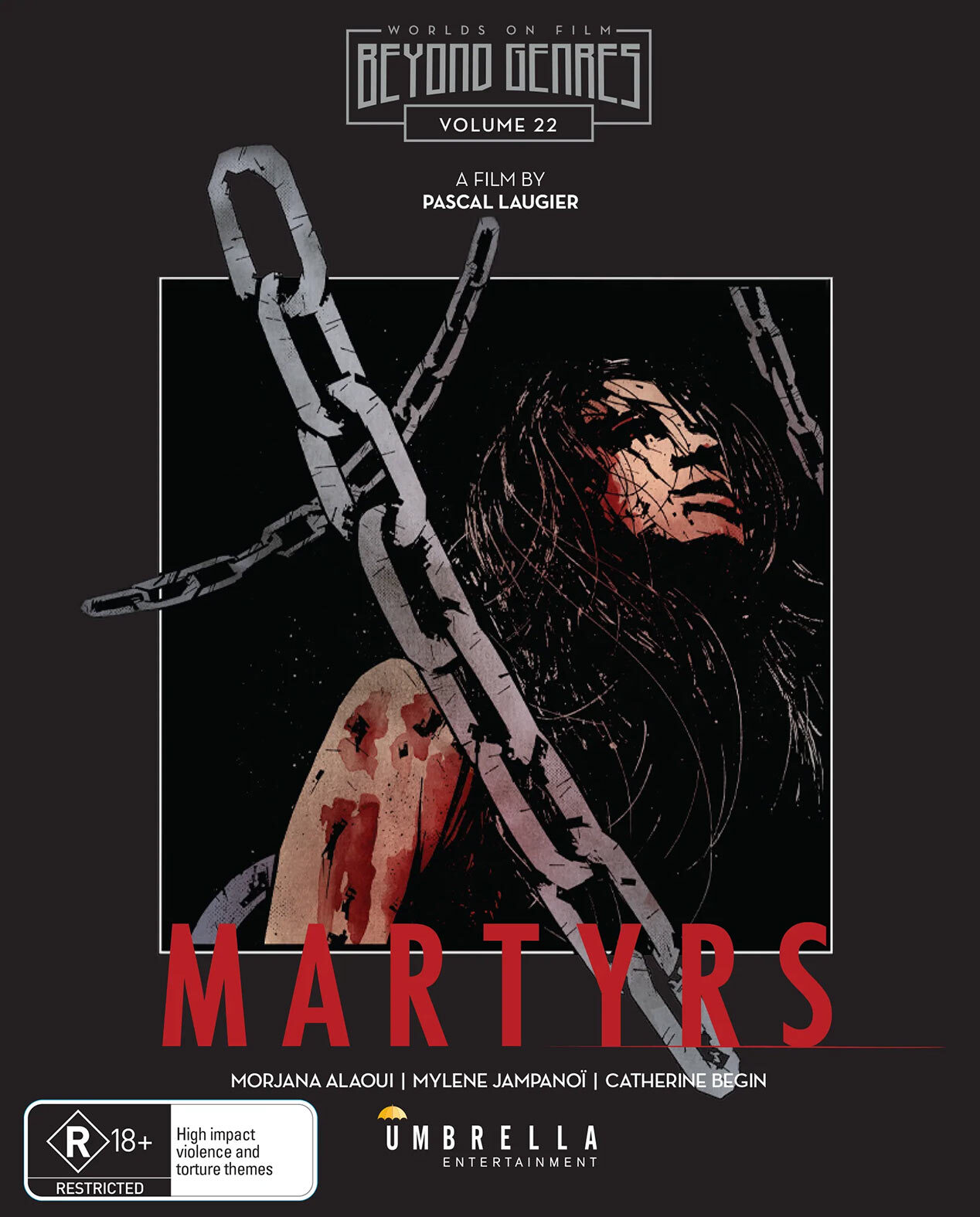 "Martyrs" (2009)

A young Lucie (played by Mylène Jampanoï) is found screaming and covered with blood and scars as she escapes from a supposedly abandoned slaughterhouse where she was imprisoned and tortured for a lengthy period of time. Fifteen years later, she is sworn to revenge by blasting her way through the doors of the seemingly quaint Belfond family of four and killing them all with a shotgun. Anna (played by Morjana Alaoui), who befriended Lucie at the orphanage after she was rescued is shocked at the scene as their initial intention was to check to see if this was actually the people that tortured Lucie those years ago. Lucie is absolutely certain about her actions, and was looking to prove it by exposing what is hidden behind the walls and below the home.

Director Pascal Laugier's debut feature "House of Voices" was a supernatural period horror that received some international attention when it was released in 2004, but his follow-up would receive much more, with equal amounts of praise as well as disgust due to its gruesome and brutal content that pushed the boundaries of horror to the extreme. He had a simplistic idea of a home invasion where a woman would gun down a family in the form of revenge, but he knew that there had to be a deep reason for the atrocity to occur. From rape-revenge dramas like "I Spit on Your Grave", thieves in the night with "Panic Room", or crazed insanity of the torturers in "Funny Games" are just a number of variations on home invasion themed features, but "Martrys" shares more with "Psycho" or even "Parasite" due to their shock value of the second half being a complete tonal shift. But "Martyrs" is not only shocking for its shift, but also with the extreme violence, gruesome images, and absolutely painful situations of the characters that goes far beyond the standard horror feature.

Not to say that the horror is realistic, as when the family is gunned down, they are flown back with incredible force from the shotgun shells for heightened realism. But for everything else, the blood spurting, the head smashing, the skin carvings, the throat slashings are done with practical effects, thus giving a much realer experience of pain and torture on screen. Much of the violence is seen on-screen and is absolutely horrifying. But even more horrifying are the two off-screen moments: The opening with Lucie running away, and the final torture sequence that may have just been too graphic, yet the images can graphically be processed in the audience minds.

When uncovering the secrets of the home with the discovery of a secretly captive malnourished adult girl depraved of sight and speech and covered in horrific scars, things turn even more gruesome, but it is not only that. Members of an organization that the Belfond family were part of come to take care of the matters at the house with the dead bodies that more mysteries are uncovered. It is never stated who they are, if they are a religious cult, former Nazis, the government or anything else, though they are rich and well off with power for certain. The third billed Catherine Bégin who plays the character only known as Mademoiselle may or may not be at the top of the organization, but the demanding tortures that follow are not for the faint of heart. While in films such as the "Saw" and "Hostel" series showcased creative torturous kills with tools and situations for audiences, there is nothing particularly fun in the brutality showcased in the second half. With little if no dialogue along the way, the audience is put in a painful state as the viewer, with realistic depravation and humiliation that will certainly cause anger and sickness. Laugier was determined to make an extreme mark, and in this case he certainly succeeded, in what may be the most brutal experience ever for a cinemagoer.

A France-Canada co-production that was shot in Quebec, the cast had both French and Canadian actors involved and though it was never particularly mentioned if the film took place in which country, with the only certainty being that it was technically a period piece taking place in 1986. While technically a period piece, there was not a lot done for the production to make it look like it was set in the 1980s, and could easily have been in the 2000s, with the exception of mobile phones being entirely absent. More emphasis was placed on characters and story rather than period, so there are no wacky haircuts or random uses of 80s tech in the film for nostalgia's sake. Jampanoï's trauma driven performance is excellent, as well as of course Alaoui in her ever changing mental and physical state. The Belford family children who are killed quite quickly seem like cameo appearances in hindsight, as the daughter Marie is played by Canadian actress Juliette Gosselin who has played in a number of Canadian and American productions over the years, with work as both an actress and in voice over roles. Antoine was played by Xavier Dolan who has directed a number of award winning Canadian films, including "Lawrence Anyways", and "It's Only the End of the World".

The film debuted at the 2008 Cannes Film Festival which was met with incredible controversy. While extreme French cinema was nothing particularly surprising with the New French Extremity movement of the 2000s, the reactions at Cannes were either of praises or of disgust. It nearly lost a chance of general theatrical screenings in France as it was originally issued an 18+ certificate for the violent content, but was re-rated with a 16+ after negotiations. While there were a number of detractors, there was also a number of praiseworthy wins for the film, winning awards at the Sitges Film Festival and from Fangoria. "Martyrs" is definitely not a pleasant experience and will be a truly unrelenting experience for many viewers, yet it is one that sticks and has a number of redeeming and original qualities if one could get through the suffering, as does the "survivor".

Note this is a region ALL Blu-ray

Video


Umbrella Entertainment presents the film in the theatrical 1.85:1 aspect ratio in 1080p AVC MPEG-4. Shot on Super 16mm film and flashback scenes in Super 8, the film certainly has a gritty and grainy look, though the HD transfer manages the grain very well with a sharp and clean image without any artificial sharpening. Colors from bright whites to dark blacks to blood red all look sharp with a stylized cold hue. Detail is also excellent, and there are no signs of major damage, except for the intentional damage found in the flashback sequences. Overall an excellent transfer.

The film is uncut with a runtime of 99:14.

Audio


French DTS-HD Master Audio 5.1
French DTS-HD Master Audio 2.0 stereo
There are optional 5.1 and 2.0 lossless audio tracks. From the screaming and the shouting, the gunshot bangs to the head bashing sounds all sound sharp and loud, with good use of the surrounds for subtle effects. Dialogue is almost entirely center based, and is clear and well balanced against the music and effects. The 2.0 is also solid, though it lacks the finer detail of the full surround track.

There are optional English subtitles for the feature in a white font, which are well timed and free of errors.

Extras


Audio commentary by Dr. Lindsay Hallam (2022)
In this newly recorded commentary, Hallam discusses about the film in great detail, from where it stands in the French New Extremities movement, comparisons to other horror and revenge films, the relationship between the two main characters, France's horrors in the country's history in colonialism and the metaphors in the film, the debate over the ending, the reactions, and much more. She's well spoken and has a lot to say, though there is not a lot of information on the making-of or biographies of the cast and crew. It is still a very good listen.
in English Dolby Digital 2.0 without subtitles

"Organic Chronicles: The Making of Martyrs" documentary (89:21)
This lengthy documentary is quite extensive, filled with rehearsals, behind the scenes footage, tours of the film set, practicing of stunts, the make-up effects, interviews with the cast and crew, Alaoui's on set injury, and much more. This was previously available on various DVD editions.
in 1080p (upscaled) AVC MPEG-4, in 1.78:1, in French Dolby Digital 2.0 with optional English subtitles

Interview with director Pascal Laugier (20:11)
This vintage interview with Laugier has him discussing his influences, his experience from his first film for his sophomore feature, his thoughts on the torture-porn genre, the music, the effects, the casting of the film, as well as reactions from various film festivals. It seems that he was interviewed at a cafe for this, so there is echo, background music, and sounds of other patrons as well. Tbis interview was previously available on various DVD editions.
in 1080p AVC MPEG-4, in 1.80:1, in French Dolby Digital 2.0 with optional English subtitles

Make-up interview with Benoît Lestang (14:29)
This vintage interview with Lestant has him showcasing his studio which has a number of prosthetics and props from many of his feature film work, in addition to his for "Martyrs". He also talks about their time in Montreal, the effects work, the reactions, as well as his influences and his thoughts on digital effects. Sadly the film would be the last work to be released during his lifetime, as Lestang died on July 27th, 2008 by suicide, at the age of 43.
in 1080p AVC MPEG-4, in 1.80:1, in French Dolby Digital 2.0 with optional English subtitles

"Horror à la Française" BFI at Home online panel with Anna Bogutskaya, Alexandra West and Dr. Lindsay Hallam (66:47)
This online discussion from 2022 has curator Anna Bogutskaya, "Films of the New French Extremity: Visceral Horror and National Identity" author Alexandra West and horror researcher Dr. Lindsay Hallam (who provided the commentary track on this disc) discuss the New French Extremity movement. They talk about their introduction to the genre, the differences in reactions from domestic and international audiences, the early examples of French horror and the impact of American slasher films and torture-porn, the rebellious and political nature of the features, their recommendations, which includes discussion on "Martyrs", and much more. Writer Alexandra Heller-Nicholas was scheduled to join but sadly she was ill during the session. Though even without her input there is quite a lot of great things covered in this hour plus discussion. The panel has also been embedded below, courtesy of the BFI.
in 1080p AVC MPEG-4, in 1.78:1, in English Dolby Digital 2.0 without subtitles



Stills Gallery (5:43)
An automated slideshow gallery of 56 stills of behind the scenes photos with soundtrack cues from the film as background music.
in 1080p AVC MPEG-4, Dolby Digital 2.0

International Poster Gallery (2:00)
Another automated slideshow gallery, this time with 16 poster variants accompanied by music from the film.
in 1080p AVC MPEG-4, Dolby Digital 2.0

Theatrical Trailer (1:29)
The original French trailer is presented here, which curiously with HoH subtitles, captioning [Panting] [Sobbing] etc. in addition to the dialogue.
in 1080p 30fps AVC MPEG-4, in 1.78:1, in French Dolby Digital 2.0 with optional English HoH subtitles

Teaser Trailer (0:51)
The original French teaser which is without dialogue, is presented here.
in 1080p AVC MPEG-4, in 1.90:1, in Dolby Digital 2.0 without subtitles

New French Extremity Trailer Reel for "Inside", "High Tension", "Frontier(s)", "Hidden", "Them", "Livid", "Baise-moi", "Demonlover", "Revenge", "Irreversible", "My Mother", "Twentynine Palms", "The Ordeal", "Raw", "Trouble Every Day", "Sheitan", "Romance", "Fat Girl", "Sombre", "Intimacy" (32:29)
Presented here is a continuous trailer reel of films associated with the New French Extremity movement. Some are the original French language trailers, some are export trailers, and quality really depends on the trailer as well. some of the newer trailers such as "Revenge" and "Raw" look as sharp as can be, but others like "My Mother" look like they came from very low resolution sources. Some of the films are bilingual in English and French, and the French portions are given burned-in English subtitles.
in 1080p AVC MPEG-4, in various ratios, in Dolby Digital 2.0 with burned-in English subtitles

EASTER EGG Introduction by Pascal Laugier (1:19)
A thank you and an apology for newcomers to the film that was made originally for the US DVD release. To access this, highlight the director's interview in the extras menu, then press the left button.
in 1080p 30fps AVC MPEG-4, in 1.78:1, in English Dolby Digital 2.0 without subtitles


This is quite a packed release, featuring an extensive number of vintage extras alongside some new and exclusive ones as well. One extra that hasn't been ported over was a featurette on censorship which is exclusively available on the French Blu-ray release.

Packaging


This is #22 in Umbrella Entertainment's "Beyond Genres" line, featuring a uniform black slipcase with newly commissioned artwork. The inlay has two versions of the original French theatrical poster artwork.

This was also released in a limited edition of 2015 copies exclusive to the Umbrella Entertainment website, which also included the 48-page book entitled "Martyrs: A Collection of Interviews, Experiences and Artwork", 8 lobby cards, an A3-size reversible poster, and a slipbox.

The book has an introduction written by James Keough, followed by English translated text interviews with Laugier, Alaoui, Jampanoï, and Lestang. There are also still photos, artwork new and old, and notes from Matthew Dunn, the artist who created the new and exclusive cover for this release. The postcards are placed within the keep case, and it slides into the slipbox with the thick book comfortably. But the slipbox design is a little disappointing. The spine matches the Beyond Genres design, but the front and back cover are a blown up screenshot of a scene from the bathroom, which does not particularly encapsulate the film at all. In addition, there is no text on the front or back to signify what the film is.



Overall


"Martyrs" is a brutal experience for both the characters as well as the audience, as there is no pleasure in the torturously brutal and painful events that occur, yet there is a cohesive and fascinating story of trauma, vengeance, and the mysteries of the unknown with a fscinating twist. It's obviously not for everyone due to the excessive violence, though for fans, this Umbrella Entertainment Blu-ray is an excellent choice with an extensive amount of extras included. More than fourteen years after its initial release, the film has lost none of its force, which may be the most painful film in the New French Extremity genre.
| | | | | |
| --- | --- | --- | --- | --- |
| The Film: B+ | Video: A | Audio: A | Extras: A- | Overall: A |