The Film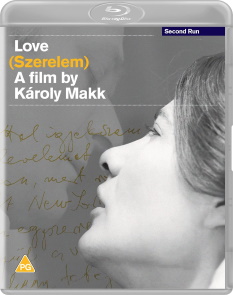 Jury Prize: Károly Makk (winner), OCIC Award: Károly Makk (winner), Special Mention: Lili Darvas and Mari Törőcsik (winner), and Palme d'Or: Károly Makk (nominee) - Cannes Film Festival, 1971
NSFC Award (Best Actress – 2nd Place): Mari Törőcsik (winner), Best Actress – 3rd Place: Lili Darvas (winner), and Best Supporting Actress – 2nd Place: Mari Törőcsik (winner) - National Society of Film Critics Awards, USA 1974

With her husband János (Jakob the Liar's Iván Darvas) only a year into a ten year prison sentence for "dabbling in politics," Luca (Elektra, My Love's Mari Törőcsik) has invented the fiction that he is off in New York by special invitation to make an epic scale film for the sake of his invalid mother (Cimarron's Lili Darvas) who is not expected to make it another year despite the assurances of Luca, reluctantly complicit housekeeper Irén (Forbidden Ground's Erzsi Orsolya), and her doctor (Ekkehard's László Mensáros) that she will live to be a hundred and sing in the church on her birthday. The Ministry having impounded her furniture and allocated her apartment to a family – and the housekeeper's room for her – Luca finds creative ways to balance her budget in order to appear flighty and spendthrift as usual to her mother-in-law who never appreciate the flowers she brings daily and castigates her for having no sense with money while accepting the perfume she hopes to wear for a visit from a professor of German literature (who himself may also be "away" in prison). Over the harsh winter, Luca attempts to find out any news of her husband from former friends who can no longer afford to be seen with her by day, and tries to distract her mother-in-law by soliciting stories of her youth and occasionally producing a letter ostensibly from János about his grand life abroad. When János' mother fears she will not live to see her son again, Luca resorts to guilt by turning her mother-in-law's desire to see her son as a threat to him achieving his dreams as a filmmaker. When János is released from prison for unclear reasons, to whom or what will he be returning?

A passion project for director Károly Makk – who began his career in the late fifties and vacillated between Hungarian documentary, television, and film during the tumultuous late sixties (when the Prague Spring had a ripple effect in other Eastern Bloc countries and their government cultural bodies), Love was based on two stories about the show trials and imprisonments of the fifties by Tibor Déry who himself was imprisoned and during that period and wrote one of the stories at the time. The scenario itself is stimulating as we see a certain passive aggressiveness on the part of Luca not in cruel mockery of the old woman and her memories which seems to be more of a sort of banter between the two, than in the letters "from" János where she lays on the details of his life in America so thick as to insult the other woman's intelligence if not for the blinders she wears for everything about her perfect younger son whose continued absence for unclear political reasons wears so much on Luca that she seems on the verge of risking her "inheritance" and spilling the beans if only to vent her own anger. A sense of emotional codependence becomes evident between the two women, neither of whom wants to appear vulnerable to the other; and one wonders when wife and husband are reunited whether their relationship is not rekindled but a continuation of the other psychological relationship.

Both the mother-in-law's memories and János' letters illustrated by cutaways to single images and rapid montages mixing book illustrations, stock footage, and live action – usually as a series of near-fetishistic details and reverse angles suggesting voyeurism (in spite of the mother-in-law's insistence that János averted his eyes when ordered) – which appear to be the swirling of memories and imagination in the mind of the grandmother; however, in the special features for the current Blu-ray release, Makk posits whether those images are in the mother's mind or that of the Luca based on the older woman's repeatedly-related stories and her own consciously-idealized version of an alternative to her repressive and oppressive present while also functioning as a sort of confessional to a woman for which it falls on deaf ears. While Czech films of similar theme were often banned and vanished until the Velvet Revolution, Love was a hit at Cannes and voted as one of the twelve best Hungarian films in 2000. Makk continued to work in film and television until 2010 and attended the Cannes screening of the film in 2016 before his death the following year.

Video


Theatrically released in the United States in 1973 and winner of three National Society of Film Critics Awards in 1974, Love was not released in the United Kingdom until 2005 when Second Run put the film out on DVD (the same year it made its American DVD bow from the inconsistent Facets Video label). Second Run's 1080p24 MPEG-4 AVC 1.85:1 widescreen Blu-ray is derived from a beautiful new 4K restoration by the Hungarian Film Institute is a massive improvement on the older transfer, looking a shade brighter while bringing out shadow detail too easily lost in the blacks while also revealing a wider range of grays that better the different seasons in exteriors rather than the perpetual overcast of the SD master.

Audio


The Hungarian LPCM 2.0 mono track delivers the post-dubbed dialogue and score cleanly while also drawing attention to how little there is in terms of sound design apart from the cutaways to either the mother-in-law's or Luca's mind's eye montages. Optional English subtitles are free of any obvious errors.

Extras


New to the Blu-ray is an audio commentary by director Károly Makk, moderated by professor Gábor Gelencsér which was presumably recorded before Makk's death for the 2018 Hungarian DVD although we have no confirmation of that release's specs. Makk reveals that he wanted to adapt the two Déry stories since the early sixties, and that not only was Déry skeptical that the two stories could be combined into a coherent single story but also that Makk submitted the script every year with modifications until the it was finally accepted in 1970 – noting that all eyes were on the situation in Czechoslovakia after the Prague Spring – and provides details of the content of the two separate stories as they relate to the finished film. Of the use of cutaways and flashbacks, Makk says he was not interested in the New Wave movements of France and other countries, and that the editing scheme was used to provide both emotional and rational information to the story proper, with "swirling memories" based off of wishes and unfulfilled desires.

Ported over from the DVD is "Károly Makk on Love" (21:11) in which he confesses that his schooling and choice of different jobs meant that he largely escaped the "terror" of the fifties but that he was inspired by reading one of the Déry stories in a newspaper in 1956 (when the author was already in prison). He reveals that the head of the film studio had also been a prisoner in the fifties along with others on the board deciding on the film, but that it was their wives that shamed them into finally greenlighting the film.

The disc also includes the 2016 promotional piece "Love Returns to Cannes" (12:27) on the film's history and restoration with footage of Makk's appearances both in 2016 and 1971, as well as 1971 archival newsreel footage (3:10) of Hungarian film week in Sorrento, the 1971 theatrical trailer (3:23), and the 2016 restoration trailer (1:00).

Packaging


Packaged with the disc is a 20-page booklet with writing on the film by Graeme Hobbs and Agnes Sajti, the former a rumination on the film's visual motifs – primarily glass – and the latter which contextualizes the film with Hungarian cinematic contemporaries in depicting a transition from the "socially aware New Wave of the 1960s to the more unconventional avant-garde films of the 1970s" and the film at hand "managing to create a perfect synthesis of both styles."

Overall


A passion project for director Károly Makk, the Cannes award-winning Love is an understated yet emotionally-stimulating meditation on absence and memory.