The Film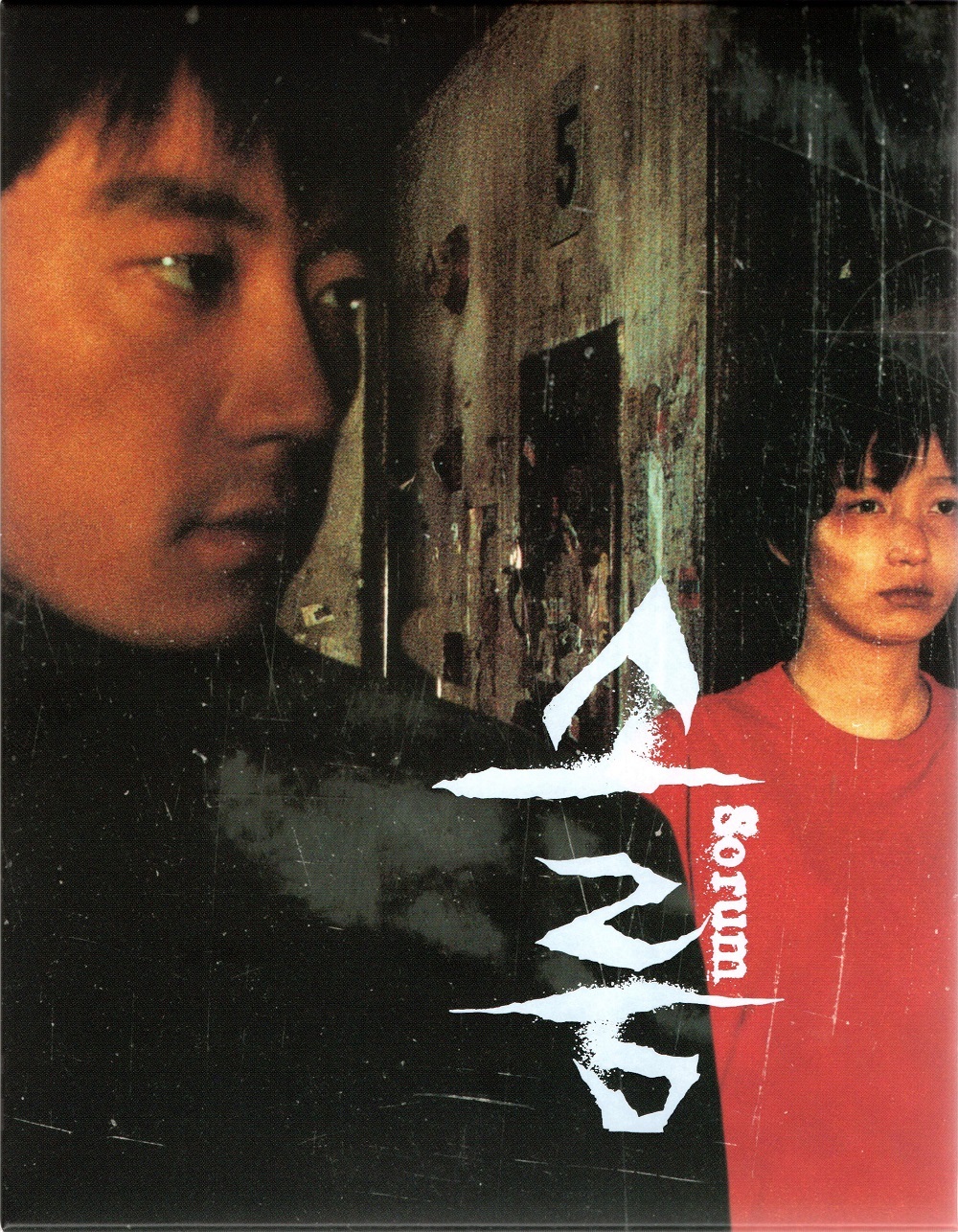 "Sorum" (소름) (2001)

Yong-hyeon (played by Kim Myung-min), a Bruce Lee obsessed a taxi driver moves into room 504 in the decrepit Migeum apartment complex. The place has had a mysterious past, with a woman that died thirty years ago in the complex under unusual circumstances and a writer who was investigating and writing about the event that also died. Yong-hyeon befriends his neighbor Lee (played by Ki Ju-bong) who tells him about the unusual happenings. There is also Seon-yeong (played by Jang Jin-young), a victim of an abusive relationship with her aggressive husband who becomes a love interest for Yong-hyeon. But there is much more to the complex and its mysteries, as the past is unlocked little by little, with Yong-hyeon being a major key in the clues and events.

"Sorum" (which translates as "Goosebumps") was writer/director Yoon Jong-chan's first feature film, which combined dark themes of tragedy, mystery, and the supernatural to wide acclaim internationally. He entered the film business in 1993 and worked on a few features until tragedy struck with the Sampoong Department Store collapse in 1995, which killed more than 500 people including his wife and injuring more than 900 others. Yoon enrolled in Syracuse University in New York, where he directed three student films and earned a Master of Fine Arts in Film Directing. The three works, ""Playback", "Memento", and "Views" were three distinctly different works in style, yet they shared a theme of loss of a loved one and coping with tragedy in different ways. The second, "Memento" was the longest and most ambitious, with the 45-minute film dealing with a new tenant in an apartment complex who unravels a mystery that goes deep into the past. With 2001's "Sorum", Yoon expanded the core story of "Memento" into something further and much darker.

Everything about "Sorum" is surrounded in mystery. The apartment complex looks like it is barely standing, and its dark corridors, rusted walls, and dirty interiors all have something to say about its past. It may look inhospitable, yet there are a number of tenants still there. The curse of room 504 is the biggest mystery of all, with the female tenant's death from thirty years ago being unsolved, as well as the writer Gwang-tae who lived there until recently and the unexplained circumstances around his death in a fire that scorched the room. As for the current tenants, each of them have their quirks and mysteries to be told. There is Gwang-tae's girlfriend Eun-soo (played by An Jo) who still lives in the building and still wanders the halls as almost a ghostlike figure, still traumatized and not over the fact that he has passed away. There is also the seemingly friendly older tenant Mr. Lee, who used to have a publishing firm and had experience as a writer, is looking to publish again in the future if things go better for him. But under the friendly smiles is something untrustworthy, as his ideas for his upcoming novel may not be entirely his own. Seon-yeong, who works at a nearby 7-11 at night and suffers physical and mental abuse from her husband (played by Kim Tae-Hyeong), is not altogether stable herself. Constantly in a state of quiet solace yet with frustration within, it may be of no surprise when she starts to seek comfort with the new neighbor Yong-hyeon, in which they form a sexual bond which reawakens her. As for Yong-hyeon, he is also shrouded in mystery even though he is the main character of the piece. Where he came from, why he decided to live in the Migeum apartment complex is unexplained and his further past is also clouded, as he was raised in an orphanage. But his arrival does not seem random as events that transpire start to come together with each of the tenants, as distant as they seem. Unbeknownst to him, this was not the first time that he was at this apartment complex.

The story is not at all a straightforward mystery where detectives uncover little clues along the way. "Sorum" plays with memories, guilt, trauma, and its use of flashbacks will undoubtedly confuse some, as nothing is as it seems. There are also a number of missing puzzle pieces so the mystery is not and will not be fully explained. Instead, it focuses on individual characters, as they deal with their broken issues in varying ways, whether it is though violence or other means. No one is particularly angelic, as they all have their demons inside and they are revealed one by one. It's a fascinating watch and also a frustrating one at times as audiences are pulled into this dark world of broken people who never quite come together and instead deal with their demons in selfish manners. Unlikeable as they may be, there is still a sense of wanting to help and to see a better outcome for all of them. Maybe some more than others. Yoon gives each character time for development, focusing on their quirks and their mannerisms, so plot can sometimes take a backseat in the pacing. The bonds that are formed and the bonds that are broken feel close and upsetting, and giving depth to each.

Visually the film can be extremely dark like its characters, especially with interior scenes and night scenes, though there are some brighter sequences that are seen at times. Cinematographer Hwang Seo-shik beautifully balances the various colors wonderfully, and makes sure not to put emphasis on camera placement or camera movement, making the characters and the settings as the showcase. There are some sequences that use extremely long takes with the camera moving very little, including some terrifying moments like the strangulation scene, while at times there are quick cuts and jumps that are jarring with the differences in framing and feel. It is certainly a striking film to watch, and is quite memorable with its unsettling tone matched with the unsettling look.

The film had its premiere at the Bucheon International Film Festival on July 20th, 2001 followed by a general release the following month from August 4th. This was followed by various international film festivals, and was a critical success with various awards. Jang Jin-young won the Blue Dragon Award for Best Actress, winning Best Film at the Cine21 Film Awards and won three awards from the Busan Film Critics Association, with for Best New Director, Best New Actor (for Kim Myung-min) and Best New Actress (for Jang Jin0-young). The marketing of "Sorum" was a misleading one, as it came at the initial boom of Asian horror films to sweep the international film world. While there is blood and jump scares as well as some very terrifying moments, "Sorum" barely fits the bill as horror. It may look and feel like a horror film, but its pacing, its reveals, and its themes are closer to an artistic drama than the jumpy terrors from its counterparts. Regardless of the mismarketing, it was praised for the performances and the direction, which led to fruitful careers for the leads. Yoon Jong-chan would continue directing features sporadically, with the big budget biopic "Blue Swallow" (2005), the romantic drama "I Am Happy" (2008), and the comedy "Paparoti" (2013) with varying success. Kim Myung-min made his screen debut in "Sorum" and has continued a career in both television and cinema appearing in dozens of works over the years. Jang Jin-young was a model who transitioned into acting in 1997 when she was 25 years old in television dramas and films. Her performance in "The Foul King" (2000) received some praise but it was "Sorum" that became her major breakthrough with critical praise. She would work with Yoon again in "Blue Swallow", playing the lead role, portraying fighter pilot Park Kyung-won. Although she became one of the highest paid actresses in South Korean cinema, her career would be short lived, as she was diagnosed with stomach cancer in 2008 and would succumb to the illness on September 1st, 2009. She was 37 years old.

"Sorum" would have a number of DVD releases in differing countries over the years, as well as a Blu-ray release in South Korea in 2013. This new Blu-ray release from the Korean Film Archive utilizes a new 4K restoration of the film for a new audience, giving new life and exposure to the intriguing and dark feature.

Note this is a region ALL Blu-ray

Video


The Korean Film Archive/Blue Kino presents the film in the 1.85:1 aspect ratio in 1080p AVC MPEG-4. The 35mm orignal negative, which was donated to KOFA in 2001 was the source for the 4K restoration, completed in 2020. Being the most recent film that KOFA has released in their line of Blu-rays, it is easy to say this is the best looking film in their collection, due to the fact that the original film elements were received soonafter its completion and kept in a climate controlled facility over the last twenty years. Both manual and automated digital restoration techniques were applied to remove any dust or scratches, as well as removing tape splices and other marks for a very clean looking image. The colors have been restored and balanced, depth is excellent, and is basically a flawless image throughout. Some of the boost in colors might have a heavier leaning towards blues, though this seems to be the intended state as the unrestored image in the restoration featurette implies so. An excellent transfer from KOFA.

The film's runtime is 109:18 which includes text information on the restoration at the start.

Audio


Korean DTS-HD Master Audio 5.1
The original 5.1 audio is presented lossless. Mixed in Dolby Digital, the surround track is fairly front heavy with dialogue coming entirely from the center. There are some directional cues with effects and music that make use of the surrounding channels in some of the creepier and jumpy moments, though mostly are for subtle use. There are no issues of hiss, pops, or other damage in the audio track.

There are optional English, Japanese, Korean subtitles in a white font for the main feature. They are well timed, easy to read, though there is one minor misspelling of "Buena Vista International" as "Vuena Vista International" in the opening.

Extras


Audio commentary with director Yoon Jong-chan and film critic Chung Sung-il
Presented here is a newly recorded commentary featuring the director with critic Chung Sung-il moderating the conversation.
in Korean Dolby Digital 2.0 without subtitles

"Making" documentary (31:02)
This vintage documentary from the original DVD editions presents about ten minutes of B-roll footage of various sequences along with interviews with Yoon Jong-chan, Jan Jin-young and Kim Myung-min. Yoon's interview is done in an office, while Jan and Kim's separate interviews are done on set at night, which makes it quite hard to see, for an unintentionally creepy look.
in 1080i60 (upscaled) AVC MPEG-4, in 1.33:1, in Korean Dolby Digital 2.0 without subtitles

Short Films
The following three short films the director made while a student at Syracuse University are included in this submenu.

"Playback" (12:44)
This abstract art film from 1996 follows the memories of Roland (played by Guillermo Cifuentes) (who is credited as "Loland" in the end credits) and Kara (played by Johanna Elliott), who is losing her eyesight. Edited with quick cuts, using filtered colors, and having intertitles for dialogue and narration rather than standard audio dialogue, the only voice to be heard is of the Kara character through a cassette recording, as well as the voice of Tom Waits singing "Cold Cold Ground". Dealing with memories and loss of a loved one, it is a theme that was deep within Yoon and would shape his future works as well, though in more straightforward paths. While there are some autobiographical elements with the male character dealing with the death of his loved one, it deals with loss in a very different way, and closer to that of a music video than a coherent and straightforward story. Shot on film, the transfer comes from an analogue video source so it does look slightly blurry, and the mono audio has a bit of crackle.
in 480i AVC MPEG-4, 1.33:1, in English Dolby Digital 2.0 with English Intertitles and optional Korean subtitles

"Memento" (44:37)
Gabraiel Vidal (played by Gregori Viens) moves into an apartment building in Syracuse, New York as he is preparing for his new job as a teacher at the nearby university. On the night he moves in, he runs into Debbie (played by Carrie Van Horn), who says she is looking for her young son and cannot find him. The next day, he meets Ron (played by Nick Nerman), a writer who also lives in the complex, who is currently writing a story inspired by the building, which as an unusual and dark history, which Gabraiel is fascinated by, but also happens to be an integral part of its mystery. Many of the key elements in this short film from 1997 are carried over into "Sorum", with the new tenant discovering a darker history of his apartment complex and the unraveling of his own mysterious past. Visually it is quite different though, with this mostly black and white short, which gives an artistic look even if there are some amateurish production values, with the performances being fair and the framing and editing needing a bit of work. Some of the dialogue sequences could have used better setups and alternate camera angles, and some scenes could have used better takes with the line deliveries. But it is of course a student film and there are limitations to be considered. Of the three shorts in this set, this is by far the best looking, as the Korean Film Archive has restored it from the only surviving 16mm print in 4K resolution. There are still traces of the original film damage remaining with some speckles seen throughout, though it looks quite good with its grain structure and stabilization of the image. Audio can be a little muffled with the original mono sound due to the not so great recording source. The transfer is also slightly windowboxed, with slight black bars being visible on the top and bottom of the screen.
in 1080p AVC MPEG-4, in 1.33:1, in English Dolby Digital 2.0 with optional Korean subtitles

"Views" (19:50)
During a cold season somewhere in suburban America, an Asian man (played by Chi Ying Tsai) who carries around a film camera and an Arab man (played by Barak Refaeli) who is trying to contact someone with constant phone calls meet randomly and find they have more in common than at first glance. Both have lost someone close to them and their newfound friendship is about helping each other find a new direction in their lives. Like the first two short films, Yoon's third short is also about dealing with loss and the importance of memories, though focusing on moving in a new direction. With its autobiographical elements of the two main characters and their alienation in a foreign land and dealing with loss as well as finding common ground with the art of filmmaking, there is a metaphysical element here with Yoon projecting himself through the characters and the artform. The subtle performances by the two leads are quite good, and the montage of flashbacks inserted are very well paced. The short is also mastered from an analogue video source so there is some weakness to the image being not too sharp, but is still in a quite watchable state throughout.
in 480i AVC MPEG-4, in 1.33:1, in English/Arabic Dolby Digital 2.0 with optional Korean subtitles

"Digital Restoration: Before/After" featurette (1:20)
A series of side by side comparisons of the original scanned film image and the restored and color graded version, with accompanying English and Korean text with no sound.
in 1080p AVC MPEG-4

Image Gallery
A series of ten promotional stills in a manual gallery.
in 1080p AVC MPEG-4

Trailer (5:22)
Although it is labeled "Trailer" in the menu, here are actually multiple original theatrical trailers, selling the creepy horror aspect of the film, rather than the mystery aspect. The first trailer is oddly stretched to the 2.00:1 aspect ratio, distorting the characters and making them look fatter than they should. The second trailer is in the correct 1.85:1 aspect ratio, while the third crops it slightly to the 1.78:1 aspect ratio. All three seem to be taken from standard definition sources, though they look fairly good, with a more stylized approach in the color timing.
in 1080p AVC MPEG-4, in various aspect ratios, in Korean Dolby Digital 2.0 without subtitles

Booklet
A 44-page booklet is included in Korean and English. There are printed film credits, an awards list, a synopsis, and a director's filmography. This is followed by notes on the film's restoration. Then there are the essays "Capturing the Era Against Incredible Obsession: Yong Joon-chan" and "Permeating into the Crease of Oblivion, the Horrified Face of an Era for Its Sadness: Yoon Jong-chan's Sorum", both by film critic Song Kyung-won. The first essay looks at Yoon's life and early career, his student films in New York and how his life impacted his works as a director. The second essay looks at "Sorum" more in depth.


The film was previously released on Blu-ray in South Korea in 2013 by Content Zone. The specs are not fully confirmed by us, but it seems that it also included the same making-of featurette and interviews, plus the trailers. It also seems to include make-up tests and TV spots which are not included in this new Blu-ray release.

Packaging


This is spine #26 in KOFA's Blu-ray series. The disc is packaged in a clear keep case which also holds three postcards with stills from the film. The keep case and booklet are housed in a slipbox.


Overall


"Sorum" may look and feel like a slice of the Asian horror boom of the early 2000s, but it is quite unique with its drama and mystery with disturbing characters and happenings that is quite unlike the others. An unsettling and also personal work from director Yoon Jong-chan, KOFA has given the film a great new Blu-ray release with a 4K restoration transfer with a great number of extras including the director's student films, though note that their continuing trend of not including English subtitles for the commentary is still following here. Still comes as recommended.
| | | | | |
| --- | --- | --- | --- | --- |
| The Film: A- | Video: A | Audio: A | Extras: B | Overall: A- |