The Film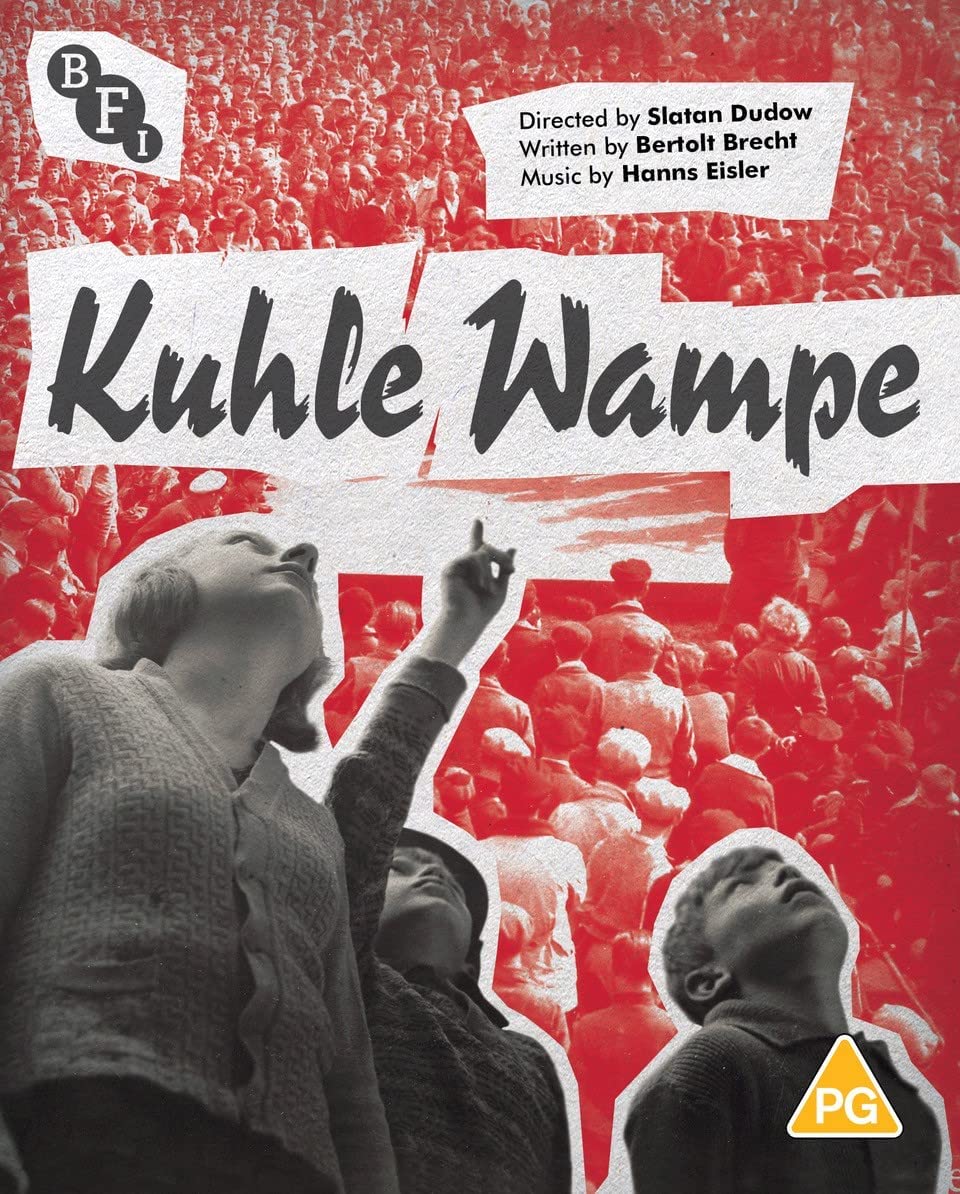 "Kuhle Wampe" ("Kuhle Wampe oder: Wem gehört die Welt?") (1932)

The Bönike family is comprised of four people. The father (played by Max Sablotzki), the mother (played by Lili Schoenborn-Anspach) and their two adult children, with son Kurt (played by Adolf Fischer) and daughter Hertha Thiele). They, along with much of the German working class are going through troubled times as jobs are scarce and unemployment is rising high. Even with sacrifices made at home, money is a major issue, with not having enough money for rent or basic utilities giving a major strain. Kurt shockingly commits suicide from jumping out of the window of their apartment, unable to deal with the stress, and things turn worse when they are evicted from their place. The remaining family move to Kuhle Wampe, a commune where Anni's boyfriend Fritz (played by Ernst Busch) is currently living along with many other out of work families who are there to help each other out. But will this new life in a new community be the answer to the global problem?

"Kuhle Wampe" was co-written by the influential German writer Bertolt Brecht, whose plays such as "Baal" and "The Threepenny Opera" were highly praised works that also caused controversy with the increasingly strict German government. For "Kuhle Wampe", it was an entirely original screenplay that looked at the world from the perspective of the working class, with distinct jabs at the government abandoning its people when they were in desperate need for help. The Great Depression may have connotations of how the United States economically plummeted, but it was a massive ripple effect that damaged worldwide economies, including those in Europe. While the screenplay didn't point direct fingers at government figures, there are a number of examples of how economics on higher levels have major effects on the average person, which is cemented very dynamically in the story's final sequence on a train as people are arguing about the inflated price of coffee and what is happening on the other side of the world.

The film is divided into three parts. The first part is showcasing the Bönike family and their struggles in Berlin, which they share with many other people in their city. Montages of young men on bicycles heading from each corner of city with the ever moving camera following the men makes it seem that there is freedom and happiness subconsciously, though when looking at the staggering newspaper headlines about unemployment rates around the world and the conversations had at home with the family, this is all but a dream for the working class in the early 1930s. The second part is at Kuhle Wampe where the family and others like them find solidarity and hope, where there are more smiles than expected, with music and songs, and even love blooming in the air with Anni and Fritz's relationship becoming stronger. But again, reality steps in with Anni becoming pregnant and realizing that they are not ready for the next step. The third part brings the themes together as a whole, made up of discussions and political debate on the train as mentioned above. The three acts do feel slightly disjointed, as the family's one-two punch with the death of their son and their eviction do not have the lasting traumatic impact as it should, and the final act seemingly feeling like it was taken from a separate play altogether. There may be some weakness in the bridging of the acts, but the power of the film overall is as strong as it was back ninety years ago on its initial release.

Prometheus Film, which produced the film was the German arm of the innovative Russian Mezhrabpomfilm company, which made a number of left-leaning co-productions and was the distributor their Russian films in Germany. "Kuhle Wampe" became one of Prometheus Film's final releases, as it closed its doors in 1932, the same year that "Kuhle Wampe" was released theatrically. Directed by Slatan Dudow as well as Brecht for the final sequence uncredited, the film was closer in spirit to communist Russian ideals than the increasingly right wing pre-Nazi Germany, with equality for workers being the central theme. Brecht and co-writer Ernst Ottwald's story may have not raised concerns with the Russian parent company, but distribution in Russia also came to a standstill, as after the Moscow premiere on May 14th, 1932, Mezhrabpomfilm was concerned that Russians would not be able to relate to the troubles that the Germans were facing. As for Germany, government censors were already eyeing Brecht's work on film adaptations and this would be no different. Several scenes were ordered to be cut, including scenes related to Anni's pregnancy and alluded abortion and others, which have sadly been lost over time. It was released on May 30th, 1932 in its home country, but the film would have difficulty being shown later on, as the government effectively banned it entirely in 1933. And without Prometheus Film, Dudow and others pushed the film to be screened outside of the country, including France, the United States, and elsewhere successfully, though with difficulty smuggling the film out and negotiating deals without German government approval.

For many years, "Kuhle Wampe" was unable to be seen in Germany in the post-war years since there were no surviving prints. It was only through the differing international film archives that the film had survived, though in the censored state. Even all these years later, it's powerful to see such a piece of work come from Germany at the time. The silent era saw many incredible creative works of fantasy, science fiction, drama, and comedies from the country with incredible technical attention from influential directors and craftsmen. The sound era saw a number of important films at the start, but with the Nazi regime taking power and censorship being incredibly harsh, many of the creative talents left the country and propaganda features remained. So to see a film that was anti-government and looked directly at the problems of fellow workers, "Kuhle Wampe" has much more in common with "Do the Right Thing" (1989) than its German contemoraries, giving a voice to the neglected, and starting smart discussion on what should be done and what the causes of the problems are without force-feeding. "Kuhle Wampe" may have some flaws in its storytelling (which was not helped with cuts made in censorship), but the message is clear and very important even ninety years later.

Note this is a region B Blu-ray / region 2 PAL DVD set

Video


The BFI presents the film in the original 1.19:1 aspect ratio in 1080p AVC MPEG-4 on the Blu-ray and in the 1.19:1 aspect ratio with anamorphic enhancement in the PAL format for the DVD. For both the Blu-ray and the DVD, there are thicker than usual black bars on both sides of the frame for widescreen TVs, as the 1.19:1 ratio was the norm for a number of talkie features for the era. With the film's troubled history with the production company going bankrupt not long after the film was released as well as the censorship issues with trimming and subsequent banning, it's unfortunate that the original uncut version has been lost to time, with the missing censored scenes considered gone. The best surviving element, a 35mm nitrate print held at the British Film Institute was the main source for the restoration, along with materials from the Praesens-Film AG at the Cinémathèque Suisse, which comprised of a fragment of a 35mm nitrate print of the French language version and a dupe negative of the German version. It's a very good restoration with grey levels being well balanced, and a lot of damage marks have been eliminated. While there are many praises to be said, it is not at all a perfect image. There are speckles and vertical scratch marks in the frame in many scenes, some minor flickering is visible, and there are some other inconsistencies in some scene transitions. Detail is also slightly on the soft side. Considering the source material and the history, it's a miracle that it even survived at all, and in those eyes it is a marvel to see it in such a good condition overal.

The film's runtime is 74:55 on the Blu-ray and 71:56 on the DVD with 4% PAL speed-up, both including additional opening text about the restoration.

The screenshots are from the standard definition disc


Audio


German LPCM 2.0 mono
The original mono track is presented in uncompressed mono. Like the video quality, the audio has its positives and negatives. On the positive side, the remastered audio has eliminated many issues such as pops and crackle, keeping a fairly stable dialogue track with equally balanced music and effects. As it is an early talkie, there are some isues with fidelity and clarity as expected. Also, not all damage has been eliminated as there are some examples of hiss and pops still remaining from time to time.

There are optional English subtitles for the film in a white font. There are no errors to speak of and are well timed and easy to read.

Extras


Note this is a region B Blu-ray and region 2 PAL DVD dual format set with the film and its extras in HD on the Blu-ray and repeated in standard definition PAL for the second disc.


DISC ONE (Blu-ray)

Audio commentary by film critic Adrian Martin (2022)
In this new and exclusive commentary, Martin looks at the background of the film, its themes, the reception and censorship and much more. Detailed are the biographical information on the cast and crew, the controversial elements with the suicide, pregnancy, and the working class collective bringing left-field unity, background on the historical time period, Brecht's other works, and more. Well researched and well spoken, it's only unfortunate that the runtime of the film is so short.
in English LPCM 2.0 without subtitles

Introduction and Q&A by Andrew Hoellering (1999) (with Play All) (50:05)
- Introduction (36:04)
- Q&A (14:00)
Andrew Hoellering, son of the film's production manager George Hoellering, gives a lengthy introduction as well as a post-film Q&A. Hoellering presented the film at the National Film Theatre in 1998, and this in-studio shot interview was originally made for the 1999 BFI VHS release for the film, with the introduction and Q&A sandwiching the film presentation. The introduction does have a bit of spoilers, though it is mostly focused on elements such as the three act structure, the solidarity of the working class being depicted, as well as the difficulties that Prometheus Films were facing with financial issues. There is also a fascinating story of how his father obtained financing to complete the film and it almost never happening. As for the Q&A, there are questions shown on screen and his answers that follow, which include about the completion and premiere, its banning, and his father's life in after leaving Germany. Some clips of the film are shown as well, and these clips are not from the restored print, so there is a lot of hiss and crackle as well as burned-in English subtitles for the German dialogue. The presentation itself is quite fascinating, and comes from the original source tape and thankfully there are no issues of tape error of trouble to speak of in Hoellering's presentation.
in 576i AVC MPEG-4, in 1.33:1, in English & German LPCM 2.0 without burned-in subtitles for the German portions

"Bread" 1934 short (12:12)
This 1934 silent short shows the consequences of desperation, with an unemployed man being arrested and imprisoned after stealing a loaf of bread. The interrogation sequence has echoes of "The Passion of Joan of Arc" with the extreme closeups and quick paced editing for tension, and is a well made short by Kino Production Group, showcasing the struggles that many had to go through the difficult era, which mirrors the struggles also found in "Kuhle Wampe". The restored black and white levels look fairly good, though there are some visible scratches and damage on the print itself. The new music score was composed by Rich Edwards. Note the film is also available to see for free on the BFI Player.
in 1080p AVC MPEG-4, in 1.33:1, Music LPCM 2.0 with English Intertitles

"Beyond This Open Road" 1934 short (10:41)
This documentary short features leisurely weekend activities of the working class Brits out and about on bicycles, motorcycles, or cars as they travel to quite parks for picnics and lakes for a swim among other. A free flowing and relaxing short, it does feature a number of creative shots as well, focusing on the actions more than the faces. The restored black and white image is quite good, but unfortunately the original music is lost. Instead there is a new score here, composed again by Rich Edwards.
in 1080p AVC MPEG-4, in 1.33:1, Music LPCM 2.0 with English Intertitles

"Housing Problems" 1935 documentary (15:35)
This documentary short, directed by pioneering English documentarian Edgar Anstey looks at the conditions of the slums of London, where tenant say on camera through interviews of their struggles with getting running water, trying to fend off bugs and disease, dealing with dilapidated structures, and more. In addition, it features an introduction for London's plans to build new and sturdy concrete housing projects to modernize and make living more comfortable for the future tenants. The picture and sound are in fairly good condition here.
in 1080p AVC MPEG-4, in 1.33:1, in English LPCM 2.0 without subtitles

"Eastern Valley" 1937 documentary (16:54)
This documentary short features former miners and their living conditions in Wales after the coal mining industry moved away and the struggles they faced. From the polluted areas of the housing areas to the displacement of commerce, it also shows a brighter picture, with workers coming together to restart the community with building farmlands and reconstructing new homes for the residents. While it is a documentary, there are a few "dialogue" scenes which are expectedly stilted with the non-actors having to do their lines. Again, good picture here, with a bit of damage with the sound, though still intelligible.
in 1080p AVC MPEG-4, in 1.33:1, in English LPCM 2.0 without subtitles


DISC TWO (DVD)

Audio commentary by film critic Adrian Martin (2022)
Introduction and Q&A by Andrew Hoellering (1999) (with Play All) (50:05)
- Introduction (36:04)
- Q&A (14:00)
"Bread" 1934 short (11:43)
"Beyond This Open Road" 1934 short (10:15)
"Housing Problems" 1935 documentary (14:57)
"Eastern Valley" 1937 documentary (16:14)
The film and the same extras are repeated on the DVD in standard definition, all being properly converted to 25fps PAL.


Booklet
A 24 page booklet is included with the first pressing. First is an essay on the film's history by restorationist Martin Koerber, looking at the production, the themes, as well as the subsequent banning and the film's fate in a slightly truncated form surviving. Next there are full film credits. This is followed by a review of the film by Jill Forbes, originally printed in Monthly Film Bulletin from 1978. There are special features information, including a lengthy piece on the short films written by author Henry K. Miller. Finally, there are also transfer information, acknowledgements, and stills.


The film was released on Blu-ray in Germany in 2020 by Al!ve which only had a gallery as the sole extra. In comparison, the German DVD from Absolut Medien in 2008 was much better in the extras department, with the 1930 silent short "How the Berlin Worker Lives" and the hour long TV documentary "Ein Feigenblatt für Kuhle Wampe oder Wem gehört die Welt?" on the making of "Kuhle Wampe" being included. Unfortunately the German DVD release seems to be a shorter version of the film itself.

A clip from the film, courtesy of the BFI



Overall


"Kuhle Wampe" is one of the most important, and nearly lost German films of the early sound era, and one that gives a voice to the people in a pre-Nazi Germany that would later be completely silenced. The BFI's Blu-ray release is a great one, with a number of new and vintage extras included. Highly recommended.
| | | | | |
| --- | --- | --- | --- | --- |
| The Film: B+ | Video: B+ | Audio: B | Extras: A | Overall: B+ |