Damien Leone's Terrifier 2 AKA Terrifier 2 (Blu-ray) [Blu-ray]
Blu-ray B - United Kingdom - Signature Entertainment
Review written by and copyright: Rick Curzon (14th October 2022).
The Film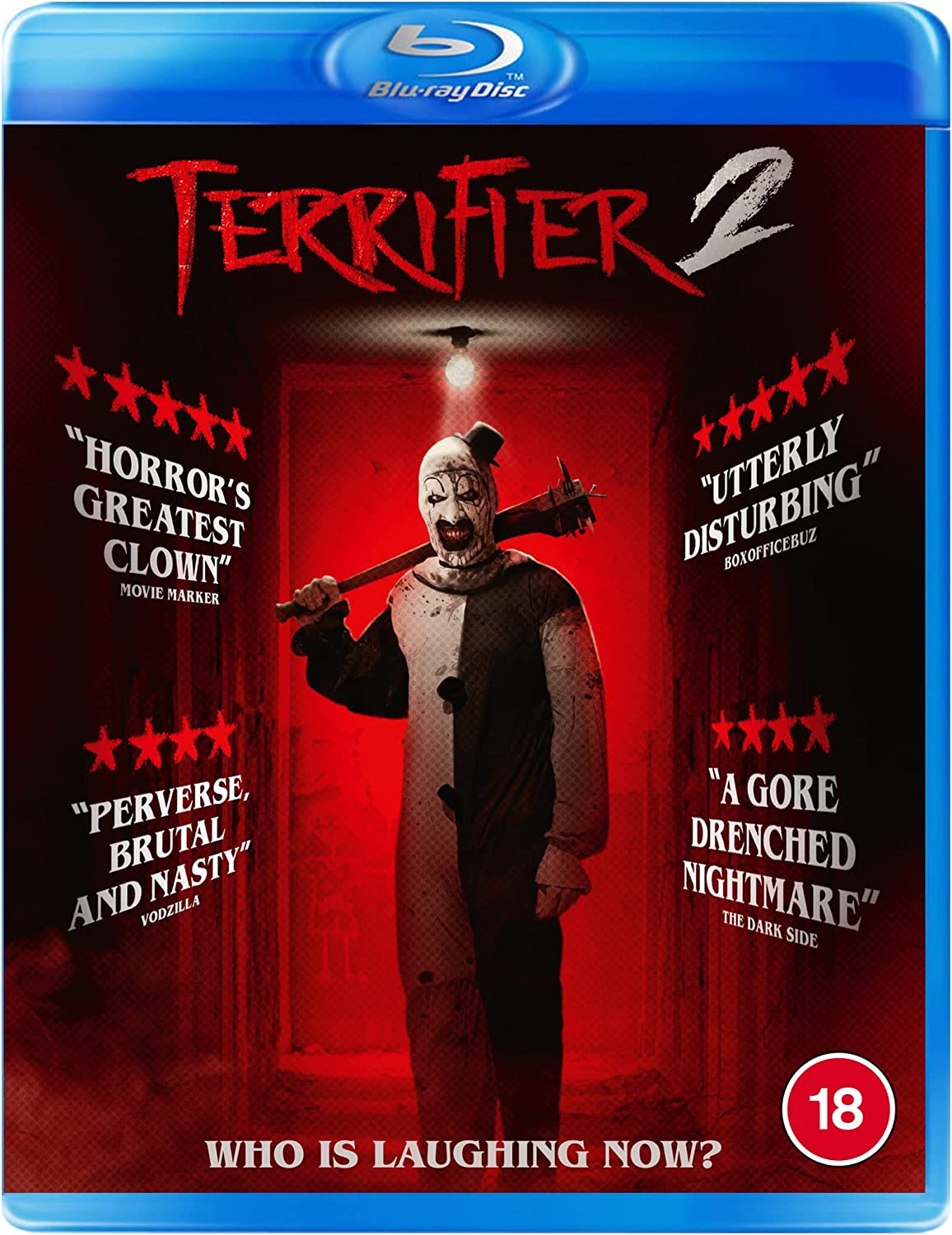 ART THE CLOWN IS BACK!

After being resurrected by a sinister entity, demented killer Art the Clown returns to the timid town of Miles County.

With an appetite for murder and mayhem Art sets his sights on a bereaved family, in particular teenage Sienna and her younger brother Jonathan.

Itís Halloween and the streets are about to run with blood.

David Howard Thornton (Terrifier) is back as Art the Clown, alongside Felissa Rose (Sleepaway Camp) and Griffin Santopietro (Cobra Kai). Terrifier 2 is written and directed by Damien Leone (Terrifier).

Video


I've not seen the first Terrifier (2016) but it seems to have a good reputation. However, it ran a sprightly and sensible 84 minutes. Terrifier 2 (2022) runs a whopping 138 minutes! Not quite the longest slasher film made, that being Boardinghouse (1982) which clocks in at 158 minutes in it's director's cut. Terrifier 2 is a good deal better than that amateurish, shot on video indulgence, with superior writing, acting, direction and production but it remains indulgent and far too long. Still, worth a look for gore fans, and there are buckets and buckets of pretty extreme, if latexy and painty, gore to be had here. The main plus is easily David Howard Thornton as the big bad psycho villain, Art the Clown.

However, be warned, this is very much more in the modern and sadistic torture porn end of the 21st century horror realm, albeit surprisingly chaste when set against the '80s films it's stylistically emulating and the likes of Eli Roth's or Rob Zombie's efforts.

A digitally shot production this never quite transcends that digital look, but creator Damien Leone (writer-director-SPFX) and cinematographer George Steuber have a damn good try in trying to make this look like a film from a more colourful, full-bodied era of photochemical film production. Even the score by Paul Wiley is even reminiscent of John Carpenter's and Alan Howarth's work at times.

It maintains a colourful palette with warm primaries and solid flesh-tones throughout. Blacks are mostly decent but have their moments where shadows etc are more of a dark gray. I saw no crush. Contrast is strong, low-key and supportive but the image never really appears filmic. There's no grain, at least not much that I could detect. The encode seemed adequate to the task and I saw no signs of digital tinkering. Obviously being a new, digital production there's no signs of print damage.

Overall the image is decent but not as punchy as a brand new film ought to be on the format ('B-').

1080p24 / AVC MPEG-4 / BD50 / 1.78:1 / 138:26

Audio


English DTS-HD Master Audio 5.1
English LPCM 2.0 Surround (48kHz)

The soundtrack is more robust than the image but is likewise not as strong as a new film of this ilk ought to be. The 5.1 kicks out much more with greater depth and range than the 2.0 surround version but there's not really a huge difference. The rear channels have there most usage when action and kill scenes are at their height. The score plays around the sound field nicely with some great low key moments creeping out of the rear channels and playing back and forth. The subwoofer kicks in at opportune moments with some nice LFE but, again, not as much as I would've liked or expected. The uncompressed LPCM 2.0 track is actually encoded for surround and doesn't requite playing through ProLogic II or similar. There are no hard of hearing subtitles which is a serious omission as I'm pretty sure the licencer will have made them, at least for other markets ('B+').

Extras


"Behind the Scenes" 2022 B-roll footage (43:00)

Not uninteresting peek behind the scenes, but it's just unnarrated B-roll footage of everyone at work with the odd interview. Interesting at times but also a bit samey after a while. Presented in 1080p24 1.78:1 with uncompressed LPCM 2.0 stereo sound.

Startup Trailers:
- Orphan: First Kill (2:16)
- Fall (2:24)

Trailers presented in 1080p24 2.00:1 with uncompressed LPCM 2.0 sound.

Packaging


Standard blue BD case.

Overall


Just in time for Halloween, Damien Leone's followup to his popular 2016 slasher Terrifier hits the scene in the UK from Signature Entertainment in a good if far from optimal package. Image and sound are decent but not at the top end the format has to offer. Extras are limited to some promos for other forthcoming Signature titles and 43 minutes of B-roll, behind the scenes footage. An OK package that's cheap enough on day one, being £12.99 currently to preorder. Recommended for those who like gory, sadistic modern horror.
| | | | | |
| --- | --- | --- | --- | --- |
| The Film: C+ | Video: B- | Audio: B+ | Extras: D+ | Overall: B- |

---
Rewind DVDCompare is a participant in the Amazon Services LLC Associates Program and the Amazon Europe S.a.r.l. Associates Programme, an affiliate advertising program designed to provide a means for sites to earn advertising fees by advertising and linking to amazon.co.uk, amazon.com, amazon.ca, amazon.fr, amazon.de, amazon.it and amazon.es . As an Amazon Associate, we earn from qualifying purchases.