The Twin [Blu-ray]
Blu-ray ALL - United Kingdom - Acorn Media
Review written by and copyright: Eric Cotenas (23rd October 2022).
The Film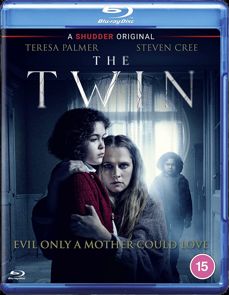 After they lose their son Nathan in a car accident, American couple Rachel (Lights Out's Teresa Palmer) and Anthony (Outlander's Steven Cree) decide it would be best for them and Nathan's twin Elliot (Tristan Ruggeri) to make a fresh start by moving to the small Finnish village where Anthony was born. Even though Rachel is overbearingly protective of her surviving son, Elliot cannot help but suspect that his parents favored Nathan, particularly since writer Anthony spends more time at his typewriter than playing with him; so much so that Elliot insists on his parents installing a second bed in his room for Nathan to which they reluctantly agree as a means of coping. While Anthony is warmly-received by the mostly-elderly locals, Rachel is unnerved by the village's pagan-rooted traditions, especially when her one confidante – ostracized British expatriate crackpot Helen (The Turning's Barbara Marten) – reveals that every church that has been erected in the village has been burned to the ground and also notes the recurring circle motif in everything from artwork to the layout of the village, the center of which is a small island with an ancient sacrificial altar.

When Anthony takes Rachel and Elliot out to the island to explore, he points out primitive artwork of hand prints on the ancient stones that are believed to grant wishes. Elliot makes a wish on the stones and Rachel is unnerved by Helen when she tells her that her son's wish has been granted. When Elliot starts insisting that he is actually Nathan, Rachel is troubled by nightmares of recrimination from her dead son for "abandoning" him. While Anthony subscribes to the wisdom of his childhood doctor and lifelong mentor (Andres Dvinjaninov) that their son's behavior is a means of coping with his brother's death and that Rachel should be patient with him, Rachel starts to believe Helen when she tells him that the entity that visits Elliot at night is not her dead son and it means to possess him as it did her own husband who died during a failed exorcism years before.

A Finnish production partially filmed in Estonia and shot in English, The Twin is quite a frustrating viewing experience. At first, it appears to be using "folk horror" tropes as window-dressing in the manner of the equally-frustrating Men while then appearing to lampoon the xenophobia inherent in the likes of Midsommar (which is really just an arty version of Hostel rather than a spiritual successor to The Wicker Man) with how quickly Rachel becomes suspicious of the stereotype of coldness of Scandinavians towards outsiders and Helen's fetishization of the area's pagan roots possibly as a means of dealing with her own grief and outsider status. While characters dealing with loss and grief encountering the supernatural is as old or perhaps even older cinematically than Don't Look Now and has become a bit of a lazy narrative and characterization shortcut, the psychological states of all three family members in the aftermath of Nathan's death are interestingly complex: from Rachel admitting to feeling guilty about losing Nathan with all of his "issues" and keeping perfect Elliot, Elliot struggling to believe that his parents love him equally as he experiences grief for the first time, and Anthony who spends as much time in the privacy of his study crying as he does trying to resume his writing career. While the viewer can see a twist coming a mile away and likely will even have guessed the right one, director Taneli Mustonen (Lake Bodom) gives his viewers no credit and conveys it in an expository-dump monologue that is stretched to what seems like ten minutes with an overabundance of flashbacks that includes glimpses of their life before the accident as well as re-staging several earlier shots to reveal the reality of a character's skewed perspective a la The Sixth Sense. Such trickery is ultimately a disservice to the work of the three leads whose performances are compelling enough that it is as believable that one character would be so emotionally-exhausted as to welcome a brutal death as another would knowingly surrender to a delusion that is less painful than reality.

While the photography, scoring, and production design are of a generally high standard, the need to make the film seem "American" renders the geographical and temporal setting rather confusingly with the locations never convincingly west of the Atlantic – even when putting an American flag outside a very European-looking housing block and street that is supposed to be in New York – so that one is not entirely sure whether the family has just moved to the countryside or hopped the globe until Rachel expresses her surprise that Helen speaks English (up until that point all of the dialogue from the locals directed entirely to Anthony was muffled from the distanced position of Rachel in one of the first scenes featuring anyone else but the three leads); indeed, one wonders whether the lack of any Finnish or Estonian specificity is the director's own means of playing the evil foreigners trope or an attempt to be more respectful by not ascribing an underdeveloped pagan mythos to a specific nationality. However much director Taneli Mustonen attempts and somewhat succeeds in punching up a familiar scenario with The Twin, it is unfortunately not enough to feel more than run-of-the-mill in the end.

Video


Digitally-lensed and projected, The Twin comes to 1080p24 MPEG-4 AVC 2.40:1 widescreen Blu-ray – the UK package being a direct port of the earlier US edition which has also been utilized for the Australian edition – looks great in keeping with the high technical standards of the photography and grading which strikes a better balance between warm naturalism and contrasty, cool modern grading than a lot of the film's genre contemporaries. Blacks are deep and the grading greatly aids the film's digital visual effects for the most part; that is, apart from a poor matte composite intended to relocate a Finnish hillside cemetery to New York.

Audio


The sole audio option is a DTS-HD Master Audio 5.1 track that is primarily spoken in English (the optoinal SDH subtitles render all Finnish dialogue as "native language"). Dialogue is up front and centered as expected while the surrounds are goosed with the usual horror noises and low LFE rumble of the genre at the point in time. Spanish and French subtitles are also provided (further cementing the disc authoring's American origins).

Extras


The sole extra is "The Making of The Twin" (8:03) which viewers should definitely watch after the film each of the participants – speaking with their real accents – openly discuss the twist in the context of their characterizations and the film's other plot turns.

Overall


However much director Taneli Mustonen attempts and somewhat succeeds in punching up a familiar scenario with The Twin, it is unfortunately not enough to feel more than run-of-the-mill in the end.

---
Rewind DVDCompare is a participant in the Amazon Services LLC Associates Program and the Amazon Europe S.a.r.l. Associates Programme, an affiliate advertising program designed to provide a means for sites to earn advertising fees by advertising and linking to amazon.co.uk, amazon.com, amazon.ca, amazon.fr, amazon.de, amazon.it and amazon.es . As an Amazon Associate, we earn from qualifying purchases.