The Film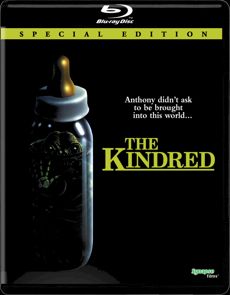 Geneticist Dr. John Hollins (Scream for Help's David Allen Brooks) knows nothing about the experiments his mother Amanda (A Streetcar Named Desire's Kim Hunter) has been carrying out in secret at their family ranch; and he is still in the dark when she winds up in the hospital after a car accident and is only lucid enough to tell him to return home and destroy everything related to her work including "Anthony" who she refers to as his brother. John makes the mistake of inquiring about his mother's work to her former colleague Dr. Phillip Lloyd (In the Heat of the Night's Rod Steiger) who has been carrying out his own unethical experiments in genetic mutation and hastens Amanda's demise when she refuses to tell him more about Anthony. At his mother's funeral, John meets marine biologist Dr. Melissa Ethridge (Leviathan's Amanda Pays) who was an admirer of his mother's and he invites her to accompany him, his girlfriend Sharon (Crawlspace's Talia Balsam), and some of his graduate assistants – Hart (Witchboard 2: The Devil's Doorway's Timothy Gibbs), Brad (Grease 2's Peter Frechette), Cindy (Revenge of the Nerds' Julia Montgomery), and Nell (Hide and Go Shriek's Bunki Z.) – to his family ranch to look into his mother's work and the identity of the mysterious Anthony.

John is surprised to discover the extent of his mother's experiments with hemocynan, a chemical found only in marine life, journals which suggest that she has created life – using a sample of John's DNA – and tape recordings in which they can hear monstrous roars quelled only by a lullaby his mother used to hum to John himself when he got overstimulated. Tensions rise between John and Sharon over his apparent attraction to Melissa, but he finds the other woman increasingly suspicious, especially after Hart is attacked by what Melissa describes as a rabid dog only to discover traces of hemocynan in his blood. When it becomes apparent that Anthony is less-than-human and quite dangerous, Melissa is more concerned with the magnitude of what John's mother has achieved than what it might do to them; and it turns out that she not the only person lurking about who has a vested interest in Anthony's survival even at the expense of others' lives.

The bigger-budgeted follow-up to directing team Jeffrey Obrow's and Stephen Carpenter's The Dorm That Dripped Blood and The Power, The Kindred seems like an eighties gore- and latex effects-infused variation on the fifties "creature feature"; and it pretty much is, but there are other reasons that the film has developed a cult following since its VHS release. The typical "playing God" experiment gone wrong storyline is peopled with characters who are lightly-sketched but essayed with warmth so the viewer does indeed worry for their survival; and, indeed, it appears that the filmmakers also considered their characters as more than body count fodder. Steiger does eventually go over-the-top in his scenery-chewing but even his guest role feels invested and never just a paycheck role, earning his fate through a combination of ethical amorality and overt violence. The practical effects work includes prosthetic work by future award winner Matthew W. Mungle (I Know What You Did Last Summer) and creatures by father/son team Michael John McCracken (Ticks) and Michael Shawn McCracken (The Midnight Meat Train) are of a generally high standard while the scoring of David Newman (Don't Tell Mom the Babysitter's Dead) also enhances the film's mainstream ambitions.

Video


Released wide theatrically in 1987, The Kindred found more business and its cult following on cable and Vestron Video's 1987 VHS and laserdisc editions (dark as they were). Although the film was much-requested on DVD, legal issues prevented it from making its digital debut even for some time after Synapse announced it as a future Blu-ray release. Sourced from the original camera negative, Synapse's 1080p24 MPEG-4 AVC 1.78:1 widescreen Blu-ray – coming nearly a year after the label's 3,500-copy limited Blu-ray/DVD/CD soundtrack steelbook edition (still available from Synapse Films – finally conveys the leap in budget and technical slickness of this film over the 16mm student production The Dorm That Dripped Blood and the 35mm The Power, delivering a satisfying uptick in detail that allows one to assess the craftsmanship of the previously rubbery-looking effects work as well as a couple instances of previously-unnoticed stop motion. The negative is also the unrated version of the film, but the additions appear to consist of extra frames rather than any additional standalone effects.

Audio


In addition to a clean and crisp rendering of the film's original mono soundtrack in DTS-HD Master Audio 2.0, Synapse has availed themselves of the original stems for a new DTS-HD Master Audio 5.1 track that opens up the surrounds to the scoring, rain, coastal tides, wind, and creature roars. Optional English SDH subtitles are also provided.

Extras


Extras start off with an audio commentary by co-writers/co-directors Stephen Carpenter and Jeffrey Obrow who recall having trouble finding funding for the film until they created a sizzle reel that got the project greenlit without the producers reading the script which still needed work. Through the producers, they were able to hire a more experienced writer to rework the script in the personage of Joseph Stefano (Psycho) who they credit with the watermelon scene. They also note that the three million dollar budget – a step up from their proposed eight-hundred-thousand – allowed them to cast name actors Steiger and Hunter, and they both recall their experiences giving direction to Method actors, with Obrow recalling that it changed how he handled actors. They also cover the casting – including their shared infatuation with Pays – the effects work, changes that had to be made to the film after the rough cut screening, and the film's release and reception.

Many of the same stories are relayed in the documentary "Inhuman Experiments: The Making of The Kindred" (51:16) with the added input of Brooks, Pays, Mungle, McCracken the younger, as well as co-writers/editors John Penney (Return of the Living Dead 3) and Earl Ghaffari (Torment) as well as effects artist Jim McPherson (Slumber Party Massacre 2). Additional discussion includes the germ of the original idea, modeling the original script on the beats of Jaws, the use of the old Selznik sound stages and the concurrent productions filming there, as well as Brooks' and Pays' less-than-pleasant experiences with the latex effects.

From McCracken's archive comes a reel of On-Set Footage (17:52), some of which was excerpted in the documentary, including shots of the monster in pieces with technicians just off camera manipulating it, wayward tentacles, difficult dog performers, and the experiences of McCracken Sr. under heavy prosthetics and Mungle in the monster suit. The disc also includes a selection of storyboards (3:23), an extensive still gallery (11:08), TV spots (1:07), a video trailer (0:59), and the theatrical trailer (1:58).

Overall


The Kindred seems like an eighties gore- and latex effects-infused variation on the fifties "creature feature"; and it pretty much is, but there are other reasons that the film has developed a cult following since its VHS release.