The Film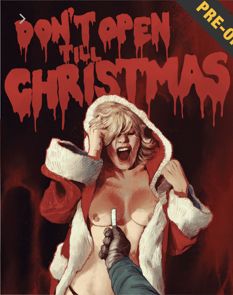 When a wealthy businessman is murdered in the middle of a company Christmas party, Scotland Yard's Detective Sergeant Powell (The Medusa Touch's Mark Jones) is puzzled as to why his superior Inspector Harris (The Egyptian's Edmund Purdom who also directed)is focusing on the dead man's daughter Kate (White Fire's Belinda Mayne) and her layabout boyfriend Cliff (Blind Date's Gerry Sundquist) when there is a serial killer targeting people dressed as Father Christmas in the days leading up to the holiday. Santas all over London have been shot, stabbed, castrated, and even roasted on an open fire with the chestnuts and Powell does not know whether to trust or suspect skulking Daily News reporter Giles (The Playbirds' Alan Lake) when he offers information that could lead to his own promotion over Harris who is being pressured by his superiors to close the case. Things get worse for Cliff when he ends up in the company of a nude model (Come Play With Me's Pat Astley) who herself nearly becomes a victim of the killer because of her photo shoot costume, and Kate turns to Harris for comfort only to become suspicious of the detective as well.

The second of three slasher film collaborations between theater owner-turned-Friday the 13th investor Stephen Minasian and tax-dodging international movie maverick Dick Randall – coming in between the Boston-set/Barcelona-shot Pieces ("It's exactly what you think it is…" said the poster tagline) and the American-set/British-lensed Slaughter High (featuring some of the same cast and crew as this film including American actress Kelly Baker an an "experience girl") – Don't Open Till Christmas turns the tables on other Christmas horror films like the earlier Christmas Evil and the concurrent Silent Night, Deadly Night (or even To All a Goodnight which was also the inauspicious directorial debut of an actor) in that the killer with a Christmastime childhood Oedipal trauma does not don the Father Christmas suit to kill those who have been naughty (sexually and otherwise) but instead targets anyone in Santa suits be they street corner vendors, shopping department children's entertainers, or party hosts. While the film started production around the American slasher heyday and had a slasher franchise backer as one of the producers, Don't Open Till Christmas (more so than Slaughter High) seems as though it is as much an outgrowth of some of the seedier seventies British horrors like Corruption (also scripted by Derek Ford), The Fiend, and Night After Night After Night.

The execution, however, is a mess with exposition scenes that are as stiltedly-staged as they are edited and extensive 1984 reshoots by director Alan Birkinshaw – director of the British proto-slasher Killer's Moon and the later Edgar Allan Poe slashers The House of Usher and The Masque of the Red Death – in an effort to create a more cohesive story from what actor-turned-director Purdom helmed during the 1982 Christmas season and the first half of the following year. While there are a handful of grisly gore bits – credited to Italian Pino Ferranti who had previously worked on Ford-directed For Members Only for Randall – there is not a whole lot of suspense; indeed, the most suspenseful sequence of a Santa being stalked through the London Dungeon ends in a rather limp punchline. More gratuitous than any of the violence or even some cheesecake nudity from Astley is a guest appearance by latter day Hammer starlet Caroline Munro (Dracula A.D. 1972) singing the infectious pop earworm "Warrior of Love" during another Santa stalking sequence. The resulting mess is as shockingly dumb as it is entertaining as a footnote in the career of Purdom and the trajectory of the slasher film from its boom years to the tail end when the film actually go released.

Video


Released theatrically stateside by pre-Menahem Golan 21st Century Film Corporation, Don't Open Till Christmas found most of its audience on an overly-dark Vestron Video VHS rental tape, the same source for most of the unauthorized DVD editions until it finally got a digital overhaul on DVD via Mondo Macabro in 2011. While that improved transfer was framed at 1.75:1, Vinegar Syndrome's 1080p24 MPEG-4 AVC widescreen Blu-ray comes from a new 2K scan of original negative materials in the 1.66:1 aspect ratio (presumably this choice was based on paperwork included with the film elements since the film would have been screened at 1.85:1 in most English-speaking markets by this point in the eighties). While the film's rough edges still show in some underlit sequences and some London guerilla shooting, this is a much-improved presentation with saturated Christmas colors (and bloodshed), improved textures in the rather static locked-down camera dialogue sequences, and in the film's make-up effects that only just got their point across in the older transfers.

Audio


The only feature audio option is a DTS-HD Master Audio 2.0 mono track that features clean effects and scoring – there may be some library needle drops but the more eerie Christmas-y music is credited to Des Dolan, a music producer who became a pioneer in the UK VHS boom with his exploitation-oriented Go Video label and also producing one of British DIY indie genre director Michael J. Murphy's films Qualen and may also have been the inspiration for the unscrupulous video distributor targeted for terror and murder in Murphy's recursive Bloodstream – while exposing the uneven location sound recording and some post-sync work. Optional English SDH subtitles are included.

Extras


Extras start off with a new audio commentary by film historian/author Amanda Reyes and special features producer Ewan Cant who note the film's opening visual debts to Halloween, how Purdom ended up directing the film and Birkinshaw's changes, how co-producer Minasian tried to deny he was involved after the Silent Night, Deadly Night controversy, plenty of production anecdotes heard elsewhere in the extras, as well as the observation that Britain had a number of proto-slashers in the sixties and seventies but precious few cash-ins during the American boom of the sub-genre.

In "Don't Direct Till Christmas" (20:03), additional scenes director/writer Birkinshaw discusses his working relationship with Randall – who initially put up funding for Killer's Moon but was bought out when Birkinshaw disagreed with how he wanted to promote the film – as well as working with both him and Purdom on Invaders of the Lost Gold, his feelings about Purdom as a director and the changes he proposed to Randall including adding Lake's character and integrating him into scenes that had already been shot.

In "Slashing Miss Munro" (34:38), actress Munro notes that she only had about two minutes of screen time in the film and never met Purdom, having been directed by future husband George Dugdale who was doing a show at Piccadilly Circus with special effects supervisor and fellow Slaughter High co-director Peter Litten. Since she had little to do with the film, she comments more on her reaction to it in the context of the slasher genre of which she is not a fan and then spends more time discussing her other genre films including her Hammer work and her other slashers The Last Horror Film and Maniac.

In "Purdom Babylonia" (16:35), Purdom's daughter Lilan Purdom – who has written a book on her father – discusses her mixed feelings about her father personally and her pride in his film work, recalling her father's struggles to find work in Hollywood after failing a screen test, her mother going on the offensive when her father ran off with Tyrone Power's wife Linda Christian, and fleeing to Italy after which she did not see him for five years until she and her sister moved to Cannes to live with her grandmother. She recalls time on film sets and his Italian work – as well as his frustration with having most of his performances dubbed, and only briefly touches upon the feature presenation.

"Birkinshaw Uncut" (56:10) is a career-spanning archival interview with Birkinshaw covering his feature debut sex comedy Confessions of a Sex Maniac and Killer's Moon, his relationship with Randall, being hired to fix the Cannon production Ordeal by Innocence on which he received no credit despite directing thirty-to-forty minutes of new material, and working again with Cannon during their South African tax break phrase (although he glosses over his Poe films), and subsequent projects before moving into the business of commissioning marble statues for clients.

Most entertaining is the messy publicity documentary "The Making of a Horror Film" (52:05) which takes a tongue-in-cheek approach to covering the film's production and exploiting its "exploitation" elements with plenty of nudity and special effects footage. Most interesting are glimpses of unused and deleted material including the original "experience girl" actress whose entire scene was replaced by Baker (the Santa actor's footage was retained in reverse angles) and deleted kills including an electrocution that was dropped because it did not come across on film. "A Dangerous Place for Santa" (14:39) is a recent visit to the locations.

On the commentary track, we learned that Birkinshaw had not seen the finished cut and did not realize that some of his own new footage did not make the final version as he had relied on his own workprint VHS as reference to the film, and a series of seven rough cut deleted & extended scenes (16:09) includes not only dialogue extensions but also a scene featuring a character credited in the end crawl but entirely absent from the finished film and a coda sequence meant to be surprising but seems like it would have been even more confusing. The disc also includes a behind-the-scenes still gallery (2:17) and a theatrical trailer (1:56) framed at 1.85:1.

Packaging


The disc comes housed with a reversible cover while the first 5,000 copies ordered directly from Vinegar Syndrome come with a special limited edition embossed and spot gloss slipcover designed by Robert Sammelin.

Overall


The mess that is Don't Open Till Christmas is as shockingly dumb as it is entertaining as a footnote in the career of Purdom and the trajectory of the slasher film from its boom years to the tail end when the film actually go released.