The Film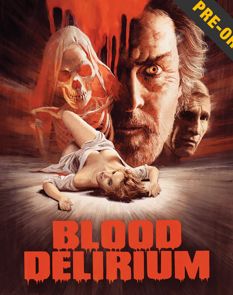 Although he believes himself to be the living reincarnation of Vincent Van Gogh, French artist Saint-Simon (Danger: Diabolik's John Phillip Law) loses his will to create when his wife Christine (Quiet Days in Clichy's Brigitte Christensen) falls ill and dies. After a year of barren creativity, he and his necrophiliac butler Herrmann (Lady Morgan's Vengeance's Gordon Mitchell) dig up Christine, but her moldering corpse disgusts him and Christine's spirit seems to mock him. He burns all of his paintings except for those that have been shipped to Paris for an exhibit where he meets Christine's exact double in pianist Sybille who herself felt drawn to the gallery by the supernatural.

While her test pilot boyfriend Gerard (Touch of Death's Marco Di Stefano) is busy, Christine accepts Saint-Simon's invitation to stay at his castle, believing as much as he that only she can restore his artistic inspiration – especially after seeing a painting of her best friend Corinne (adult film star Olinka Hardiman) who Saint-Simon claims to have only seen in visions and who he believes will soon come into his life – so much so that she at first attempts to overlook the strange goings-on around her including Herrmann assaulting village women, Saint-Simon's violent mood swings, and warnings from paranormal light orbs. When Herrmann accidentally kills a girl he was trying to rape, Saint-Simon discovers the "noble color of life" in human blood and starts painting again and has plans to make Sybille the center of his masterpiece whether alive or dead.

While for many, Riccardo Freda's gory, sexed-up Murder Obsession was the last gasp of Italian gothic horror more than a decade after it had been overshadowed by the giallo genre, Blood Delirium is surely an even more emphysemic example from director Sergio Bergonzelli, a jobbing director who never specialized in horror apart from his earlier, odder In the Folds of the Flesh. Bergonzelli's film conceptually is the stuff of the Italian gothic with obsessed artists, reincarnations, ancient castles, and even a little necrophilia (albeit more graphic than genre precursor The Horrible Dr. Hichcock); however, the execution is more than often absurd with touches of poetic morbidity. Take for example the sequence in which Saint-Simon and Herrmann wire Christine's skeleton back together, put a wig and rubber mask over her skull, and sit her down at her piano so Saint-Simon can paint while listening to a recording of her concerto. The visual composition is laughably aburd; that is, until the skeleton suddenly wheels around and the mask slips off and Christine's mocking visage is superimposed over the skull. The practical and optical effects are clumsy, but the shock destroys both Saint-Simon's attempt at figurative necrophilia as much as Hermmann's hope for the physical (after being caught by Saint-Simon mounting her fresh corpse during her wake earlier in the film when the amount of time that it takes Saint-Simon to notice the desecration at first suggests complicity).

The nudity and gore are plentiful – much of the latter missing from earlier transfers of the film – so much so as to feel entirely gratuitous (Sybille is introduced stripping to her underwear to practice her concerto and cook for her boyfriend); but the most absurd element is perhaps action man hero Gerard who surveys the castle overhead in a helicopter, rolls out of moving vans, and scales castle walls only to wind up escaping the climactic conflagration with his girlfriend barefoot and bare-assed. Law goes far enough over-the-top to make Mitchell's performance seem subtle (Mitchell's own Italian horror nadir would be the naked werewolf movie The Cross of the Seven Jewels). While cinematographer Raffaele Mertes was picked by Michele Soavi and then Dario Argento to sublimely lense The Sect and Trauma on the basis of his gorgeous natural light work on the pretentious The Shadow Game, his work here looks mostly flat and grainy with only a handful of moonlit interiors and candlelit close-ups coming close to the kind of artistry one expects from the gothic horror subgenre. Silly and often ugly, Blood Delirium amuses as much as it despairs as the true last gasp of Italian gothic horror cinema.

Video


Long hard-to-see outside of cut Italian-language VHS and equally-censored Chinese- and Greek-subtitled English dubbed cassettes, Blood Delirium comes to 1080p24 MPEG-4 AVC 1.66:1 widescreen Blu-ray from a 2K scan of the original 35mm camera negative looking grainy and cheaply-processed like several Telecolor films from the late eighties. These circumstances occasionally deliver some attractive low-lit images but the look of the transfer is fully that of the film's production circumstances.

Audio


English and Italian DTS-HD Master Audio 2.0 mono options are both included with English SDH and an authentic English subtitle translation of the Italian dub (the film was shot in English and post-synched with Law dubbing himself on the English track). The tracks both sound fairly clean with unambitious sound design apart from a couple bits of paranormal mayhem while the Italian track has a lot of offscreen dialogue no included on the English dub but it adds nothing of importance.

Extras


Extras start off with an audio commentary by film historians Eugenio Ercolani and Troy Howarth who note the odd nature of the film for the time period and for the director. In discussing the period of production, they note the slump in Italian film production and the competition with television and hardcore pornography, with B-movie studios like Filmirage and the like affording both young talent and older jobbing directors the opportunity to work even if much of the output was assembly line (Howarth notes that Bergonzelli and some other lesser-known directors of his ilk will be covered in a new book).

In "Gerard's Delirium" (19:13), actor Di Stefano discusses his father's prisoner-of-war experience during the war and how he arranged a theater company with his fellow prisoners, and then his own stage career, and meeting wife Christensen while touring Scandinavia. He reveals that he did not plan to do movies but the pair of them appeared in Leandro Lucchetti for intellectual director friend Apocalypse Mercenaries (whose other work opportunities during the eighties included the "Lucio Fulci presents" title Bloody Psycho also with Christensen) which lead to more work. Of Blood Delirium, he reveals that Bergonzelli was infatuated with Christensen and that the crew told him that the additional action material Bergonzelli added for him to do in the film was intended to get him injured and replaced with another actor. He also reveals that he learned much about screen fighting from Mitchell.

In "Killer's Muse" (28:21), actress Christensen is more reserved in her comments about Bergonzelli but reveals that she felt that she could not talk to him the script because he was so passionate about it for all its faults. While she was not uncomfortable with the nudity, she did feel it was gratuitous. She speaks more warmly of Mitchell and Law.

In "Once Upon a Time in the Italian Eighties" (29:12), assistant director Corrado Colombo reveals that he got his start assisting Eriprando Visconti when production manager Filippo Campus (an executive for Gaumont Italy who owned a warehouse that served as a studio for the film, including castle catacomb sets that were recycled from concurrent production Specters) introduced him to Bergonzelli. Knowing his filmography, Colombo admits to being rather snobbish as a cineaste but admits that he learned more about visualizing scenes with editing in mind from Bergonzelli than the style-driven Visconti (Colombo also ended up directing the last several shots for Bergonzelli's Malizia oggi based on Bergonzelli's detailed notes). He also expresses bewilderment about Bergonzelli's investment in the project but notes that some of the seeming visual flaws in the picture were experimental techniques that did not always come off as intended.

The disc also includes the Italian front and end titles (3:37) – although references cite the film's Italian title as "Delirio di sangue" the onscreen title in the Italian sequence remains in English – and the English export theatrical trailer (3:06).

Packaging


The disc is housed with a reversible cover while the first 5,000 copies ordered directly from Vinegar Syndrome include a special limited edition embossed and spot gloss slipcover designed by Robert Sammelin.

Overall


Silly and often ugly, Blood Delirium amuses as much as it despairs as the true last gasp of Italian gothic horror cinema.