Evil Dead Trap 2: Hideki [Blu-ray]
Blu-ray ALL - America - Unearthed Films
Review written by and copyright: Eric Cotenas (31st October 2022).
The Film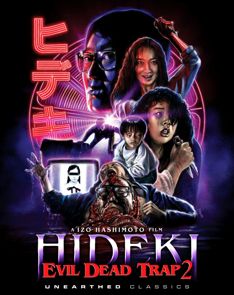 Overweight, solitary Aki (Shoko Nakajima) lives at night, spending the first part of her evening as a projectionist at a small second run theater. After work, she either goes out drinking with her sexy television reporter friend Emi (Doll from Hell's Rie Kondoh) or trying to get laid in the various night by restless drunks. When her libido is cock-blocked by the apparition of a little Japanese ghost boy – who may or may not be the baby she aborted years before – Aki stalks and murders prostitutes and cuts out their wombs. When the latest crime of the so-called "street killer" pulls Emi away from their meal, Aki is stuck with Emi's married beau Kurahasi (To Sleep So as to Dream's Shirô Sano). Aki finds Kurahashi's attraction to her bewildering and disturbing; that is, until she sees how amused Emi and co-worker Noda (Ringu's Yôko Ôshima) are by the possibility that said attraction is anything other than a diversion on Kurahashi's part. When the ghost boy apparitions become increasingly threatening, Aki's boss Muraki (Violent Cop's Sei Hiraizumi) recommends that Aki consult spiritual healer Chiyo (Zegen's Shino Ikenami) who runs an occult group. Chiyo attempts an exorcism upon Aki and at first it seems to work; however, Emi discovers that she has become pregnant by Kurahashi and will go to deadly lengths to remove any obstacles to possessing Kurahashi including Aki and Kurahashi's mentally-ill wife (Ring 0: Birthday's Kazue Tsunogae) who insists that the child she lost at birth is alive and wants to reunite his happy family.

Having little to nothing to do with the stylish and gory but derivative Dario Argento-meets-Sam Raimi film Evil Dead Trap apart from the pre-J-Horror sub-titular supernatural child menace "Hideki", Evil Dead Trap 2: Hideki is a slower-paced, more character-driven mood piece that largely eschews the sort of death trap set-pieces of the first film and parses out its kills. The film spends the first three-quarters building up the interplay of characters not so much as fully-developed individuals but insofar as the darker aspects of their characters seem to draw one another into interactions. Emi seems shallow and vain, but her calling out Aki's wounded nature as "narcissism" really is not that far off the mark, and behind Kurahashi's boorish nature is his unbearable home life with an unbalanced wife who may actually have willed their dead son into existence. Noda seems most innocent, but she too reveals a spiteful nature underneath more benign complaints, and the seemingly helpful Muraki has made things worse by sending Aki to a healer he himself believed was a fake as a sort of placebo bandage for Aki's psychosis. Emi further betrays an underlying sexual sadism as she rubs her knees together while observing the open wound of the latest victim of the street killer, and Kurahashi seems to share it when Emi shows unedited video footage of her report at a dinner party. The pacing of this part of the film is rather erratic, and the revelation that Hideki is not an actual dead boy's spirit but a malevolent force given power not just by Aki's repression but the neuroses and psychoses of those in her circle allows the film to fully go off the rails in the last twenty minutes or so with multiple slashings, stabbings, broken bones, and supernatural belly-bursting births (in some ways the film anticipates not only the Ju-on AV series feature spin-off Ju-on: The Grudge but also its direct sequel).

Director Izô Hashimoto – who had previously co-scripted Katsuhiro Ôtomo's Akira before launching his own short live action directorial career – dispenses with the Raimi-like amped-up camera moves and odd camera angles in favor of contemplative long takes that cut to odd details of peoples' mannerism made unnerving by Aki's coldly observational stare, moody shots of Aki wandering neon-lit Tokyo streets to the theme music of Masaya Abe – which owes less to Claudio Simonetti than the first film's score than a synth-pop take on the giallo lullabies of Ennio Morricone – and the murder set-pieces of silhouetted victim and killer set against large neon signs of Japanese commercial identity like Nikon and Cannon. The climactic confrontation between Aki and Emi cuts between gorgeous slow motion shots of the two struggling in a shroud-draped building site and a sewer sequence with a special guest appearance. Evil Dead Trap 2: Hideki is more interesting than the first film for what it tries to do differently, but it too reaches a point where it gives up on story and in the grue it pales to its predecessor.

Video


Like the first film, Evil Dead Trap 2: Hideki first came to the U.S. on the bootleg circuit before Unearthed Film followed up Synapse Films' DVD of the first film with their DVD of the sequel. The transfer was non-anamorphic as well as being a tad hazy and dark (as per the look of a lot of Japanese AV features). Unearthed Films' 1080p24 MPEG-4 AVC 1.85:1 widescreen Blu-ray does justice to this shot-on-film feature's stylish but economic look with warm skin tones, some vibrant neons, and a greater textural sense of the film's dingy environments. The prosthetic effects hold up well in HD including one slash that only just breaks the skin and does not draw blood but still elicits a visceral reaction in the viewer.

Audio


In addition to an uncompressed original mono Japanese LPCM 2.0 track, the disc also includes an LPCM 2.0 stereo track that gives spread to the score and some atmospheric effects but don't expect an Evil Dead-type mix. Both sound clean and the underlying room tone of the interior scenes actually seems to add to the unnerving atmosphere. Optional English subtitles have not glaring errors or sync issues.

Extras


Evil Dead Trap was stacked with extras, but the sequel only includes a photo gallery (1:50), the theatrical trailer (3:26) and a selection of bonus trailers.

Packaging


The first pressing includes a slipcover.

Overall


Evil Dead Trap 2: Hideki is more interesting than the first film for what it tries to do differently, but it too reaches a point where it gives up on story and in the grue it pales to its predecessor.

---
Rewind DVDCompare is a participant in the Amazon Services LLC Associates Program and the Amazon Europe S.a.r.l. Associates Programme, an affiliate advertising program designed to provide a means for sites to earn advertising fees by advertising and linking to amazon.co.uk, amazon.com, amazon.ca, amazon.fr, amazon.de, amazon.it and amazon.es . As an Amazon Associate, we earn from qualifying purchases.