The Film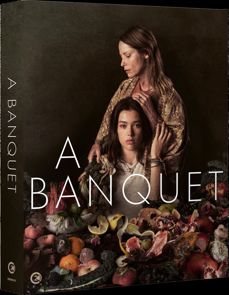 Ever since her terminally-ill husband committed suicide, Holly (Eragon's Sienna Guillory) has attempted to fill his shoes and keep her family together. Youngest daughter Isabelle (Bridgerton's Ruby Stokes) has become apathetic about her once-treasured school activities and older daughter Betsey (Get Even's Jessica Alexander) no longer seems interested in college. One night at a party thrown by boyfriend Dominic (Ray & Liz's Kaine Zajaz), Betsey wanders in a stupor into the nearby woods and emerges… different. The doctors can find no explanation for Betsey's recurring trance states, but her apparent stress-induced lack of appetite becomes increasingly worrying to Holly; even more so when Betsey's weight never drops and she seems otherwise okay. Holly's domineering mother June (The Reflecting Skin's Lindsay Duncan) at first believes that Betsey is manipulating her mother; however, when even she must admit that Betsey is genuinely not well, her recommendation that Betsey only makes Holly that much more determined to help her daughter on her own. When Betsey reveals that her self-starvation is fasting as a means of preparing for a coming "darkness," Holly is torn between her concern for her daughter's sanity and the (comforting?) possibility that there really is no point or purpose behind her struggles and failings.

The debut feature of Ruth Paxton, A Banquet is a (vaguely) body horror mediation on the effects of grief and hereditary mental illness. Intimate in scope and deliberately slight, the story's strengths are in portraying the characters' inability to discovering anything concrete as maddening while the interpretive possibilities of everything from acting out and manipulation, schizophrenia, or even possession are stimulating than because we can see Holly wrestling with them even after she has dismissed them. The socioeconomic background of the characters allows for a visually-stylist backdrop, but the mounting financial pressures and the need by Holly to save face socially – both out of embarrassment over her inability to pay bills and concern/prying by friends about her daughter – and the emotional dynamics of two generations of mother-daughter relationships makes the drama more relatable for viewers than something bad happening to "entitled, middle-class white girls" (as Holly says when at first she believes Betsey to be anorexic).

Guillory and Alexander are capable leads given (or because of) the lack of a definitive explanation – Stokes is appropriately understated as the emotionally-neglected daughter who vacillates between frightened and resentful – but Duncan is utterly compelling in her limited screen time, seemingly unsympathetic and even cruel but revealing true sincerity and concern the more she pushes her interpretation (she really isn't damning her daughter with faint praise in her final scene when she calls her a "good mother"). In a horror film, ambiguity can usually only go so far and the reveal of a concrete explanation often disappoints (whether or not it gets questioned or overturned at the last moment by nightmare logic), A Banquet succeeds on the basis of its affecting performances and assured direction.

Video


Shot in 2020 during the pandemic which also restricted its film festival screenings – the film is still making the rounds this year – A Banquet's U.S. Blu-ray release went pretty much under the radar. Second Sight's 1080p24 MPEG-4 AVC 2.40:1 widescreen Blu-ray of this digitally-lensed feature reveals a film of deep blacks, warm skin tones, and some surprising saturation where colors unexpectedly pop. Long and medium shots boast good detail, but this is seemingly deliberate since extreme close-ups of mouths and food seem considerably sharper and sometimes uncomfortably- or unflatteringly-detailed.

Audio


The DTS-HD Master Audio 5.1 track is a stunner with a pointed emphasis on the most nerve-rattling of sounds from chewing, swallowing, and gagging to cutlery scraping china while the climax contrasts utter silence with ear-splitting screams. Optional English HoH subtitles are free of glaring errors apart from referring to Holly as Molly once or twice.

Extras


Extras start off with "Improvised Exorcism" (15:58), an interview with actress Alexander who recalls auditioning for the film via zoom, relating to Betsey's feelings of lacking direction, and her own experiences with body image and eating disorders. Lacking formal training in drama, she attributes much of how she learned to act "natural" to Guillory while being completely in awe of Duncan and her one take monlogues.

In "Deformity of the Flesh" (15:39), director Paxton discusses what attracted her to the script – her first written by someone else – the awkwardness of doing auditions via zoom, the limitations of location recces during the pandemic, the Japanese folk tale related in the film and her desire to visualize it in a sort of "bio horror" aspect as a "deformity of the flesh" rather than something alien or supernatural (in other words: "human but wrong").

In "Producing A Banquet" (20:12), producer Leonora Darby (Bull) recalls seeing Paxton's short film and giving her the script for the film – she had always been in search of a female director for the project – prepping and production during the pandemic, and how surprised she was that the funding bodies got what they were going for with the not exactly mainstream genre project.

"Dark Edges" (25:14) is an interview with cinematographer David Liddell who discusses how the pandemic pushing back the shoot allowed them to better develop the visual ideas, the possibilities of lighting afforded to them by the location with hits dark walls and fishbowl panoramic window, the color scheme, and the look book assembled by himself and Paxton drawing from the paintings of Ken Currie and Franics Bacon,

The disc also includes a 2022 Glasgow Film Festival Q&A with Ruth Paxton, Jessica Alexander & Sienna Guillory (16:58) as well as "Family Disorder: The Making of A Banquet" (17:31) which expands on some of the points of the interviews but appears to have been shot around the same time as them. It is nevertheless more than a digest version of the other extras, expanding on Paxton's resistance to do either a straight horror film or follow the direction of mainstream directors who refuse to engage with the genre at all and focus entirely on the drama, horror tropes, eating disorders, and mental illness.

Packaging


Not included for review were the rigid slipcase with new artwork by Jen Davies, softcover book with new essays by Alexandra Heller-Nicholas, Jennie Kermode & Anya Stanley, or the 6 collectors' art cards.

Overall


In a horror film, ambiguity can usually only go so far and the reveal of a concrete explanation often disappoints, A Banquet succeeds on the basis of its affecting performances and assured direction.