The Film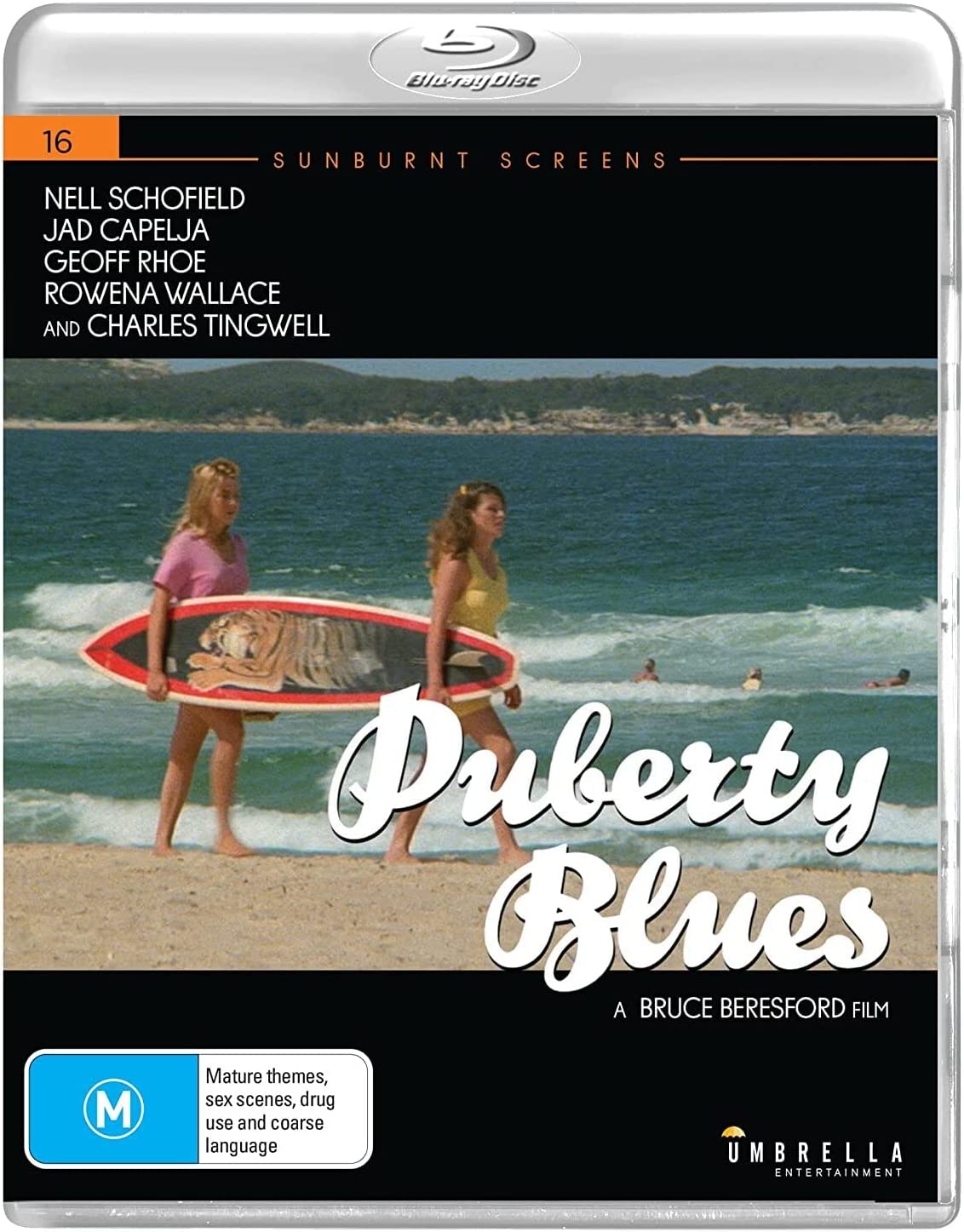 "Puberty Blues" (1981)

Debbie (played by Nell Schofield) is a young high school student who is growing up fast. Alongside her best friend Sue (played by Jad Capelja) the two have their eyes on having fun at the beach nearby, but the influence of boys as well as alcohol and drugs are introduced all at once, changing their lives forever. While they are able to have fun in a free spirited fashion while parents and teachers are not around, the consequences of their actions catch up to them in emotiaonally and physically devastating ways.

First published in 1979, the novel "Puberty Blues" caused a major sensation with controversy, as the book featured protagonists that were underage, having sexual relations, and substance abuse. But this was not written by an adult in hindight, but rather by a pair of fifteen year old girls. Gabrielle Carey and Kathy Lette, the co-authors of the novel hit a nerve with the Australian public, with the older generation panicking over the behavior depicted, while young readers had their eyes opened to a world that was more real than what was ever shown or told in the media.

Filmmaker Bruce Beresford randomly picked up a copy of the book at a bus station one day, and fell in love with the story instantly, leading him to find out if the book was optioned for a film adaptation. He pushed for the opportunity to direct, and the screenplay, adapted by Margaret Kelly would find a slightly different tone for the feature film version. The original book had some dark elements and behavior that would not have passed with film censorship of the era, such as the main characters being thirteen years old. For the film adaptation, the ages were upped to sixteen, and other changes were made in tone to reflect more brightness to the fun the kids were having with some comedic moments interspersed. While the themes presented would be the same, there was a distinct difference in the film version being more inclusive with cinema audiences and the influence of sex comedies to an extend. While teen comedies relied on gags and uncomfortable situations for comedic value as the center, the comedic moments of "Puberty Blues" were not at all over the top, but more of a natural setting. Teens hitting their head while trying to have sex in a cramped van, the insults made towards adults with their own vocabulary, there are a number of silly happenings but none of them particularly overshadow the darker themes explored.

Debbie's boyfriend Bruce (played by Jay Hackett) may be a looker with his surfing skills and nice hair, but his smoking habit and careless attitude extends to his relationship with everyone including Debbie. While selfish and without direction, Debbie is completely fallen for her first love. Even when she tries to knock some sense into him, there really is no change to his ways, which ultimately leads her down a road without promises. Some might question why she would give her heart to such a guy, but then why do so many good girls fall for bad boys? A common tale all over the world, Debbie's character is completely relatable to the masses, and even if audiences scream "no!" or "why?", there's no doubt that many in her shoes would have done the same to fit in with peer pressure and thinking that was what love meant.

Another interesting character is that of Freda (played by Tina Robinson), the freckled classmate that is a loner and not at all popular with the boys. There is a disturbing scene in which three high schoolers say they would drive her home, but instead turns into a gang rape. While one of the boys decides to try and protect her, the other two gang up and beat him up instead, leading to Freda promising to have sex with them if they promise to not resort to violence. While on one hand it is a commendable act to stand up like that for both of the victim characters, the film doesn't do a fair enough job with the traumatic outcome of such a situation with the Freda character later on. As for consequences, the film does show the emotional distress over teen pregnancy and the risks of substance abuse, without a lot of holdback. As for situations such as miscarriage and abortion that were included in the novel, they are cut from the film version. The story both in the book and the film showcase the sexist and male dominated relationships of the period in not only the surf culture but with teen dating and friendships, with the females having a lesser stance on power than they should or could. Debbie and Sue may not always have the power to be on top of things as they should since they are still kids and still learning about relationships the difficult way, there are a number of scenes, including the uplifting finale that showcase that women are just as good, if not better than their male counterparts in anything they can do.

Filmed on location in New South Wales, the gorgeous beaches, the sunny skies, and the brightness of the beautiful areas are wonderfully showcased with the widescreen cinematography, photographed in 35mm by cinematographer Donald McAlpine. Beresford's direction is also very good, commanding great performances from the young cast, for many who were still teens during the shoot, with some having no experience acting previously. The performances are natural and without overdone dramatics or wackiness, setting them apart from other teen comedies or teen dramas of the period. There are also a number of veteran actors in supporting roles with the adults, such as Alan Cassell as Debbie's father, Roweena Wallace as Sue's mother, and Charles 'Bud' Tingwell as the school headmaster. But this is certainly a youth led cast with a young spirit attached, as the original book was and the film depicts. It is not at all perfect though, as the tonal shifts in comedy and drama are not particularly well balanced at times and some important points are glossed over too easily rather than tackled head on in hard hitting drama. It may have some negative aspects, but it is a film that stays after the initial viewing, and continues to be an influential work in Australian cinema, as well as the book being a cornerstone in modern Australian literature.

The music is also quite notable, as it includes songs by Tim Finn of Split Enz and Crowded House, plus The Finn Brothers with his brother Neil Finn, with the theme song vocals by Sharon O'Neill. Interestingly, a soundtrack album was never issued, and the theme song that was released as a single was not the same as the film version, instead being sung by Jenny Morris. The closing song, "Nobody Takes Me Seriously" was written by Split Enz was a very appropriate choice for the final sequence, though it is not performed by Split Enz. The credits do not list who the singer and there doesn't seem to be any document that I can find of who sang the cover version. It could be O'Neill as well singing the song, but I cannot find concrete information.

The film was a fair hit, being released in the middle of summer on December 10th, 1981 and grossing nearly AU$4 million. It didn't fare too well in other territories, such as America where the R-rated film and its distinct lingo didn't register with filmgoers. In Japan it was released in 1982 under the title "High School Graffiti: Lessons from Waves" to place it in line with American teen comedy drama "American Graffiti", though it had little impact on marketing. In the UK, it went straight to video in 1987. But in its home country, it was not only a cultural phenomenon, but it also became a centerpiece in education for both the book and film being read and shown in high school curriculums. The language may be dated and some of the themes presented may be even more awkward in the post-HIV post-MeToo eras, it is interesting to see how much has held up in the last forty years and beyond. In 2012, the book was adaptated for television by Network Ten in "Puberty Blues" for two seasons and receiving high praise, including an AACTA Award for Best Television Drama Series. It was unfortunately cancelled after the second season due to Ten's production division going bankrupt. Nearly ten years later, there are still rumors of a third season to be in development, though age-wise it might be a better idea to reboot rather than continue on. Though there could be some interesting stories to tell about the girls and boys in a decade's time.

The film was previously released on DVD by Australia's Umbrella Entertainment in 2003, which was the first time the film was available on a home video format in the original widescreen, as videotape and broadcast versions were panned and scanned. This was followed by Umbrella's upgrade to Blu-ray for the first time back in 2013. Unfortunately the Blu-ray used a 1080i 25fps transfer, though it had a few newly created extras including a commentary and a documentary. Now in 2022, Umbrella has given it a re-issue on Blu-ray, with a new transfer and some additional extras.

Note this is a region ALL Blu-ray

Video


Umbrella Entertainment presents the film in the original 2.35:1 aspect ratio in 1080p AVC MPEG-4. This HD transfer is quite good, but it is not entirely flawless. On the positive side, colors are stable throughout, stability is quite good, and it has a filmic look with grain being intact without any digital manipulation. On the other hand, there doesn't seem to be major restoration work done, as there are minor speckles to be found and detail is not quite strong. Colors also sometimes appear contrasty and dark at times. It still is a pleasing transfer, but it is not particularly a showcase of the HD format.

The film's runtime is 86:39.

Audio


English DTS-HD Master Audio 2.0 mono
The original mono audio is presented lossless. Dialogue is well balanced against the music and effects, with one not overbearing the other, and the music and songs by Tim Finn and Les Gock sound quite good as well. There are no issues of dropout, hiss, pops, or other audio damage for a fairly smooth yet flat track.

There are optional English HoH subtitles for the main feature in a white font.

Extras


Audio commentary with actress Nell Schofield and cinematographer Donald McAlpine
In this commentary, Schofield and McAlpine have a fun discussion together, looking back at the film after a few decades later. Talked about are some behind the scenes trivia, filming some of the more uncomfortable scenes, the technical aspects and shooting in anamorphic widescreen, filming locations, the performers, and much more. Note this was originally produced for the 2013 Umbrella Entertainment Blu-ray release.
in English Dolby Digital 2.0 without subtitles

Introduction from director Bruce Beresford (1:58)
A new and exclusive short introduction from Beresford, in which he talks about discovering the book at random and the impact that it had on the culture, without giving away any spoilers.
in 1080p AVC MPEG-4, in 1.78:1, in English Dolby Digital 2.0 without subtitles

"Rewinding Puberty Blues" documentary (31:09)
This documentary reunites stars Nell Schofield, Jay Hackett, Tony Hughes, and Geoff Rhoe in Cronulla, New South Wales where the film was originally shot. A lot of topics are discussed, from their casting in the roles, the impact the book had on them, with some admitting to not reading it until after they were cast, memories of the shoot, the impact it had on their careers, the longevity of the film, their reaction to the newly produced television series, as well as their memories of the late Jad Capelja, who struggled with paranoid schizophrenia, and sadly taking her own life in 2010. Schofield also laments that she lost touch with actress Tina Robinson and asks the Blu-ray viewers for information on her whereabouts. Robinson had a short career appearing in bit roles in television, but completely disappeared from the screen fairly quickly. She later worked in music, in the band Tina Robinson and Mixed Co as singer and choreographer, and later working as a school drama teacher, and more recently in organizations to support disabled people. Note this documentary was originally produced for the 2013 Umbrella Entertainment Blu-ray release.
in 1080p AVC MPEG-4, in 1.78:1, in English Dolby Digital 2.0 without subtitles

Interviews with actress Nell Schofield and director Bruce Beresford (13:24)
These interview sessions with the actress and director has them both interviewed together and separately and edited together. Beresford talks about discovering the book randomly at a bus station and falling in love with it, the difficulty of finding actors who were young enough to devote six weeks of their lives for the production, the widescreen cinematography, and more. Schofield talks about being cast straight out of high school, her surfing skills since the age of fourteen, still being recognized, her career change from actress to radio and television personality, and more. Note this was originally produced for the Umbrella Entertainment DVD release.
in 1080p AVC MPEG-4, in 1.78:1, in English Dolby Digital 2.0 without subtitles

Photo Gallery (4:37)
An automated silent gallery that includes black and white and color photos from the production, posters, Japanese and German VHS artwork, as well as the book cover.
in 1080p AVC MPEG-4

Theatrical Trailer (2:15)
The original trailer is presented here, which is in very good condition. Quite a number of spoilers (including the death) are introduced and is not recommended to see before watching the film itself. Umbrella Entertainment has posted the trailer on their YouTube Channel, though it is age restricted so it cannot be embedded on this page.
in 1080p AVC MPEG-4, in 2.35:1, in English Dolby Digital 2.0 without subtitles


The 2022 Umbrella Blu-ray gathers all the extras made for the DVD and earlier Blu-ray and adding a few new additions as well. The only thing not carried over are some outdated text profiles and review text from the DVD edition, and some BD-ROM extras from the older Blu-ray. The extras compiled are excellent, though the voices and thoughts of authors Kathy Lette and Gabrielle Carey are sorely missed as it would have been interesting to hear from them all these years later. Same goes for actress Tina Robinson, who Schofield discusses both in the commentary and documentary with love.


Other notable clips:


Co-authors Kathy Lette & Gabrielle Carey reunite in 2002, from "Australian Story" (ABC-TV)


How Puberty Blues exposed the misogyny of the 70s surf scene, from "Books That Made Us" (ABC-TV)


The Puberty Blues film phenomenon, 2012, from "Australian Story" (ABC-TV)


Packaging


This is #16 in Umbrella Entertainment's Sunburnt Screens series of releases, reflected on the spine and cover.
The inner inlay has identical artwork with the front cover except the M rating logo being removed, while the opposite side has illustrated artwork.

Overall


"Puberty Blues" is an interesting take on sexual awakening, surf culture, and teen drama, and while sometimes watered down from the original controversial novel, it still has shocks, laughs, and reality calls rolled together with great direction from Beresford. Umbrella Entertainment's second release on Blu-ray is a great upgrade over the older disc and is at this point the definitive release.
| | | | | |
| --- | --- | --- | --- | --- |
| The Film: B | Video: B | Audio: A- | Extras: B+ | Overall: B+ |