The Film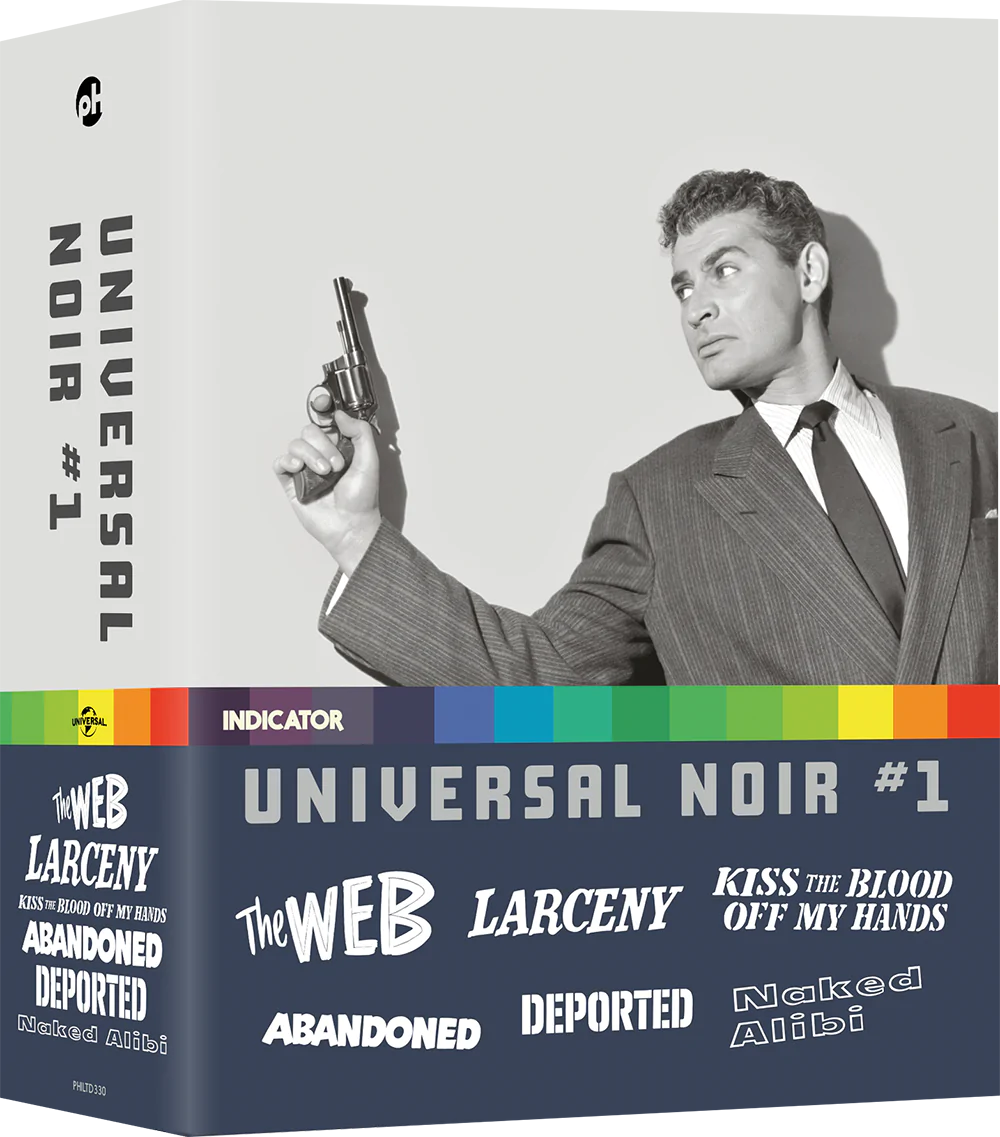 A new series of box sets – following Indicator's acclaimed Columbia Noir series – focusing on the film noir output of another of the major Hollywood studios, Universal Pictures.

Starring such high-profile talents as Burt Lancaster, Joan Fontaine, Shelley Winters, Dan Duryea, Vincent Price, Edmond O'Brien, Sterling Hayden, Gloria Grahame, and Jeff Chandler, the six films in this volume feature embezzlement and murder (The Web), confidence tricksters (Larceny), lovers on the lam (Kiss the Blood Off My Hands), an adoption racket (Abandoned), transatlantic criminals (Deported) and police brutality (Naked Alibi).

This stunning collection marks the UK Blu-ray premiere of all six films, and also features an array of fascinating contextualising extras, including newly recorded commentaries for each film, critical appreciations, archival short films, and a 120-page book. Strictly limited to 6,000 numbered units.

Video


A classic slice of '40s noir with a cast of stalwarts to die for and the gem selected to open this set on disc one, Powerhouse Film's initial package of Universal Noir. Lensed in monochrome 35mm in the Academy (1.37:1) ratio.

Crisp black nd white images with no colour bias creeping in. The image is generally sharp although it can be soft in sections with optical effects like the opening credits and scene transitions. There's plenty of very fine grain, occasionally courser, that's been well handled by the top notch encode. No signs of digital tinkering, and very little signs print damage, just the odd fine speckles. Universal have done a great job looking after the elements and in the image harvest.

Black levels are typically velvety and the contrast is supportive of the fine shadow detail and detail in highlights with both coming through nicely. A strong transfer ('A-').

1080p24 / AVC MPEG-4 / BD25 / 1.37:1 / 87:07

Audio


English LPCM 1.0 (48kHz)
Subtitles: English HoH

A strong if limited mono presentation that's par for the course for it's era. Dialogue is the main emphasis and the melodramatic score is robust but knows it's place in the mix. Sound effects and ambience come through nicely. About as good as the limited source will allow. As usual, the hard of hearing subtitles are superbly done ('B+').

Extras


Audio commentary with film historian David Del Valle (2022)

A Del Valle commentary is always worth your time and this one is no exception. Dave has been tooling around this business as a fan and as a professional since the late 1960s and what he doesn't known about his subject wouldn't fill a flea's codpiece. Lots of coverage of the cast and principle crew with plenty of anecdotes. There's little space for downtime in this fact and trivia packed yaktrak. Presented in lossy Dolby Digital 2.0 mono.

"The Web: Post Screening Q&A with Victoria Price , Palm Springs - May 11, 2018" 2018 interview (29:47)

An excellent screen talk conducted to support the film on this disc. Price, introduced by Alan K. Rode, is warm and nostalgia with plenty of anecdotes about her father, most interesting bout Vincent Price as art buyer for Sears Roebuck. Presented in 1080p24 1.78:1 with lossy Dolby Digital 2.0 stereo.

"Lux Radio Theatre: The Web" 29 September 1947 radio episode (52:38)

Vintage radio adaptation presented in LPCM 1.0.

The Web Image Gallery: Original Promotional Material (34 images)

Typically solid HD image gallery.

"Skirmish on the Home Front" 1944 short film (13:14)

Mr. Average and his troubles as squabbles with his wife about what to spend his money on. Tinny, lossy Dolby Digital 2.0 mono sound that has no range at all. The image is 1.37:1 1080p24 and is generally in good nick. Deep blacks, decent contrast but I'd say it's not from an OCN but from a generation or two off. A little soft, lots of grain well encoded.

120-page liner notes book with new essays by Iris Veysey, Jill Blake, Karen Hannsberry, Sabina Stent, Sergio Angelini and Walter Chaw, extensive archival articles and interviews, new writing on the various short films, and film credits

The Web gets nine pages devoted to it in this superb hard-copy companion to the six films.

Packaging


Unknown at this time as it hasn't been provided for review.

Overall


Disc one in Powerhouse Film's excellent new range of Universal Noir sets is a top notch production given the deluxe treatment with fine image and sound quality. Extras are excellent and well chosen and in keeping with the solid quality we've come to expect from this company and their prior Columbia Noir boxed sets. Highly recommended ('A-').
| | | | | |
| --- | --- | --- | --- | --- |
| The Film: B+ | Video: A- | Audio: B+ | Extras: A+ | Overall: A- |