The Film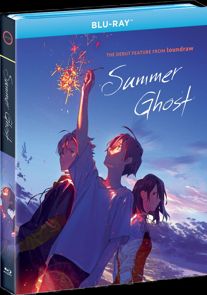 Tokyo high school students Tomoya (voiced by Great Pretender's Chiaki Kobayashi), Aoi (voiced by Boarding School Juliet's Miyuri Shimabukuro), and Ryo (voiced by Your Name.'s Nobunaga Shimazaki) have made a yearly ritual of celebrating the end of the summer by lighting sparklers at an abandoned airfield. Years before, they met on social media and first ventured to the airfield with the goal of meeting "The Summer Ghost" who only appears in that spot by the light of fireworks. Legend goes that the ghost is a girl who committed suicide and is doomed to haunt the area. In spite of Tomoya's initial fervent belief, Aoi's fears, and Ryo's skepticality, all three are disappointed at the end of the night when no ghost makes an appearance; that is, until they light the last sparkler and a girl with dark hair shows up.

She is Ayone (voiced by Death Note: Light Up the New World's Rina Kawaei) and agrees to answer their questions but ultimately reveals the very lonely and "human" nature of being dead in that she really has no more insight into the life and death than she did while alive. She reveals, however, to Aoi that only those who are contemplating death can see her, shedding light on what really brought the three together. All three are hiding secret pain, but while sensitive Aoi reaches out to the other two, seemingly callow Ryo is standoffish when confronted, and Tomoya opens up… but to Ayone who reveals to him that she did not commit suicide but was killed. The three agree to help Ayone find her body in order to give her guilt-ridden mother closure; however, Tomoya starts to find the lure of non-existence too tempting and may abandon his only two friends when they need him as much as he needs them.

The "feature" debut of illustrator loundraw, Summer Ghost breaks no new ground in terms of storytelling or visuals; however, it is in its very "slight" nature as a longform short film that it manages to coalesce a number of relatable themes, situations, and visuals into something that is disarmingly moving when instead of maudlin. The emotional backstories of each character are familiar scenarios for teenage characters – as well as the blind eyes turned by adult characters to them – but exploring them only in broad strokes gives a sense of emotional balance between the situations each of the three characters are facing. The filmmakers seem well aware of the possibility that the viewer might sympathize less with Tomoya's angst than that of his two friends, so it is ultimately he who has to learn the lesson of cherishing what he has found in the other two and using his inner strength not only to support them but to also take control of the direction of his life. That the nature of the ending (or bookending) becomes apparent before the reveal matters little since the filmmakers are not aiming for a devastating twist requiring a repeat viewing to see the signs but one of emotional resonance with what has come before. It is hard to imagine Summer Ghost being as effective if it were expanded to feature-length.

Video


No complaints about Shout! Factory's 1080p24 MPEG-4 AVC 1.78:1 widescreen Blu-ray of this animated feature. The very nature of the manga-style artwork suggests that an HDR 4K version (if even finished at that resolution) would be that much more "lifelike" along the lines of more three-dimensional animation styles.

Audio


Japanese and English dub options are offered in lossless DTS-HD Master Audio 5.1 with the voice recording on both tracks clean and crisp, conservative use of direction effects, and more spread to the scoring (itself judiciously-employed and only swelling up during passages of revelry). The Japanese track is, of course, the way to go, but the English dub is really no worse (or better) than other recent Japanese anime or live action productions. Optional English subtitles are provided for the Japanese track, English SDH subtitles for the English dub, and Spanish subtitles based on the Japanese track.

Extras


Extras start off with "To You Before Dawn" (78:53), a documentary longer than the feature presentation seemingly consisting of production meetings and interviews conducted with and by producer Ryuu Ishii who loundraw credits with coordinating the undertaking in lockdown in a harried schedule to meet a November 2021 release date, including hiring a crew of non-professional artists to do background artwork, designers to help loundraw achieve a "diversity of movement" in the characters, readying a selection of artwork for promotional exhibitions, and stewarding the project along to release. We get a look at the conceptual drawings (as they are drawn on digital sketchpads), shading, coloring, and the voice casting and recording. What is most interesting is hearing loundraw speak about the story, and it seems that even he was aware that the "short" format was the medium for conveying it as developed.

The entire "feature animatic" (37:12) is included, consisting of preliminary animations set to the Japanese soundtrack (in Dolby Digital 2.0 stereo) with optional English subtitles, along with an interview with director loundraw (13:36) who discusses the origins of his name – essentially meaning "loud drawing" – and the origins of the project in Japanese cultural beliefs about death, the seasons, and fireworks.

Packaging


A slipcover is included with the first pressing.

Overall


Disarmingly moving when it could have been maudlin, it is hard to imagine Summer Ghost being as effective if it were expanded to feature-length.