My Life is Murder: Series 2
R2 - United Kingdom - Acorn Media
Review written by and copyright: Eric Cotenas (12th November 2022).
The Film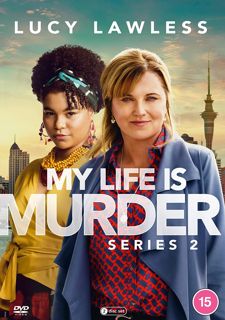 Following the events of the first series of My Life is Murder, widowed, retired private detective Alexa Crowe (Xena: Warrior Princess' Lucy Lawless) has quit Melbourne, Australia for her hometown of Auckland, New Zealand and a life of baking artisan bread which she supplies to a local cafe run by Ruben Wulf (Ghost in the Shell's Joseph Naufahu) as well as be nearer to her brother Will (The Ring's Martin Henderson) who is up for parole and needs her as a character witness despite the dysfunctional divide caused when she chose her mother and Australia over her conman father and brother. When her former Australian colleague DI Kieran Hussey (Once Upon a Time's Bernard Curry) - who has been tasked with looking after her old cat which she was unable to bring into the country (hence the new calico blending into her sofa) – gives her name to local DI Harry Henare (The Brokenwood Mysteries' Rawiri Jobe), Alexa is drawn into a new set of homegrown mysteries – with the help of hacker Madison Feliciano (The Furies' Ebony Vagulans) who mistook her reaching out for a bit of background information as an invitation to immigrate and take up residence in her spare bedroom – including:

- a man gunned down by a total stranger (Boogeyman's Robyn Malcolm) who has no memory of the incident and whose psychologist (Don't Blink's David de Lautour) fears he may have missed something in treating her depression in "Call of the Wild" (44:05);
- the mysterious death of a champion surfer whose symptoms strangely mirror SIDS (Sudden Infant Death Syndrome) in "Oceans Apart" (43:46);
- the electrocution death of a drag queen whose slippery manager (The Taking of Deborah Logan's Michelle Ang) - a former criminal compatriot of Alexa's brother – is quick to replace and thinks she can intimidate Alexa into ignoring the suspicious details around the supposed accident in "All That Glitters" (43:42);
- the murder of a museum curator pits Alexa against a crafty and well-connected administrator (Cabin in the Woods' Anna Hutchison) with an iron-clad alibi in "Look Don't Touch" (44:20);
- the brutal death of the apprentice of a celebrity winemaker (It Chapter Two's Jay Ryan) amid labor disputes and grape thievery in "Crushed Dreams" (44:22);
- a chef who got locked in a faulty freezer at a high-end resort – with suspects including his twice-widowed wife (Bread & Roses' Carmel McGlone) and stepson (Out of the Blue's Ryan O'Kane) as well as a cameo-ing William Shatner when it is revealed he wanted to sell the family business – in "Sleep No More" (44:42);
- a womanizing "Big Bad Wolf" stabbed by "Little Red Riding Hood" (The Cul De Sac's Greta Gregory) on-stage with a faulty prop knife – a case which brings Alexa into contact with a childhood friend (Rake's Sara Wiseman) who is now the chief suspect – in "All the Better to See You" (44:17);
- the murder of a high-end jeweler poorly-disguised as a heist which becomes even more convoluted when a courier (Black Books' Bill Bailey) who confesses to the killing turns out to be as outrageously wealthy as he is delusional in "Hidden Gems" (44:11);
- the murder of a celebrity survival expert in a nature park when the chief suspect turns out to be a former juvenile offender (Savage's Haanz Fa'avae-Jackson) being mentored by Harry in "Wild Life" (44:22);
- and "Pleasure & Pain" (44:17) in which Alexa enters a cat-and-mouse mind game with the wife (Lawless' Xena: Warrior Princess co-star Renιe O'Connor) of a lifestyle guru murdered under kinky circumstances.

One of the better attempts by Acorn Media at attempting to recapture the feel of the British "cozy" detective series amid a dire lot like the Dalgliesh reboot and The Madame Blanc Mysteries – what with most of the classics having gone to Britbox – the light and amusing My Life is Murder sort of unintentionally becomes the urban Auckland answer (with a few countryside jaunts) to the still superior The Brokenwood Mysteries with the decision after the first series to move from Australia to New Zealand due to the pandemic. With roughly forty minutes per case and no two-parters thus far, the mysteries are generally entertaining but the twists only serve to make the solutions feel more banal when they are revealed, with only a couple cases truly diverting; more so the ones in which Alexa is sure of the culprit and must figure out how to prove guilt rather than the more straightforward whodunits. Alexa is rarely in physical danger, with most of the confrontations consisting of a bit of verbal interplay with the exposed villain before Harry pops up from around the corner or out of a closet after hearing them incriminate themselves. Although there are ten episodes in the series, there seems to be little room for actual character development. Lawless and Valgulans have a good chemistry, but the setup of a seeming love triangle between Alexa, Harry, and Ruben comes to little – although they are all back for a third series currently in broadcast – and the relationship between Alexa and her brother Will is just as underdeveloped. As expected of an Acorn series, there is plenty of tourist imagery of New Zealand, even lamp-shaded by Madison who remarks about the ubiquity of scenic beauty everywhere they have a case. My Life is Murder is lightweight thriller fare, but you could do a lot worse (especially with Acorn's current crop of cozys).

Video


Shot in high definition – the better to appreciate the New Zealand landscapes – the anamorphic 1.78:1 widescreen encodes of the ten episodes spread across two dual-layer DVDs – and the brightly-lit and -colored image is superficially crisp although a higher bitrate on three discs might have been the better choice (thus far, only the first series of the show is only available on Blu-ray in the US, with the second series announced but seemingly having missed its December 2021 release date).

Audio


The only audio option is a Dolby Digital 2.0 stereo track which gets the job done in terms of dialogue, directional effects, and scoring with atmosphere kept to a minimum. Optional English HoH subtitles are included.

Extras


Extras include "In Conversation with Lucy Lawless" (27:20), a web interview with the actress promoting the new series and the location move, as well as a photo gallery (1:30).

Packaging


My Life is Murder is lightweight thriller fare, but you could do a lot worse (especially with Acorn's current crop of cozys).

Overall




---
Rewind DVDCompare is a participant in the Amazon Services LLC Associates Program and the Amazon Europe S.a.r.l. Associates Programme, an affiliate advertising program designed to provide a means for sites to earn advertising fees by advertising and linking to amazon.co.uk, amazon.com, amazon.ca, amazon.fr, amazon.de, amazon.it and amazon.es . As an Amazon Associate, we earn from qualifying purchases.