The Film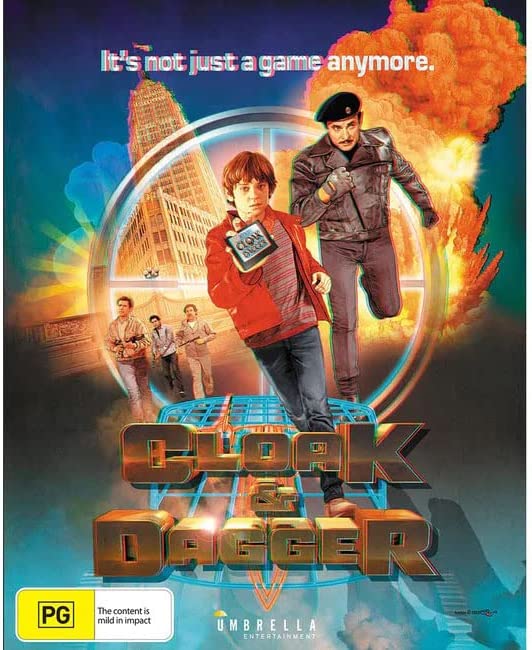 "Cloak & Dagger" (1984)

Davey Osborne (played by Henry Thomas) is a young 12-year old boy whose imagination runs wild through his love of role playing board games and video games. The only son of Air Forcer officer Hal Osborne (played by Dabney Coleman), things have grown distant between the father and the son in recent times, in which Davey spends time playing games with electronics store staff Morris (played by William Forsythe), his younger neighbor Kim (played by Christina Nigra) as well as Jack Flack (also played by Dabney Coleman), the mercenary spy character from the Atari game "Cloak & Dagger" who Davey projects as an imaginary friend. But when Davey suddenly comes across an Atari game cartridge that contains government secrets, a number of bad guys come after him and his friends, willing to kill to get their hands on the cartridge...

Director Richard Franklin and screenwriter Tom Holland did an impossible feat for Universal in 1983 with the release of "Psycho II", a sequel that defied the odds by being an effectively engaging sequel to the original "Psycho" from 1960, and was a hit for the studio. With Franklin being an incredible Alfred Hitchcock fan and working together with Holland in developing a script that would be worthy, the pair's next assignment was a remake of the 1949 thriller "The Window", based on a Cornell Woolrich short story about a young boy who thinks he witnessed a murder. Thinking a direct adaptation would be too thin, a new idea would be developed with only the central point of the young boy in the lead being the same. Taking inspiration from the new video game industry that was dominating shopping malls with arcades, electronics stores, and home consoles, as well as referencing Hitchcock's series of "wrong man" films where an average person would end up in perilous and exhilirating situations, "Cloak & Dagger" was a children's film with espionage and gaming at heart. Atari would collaborate on the film itself, with a use of one of its games as the basis of the story.

Universal was hot off the success with Steven Spielberg's "E.T." breaking box office records and making child actor Henry Thomas an overnight celebrity, and his casting for 12-year old Davey was an easy choice. For the father character, Franklin was hoping to cast Kevin Kline, but Universal pushed for Dabney Coleman, which created tension between the director and actor as it was clear that he didn't feel the actor was right for the role. There were frequent clashes between them, leading to some production issues with the rest of the cast and crew also feeling the negative vibes. Even though Coleman was a little too old to play the father of a 12-year old and the awkward behind the scenes stories, he does quite an admirable job in the dual roles of the emotionally stressed father and the militaristic and controlling spy Jack Flack alongside Thomas. Shot in Thomas' hometown of San Antonio, it certainly uses many of the famous locations such as the Alamo and other places to showcase the city, rather than disguising it as an Anytown, USA. Being in basically every scene for the film, Thomas does a great job in the lead with a lot of work including stunts such as running from speeding cars, firing guns (sometimes with stunt doubles), and having to display a wide range of emotions frpm his broken homelife to his time on the run and not being able to trust anyone. His allies, Kim and Morris are not given a lot of screentime, but they also do a fair job with their characters when they can. But some of the highlights come from the villains in the film, like Michael Murphy as Rice, Eloy Casados as Alvarez and Tim Rossovich as Haverman as three of the henchmen out to retrieve the game cartridge from Davey's hands. There are some truly harrowing scenes with the characters, but sometimes a bit on the cartoony side as it is a children's film, with the butch Haverman smashing through doors and using his giant arms for advantage being comical highlights. They are not the typical mobster looking bad guys, seemingly being able to blend in with crowds easily and being able to sneak away when necessary in situations. In addition there are the elderly couple Eunice and George (played by real life couple Jeannette Nolan and John McIntire) who appear a few times and eventually become integral to the plot. Interestingly, both actors, who had lengthy careers in film and television over the years were both in Alfred Hitchcock's "Psycho" in small parts.

With Hitchcock actors in supporting roles, shots clearly referencing Hitchcock and a plot that has connections with the Master of Suspense's many works, "Cloak & Dagger" is a kid's Hitchcock thriller, with tense moments and suspenseful sequences, while also having a playful and innocent nature with the children involved. Franklin's previous works "Psycho II" and "Road Games" were also obvious homages, but this time it was on the family friendly side. There are a number of far-fetched situations and one too many coincidences to make the story make complete sense, such as the relations between the bad guys and what their true plans never being revealed, and the body of the first murder being tidied up incredibly, or impossibly quickly. But like a lot of thrillers, it is in the eyes of the main character, who may not have all the details of the puzzle together, as the fate of escape is more important than the details of what is going around in the surroundings. Holland's script is playful and seemingly simple, with a good sense of structure as well as emotional warmth and coldness with the interactions between differing characters. Without too many spoilers, the ending is one of the more rushed moments in the film that could have used better use of special effects and a better cinematic coda, as it ends quite abruptly with the emotional impact not sinking in enough for the audiences. But with its imperfections and silliness at times, "Cloak & Dagger" proves to be a highly entertaining thriller for children and adults, with lots of great action, laughs, and a surprising amount of violence with a few uncomfortable moments when seen through modern eyes. Nothing in the side of political correctness, but seeing Davey carry a water pistol that could be easily mistaken for a real gun into an office complex, gunplay between adults and children reflect a different time in America where school shootings were not something of a commonplace as it has sadly become in the last few decades. It is an 80s film made during the time and for the time, and is a nostalgic trip back to see shelves filled with brand new Atari game carts and massive walkie talkies used for communication.

Though there were issues with Universal, Franklin, and Coleman behind the scenes, the film did quite well in preview screenings. Unfortunately there was an issue with the release and marketing of the film, as there was a major changeover in the executive branch at the time, with the old regime approving the film and the new regime not quite sure about what to do with it. While "E.T." was a major hit, there was not a major market yet for family friendly features like this in the world, like it would be dominated for the latter half of the 1980s. In addition, with the video game crash of 1983 following the release of the "E.T." Atari game, the public was suddenly skeptical on the longevity of video games. For the film, Atari converted their arcade action game "Agent X" (referenced in the film in Jack's dialogue) and given the new title "Cloak & Dagger" to tie in with the film itself for arcades, but the planned Atari 5200 home version would be scrapped before release, as the 5200 console sold poorly. So the game cartridges on the shelves and in the hands of the characters as seen in the "Cloak & Dagger" movie were basically movie magic, with other games stickered and the screens just showing the arcade version instead. Universal released the film theatrically on July 13th, 1984 in limited screenings and releasing it wide from August 10th in the United States, grossing just under $10 million in its theatrical run. This was much lower than "Psycho II" and its $35 million and "E.T." with its "$359 million earnings. The film may have faltered theatrically, but it found an audience years later with broadcasts on cable television as well as home video rentals. The film was made at an interesting time where Atari was at the top of the industry, but by the time of the film's release they were literally in the dumps. There was no surprise that the film didn't find its initial audience as the difficulty in marketing. Universal's confusion, and the unfriendly nature between Franklin and Coleman were not easy sells. Universal gave it a DVD release in 2004, which was sadly a cheap one, with a basic widescreen transfer and no extras at all, not even a menu screen. The film received a surprising 4K UltraHD and Blu-ray release from Vinegar Sydrome in the US in 2022, with a number of new and vintage extras. A few months later, Australia's Umbrella Entertainment released their own Blu-ray release, with a few overlapping extras from the US release plus some excellent exclusives for their own unique release.

Note this is a region ALL Blu-ray

Video


Umbrella Entertainment presents the film in the 1.85:1 aspect ratio in 1080p AVC MPEG-4. The film looks quite good here and is thankfully not a dated transfer, as it has great colors and a stable image throughout. There are no issues of major damage marks as a spot or speckle can be noticed from time to time. Film grain is intact and there are no signs of digital artifacts or compression issues to speak of, for a filmic quality. Sometimes the color balance can be on the muted side, but it is consistent and seemingly is how the film has always looked. A great transfer here.

The film's runtime is 101:10.

Audio


English DTS-HD Master Audio 2.0 stereo
The film was originally mixed in stereo and is presented here uncompressed. While it is not a film that is heavy in stereo sound for directional panning, it does use stereo separation for music cues and some action sequences, such as the explosion and gunfire. It is mostly center based and dialogue comes in clear while the effects and music score are well balanced. There are no issues of audio errors such as dropout, hisses or pops for a clean and clear audio track for the feature.

There are optional English HoH subtitles in a white font which are well timed and easy to read.

Extras


Audio Commentary with screenwriter Tom Holland and moderated by Joe Lynch (2022)
In this new commentary, Holland is joined by actor and filmmaker Joe Lynch, as Holland discusses his involvement with Franklin from "Psycho II", the writing process and the involvement of the fairly new gaming industry, the use of practical effects, the Hitchcock references, the tension between Frankin and Coleman during production and a lot more. Lynch also discusses his admiration for the film and the impact it had on him as a child. In addition both of them share some heartfelt stories about their own fathers during the talk. There are a few odd complaints about this commentary track. First off, there are way too many F-bombs thrown around by Lynch during the conversation, and even though a commentary track is no necessarily something children will be hearing, it should be considered that this is a still a PG rated film and there may be a chance of a younger listener. In addition, the two get a lot of facts that the two get wrong. Holland recalls at the time that he went to arcades where they had machines with "Tetris" in the early 1980s, while "Tetris" was created in 1984 in the Soviet Union and first introduced in America in 1986 on home computers and not in arcades. He may have been confusing it for another puzzle game. In addition, he sometimes says the characters names wrong, such as "Jack Stack" instead of "Jack Flack" and once saying "Andy" instead of "Davey". They also mention the references to Hitchcock's "The 33 Steps" a few times, which they mean "The 39 Steps". In addition, someone needed to turn off their iPhone notifications setting as constant pings are heard especially in the first portion of the commentary. Note this was originally recorded for the Vinegar Syndrome UHD+Blu-ray release.
in English Dolby Digital 2.0 without subtitles

"Kiddie Hitchcock" 2022 interview with writer Tom Holland (16:06)
In this new and exclusive interview, Holland discusses his working relationship with Franklin, the reworking of "The Window" process, Coleman's casting choice, the film's lackluster box office performance, the cult hit it became, and his slight disappointment in how the ending was shot as it didn't quite get the emotional grip that he had written in his script.
in 1080p AVC MPEG-4, in 1.78:1, in English Dolby Digital 2.0 without subtitles

Brief introduction by Tom Holland (0:21)
An exclusive introduction for the film on Blu-ray by Holland, taken from the same interview session as above.
in 1080p AVC MPEG-4, in 1.78:1, in English Dolby Digital 2.0 without subtitles

Archival TV Interviews (15:11)
Presented here are two vintage Australian television interviews from Franklinís archives. The first has the director interviewed remotely for a Melbourne morning new program talking about the making of the film and his fascination for Hitchcock. The second is an interview with Franklin and Thomas, promoting the film's Australian release as well as Thomas being in the country filming "Frog Dreaming". Thomas talks about his experience on "E.T.", his love of computer games and role playing games, and Franklin on directing Thomas. The quality is quite poor in picture and sound as it comes from broadcast tape recordings, but still very watchable.
in 1080p AVC MPEG-4, in 1.33:1, in English Dolby Digital 2.0 without subtitles

Archival making-of featurette (3:43)
The original EPK featurette with interviews for Michael Murphy, Richard Franklin, Henry Thomas, and Victor Kemper, with behind the scenes footage. The quality like the above interviews is fairly poor, coming from an old videotape source from the archives of Richard Franklin.
in 1080i60 AVC MPEG-4, in 1.33:1, in English Dolby Digital 2.0 without subtitles

Behind-the-scenes footage (with optional audio interview with editor Andrew London) (24:38)
Presented here are exclusive behind-the-scenes footage shot on videotape of the boat sequence. It is offered with the on set audio or with an optional audio interview with editor Andrew London from 2022 on the production. He discusses working with Franklin since film school, the changes in children's films and gun violence in the modern era, the preview screenings, Coleman's difficulty, the change-up with Universal's executives, and more.
in 1080i60 AVC MPEG-4, in 1.33:1, in English Dolby Digital 2.0 without subtitles

2001 interview with director Richard Franklin conducted by filmmaker Mark Hartley (13:36)
This vintage on stage interview with Franklin with Mark Hartley has him discussing the making of the film, from his thoughts on Coleman being cast and not getting along, the production in San Antonio, the script, and more. There is a bit of a buzz in the audio and the picture is not particularly great, but has some good information to hear from the director directly.
in 1080i60 AVC MPEG-4, in 1.33:1, in English Dolby Digital 2.0 without subtitles

"Then and Now" location featurette (4:17)
Hereís a fun split screen comparison featurette with scenes from the film shot in San Antonio in 1983 on the top half of the screen, with the same locations nearly four decades later. Panning and tilting shots are also recreated for effect. This is also available on the Then & Now Reshoots YouTube page, courtesy of Jesse Nickell. The featurete has also been embedded below. Note this is also available on the US Vinegar Syndrome release.
in 1080p AVC MPEG-4, in English Dolby Digital 2.0 without subtitles



1983 Atari Arcade Game (32:35)
Presented here is about half an hour of footage from the original Atari Arcade game, which is also featured in the movie itself. The footage comes directly from an emulated source so the pixels look as sharp as can be with bright and bold colors with some surprisingly nice sprite animation in the elevator sequences for an Atari game. The sound is also as is, with the original mono sound effects coming in loud and clear. The footage features the entire gameplay until the ending completed.
in 1080p AVC MPEG-4, in 1.33:1, Music Dolby Digital 2.0

1984 Audio Interview with Richard Franklin (12:59)
This vintage Australian radio interview has Franklin discussing this time at USC film school, the production of "Psycho II", the making of "Cloak & Dagger", directing children, the recent controversy with the production accident in the "The Twilight Zone: The Movie". There is no credit though Franklin at once refers to the radio host as "Derryn" and the host recalls his time watching "Psycho" in New Zealand, so it's most likely that it is raio host Derryn Hinch interviewing Franklin here.
in English Dolby Digital 2.0 without subtitles

Select Storyboard Sequences (11:41)
A split screen comparison with the storyboards on the left side with the film on the left. Presented are Davey receiving the game cartridge and witnessing the murder, the Japanese gardens scene, and the climactic confrontation under the bridge.
in 1080p AVC MPEG-4, in English Dolby Digital 2.0 without subtitles

Stills and Poster Gallery accompanied by an audio interview excerpt (5:13)
A series of 116 behind the scenes photos and promotional stills with an audio interview with Richard Franklin, recalling the making of the film. There is no information on when or where the interview was from. There is also some background music throughout, and with the interview running for less than four minutes, the rest of the gallery has music from the film as background.
in 1080p AVC MPEG-4, in English Dolby Digital 2.0 without subtitles

TV Spots (1:02)
Two TV spots for the film, taken from a low quality video source. These are also available on the US Vinegar Syndrome release.
in 1080p AVC MPEG-4, in 1.33:1, in English Dolby Digital 2.0 without subtitles

Theatrical Trailer (1:27)
The original trailer, coming from a video source, though is in fairly good shape is presented here. Embedded below
in 1080p AVC MPEG-4, in 1.33:1, in English Dolby Digital 2.0 without subtitles

Booklet
A 16 page booklet features "Movies by Gaslight: The Making of Cloak & Dagger", by Richard Franklin from 2003, which is an excerpt from the director's unpublished autobiography.


The US Vinegar Syndrome UHD+Blu-ray release from earlier this year featured the following exclusive extras:
- "Konami Codes and Cult Classics: Programming Cloak and Dagger" featurette (28:21)
- "Loud and Clear" Interview with Henry Thomas (14:19)
- Archival Interview with Director Richard Franklin (5:07)
- "Cloak & Dagger - The Atari Arcade Game" documentary by by Vintage Arcade Gal (30:18)
Both the US and Australian releases have some overlap and some differing exclusives, with both being equally impressive in content.

Other clips:


A clip from the film, mistakenly labeled as a "Trailer" by Universal.


"Cloak & Dagger - The Atari Arcade Game" documentary by by Vintage Arcade Gal, which can also be found on the US Vinegar Syndrome UHD+Blu-ray set.

Packaging


The disc is packaged in a clear keep case which has the original poster art on one side and a promotional still on the other. The inner inlay has a still of the Atari game cartridge from the film. This is housed in a slipcase which has newly created artwork which is in anaglyph 3D. For the full effect, the package also includes a pair of red/blue 3D glasses in the keep case along with the booklet.

The packaging states the runtime is 109 minutes, which is incorrect.

There is also a Collector's Edition which also includes a Pewter Jack Flack figurine, a 3D poster, and 8 lobby cards, available exclusively from Umbrella Entertainment, limited to 250 copies.

Overall


"Cloak & Dagger" is a great example of a Hitchcock thriller for an 80s kid's world, with genuine fun and thrills along the way, with great performances and setpieces. The Umbrella Entertainment Blu-ray features a very good transfer for video and audio with a number of great new and vintage extras making this highly recommended.
| | | | | |
| --- | --- | --- | --- | --- |
| The Film: B+ | Video: A | Audio: A | Extras: A | Overall: A- |