The Film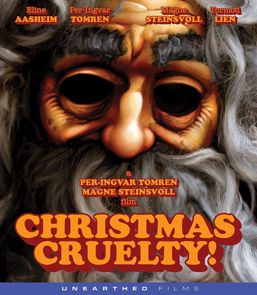 It's that time of the season again, and singer Magne (co-director/composer Magne Steinsvoll), his wheelchair-bound, brittle-boned, brain-damaged buddy Per-Ingvar (co-director/writer Per-Ingvar Tomren), and bar regular Eline (Eline Aasheim) have decided to have some very non-traditional "traditional" fun with the festivities by scaring the holiday spirit out of strangers as troll acolytes of Krampus who turns up on Christmas to punish the kids who were naughty and did not make Santa's list. Someone else, however, also has a singular way of ringing in the holidays each year: mild-mannered civil servant Tormod (Tormod Lien) dresses up as Santa and targets rigorously-researched victims for a Christmas massacre of rape, torture, and dismemberment. This year, he wants to make sure that poor kid in a wheelchair will not have to "worry" about the New Year. Magne, Per-Ingvar, and Eline nor any of their friends suspect they are in danger, and by Christmas Day, they may be too drunk to defend themselves.

While certainly not the first of a rare handful of horror films about Krampus and the dark side of St. Nicholas – following the likes of the Dutch Saint and the Finnish/Norwegian Rare Exports – and certainly not the first Norwegian slasher preceded as it is by Cold Prey, Christmas Cruelty is the first "Christmas slasher" eschewing the supernatural for a grim tale of a serial killer and his seasonal victims. Made with a lot of affection for genre cinema – the killer has a snow globe that rains snow down on a frozen Jack Torrance – but little practical experience, the film is fitfully entertaining but is never quite the sum of its parts as far as a cohesive experience rather than a something anarchic and brutal enough to make a splash both in a country without a strong cinematic genre tradition and at international film festivals expecting something more staid from foreign horror fare. However boorish the main trio are, there is some chemistry and warmth among these misfits while the glimpses of the killer's home life suggest not a family man fighting his bad side but an evil man attempting to reconcile his double life. We are just as worried for his daughter as we are for their pet cat when he speaks of traditional Viking holiday practices involving sacrifices; but his serial Santa is no more a pagan throwback than he is a human embodiment of Krampus. He is just a methodical killer who does not go dormant for the rest of the year but builds up anticipation researching his victims.

Stylistically, the film looks rough and ready during the scenes with the main trio while the scenes featuring the killer are more "experimental" with extended musical montages and editing that is not so much kinetic as spastic intended to depict the killer's fragmented mind but generally just grating on the viewer's nerves. The musical montages feel like padding but the music itself primarily by Steinsvoll is one of the film's best assets. The opening flashback to the killer's previous massacre is brutal less in its graphic content but in what the camera elides and ultimately veers away from. The violence during the climax of the film, on the other hand, is more confrontational but budgetary constraints give the effects more of a Troma feel (perhaps just as well given what the filmmakers want to show you). Ultimately, Christmas Cruelty probably will not make many viewers' lists of regular holiday horror viewing, but it has its place in the much-needed indie alternative to the wider-seen trendy noir-ish Nordic exports.

Video


Shot on the cheap on presumably consumer HD camera equipment, Christmas Cruelty never looks "cinematic" even on Unearthed Films' 1080p24 MPEG-4 AVC 1.78:1 widescreen presentation. There are the occasional lovely images in a seemingly accidental convergence of natural darkness and ambient lighting but the bulk of the film looks flat with a yellow-tinge seemingly not a white balance issue as much as a stylistic pretense that makes everything look a bit sickly. If that's the effect the filmmakers were going for, they achieved it but there is only so much that can be done with the source video.

Audio


The DTS-HD Master Audio 5.1 audio track gives more spread to the music and some wild foley work than ambience. Dialogue is cleanly recorded (and ADR'd) for the most part. The optional English subtitles are error-free for the most part and there do not appear to be any sync issues.

Extras


Extras start off with an audio commentary by co-director Per-Ingvar Tomren and cinematographer Raymond Volle which is different from the one featured on the original Norwegian DVD that included Tomren, Volle, Steinwvoll, and Lien. Tomren and Volle discuss the films and director's to which they paid homage including Tarentino and Scorcese, particularly Mean Streets but also discuss the ways their inexperience effected the production, noting that they spent six months shooting in piecemeal an entire opening sequence that would introduce the major characters which all ended up whittled down to five minutes under the credits. Tomren discusses the various autobiographical incidents – the papier mache mask mishap occurred with his cousin Thomas Utgård who appears in the film – as well as his own mishap involving a head injury that works itself into an anecdote in the film. He also reveals that a lot of the foley effects of his character's bones breaking were real due to his suffering from Brittle Bone Disease (he really cracked his jaw punching it for a foley effect). They also reveal working with Lien who wanted to see if he could play such an evil character even though he was a church warden at the time, and how the town's deputy mayor made resources available to the production – including town hall offices – not suspecting how the film would turn out. The disc also contains a watch-a-long audio track with Flesh Wound Horror who also relay their individual opinions on the film elsewhere in the extras.

"How Cruelty Changed Our Lives" seems to be a series of retrospective interviews although one is not certain whether they have been mis-authored so that several short pieces form the nearly three-hour part one or if that was always intended. In any case, Part 1 (169:56) features Tomren and Volle again, relaying how they met Steinsvoll who has an electrician in addition to a musician and they decided to do a film with a release date of Friday the 13th in December, with Tomren and Steinsvoll playing the leads so they could be sure to stay for the duration of the production. Ingvar also discusses the division of directing duties between them, with him handling the actors and the camera while Steinsvoll worked on the sound but also built specialized camera rigs for the production. Liem gets a birthday surprise on the day of his interview in which he discusses his attraction to the role and the reactions of people who knew him. Also appearing is Vilde Reiten Gommesen who played the infant in the opening sequence and handles her father Cai-Thomas Gommesen (who worked on the film's effects) describing her fate in the film with humor. A significant portion of the segment also includes the reactions and tributes of various horror fandom, film festival, and critical persons including the aforementioned Flesh Wound Horror group and the founder of a Norwegian horror film festival who courted controversy with a pre-release screening of the film but admitted to it not being his type of film and not actually seeing it until years later.

part 2 (19:01) is an interview with Steinsvoll who reveals that the film lead to him directing his own feature, the ghost story Killungard (a lengthy trailer or promo of which appears in the piece without subtitles) – as well as being asked to score the short films of Severin Eskeland who also appears here to comment on his reaction to the feature presentation. Part 3 (9:03) is an interview with actress Nina-Shanett Arntsen who was originally cast as a background extra in the toy store scene and then brought back later to play the killer's daughter. Although she was too young to see the film when it premiered, she did get cast by Steinsvoll in his follow-up feature.

The disc also includes the music video "Endless Highway" by The Last Rebels (4:40), an interview with fan Morten Haagensen (7:02), a press conference (23:06) from the release, a reel of bloopers (8:42), the suspenseful yet amusing short "Tradisjon" by Esjekand (6:31), a teaser trailer (0:39), and a photo gallery (9:59).

Overall


Ultimately, Christmas Cruelty probably will not make many viewers' lists of regular holiday horror viewing, but it has its place in the much-needed indie alternative to the wider-seen trendy noir-ish Nordic exports.