The Film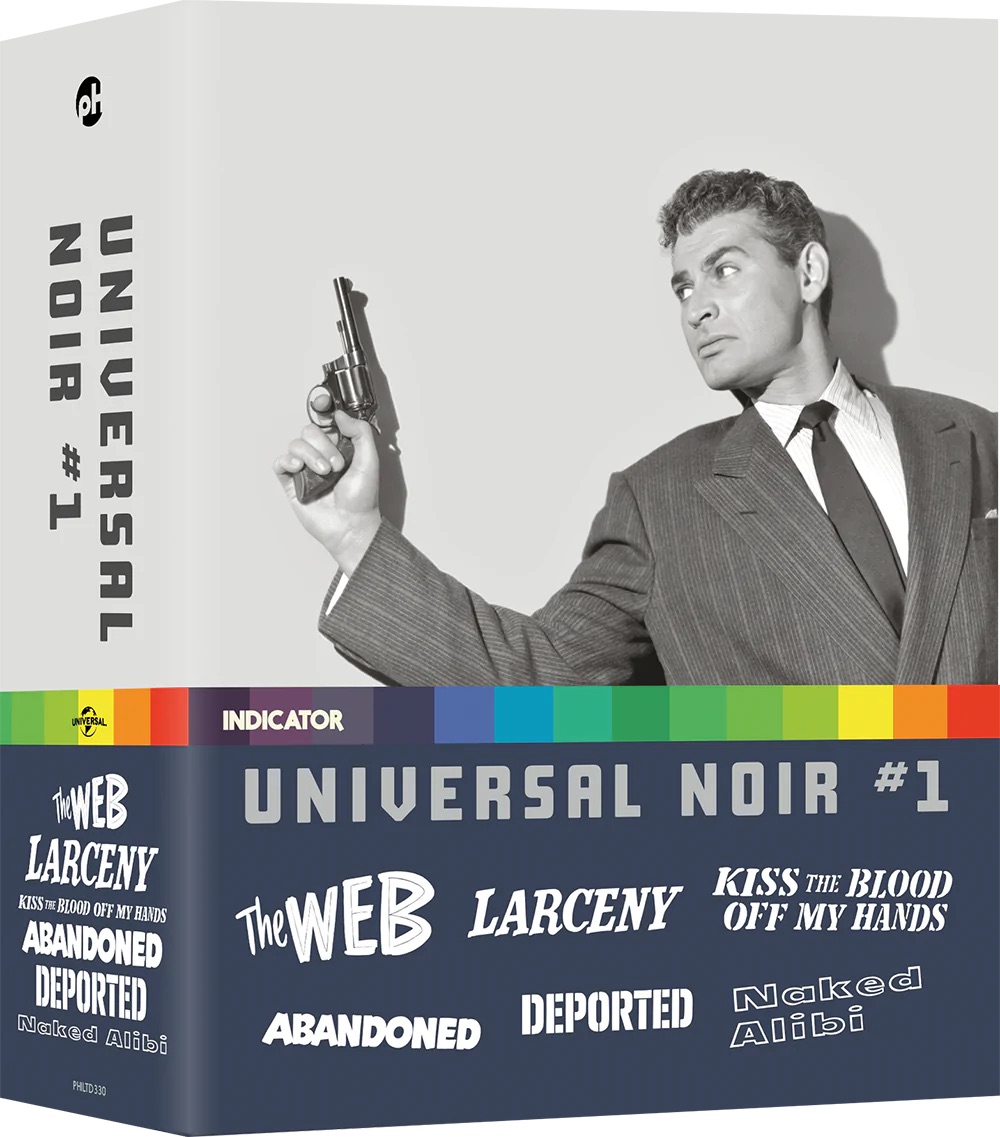 A new series of box sets – following Indicator's acclaimed Columbia Noir series – focusing on the film noir output of another of the major Hollywood studios, Universal Pictures.

Starring such high-profile talents as Burt Lancaster, Joan Fontaine, Shelley Winters, Dan Duryea, Vincent Price, Edmond O'Brien, Sterling Hayden, Gloria Grahame, and Jeff Chandler, the six films in this volume feature embezzlement and murder (The Web), confidence tricksters (Larceny), lovers on the lam (Kiss the Blood Off My Hands), an adoption racket (Abandoned), transatlantic criminals (Deported) and police brutality (Naked Alibi).

This stunning collection marks the UK Blu-ray premiere of all six films, and also features an array of fascinating contextualising extras, including newly recorded commentaries for each film, critical appreciations, archival short films and a 120-page book. Strictly limited to 6,000 numbered units.

Video


Disc #2 contains this spicy 1948 noir about con artists and a love triangle based on The Velvet Fleece (1947) by Lois Eby and John Fleming. Fairly predictable with no one to root for but it's snappy and enjoyable enough if not top drawer.

It's another crisp monochrome 35mm feature shot in the then ubiquitous Academy ratio (1.37:1) and generally looking fine on this new disc from Powerhouse Films. Universal's excellent master - taken from a 4K scan of second generation nitrate composite finegrain print - is the basis of Powerhouse's disc.

I'm happy to report that there's no gamma bias in the image, black levels are deep and rich with plenty of shadow detail. The image is stable and has supportive contrast. Detail is excellent throughout although there is some natural softness inherent in the way the film was shot. There is plenty of natural grain that mostly remains fine and is typically well managed by the excellent encode. No print damage, no digital tinkering in this fine transfer ('A').

1080p24 / AVC MPEG-4 / BD25 / 1.37:1 / 88:46

Audio


English LPCM 1.0 (48kHz)
Subtitles: English HoH

Another strong but limited mono presentation. Dialogue is once again the main emphasis and the score is doesn't get in the way of clarity. Sound effects and ambience come through nicely. About as good as the limited source will allow. As usual, the hard of hearing subtitles are superbly done ('B+').

Extras


Audio commentary by film historian Eloise Ross (2022)

Ross is yet anither name I'm not familiar with but online information tells me that she is "... a co-curator of the Melbourne Cinémathèque. She has a PhD in cinema studies from La Trobe University specialising in Hollywood sound studies, and writes and teaches about film." The track kicks with off with Ross stating she couldn't track down a copy of the book on which the screenplay for Larceny is based but I found copies for sale with no issues. Mind you, they're all pretty expensive so perhaps shipping to Australia was too expensive! We could get all the trivia around the cast (especially the leads), primary creatives, character analysis, the film put in context of other '40s noirs and the post war era. A good, solid, engrossing track. Ross knows her stuff and is consistently interesting. Presented in lossy Dolby Digital 2.0 mono.

"The Heel with Sex Appeal: Nick Pinkerton on Dan Duryea and Larceny" 2022 interview (29:01)

Pinkerton has become and old hand at these kind of extras and here he gives us a nice overview of Duryea's career. Presented in 1080p24 1.78:1 with lossy Dolby Digital 2.0 stereo.

Larceny Image Gallery: Original Promotional Material (26 images)

Solid HD Gallery of promo pics.

120-page liner notes book with new essays by Iris Veysey, Jill Blake, Karen Hannsberry, Sabina Stent, Sergio Angelini and Walter Chaw, extensive archival articles and interviews, new writing on the various short films, and film credits

Larceny gets eight pages devoted to it in this superb hard-copy companion to the six films.

Packaging


Unspecified at the time of writing.

Overall


Disc two of Powerhouse's first Universal Noir set is as strong as the first with excellent image and sound taken from fine HD master. Extras are very good although - as with their Columbia Noir sets - not as extensive as their more loaded stand alone films but it's a great complementary batch of supplements. As usual, highly recommended ('A-').
| | | | | |
| --- | --- | --- | --- | --- |
| The Film: C+ | Video: A | Audio: B+ | Extras: A- | Overall: A- |