The Film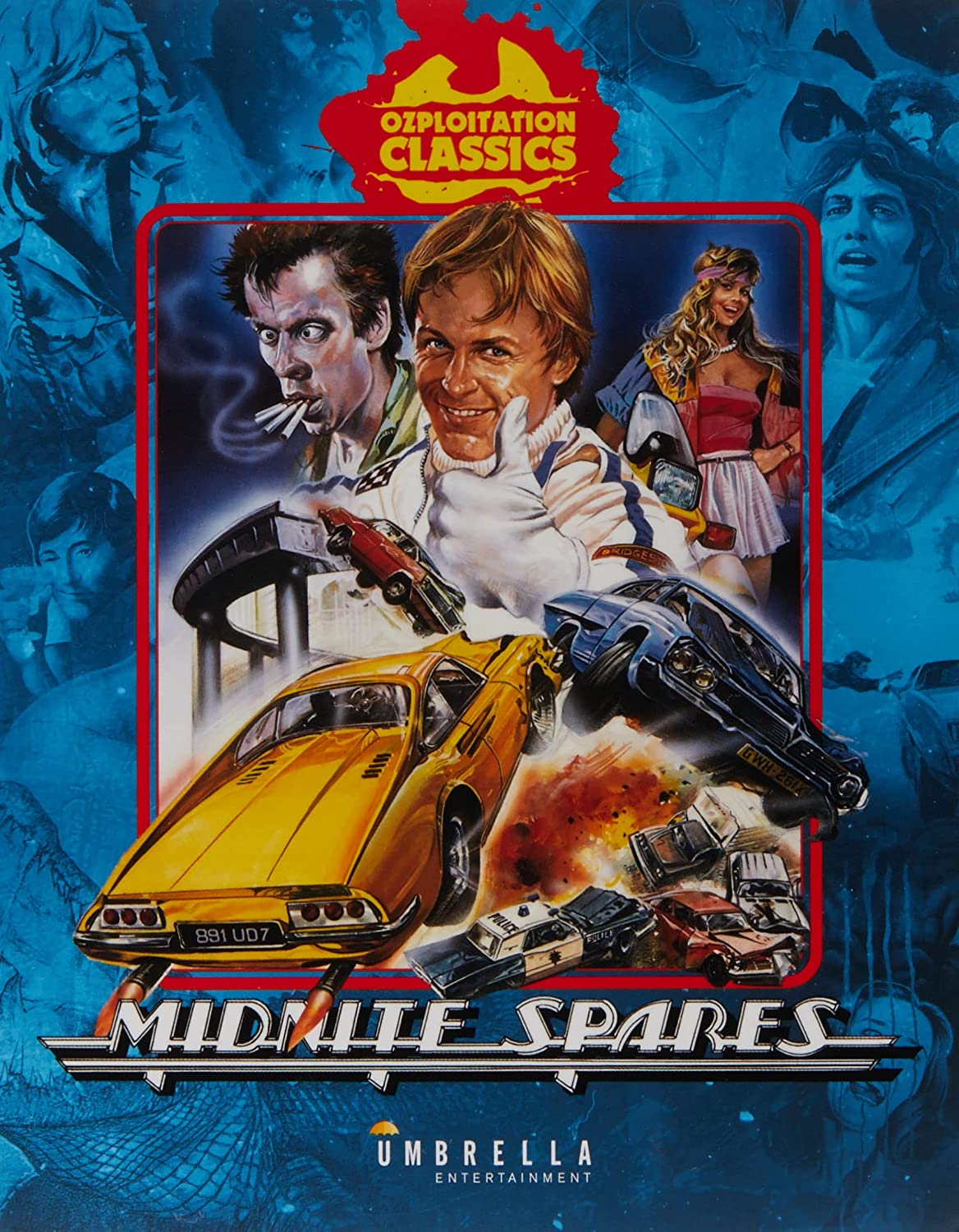 "Midnite Spares" (1982)

Sprintcar racer Steve (played by James Laurie) returns to Sydney to work for T&T Towing, owned by his father Ted and business partner Tomas (played by Max Cullen). But their company has been pressured to do some illegal business of stealing and stripping new cars for parts and on top of that, Ted has mysteriously disappeared. But the pressure and disappearance are not only coming from an organized mob, but also from dirty cops that are part of the operation...

While the storyline may sound fairly simple for "Midnite Spares", there is quite a lot going on in the feature with numerous characters, plotlines and happenings throughout that never make a dull moment, yet never feels overly consistent. Steve is the central figure of the story, with the looks and the good natured personality, yet he is not at all the first to be introduced, as the opening of the film starts with a slam-bang action sequence of a group of men and their insanely dangerous plan to steal three Volvos from a garage at night. The main focus of the film is the cars, as the stuntwork, the racing, the crashes are the central points. The speedway racing scenes, chases across railroad tracks and riverbanks are standout scenes that are incredibly dangerous, visceral, and breathtaking with the cinematography of Geoff Burton by including mounted cameras on cars to the editing by Andrew Prowse pacing things wonderfully to evoke speed and excitement. As for the story and characters, they sadly come second at a distance, as somehow the same amount of care was not applied to the rest, but that should come with the price for many in the action genre.

Steve's character is given the most screentime, yet the audience is not given quite enough about him to side with him fully. He does develop a relationship with Ruth (played by Gia Carides) and with the love story subplot there are issues with their sudden wanting of marriage which can turn complicated with her Greek family, with her mother Maria (played by Tessa Mallos) and uncle Harry (played by Terry Camilleri) and their concerns. In addition to the troubles with his father's business and the disappearance, the love story direction doesn't have too much consequence in the main story, and their relationship doesn't feel as strong as it could have been. As for the most fun to be had with the character, it comes from the greasemonkeys and smaller characters that steal the screen, with Wimpy (played by Bruce Spence) who is always covered in oil and grease from head to toe, smelling awful and letting out silent but deadly gas continuously, as well as his partner Rabbit (played by David Argue) who has a horny attitude. They may not have major consequences against them, but they find ways to make their appearances memorable with their comical balance together. There are also some great villain performances from Ray Marshall playing Panton, John Clayton playing Darryl, Tony Barry as Howard, as well as Graeme Blundell going against type with the character of Sidebottom. The script by Terry Larsen has a lot to offer on characters, yet the consistency of giving connections and relationships are not very strong and the focus of the story is sometimes lost with all the surrounding happenings. One interesting aspect of "Midnite Spares" is how it gives voices to migrant workers in Australia at the time. Showcasing a number of Greek and Vietnamese immigrants working and as characters in the story, it might be one of the first instances of an Aussie feature to acknowledge the immigrant communities in cities, as well as their hardships with racism from whites, cultural differences, and language barriers while trying to make better lives for themselves.

Produced by FILMCO, which was founded in 1980 by Peter Fox and Bob Sanders and specialized in action filled exploitation works that were not well received by critics at the time but were still able to find success with audiences. Unfortunately, Fox was killed in an accident in 1982 and the company would eventually fold soonafter. They would produce nine feature films and one television series, including the totalitarian prison revolt film "Turkey Shoot" (1982) and the arson thriller "A Dangerous Summer" (1982), which was directed by Quentin Masters, who directed "Midnite Spares" as a follow-up. His fourth feature would also unfortunately be his last, as he disappeared from the film industry soonafter and there seems to be no information on his life or whereabouts after the film. Apparently he was not the easiest director to work with and that may have been detrimental to furthering his career. He does a good job with the direction here, as he was proven to be capable with action scenes through his previous feature film. While the action sequences from the climactic battles to the opening steal looked insane and dangerous, the film had a very unfortunate stain to its name by a death of a crewmember. The sprintcar sequences were shot after main photography was finished by a second unit crew. The hired drivers were professional racers, but one of the racers, Steve Brazier Sr. decided to hand over the keys to his son Steve Brazier Jr. to drive instead, without acknowledgement from others. The car caused a crash, in which focus puller David Brostoff tried to run away from, instead of staying in the safe zone where he should have. He was was hit and pushed into a concrete wall, killing him almost instantly. David Foreman was the original focus fuller for the feature, and Brostoff was only hired for the last two days of second unit filming. The film was dedicated in his memory. The death caused changes in Australian cinema safety, setting new standards for precautions, and "Midnite Spares" became the last of its kind. Not to say car action pieces ended, as "Mad Max 3" (1985) and "Dead End Drive-In" (1986) would continue the tradition of car stunts in Aussie cinema with the new safety standards in place, while also making exciting sequences.

"Midnite Spares" was one of FILMCO's final features, and was released on February 17th, 1983. With a $2.6 million budget and a gross of only $417,000 in its home country, it was not a bos office hit, though it would find its audience as a cult film through television and home video. It would finally come to digital media in 2005 with a subpar DVD release, and now Umbrella Entertainment has given it a striking overhaul in presentation with this new Blu-ray release, like an old car getting a full blown restoration. While the film has its imperfections and frustrations, there's still nostalgic fun to be had in this time capsule of an Ozploitation film.

Note this is a region ALL Blu-ray

Video


Umbrella Entertainment presents the film in the theatrical 1.85:1 aspect ratio in AVC MPEG-4. The transfer comes from a 4K remaster from original vault materials. This is one of the stronger looking Blu-rays from Umbrella's Ozploitation Classics line, with an excellent image throughout. Colors are very well balanced, from day scenes to night scenes, within interiors and exteriors, all having rich yet slightly muted colors with excellent dark tones. Damage marks have been eliminated, leaving a very clean image, while film grain is minimal and unobtrusive yet still visible. Fans should not only be pleased, but highly surprised at the image quality here. Top notch marks from Umbrella Entertainment.

The film's runtime is 89:05. While the counter title total runtime is 89:13, at the 89:05 point when the the screen is black and the audio is faded out, it resets to the main menu. Unsure why there is an inaccessible eight seconds authored, but there is no issue with it being cut or missing anything.

Audio


English DTS-HD Master Audio 2.0 mono (theatrical soundtrack)
English DTS-HD Master Audio 2.0 mono (never before released uncut soundtrack)
There are two lossless mono audio tracks available. First is the audio track that was originally heard in Australian theaters in 1982 and in subsequent home video releases. The dialogue had some slight censorship such as the removal of F-words. Even with its changes, it still was given an R-18+ for cinemas for language and nudity, though it was changed to "M" for home video releases. As for the original uncut audio, this Blu-ray is the first time that it has been commercially made available, restoring the F-bombs. Both audio tracks have been restored, with dialogue sounding clear and well balanced against the effects and music cues throughout. There are no issues of hiss, pops, or crackle, with clarity throughout. Excellent work on both tracks here.

There are optional English HoH subtitles in a white font for the main feature. These are technically for the uncut audio track, as some of the cut or muffled censored dialogue moments are fully captioned here.

Extras


Audio commentary with producer Tom Burstall moderated by filmmaker Mark Hartley
In this newly recorded audio commentary, Tom Burstall is joined by Mark Hartley for a conversation about the film and much more. They discuss about FILMCO productions and its state at the time, about founder Peter Fox's, the making of the film, the unfortunate accident during production, the cinematography, about Masters and his directing style, some of the negative reactions to the film on its release, its positive reactions, Burstall working on his father's earlier productions, about other FILMCO features from the same period, and much more. They have a lot to discuss and there is never a dull moment, with many topics covered in this discussion.
in English Dolby Digital 2.0 without subtitles

"The Reluctant Auteur" visual essay on filmmaker Quentin Masters by author and film historian David Del Valle (17:54)
This interview with David Del Valle is a discussion about the films of Quentin Masters, with his four feature films as director, with his second, "The Stud" and third, "A Dangerous Summer" taking the most time for discussion, plus some moments and clips for "Midnite Spares". There is little said about the director himself, as Del Valle admits there is very little if any biographical information on Masters anywhere. Using clips from the four features directed and giving some behind the scenes information on the films, it's able to showcase the various differences of Masters' works in varying genres. Del Valle provided a commentary track on the US Blu-ray of "The Stud" and more details can be heard there. He also gives interesting information about "A Dangerous Summer" and its troubled production, plus the influence of Aussie car culture with "Midnite Spares" among others like "The Cars That Ate Paris" and "Dead End Drive-In". Note that this was first released on the Umbrella Entertainment Blu-ray of "A Dangerous Summer", released a few months prior.
in 1080p AVC MPEG-4, in English Dolby Digital 2.0 without subtitles

"Not Quite Hollywood" interview with producer Tom Burstall (4:52)
This interview with Burstall was conducted for the 2008 documentary "Not Quite Hollywood: The Wild, Untold Story of Ozploitation!" by Mark Hartley, in which he talks about the influence of "Mad Max 2" (1981) having on Australian films and car stuntwork, about the accident that occurred on "Midnite Spares" and how safety standards on film productions immediately changed after that in the country.
in 1080p AVC MPEG-4, in 1.78:1, in English Dolby Digital 2.0 without subtitles

Cannes Promo Reel (13:17)
A reel featuring select scenes from the feature with dialogue and action, plus additional narration for sales to foreign markets. Surprisingly, this has also been remastered like the feature itself, with excellent colors, damage being removed for a wonderfully clean image, with clear audio as well. The full frame transfer seems to be open matte, so there is a bit more information on the top and bottom of the frame.
in 1080p AVC MPEG-4, in 1.33:1, in English Dolby Digital 2.0 without subtitles

Deleted Scene (0:28)
A quick inconsequential dialogue scene with Steve and Ruth shopping is presented here from a low quality videotape source.
in 1080i60 AVC MPEG-4, in 1.33:1, in English Dolby Digital 2.0 without subtitles

Stills and Poster Gallery (3:22)
A series of black and white and color stills, poster art, promotional materials in an automated slideshow with music from the film's soundtrack as background.
in 1080p AVC MPEG-4, Music Dolby Digital 2.0 without subtitles

TV Spot (0:46)
An original Australian TV spot, remastered from a print and looking quite good in picture quality. There is a slight hiss in the audio but is perfectly intelligible with the dialogue and narration.
in 1080p AVC MPEG-4, in 1.33:1, in English Dolby Digital 2.0 without subtitles

Original Theatrical Trailer (1:58)
The original Australian trailer is presented here, which is remastered and looking as good as the feature itself. The unremastered trailer has been embedded below.
in 1080p AVC MPEG-4, in 1.85:1, in English Dolby Digital 2.0 without subtitles



FILMCO trailer reel with "Turkey Shoot", "Next of Kin", "Far East", "A Dangerous Summer", "The Dark Room", "Early Frost", "Midnite Spares", "Double Deal", "Undercover" (22:22)
Presented here is a series of trailers from FILMCO productions, with a number of them having Blu-ray releases from Umbrella (and others hopefully forthcoming). The trailers have been remastered and look quite good, though there are some of the usual damage and color fluctuations that can be found. "Midnite Spares" looks excellent as mentioned above. On the other hand, some look and sound much weaker, like "The Dark Room" coming from an analog video source.
in 1080p AVC MPEG-4, in various aspect ratios, in English Dolby Digital 2.0 without subtitles


This marks the film's worldwide debut on the Blu-ray format. It was released on DVD back in 2005 by Reel Entertainment in Australia, but it seemed to have a fullframe transfer with no extras. (We do not have complete specs for it and is currently not in our database.) The extras are excellent here, with many being brand new. Interestingly, Umbrella has authored the disc so the extras play back-to-back rather than returning to the main menu after they are finished like on their other discs.

Packaging


This is #19 in the "Ozploitation Classics" line from Umbrella Entertainment, with a uniform slipcase newly created artwork on the front. The inlay has four different original poster designs on the outer and inner sides, and enclosed is a 16-page comic book adaptation of the film written by Darren Koziol with illustrations by Federico de Luca. The film's plotline and story may have been all over the place, but this Dark Oz condensed adaptation somehow tries to piece it together with the key sections and dialogue. Great fun and a nice way to sum up the story in comic book form, though there is one spelling error, with the line "I bet this lot has something to do with midnite spares" becoming "I bet this lot has soething to do with midnite spares".

The Blu-ray is also available in a Limited Edition which also includes a car emblem, a full-size daybill, an A3 size poster featuring custom art, and 6 lobby cards, exclusively from Umbrella Entertainment directly, limited to 250 copies.

Overall


"Midnite Spares" may have a weak plot and structure, but the chases, races, crashes and all out action are top notch with danger and insanity. Umbrella Entertainment's Blu-ray is top notch in presentation, with an incredible 4K restoration, two versions of the film's audio, and a wealth of extras with both new and vintage materials. Even with the feature's weaknesses, the package comes highly recommended.

The Blu-ray is available at many fine retailers as well as from Umbrella Entertainment Directly.
| | | | | |
| --- | --- | --- | --- | --- |
| The Film: C | Video: A | Audio: A | Extras: A- | Overall: B |