The Film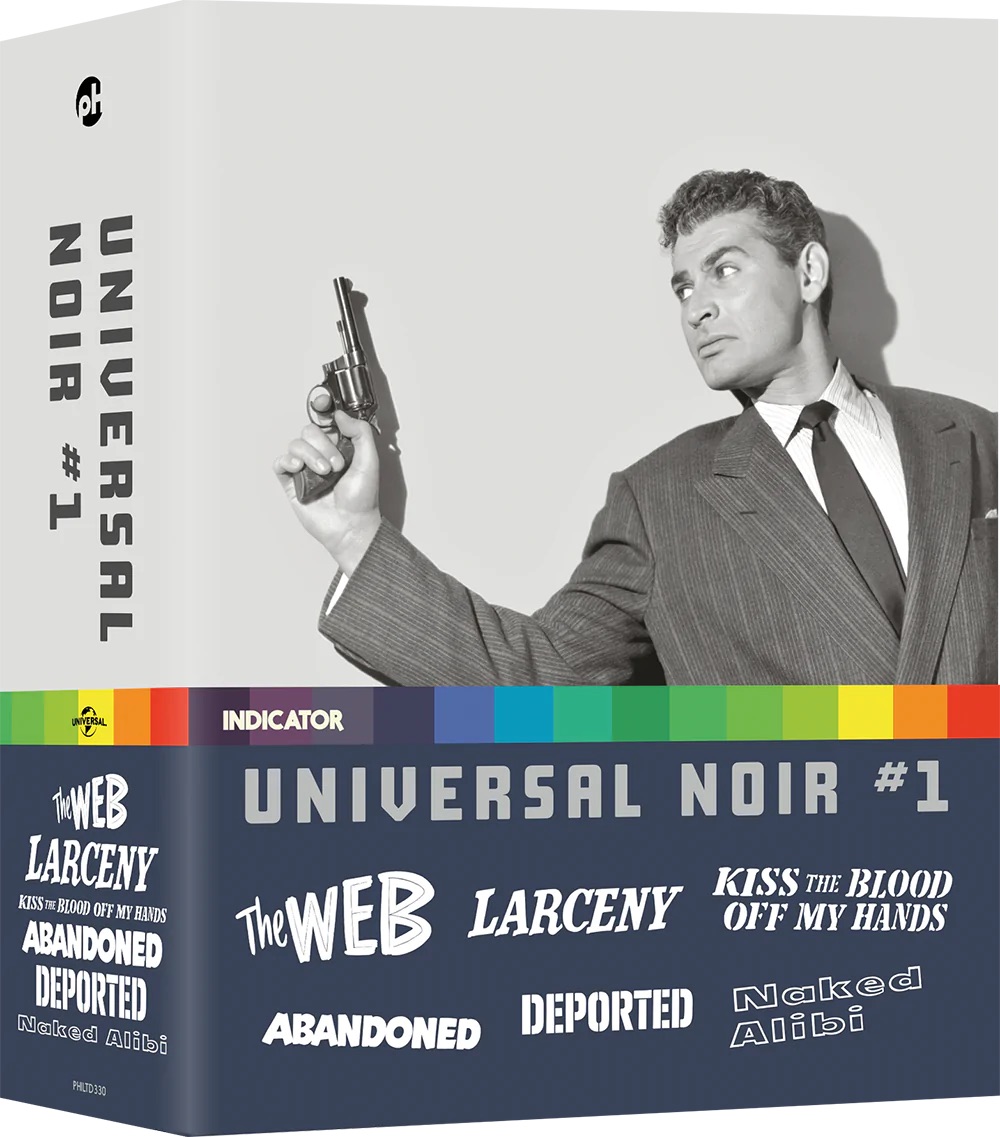 A new series of box sets – following Indicator's acclaimed Columbia Noir series – focusing on the film noir output of another of the major Hollywood studios, Universal Pictures.

Starring such high-profile talents as Burt Lancaster, Joan Fontaine, Shelley Winters, Dan Duryea, Vincent Price, Edmond O'Brien, Sterling Hayden, Gloria Grahame, and Jeff Chandler, the six films in this volume feature embezzlement and murder (The Web), confidence tricksters (Larceny), lovers on the lam (Kiss the Blood Off My Hands), an adoption racket (Abandoned), transatlantic criminals (Deported) and police brutality (Naked Alibi).

This stunning collection marks the UK Blu-ray premiere of all six films, and also features an array of fascinating contextualising extras, including newly recorded commentaries for each film, critical appreciations, archival short films, and a 120-page book. Strictly limited to 6,000 numbered units.

Video


Disc three contains Norman Foster's Kiss the Blood off My Hands. A romantic noir melodrama set in post war London and has a man on the run Burt Lancaster, romancing Joan Fontaine's nurse, being blackmailed by a small time gangster Robert Newton. A solid, well made little film that doesn't outstay it's welcome at 79 tight minutes, has excellent production values, bags of foggy atmosphere and fine performances. Thus far, the best film in this set and a real gem.

Lots of darkness, fog, mist shadows all very well handled by the superb encode. There's plenty of deep, dark shadows with satisfying amounts of detail. Contrast is supportive and gamma is perfectly balanced so no colour bias. A top notch transfer from Universal, 2K scan off the dupe negative. Detail's very strong throughout on all focal planes with fabrics packed with texture (see Fontaine's jumpers!) ('A').

1080p24 / AVC MPEG-4 / BD50 / 1.37:1 / 79:04

Audio


English LPCM 1.0 (48kHz)
Subtitles: English HoH

Sound is simple, dated by strong and clear with dialogue taking centre priority. The score is loud and melodramatic but doesn't hinder clarity. Sound effects and ambiance are present and nicely balanced in the mix. There's no base here but as far as 1940s mono tracks go this is a strong one with very little distortion or crackle when cranked up. The usual excellent hrd of hearing subtitles are provided ('B+').

Extras


Audio commentary with film historian Josh Nelson (2022)

Australian historian kicks off by endorsing the title as a great lurid title and that he has a very deep fondness and fascination for this particular film. Mental and physical trauma (PTSD), masculinity & violence, war veteran as noir hero are the themes covered by Nelson as well as the film's production history, the cast and creatives are touched on. I've not heard of Nelson but he's a great commentator and he does a great detailed job here. Presented in lossy Dolby Digital 2.0 mono.

"The John Player Lecture with Joan Fontaine: Conducted by by Martin Shawcross at the National Film Theatre, London on 4 November 1978" plays as an alternate audio track over the film (63:07)

Preceded by a warning of offensive language when Fontaine relates a story involving working on Island in the Sun. Fontaine is on good form here and a lively and outspoken raconteur. The she's very game (she takes lots of pot shots at her sister) and waxes lyrical in response to Shawcross' questions on the studio system, why she had to change her surname and with stories about David O. Selznick, Alfred Hitchcock, Hedda Hopper, Orson Welles and many, many others with plenty of great anecdotes. Kiss the Blood off My Hands isn't mentioned. The Q&A section towards the end is a harder listen because the questions are harder to discern. Presented in lossy Dolby Digital 2.0 mono.

Theatrical Trailer (1:36)

Vintage promo in 1080p24 1.37:1 with uncompressed LPCM 2.0 mono.

Kiss the Blood off My Hands Image Gallery: Original Promotional Material (37 images)

Excellent HD gallery.

"United Action Means Victory" 1939 short film (36:11)

The story of the General Motors Tool & Die Strike 1939. Lots of print damage early on but it settles down to the odd speckle and scratch. Presented in 1080p24 1.37:1 with lossy Dolby Digital 1.0.

120-page liner notes book with new essays by Iris Veysey, Jill Blake, Karen Hannsberry, Sabina Stent, Sergio Angelini and Walter Chaw, extensive archival articles and interviews, new writing on the various short films, and film credits

16-pages are devoted to Kiss the Blood off My Hands and as usual this hard copy supplement provides plenty of food for thought and is a great companion to the film(s).

Packaging


Not provided for review.

Overall


Disc three is a cracking little London-set noir with Joan Fontaine, Burt Lancaster and Robert Newton at the top of their game. Image and sound are topnotch for a film of the era and the extras are excellent. So far I've covered the first three discs in this set nd it's been the best. Highly recommended!
| | | | | |
| --- | --- | --- | --- | --- |
| The Film: A- | Video: A | Audio: B+ | Extras: A+ | Overall: A |