Doctors (The): Tom Baker Years - Behind the Scenes, Vol 2 (The)
R0 - United Kingdom - Reeltime Pictures
Review written by and copyright: Rick Curzon (29th November 2022).
The Show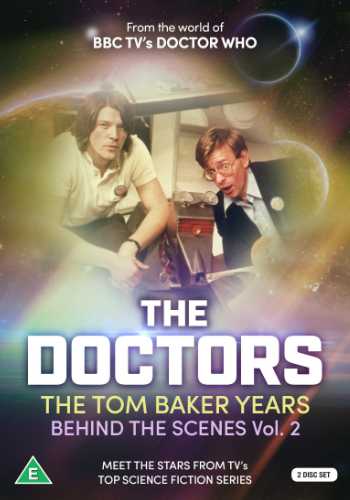 This is the definitive set of interviews with the production team who brought Doctor Who to life and sent you "behind the sofa"!

These six documentaries are the best in-depth interviews with Philip Hinchcliffe (Producer), Christopher H. Bidmead (Script Editor), John Black (Director) and Mat Irvine (Visual Effects Designer) ever undertaken! Also, special productions featuring the costume design team of Richard Gregory, June Hudson, Dee Robson and Roland Warne, plus the music and sound team of Dudley Simpson and Dick Mills!

Presented by "voice of the Daleks" Nicholas Briggs and Robert Dick.

For all Doctor Who fans, this special collector's edition is over 5 hours of pure nostalgia, which will give you a whole new insight into the making of your favourite science fiction series!

Video


Thanks to Reeltime Pictures and Keith Barnfather for sending me this disc for review! My comments on other discs in this series apply here with some tweaks obviously.

Keith Barnfather has been interviewing Doctor Who (and Blake's 7) alumni since the 1980s predominantly for his long running Myth Makers range of behind the scenes interview VHS and latterly DVD releases. This latest edition collects together chats with several, personnel from the Tom Baker / Fourth Doctor era (1974-81) and is a companion volume to last year's Volume 1. We have an excellent collection of beautifully conducted interviews and is a valuable adjunct to the BBC's own range of DVD and BD releases.

Image quality tends to vary as you would expect from these kind of productions with the older ones being softer and more washed out with flatter contrast. All of the interviews are shot on varying types of videotape and all are in standard definition. As this is a DVD release that's fine and dandy and I was happy to see that material shot in 1.33:1 has been presented that way rather than zoom-cropped to 1.78:1 or 1.66:1 as some have been in the past.

Contrast is well balanced, black levels are likewise with all of the pieces on this set all being from strong, original sources ... nothing is as weak as the Graham Williams piece on Volume 1. Flesh tones are natural and colours matter of fact without much digital regrading in evidence; it all varies based on lighting conditions. Image is generally strong considering how it was recorded and the aims of these productions as interviews and information pieces. I saw no signs of any compression artefacts or digital tinkering.

I didn't notice any artefacts or compression issues but to be frank had there been some minor ones it probably wouldn't have detracted in the same way as on a release of Doctor Who episodes. The image is soft by virtue of how it was captured but that is not a criticism. The only way things could improve would be to upscale on Blu-ray discs with the superior encoding / codecs that the format affords. But, this kind of material will probably not support the costs; after all, this is essentially a 2-disc set of extras as far as most will be concerned to sit alongside their collections of BBC releases.

MPEG-2 / 2 x DVD9 / 1.33:1, 1.66:1 M 1.78:1 / 349:59 NTSC

Audio


English Dolby Digital 2.0 Mono
English Dolby Digital 2.0 Stereo
Subtitles: None

A basic mix of 2.0 stereo that gets the job done (it's not encoded for surround) and 2.0 mono. Dialogue is clear and easy to hear on both flavours and what little music there is (intros and outros) doesn't get in the way. The stereo will play with surround effects (main theme and score only) when played through ProLogic II or similar. Sadly, no hard of hearing subtitles have been done which is a shame but not surprising as it'd be an additional expense.

Extras


"Myth Makers: Phillip Hinchcliffe" 2016 featurette featuring 2014 interviews conducted by mainly by Nicholas Briggs with some clips with Karen Davies (70:42)
"Myth Makers: Christopher H. Bidmead" 2006 interview conducted by Nicholas Briggs (58:30)
"Myth Makers: John Black" 2022 interview conducted by Robert Dick (68:22)
"Myth Makers: Mat Irvine" 2000 interview by Nicholas Briggs (61:13)
"Myth Makers: The Costume Team - June Hudson, Richard Gregory, Dee Robson and L. Rowland Warne" 2006 featurette featuring 1988 interviews conducted by Gary Russell (45:09)
"Myth Makers: The Music and Sound Design Team - Dudley Simpson and Dick Mills" 2006 featurette featuring 1986 interviews conducted by David J. Howe (46:03)

As usual, this is a treasure trove of interviews dealing with cast and crew who made the 20th century series. Sadly, the classic series ended in 1989 (or 1996 if you include the TV Movie) and so many will have died in the years since their involvement in the show. This means that Keith's range of recordings are valuable historical documents and this 2-disc set is no different:

Phillip Hinchcliffe (b 1944)
Christopher H. Bidmead (b 1941)
John Black (b 1940)*
Matt Irvine (b 1948)
June Hudson (b circa 1946)
Richard Gregory (1954-2019)
Dee Robson (AKA Dee Kelly) (unknown, but her TV costume design career ran between 1967-95 according to IMDB)
L. Rowland Warne (1930-2019)
Dudley Simpson (1922-2017)
Dick Mills (b 1936)

* IMDB claims 1931 but Wikipedia and TARDIS Fandom.com say 1940.

Packaging


Standard 2-disc, black DVD keepcase.

Overall


Yet another invaluable release with tons of valuable interview material. Highly, highly recommended ... especially for the more than reasonable £15 price tag. Get it bought directly from Reeltime Pictures to ensure more releases get made available. This is a limited production run of only 1,000 cooies.

Reeltime Pictures
| | | | | |
| --- | --- | --- | --- | --- |
| The Show: A+ | Video: B+ | Audio: C+ | Extras: A+ | Overall: A- |

---
Rewind DVDCompare is a participant in the Amazon Services LLC Associates Program and the Amazon Europe S.a.r.l. Associates Programme, an affiliate advertising program designed to provide a means for sites to earn advertising fees by advertising and linking to amazon.co.uk, amazon.com, amazon.ca, amazon.fr, amazon.de, amazon.it and amazon.es . As an Amazon Associate, we earn from qualifying purchases.