Clerks III (Blu-ray) [Blu-ray]
Blu-ray B - United Kingdom - Lionsgate Home Entertainment
Review written by and copyright: Rick Curzon (15th December 2022).
The Film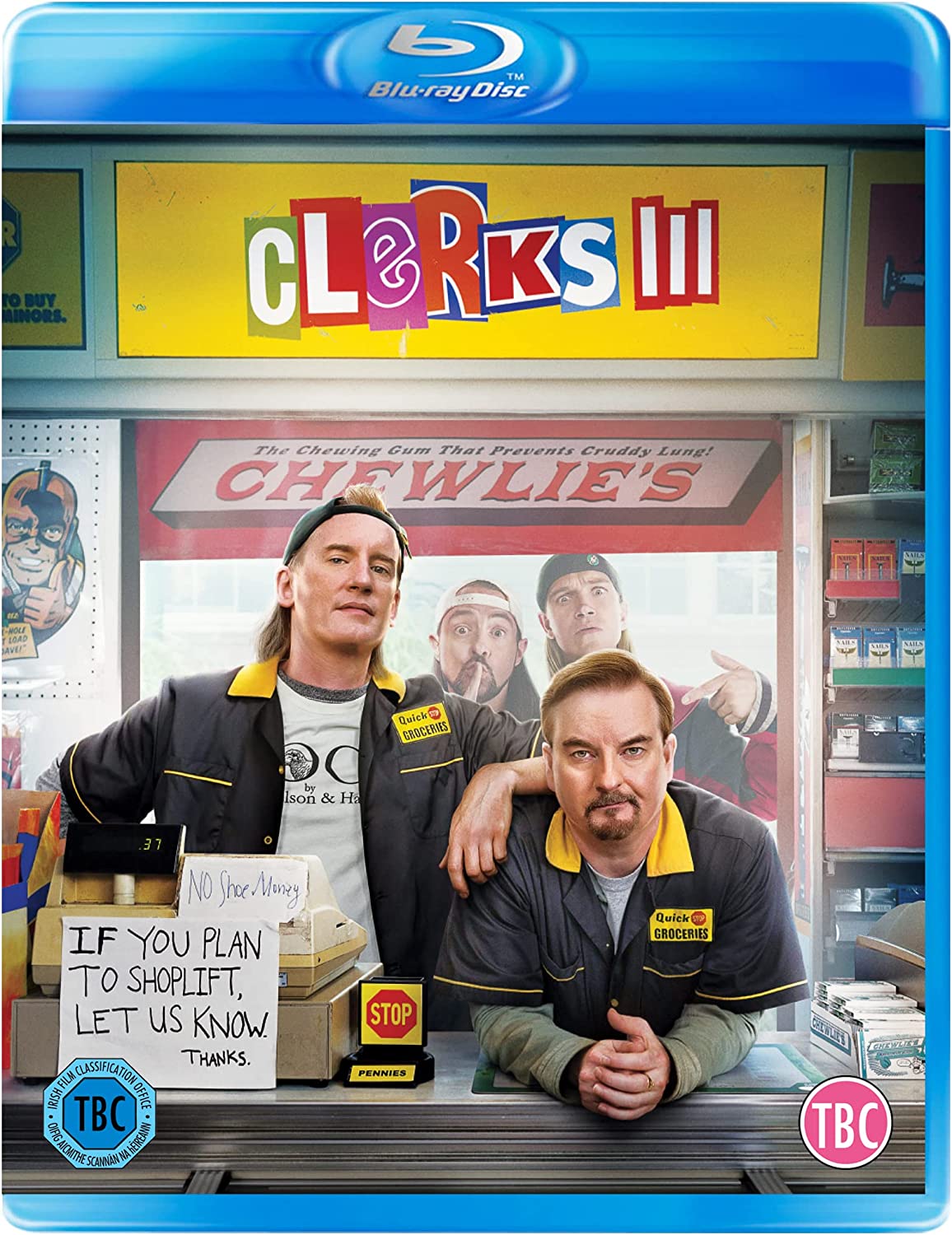 Clock back into the Clerks universe for writer-director Kevin Smith's third entry of his iconic comedy series.

Once again behind the counter of a Quick Stop, Dante (Brian O'Halloran) and Randal (Jeff Anderson) are still hanging out with Jay and Silent Bob (Jason Mewes, Kevin Smith), handling quirky customers, and sneaking off for rooftop hockey. But after Randal has a heart attack, he's determined to make something of his slacker life - by shooting a movie about it!

Featuring Rosario Dawson, a host of celebrity cameos, and Smith's signature humour, Clerks IlI is a hilarious and nostalgic capstone to the Clerks legacy - nearly thirty years in the making.

Video


Third entry in the trilogy brings it all to a conclusion that was surprisingly moving and even brought a tear to this old film buff's jaded eyes. It's been a fun, if profane, ride and the quality has ben well maintained and if not quite as good as the first film it's certainly a mild improvement on #2, which was a good film. Make sure if you see this film watch through the end credits for a message from Kevin Smith.

According to IMDB Clerks III was shot in 4K (Red Cameras according to the end credits) and looks a peach as one would expect from a brand new production made in 2022. It has a naturalistic look albeit with a vivid colour palette and healthy flesh tones. Black levels are rich with supportive contrast. I couldn't see much grain but for a digitally lensed production that's not unexpected although it does come and go according to the location of scenes, more in exteriors than interiors. Detail is strong throughout, encoding is flawless and being new and digital there are no signs of damage and I saw do artefacts either. The image won't blow anyone's mind because it's just not that kind of film but the image is about as strong as one would expect ('A').

1080p24 / AVC MPEG-4 / BD50 / 1.85:1 / 101:12

Audio


English Dolby Atmos
Subtitles: English HoH, Spanish

It's a new film made in 2022 with a Dolby Atmos track ... what would you expect? Very strong and clear sound field with dialogue sharp, crisp and clear. Surrounds are mainly limited to use of score with atmospheric directionals turning up throughout the film. It's a talky comic-drama so don't expect Star Wars or Bond-level use of the sound stage. It's jostly front-centric although the frequent songs do kick out and bleed into the rear speakers. I noticed the most use of the surrounds in the hospital scenes with Tannoy announcements but sounds do move around nicely. LFE and the subwoofer are rarely used, mainly during the songs but are basey when required. Hard of hearing subtitles are comprehensive and in the sections I sampled missed zero nuance ('A').

Extras


Audio commentary with writer-director Kevin Smith, actors Brian O'Halloran, Jeff Anderson, Trevor Fahrman and Austin Zajur (2022)

Lively yaktrak is about the same as other tracks on View Askewniverse film commentaries, chatty, Earthy, profane, witty and filled with trivia and facts. These first three are lifelong pals and it shows, the two newer commentators fit right in with the vibe. O'Halloran and Fahrman are piped in via Zoom and the others are all sat together. Smith kicks off by stating that this film has been in gestation since 2006 and the release of #2 and he feels it's his best work thus far. I was most interested to hear that both Clerks (1994) and Clerks III (2022) are closer to reality, both more closely autobiographical, whereas Clerks II (2006) was more a work of artifice. Presented in lossy Dolby Digital 2.0 mono. Incidentally the commentary runs 1:12 longer than the film hence why if you watch the film through it ends at 100:00 and is followed by black screen till 101:12.

"The Clerks 3 Documentary" 2022 documentary (96:12)
"We're Not Even Supposed to Be Here Today ... 3 Decades of Clerks" 2022 documentary (75:15)

Two whopping new documentaries (collectively 171:27) which (together with the commentary above) will satisfy even the most jaded fans desire for information. Bags of behind the scenes footage and interviews all presented in 1080p24 1.85:1 with lossy Dolby Digital 2.0 stereo.

2022 Introduction by Kevin Smith (Plays on disc load-up) (2:14)

Funny, heartwarming introduction. Presented in 1080p24 1.85:1 with lossy Dolby Digital 2.0 stereo.

Deleted and Alternate Scenes (29:30)

A massive deleted scene cemetery with plenty of interest for fans presented in 1080p24 1.85:1 with lossy Dolby Digital 2.0 stereo.

Theatrical Trailer (1:56)

Promo presented in 1080p24 1.85:1 with lossy Dolby Digital 2.0 stereo.

Packaging


Standard, blue BD Keepcase.

Overall


The welcome final entry in Kevin Smith's Clerks trilogy gets top notch image and sound with unbeatable extras ... as we've come to expect from Smith. If the commentary, two feature length documentaries and 30 minutes of deleted scenes don't satisfy the fans then there's no justice in the world. Highly recommended!
| | | | | |
| --- | --- | --- | --- | --- |
| The Film: A- | Video: A | Audio: A | Extras: A+ | Overall: A |

---
Rewind DVDCompare is a participant in the Amazon Services LLC Associates Program and the Amazon Europe S.a.r.l. Associates Programme, an affiliate advertising program designed to provide a means for sites to earn advertising fees by advertising and linking to amazon.co.uk, amazon.com, amazon.ca, amazon.fr, amazon.de, amazon.it and amazon.es . As an Amazon Associate, we earn from qualifying purchases.