The Film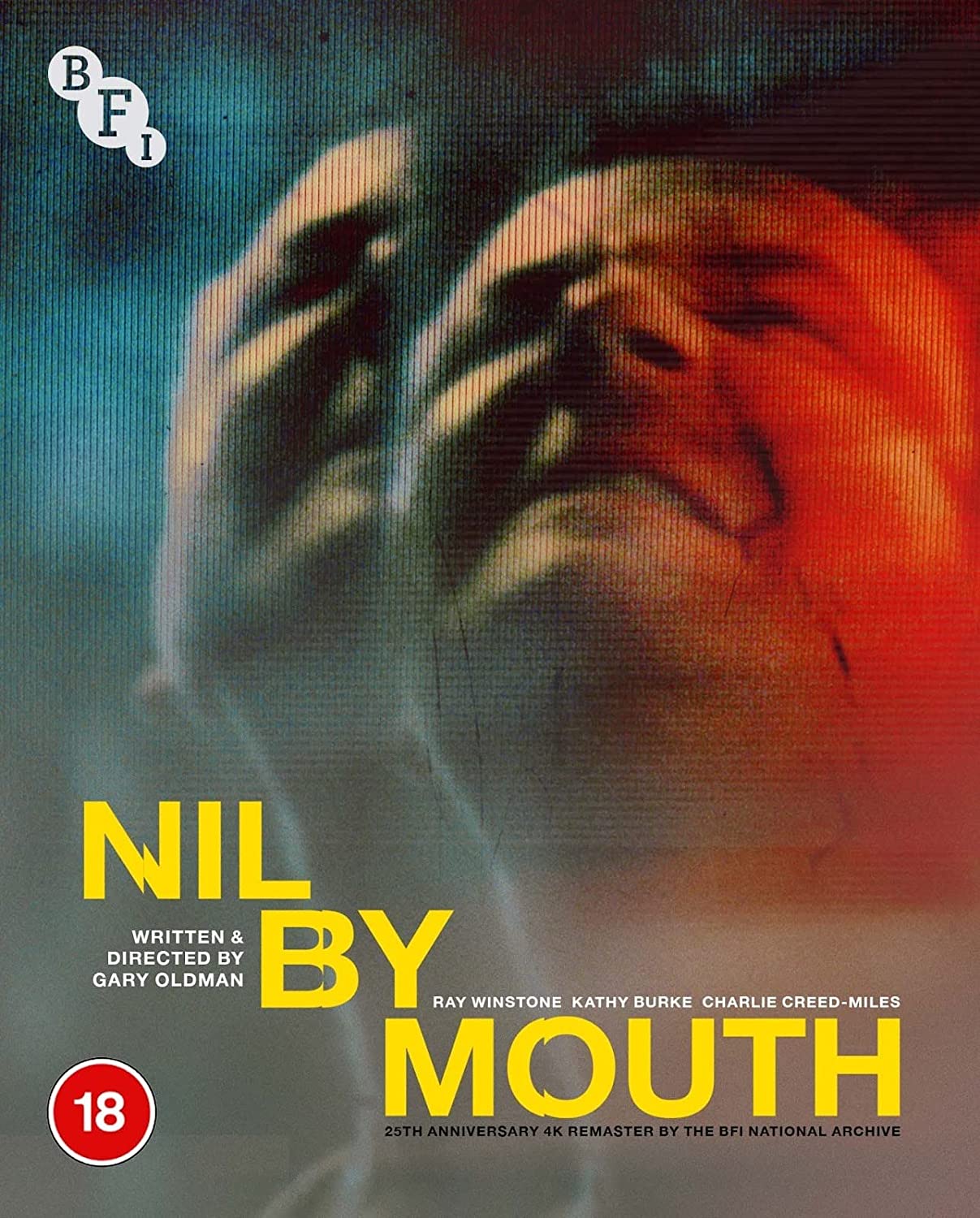 "Nil By Mouth" (1997)

"Nil By Mouth" centers on one working class family from South London. There's Raymond (played by Ray Winstone) alongside his wife Val (played by Kathy Burke), their young daughter Michelle (played by Leah Fitzgerald), Val's younger brother Billy (played by Charlie Creed-Miles), their mother Janet (played by Laila Morse), and their grandmother Kath (played by Edna Doré). Raymond is not the best husband or father, frequently going out drinking and smoking with Billy and good friend Mark (played by Jamie Foreman) and not being able to control his anger at home. Billy is not coming into work as regulary as he should, mooching off his grandmother for money which immediately goes to hard drugs. Val is pregnant with her second child, yet her husband is not as attentive as he should be. With the bleakness of the family life, is there any hope for a better future for them?

Gary Oldman was quickly on the rise as one of Hollywood's most recognizable character actors, with prominent roles in films such as "JFK", "Dracula", "True Romance", and "Léon" to name a few just in the early 90s. Oldman returned to his native England for "Nil By Mouth", a story about an average family dealing with various issues from physical abuse to drug abuse, based on people and stories from his life growing up in South London. Not particularly based on his own family, the family showcased in the film was an amalgamation of people he knew, things he witnessed, and his own imagination for dramatic effect with no hold barred and all punches hitting hard. He and longtime friend and producer Douglas Urbanski shopped the story around to various British production companies which all turned them down. Whether it was the dark subject matter, the amount of bad language, or that Oldman would be the filmmaker rather than the star, none would touch the project and it had to be financed independently. Besides Oldman and Urbanski putting up their own money, there were some close acquaintances including filmmaker Luc Besson, who made a deal for Oldman to appear in his upcoming "The Fifth Element" for a lower fee than usual and for helping with distribution rights.

Oldman wanted reality to play a prominent role in the look and the feel, rather than a glossy or artsy way for the story which was the new norm for independent features of the period. Rather than the how glamorized drugs and drug culture was shown in breakthrough films such as "Pulp Fiction" or "Trainspotting", the look and the feel was closer to that of a John Cassavetes directed feature, which let the actors take the center stage rather than the staging or the cinematography being the showcase. Cinéma vérité and documentary styles were the look and feel, with the camera being mostly distant from actors who would be shot in close-up through zooms, giving them the freedom to walk about and interact without the crew being in the way. From the opening moment at the pub where Raymond, Billy, and Mark are drinking and talking, there are patrons crisscrossing in front and behind the actors, as if their conversation was being documented rather than performed. The dialogue is also naturalistic even though it was entirely scripted, with a few adlibs being thrown in, such as Mark's annoyance with a patron accidentially kicking his chair while in mid-sentence. The action was not rehearsed, but was a suggestion by Oldman to an extra, to see how Foreman would react. The scene carries on without resorts to cutting, and natural accidents or reactions would be part of the production while still being completely controlled. Being an independent production shot on film, the crew only had a single camera - an Aaton Super 16mm camera which would require multiple takes at different angles as they did not have the budget for a multi-camera setup. Cinematographer Ron Fortunato would capture the gritty performances wonderfully without letting the lens get in the way, and the actors superbly deliver realistic and natural performances throughout the story, which is quite simple in essence, but brutal in content.

There isn't a typical structure to "Nil By Mouth", as the story showcases happenings rather than a typical story. Conversations had by the characters are every day dialogue rather than things that would move a plot along. The opening pub scene with Mark's story is absolutely inconsequential. Billy's tattooed friend Danny (played by Steve Sweeney) reciting dialogue from his favorite film "Apocalypse Now" while watching it on TV may also be inconsequential, though these scenes put a lot of emphasis on who these people are and how their personalities. It's not just about what these people are going through but about who they are. Not all the characters are given equal treatment, with the men being more at the center while the women being the supportive, which can be interpreted in their roles in the film as well as their roles in the men's lives.

But the most brutal moments in the film come from Raymond's enraged reactions. First with him getting violently angry at Billy for the missing "gear" (drugs). Billy gets some slaps as well as his nose bitten by Raymond which ends in a bloody mess. But the scariest moment comes from Ray's beating of the pregnant Val, which unfortunately ends with her having a miscarriage. While his violent behavior is not at all something new for the family or friends, the action is the first time that Ray realizes the consequences of his actions. Raymond does not know how to control his rage and from stories told he did not come from a family with a loving father. His actions cannot be excused but it shows that hurt people will indeed hurt other people, including the ones closest to him. His family is almost entirely torn apart with the hospitalized Val not wanting to return to him, His mother-in-law not ever wanting to forgive him, and the arrest of Billy separating the family even further. The one witness to everything is Ray and Val's daughter, who does not have any dialogue, but sees everything unfold. She doesn't look or seem traumitized from the violence or the extreme language, as the film set a new milestone by having the most F-words per minute in a feature film. Oldman states that he is basically the little girl in the film. He was one to see adults act in despicable ways and not be weary of shielding their children. He is lucky that he was able to escape from the cycle of being stuck in the depressing family situation with his success, but he knew all too well of others that couldn't. But not everything is shocking and violent. There are quite a lot of humorous moments in the film that give laughs with jokes being told and the awkward situations. The comedy is quite dark, yet it's nothing unnatural. "Nil By Mouth" does not water down any of the moments and shows what family means to people and how abuse is something commonly lived with and tolerated, yet rarely addressed or confronted for positive changes. Ray's family may never find true happiness, but the moments they have smiling together show that love is certainly there, just not in the cinematically romantic way.

"Nil By Mouth" was first screened at the Cannes Film Festival on May 8th, 1997. Kathy Burke received Best Actress at the festival. In addition, Oldman would win a director's award at the Edinburgh International Film Festival, three wins at the British Independent Film Awards with Best Performance by a British Actor in an Independent Film for Winstone, Best Performance by a British Actress in an Independent Film by Burke, as well as Most Promising Newcomer in any Category for Laila Morse, who made her debut in the film and also happens to be Oldman' sister. It also received two BAFTAs, with thea Alexander Korda Award for Best British Film and Best Original Screenplay for Oldman. It would receive a theatrical release in the UK from October 10th, though it was not particularly a box office sensation, as well as its release in other countries. While it was critically lauded all around, the small independent film was never given wide distribution in any country and word of mouth was well... nil. Oldman remarked that after showing the film to director Elaine May in a rough cut form, her companion at the time said he thought it was amazing and would never want to watch it again. Indeed the film is not easy to recommend for audiences as it is not the easiest watch, leaving a number of uncomfortable tastes that linger. While it would receive home video releases on DVD in some countries, it was a film that many were not able to experience. While there was praise it seemed to get overshadowed by the record breaking number of expletives rather than people seeing the film for its technical merits. Twenty-five years later, the film is being given its rightful place in cinema. Not just a one-shot film by Oldman in his so far only film as director, but as a lauded and influential piece of British filmmaking, continuing the tradition of filmmakers such as Ken Loach and Alan Clarke who pushed the boundaries of bleak yet hopeful realism cinematically.

Note this is a region B Blu-ray set

Video


The BFI presents the film in the 1.66:1 aspect ratio in 1080p AVC MPEG-4. The original Super 16mm camera negative A/B rolls and a 35mm interpositive elements from Sony Pictures Classics were scanned and in 4K resolution. Shots that were unavailable in the original negative were replaced with the corresponding moments from the internegative. The BFI's 4K restoration here is quite excellent, with the picture looking especially sharp throughout, with excellent detail and sharpness, the muted bleak color palate being well balanced, as well as film grain being kept intact while damage marks being removed. There are no traces of scratches or debris in the frame, leaving an absolutely clean image, without any instances of digital manipulation. While a Super 16mm film transfer is bound to have more pronounced grain compared to the average 35mm transfer, There isn't a pronounced amount of graininess as seen in previous video transfers, balancing the grain well without making it obtrusive during playback. This is obviously not a flashy film, and there are a number of quite dark moments in the image to compliment the tone of the story. Greys, browns, blues, blacks are more pronounced, while bolder brighter colors are virtually non-existent. Well balanced with a natural image throughout, this restoration by the BFI and approved by Oldman is one of their finest. While it might be a shame that the 4K restoration was not given a home video release on the 4K UltraHD format, this HD transfer on Blu-ray is an absolutely solid one.

The film is uncut with a runtime of 128:45.

Audio


English DTS-HD Master Audio 5.1
English LPCM 2.0 stereo
English Audio Descriptive Dolby Digital 2.0 stereo
There are three options for audio, with a 5.1 lossless mix, a 2.0 uncompressed stereo mix, and a newly created audio descriptive track. The audio was restored from a 35mm 6-track magnetic printmaster soundtrack element. As the film is dialogue heavy, the center channel is the one doing the heavy lifting as all dialogue comes from the center. The other channels are used for music and effects, and are quite effective in certain sequences, from the opening bar hubbub to the music tracks heard throughout. The voices are always clear and without distortion or fidelity issues, and well balanced against he music and effects for an excellent aural experience. The score was handled by legendary guitarist Eric Clapton whose music cues are subtle rather than strong, being more part of the background rather than the foreground. The stereo track is also good with the use of separation, but the 5.1 track is the preferred choice with the nuances. An excellent job with the audio restoration by the BFI.

There are optional English HoH subtitles for the main feature. There are a few quick words missing here and there, though there are no errors with spotting or spelling to speak of.

Extras


DISC ONE

Audio commentary by writer and director Gary Oldman and producer Douglas Urbanski (2022)
This commentary, newly recorded for this Blu-rauy release has Oldman alongside producer Douglas Urbanski as they reminisce about Oldman's passion project a quarter of a century later. Discussed are about the film stock and the single Super 16mm fim camera was that was used, the influences of past directors, the use of long shots, long takes, and zooms, filming on location, how no British production company was willing to invest in the script, personal stories that affected the story, behind the scenes information such as Oldman's two vocal cameos and his family members appearing, the Cannes premiere and worldwide reception, and much more. Oldman dominates the commentary while Urbanski is more in a moderating role, though both have quite a lot of memories to share about the production with great detail, having very little empty spots along the way.
in English Dolby Digital 2.0 without subtitles

Deleted Scenes (39:27)
Presented here are never before seen deleted scenes and outtakes with three sequences: "Where's My Coke?", "Police Interview", and "Damp Walk Home". These are fully raw and uncut takes, showing multiple takes, multiple versions including outtakes, crewmembers in shot with slates marking the takes. The first scene takes place at an eatery with Ray, Billy and Mark after their night out as they've run out of drugs. The second is Billy's interogation by two police officers after his arrest. The third is a short sequence of Val walking home in the rain in the dark from a service station. Though an inconsequential scene, Oldman filmed it as a tribute to his mother, who walked everywhere and was an image in his mind that he wanted to recreate. The scenes do not have commentary, though Oldman provides written statements about them in the included booklet.
in 1080p AVC MPEG-4, in windowboxed 1.66:1, in English Dolby Digital 2.0 without subtitles

25th Anniversary Trailer (1:24)
A highly effective and well edited new trailer by the BFI for the 4K restoration re-release, which has also been embedded below.
in 1080p AVC MPEG-4, in 1.66:1, in English DTS-HD Master Audio 5.1 without subtitles




DISC TWO

"Setting the Record Straight" Gary Oldman in conversation with film critic Geoff Andrew (2022) (50:56)
Film critic Geoff Andrew interviews Oldman here in a lengthy conversation, done exclusively for this Blu-ray release. Discussed are Oldman's desire to direct, the influence from John Cassavetes, the difficulties getting the film financed, recollections of the actors and their casting, setting the record straight that the character of Ray is not based on his father at all, notes he received from director Elaine May on the rough cut, and much more. While the commentary covered quite a lot of information, the interview here does have quite a lot of exclusive information as well.
in 1080p AVC MPEG-4, in 1.78:1, in English Dolby Digital 2.0 without subtitles

"A Slice of Life" actor Ray Winstone in conversation with film critic Geoff Andrew (22:02)
Geoff Andrew returns for a conversation with Winstone about his career changing performance. Winstone discusses about his career slump at the time, his casting, the intensity of his performance, the reception of the film, the boost it had to his acting career, and more.
in 1080p AVC MPEG-4, in 1.78:1, in English Dolby Digital 2.0 without subtitles

"Talent Is Worth Trusting" producer Douglas Urbansk in conversation with film critic Geoff Andrew (2022) (15:34)
Another interview session with Andrew this time with Urbanski, who discusses Oldman having to buy a computer for the first time for the writing process, the help received from Besson on financing, the independent freedom as there were no studios or production companies behind Oldman's back the entire time, the reception and awards it received, and more.
in 1080p AVC MPEG-4, in 1.78:1, in English Dolby Digital 2.0 without subtitles

"Fearing the Worst" 2022 interview with actor Charlie Creed-Miles (27:53)
This new interview with Creed-Miles recalls his work on the film, from the nervousness in his audition, recalling the laundrette scene, the painful looking yet completely safe nose biting scene, the impact it had on his career, and more.
in 1080p AVC MPEG-4, in 1.78:1, in English Dolby Digital 2.0 without subtitles

"People Were Queuing For Any Role" 2022 interview with casting director Sue Jones (16:02)
This new interview has casting director Sue Jones on the casting and auditions, from Oldman's involvement reading with actors, her recollections of the performances, and more.
in 1080p AVC MPEG-4, in 1.78:1, in English Dolby Digital 2.0 without subtitles

"Mother" (1994, Gary Oldman) the only surviving footage recorded for an unrealised documentary about his mother's life and experiences (7:20)
Oldman started making a documentary portait of his mother, Kathleen in 1994, with cinematographer John Ward who would later work with Oldman on "The Fifth Element". Using black and white film to follow her in every day situations along with intercutting and voiceovers of her interviews, the film was meant to be something for his family, rather than a commercial work. The film was never finished, and unfortunately the negatives and tapes were lost, except for one reel of footage, comprised of his mother walking to the corner store. Kathleen Oldman passed away in 2018 at the age of 98, three months after seeing her son win the Best Actor Oscar for "The Darkest Hour".
in 1080p AVC MPEG-4, in 1.85:1, in English LPCM 1.0 without subtitles

"Children" 1976 short by Terence Davies (46:13)
Robert (played by Phillip Mawdsley) is a young boy that is experiencing difficulties both in school and at home. He is bullied and made fun of in school and seemingly has no friends at his side. For his homelife, the relationship with his father (played by Nick Stringer) is a distant one. He may be closer to his mother (played by Valerie Lilley) for comfort, the father's abusive behavior towards her leaves a profoundly traumatic mark on young Robert, who at the same fime is also going through puberty, and finding his sexual orientation towards males coming to light. "Children" was the first film written and directed by Terence Davies, made while a student at the Coventry Drama School with support from the BFI with a budget of £8,500. Shot in stark black and white and having very little dialogue from the main character, it is a fascinating autobiographical character study of a shy boy and his internal conflicts crashing against his intimate surroundings, while also being incredibly well made for a first time student film. Even without much being said from the Robert character directly, so much is conveyed with what he faces. Davies would continue an incredible career with defining shorts and features and inspiring a number of films and filmmakers including Oldman's "Nil By Mouth", it's an interesting inclusion in this set as a bonus. At first there doesn't seem to be much in common as "Children" has a child in the central role while the adults are the focal point in "Nil By Mouth", the scene of the father getting violently angry at his mother as Robert witnesses is certainly a shared traumatic moment with what happens in Oldman's film. The transfer here is the first time that "Children" has been made available in HD and looks quite good, though it is not a new restoration. It is incredibly grainy, there is a bit of weaving with the greys and the black and white contrast is quite strong. It is better than the existing DVD release from the BFI in "The Terence Davies Trilogy" set, though hopefully a newer restoration will come in the future for these shorts.
in 1080p AVC MPEG-4. in 1.33:1, in English LPCM 1.0 with optional English HoH subtitles

Galleries
- Stills (2:45)
- Production Materials (6:02)
Two slideshow galleries of behind the scenes stills, script pages with annotations and storyboards, conceptual art, pages from Oldman's personal notebook, presented in an automated form without music or narration.
in 1080p AVC MPEG-4


Also included is an 80-page book. First is a newly written introduction by Oldman for the 4K restoration. Next is "Return to Nil By Mouth", a recollection of the production by producer Douglas Urbanski. "I Did It Because I Love You: Violence and the Working-Class Man in Nil By Mouth" is an essay by writer Kat Ellinger on the brutal reality that the characters go through and comparisons to other works. Next is "Gary Oldman: Remembering the Nil By Mouth Shoot" by film journalist Lou Thomas with excerpts from statements by Oldman on the behind the scenes of the film. This is followed by "True Grit", a 1997 interview with Oldman by Geoff Andrew on the making of the film which was first published in Time Out magazine. Next is "Being There", a written piece by Nick James with statements by the film's production designer Hugo Luczyc·Wyhowski on the look and the making of the film. "The Inspirations Behind Nil By Mouth" is an essay by critic Philip Kemp on Oldman's acting career and the works that influenced his directorial debut. "Sole Credit" is by BFI writer and curator Jason Wood on the film and how it stands high on the list of "one film wonders". There are also noted on the deleted scenes by Oldman, full film credits, special features information, transfer information, acknowledgements, stills, and original storyboards.


This marks the Blu-ray debut of the film. It was released on DVD by Sony in the United States and Fox in the UK in the early 2000s, with both releases having no significant extras. The 2-disc Blu-ray from the BFI is absolutely stacked with extras, though one thing sorely missing are some vintage extras, such as press interviews, Cannes footage etc. In addition, the bonus short "Children" is quite bare as the BFI DVD release had a commentary by director Terence Davies (who has recorded some of the best director commentaries on DVD and Blu-ray over the years) plus and interview with Davies on his first three short films. As stated above, hopefully it will get a release of its own on Blu-ray in the future and one would assume those extras would be ported over. There's only a bit of information from Oldman on Clapton's contributions to the score being mentioned in the commentary, and there is no interview from the guitarist included. Though with his wacky viewpoints such as racism as well as his anti-vax anti-lockdown stances in more recent times, it's maybe best not to give him a mic and let him express himself through just his guitar instead... But it would have been interesting to hear the composing process for the score.


Other notable clips:


1997 interview with Gary Oldman by Barry Norman


A lengthy 2022 on stage conversation with Gary Oldman and Geoff Andrew on Oldman's career.


Gary Oldman discussing the BFI's reissue of the film on The Chris Evans Breakfast Show


Kermode and Mayo on "Nil By Mouth" in 2022


2022 interview with Ray Winstone looking back at "Nil By Mouth"

Packaging


This 2-disc set is limited to 4,000 copies.

Overall


"Nil By Mouth" is no easy watch with its portrayal of domestic abuse and drug abuse in a near-documentary form, but the performances of the actors and the portrayals of the characters are absolutely stunning throughout that will equally capture attention as painful as they are. The BFI's 2-disc Blu-ray set features an excellent transfer of the 4K restoration with an abundant amount of extras included. Easily one of the best Blu-ray releases of the year.
| | | | | |
| --- | --- | --- | --- | --- |
| The Film: A | Video: A+ | Audio: A | Extras: A | Overall: A |