The Dead and the Deadly [Blu-ray]
Blu-ray B - United Kingdom - Eureka
Review written by and copyright: Eric Cotenas (4th December 2022).
The Film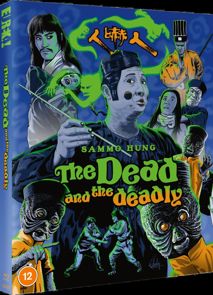 Fatboy (Eastern Condors' Sammo Hung) lives and works for his great uncle Ko (The Prodigal Son's Lam Ching-Ying), a master in charge of the village funeral rites. When a retinue arrives with the body of Ma Lun-Cheung (A Chinese Ghost Story's Wu Ma who also directed) – wastrel son of a wealthy lord – for burial, Fatboy suspects foul play on the part of the woman Lee Yuet Ying (Hui Leung-Mei) purporting to be the mother of his unborn child since Fatboy knows Ma Lun-Cheung was impotent. Fatboy sneaks into the Ma residence where his friend's body is laying in preparation for burial in order to discover a cause of death only to be prevented from dissecting the body by the bride's brother (The Magnificent Butcher's Chung Fat), a Taoist priest who attempts to demonstrate scientifically that there was no foul play. Fatboy is unconvinced, even more so when Ma Lun-Cheung turns up as a ghost claiming he died naturally since he would have no reason to remain a restless spirit. Little does Fatboy know that this is the latest of Ma Lun-Cheung's schemes to get his inheritance, faking his death and holding the location of supposed funeral treasure over the heads of his partners. When Lee Yuet Ying learns from scholar Yeung (We're Going to Eat You's To Siu-Ming), however, that there is no funeral treasure – a ruse of Ma's father to motivate his shiftless son – just the money that will go to his heir upon birth, she and her "brother" realize they no longer need Ma and they kill him. He tries to haunt them but the priest knows how to fend off spirits so Ma must go to his best friend after crying wolf; however, he needs more than Fatboy's help, he needs his body but may not be able to return it in one piece in the supernatural battle to come.

Part of a run of supernatural comedy martial arts films in the early eighties, and one of two starring Hung with Encounters of the Spooky Kind, The Dead and the Deadly seems at first like the least ambitious as a set of sight gag set-pieces moving back and forth between two locations with a handful of quaint old school optical effects; that is, however, until the climax in which Fatboy's love interest Siu Yuen (Once a Thief's Cherie Chung) - who actually is absent from much of the body of the film after her introductory scene – battles a trio of ghosts for her beloved's soul. This sequence features not only some goofy-looking ghosts with prosthetic appliances that are actually expressive but some dazzling cel animation that is on par with some of the modestly-budgeted Hollywood effects fare of the period, interacting impressively with live action choreography and suggesting where most of the film's budget actually went (Hung would also be one of the earliest Hong Kong filmmakers to use CGI later in his career). While the moral of the story is rather sweet, this would not be a classic Hung without a little crudity and outright misogyny: Lee is referred to throughout the entirety of the third act as "that bitch" and the musk of her underpants is powerful enough to repel ghosts and even expel them from the bodies they possess while the ritual for retrieving Fatboy's spirit from the beyond involves a sanitary napkin. Hung's next film would be as director and ensemble star in the first "Lucky Stars" film Winners and Sinners which would feature a Wu Ma cameo.

Video


Released theatrically in the U.K. and to VHS in the United States, The Dead and the Deadly was largely available as dupes from the Hong Kong laserdisc – which had both English and Chinese print subtitles – until Tai Seng's 1997 laserdisc and subsequent 2003 DVD (a direct port of the Hong Kong Mega Star edition) which sufficed until Fortune Star's remaster hit DVD in Hong Kong in 2007. The film was not the recipient of a Hong Kong Legends edition in the U.K., instead making its British digital bow on Eureka's 1080p24 MPEG-4 AVC 2.35:1 widescreen Blu-ray from a new 2K restoration (which may or may not be the same HD master on the 2020 Hong Kong Blu-ray which is not an upscale). Although Hung was not behind the camera, the transfer does justice to the greater technical consideration that went into the cinematography, it textural qualities and its considered color scheme which contrasts unnatural gels and the aformentioned visual effects with the Asian inverse associations of life and death with the colors black and white.

Audio


Audio options include the English classic dub in LPCM 2.0 mono as well as two Cantonese lossless tracks: the original theatrical mix and a home video mix with some music differences. Optional English subtitles are available for the Cantonese track while a second track is enabled by default with the English track for onscreen text.

Extras


As has become the norm with Eureka's Hong Kong titles, The Dead and the Deadly is accompanied by a pair of audio commentary tracks by the usual suspects. The audio commentary by Asian film experts Frank Djeng (NY Asian Film Festival) & Michael Worth provides observations about the production that are not apparent to the casual viewer, including how character names with crude meanings got around the censors as well as the greater reliance on verbal humor in general in the films scripted by the prolific Barry Wong (Mr. Vampire). They also clarify that the opening sequence is indeed a dream which was genuinely puzzling. The second audio commentary by action cinema experts Mike Leeder & Arne Venema provides some nice cultural context including the basis of the odd paper offerings as well as the de riguer annoying child (firstborn male children apparently get away with murder in Chinese families), highlight the sex jokes, as well as shed some light on the score credited to Michael Lai that includes some Tangerine Dream cues during the climax.


The two video features are a Sammo Hung interview at the 2016 Udine Film Festival (21:10) and a Sammo Hung Q&A at the 2016 Udine Film Festival (57:07) – both of which sport poor audio but are subtitled – commemorating the screening of Hung's first directorial effort in nineteen years My Beloved Bodyguard and, as such, have little to do with the feature, instead covering his filmography including his formative days with Bruce Lee and Lau Kar-Leung. The disc also includes the film's Hong Kong theatrical trailer (4:33).

Packaging


The first pressing comes with a limited edition O-card slipcase featuring new artwork by Darren Wheeling and a collector's booklet featuring new writing by James Oliver (neither of which were provided for review).

Overall


Pulling its punches until the effects climax, The Dead and the Deadly is a semi-charming, semi-crude Sammo Hung horror comedy vehicle that was nevertheless a sign of things to come as Hung assumed a greater presence behind the camera.

---
Rewind DVDCompare is a participant in the Amazon Services LLC Associates Program and the Amazon Europe S.a.r.l. Associates Programme, an affiliate advertising program designed to provide a means for sites to earn advertising fees by advertising and linking to amazon.co.uk, amazon.com, amazon.ca, amazon.fr, amazon.de, amazon.it and amazon.es . As an Amazon Associate, we earn from qualifying purchases.