Remember the Night (Blu-ray) [Blu-ray]
Blu-ray B - United Kingdom - Powerhouse Films
Review written by and copyright: Rick Curzon (19th December 2022).
The Film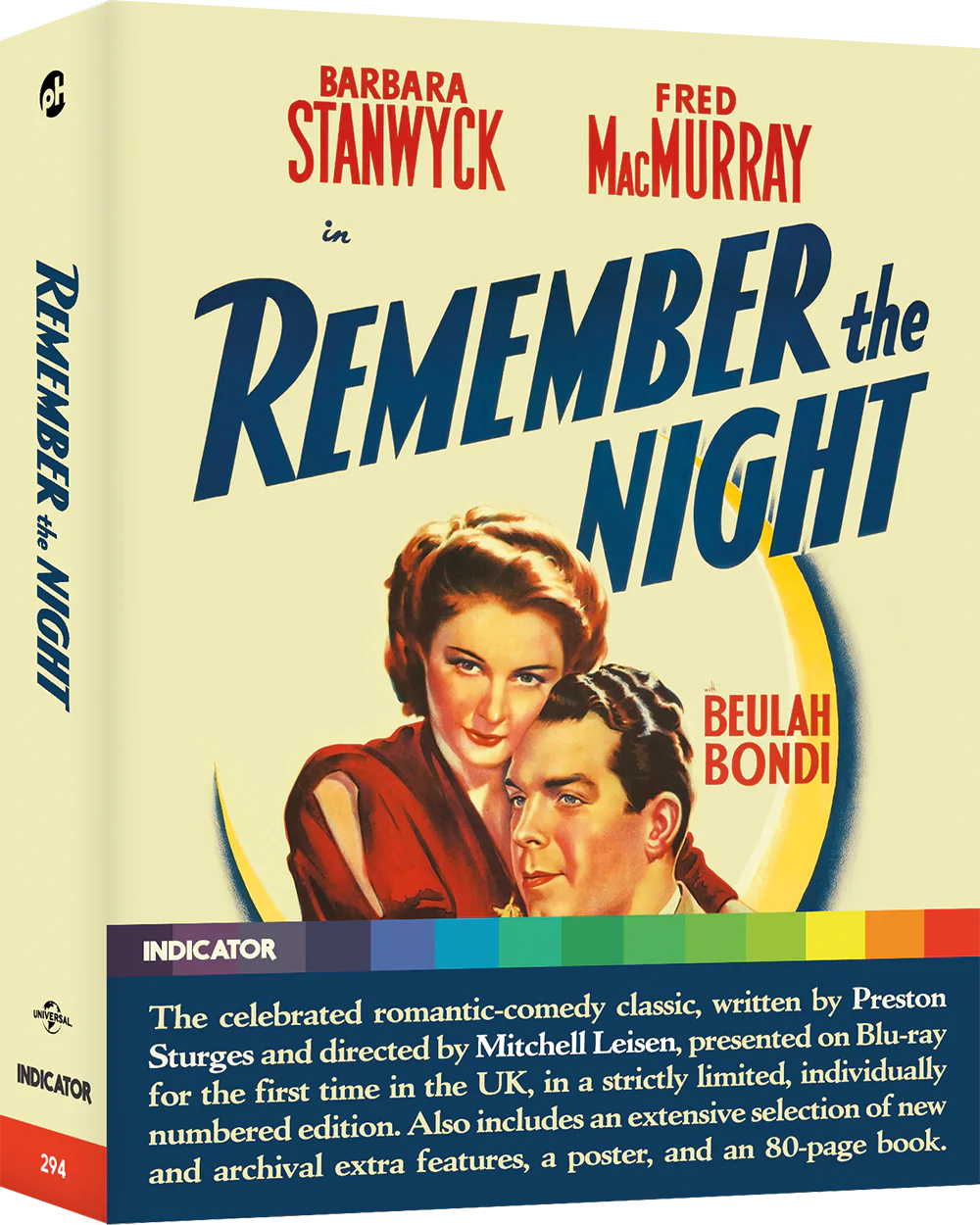 With its sparkling screenplay by Preston Sturges (The Great McGinty, The Palm Beach Story), this much-loved romantic comedy paired screen legends Barbara Stanwyck (The Lady Eve, Forty Guns) and Fred MacMurray (Double Indemnity, The Absent-Minded Professor) for the very first time.

Stanwyck plays Lee Leander, a shoplifter who faces a lonely Christmas in prison, while MacMurray is the strait-laced New York District Attorney who takes pity on her and organises her release on bail. After he offers to drive her to visit her family, a trouble-filled road-trip ensues and an unlikely romance blossoms.

Directed by Mitchell Leisen (Easy Living, Hold Back the Dawn), and featuring acting support from Beulah Bondi (Itís a Wonderful Life) and Elizabeth Patterson (The Cat and the Canary), Remember the Night is an all-time classic comedy from Hollywood's golden age. This individually numbered Limited Edition includes a fascinating selection of new and archival extra features, a poster, and an 80-page book.

Video


A film I had not seen before nor had I heard of it but it's perfect Christmas season viewing and ultimately heartwarming. Top notch cast and production and it's pretty typical in some ways of it's era (1939, released 1940). Surprisingly emotionally and morally nuanced for it's era with a conclusion that wasn't quite what I was expecting. Superb.

Shot on 35mm monochrome film in the Academy ratio (1.37:1). The master used here was "created from a 2014 scan of a 35mm dupe negative". It looks generally excellent although there is a slight softness throughout, which is par for the course for Hollywood films of this era. Sharper when no opticals are involved, image quality drops a notch or two when optical effects like scene transitions, wipes, fades or onscreen text appears. All standard for productions shot on film in the photochemical era and before assembly in the digital realm.

A monochrome film and gamma has been perfectly judged so we have no colour bias that I could detect. Back in the '80s I recall watching B&W material on VHS or recorded from broadcasts that would (usually) have a greenish tinge that could only be removed by switching the colour off. Thankfully, I have yet to ever come across such problem on a Powerhouse Films' BD release.

Black levels and contrast are generally strong with only the occasional moment of unintended crush sneaking. I saw no blown out highlights, with contrast being supportive and layered. Grain is always present, well handled by the peerless encode and always filmic. I saw no signs of print damage nor egregious noise or digital manipulation such as edge enhancement ('A-').

1080p24 / AVC MPEG-4 / BD50 / 1.37:1 / 94:08

Audio


English LPCM 1.0 (48kHz)
Subtitles: English HoH

A digitally restored mono track of limited range that comes across very well in this uncompressed presentation. Dialogue is always very clear and the score supportive in the mix allowing it to be heard and never swamping essential sound effects. If cranked up, mild his can be heard but that's a hangover from the analogue production and no noise reduction has been applied (or it's been judiciously used) so no issues. Excellent hard of hearing subtitles catch all of the nuance in the dialogue, at least in the sections I sampled ('B').

Extras


Audio commentary with Adrian Martin (2022)

Another typically detailed and wide-ranging yaktrak from Martin who's done lots of these down the years. It covers all the bases in some detail that one would expect and is dense with info and analysis, personal reminiscence; essential for fans of the film. Presented in lossy Dolby Digital 2.0 mono.

"Outsider Status: Pamela Hutchinson on Barbara Stanwyck" 2022 interview (25:32)
"You May Laugh, You May Weep: Geoff Andrew on Mitchell Leisen and Remember the Night" 2022 interview (25:14)

50:46 of new interviews that offer a very satisfying appreciation of this Christmas classic. The Hutchinson piece is another in a long line of featurettes whereby female historians assess the careers of actresses in Powerhouse Films' releases and Hutchinson is one of the more engaging. Andrew is an old hand with a career that stretches back to the '70s and here he essays the career of director Leison who I'm sorry to admit was not a figure I was familiar with (like the film). Presented in 1080p24 1.78:1 with lossy Dolby Digital 2.0 stereo sound.

"Lux Radio Theatre: Remember the Night" 1940 radio episode (54:33)
"Lux Radio Theatre: Remember the Night" 1941 radio episode (54:07)

Vintage radio adaptations both with MacMurray reprising his role. The 1940 episode also has Stanwyck playing her part from the but the 1941 has Jean Arthur. Presented in lossy Dolby Digital 2.0 mono. Sound is very much vintage with slightly canned quality but this is par for the course and in keeping with other 1940s radio productions I've listened to. Still very listenable.

Theatrical Trailer (1:49)

Vintage promo in 1080p24 1.37:1 with lossy Dolby Digital 2.0 mono sound.

Remember the Night Image Gallery: Original Promotional Material (71 images)

Chunky HD gallery.

"Hollywood Victory Caravan" 1945 short film (19:37)

I'd heard of this little short film which has a galaxy of then current Hollywood stars embarking on a trip across the US to raise money for war effort encouraging the purchase of Bonds. Presented in 1080p24 1.37:1 with lossy Dolby Digital 2.0 mono sound. According to the liner notes in the booklet: Scanned in HD from 35mm duplicate negative composite print elements by the US National Archives and Records Administration (NARA) especially for this Indicator edition. It hasn't had quite the same tender loving care and restoration that the main film has had but bar a few speckles here and there looks good. Sound has some hiss but is also par for the course for a limited mono track of this vintage.

80-page liner notes book with a new essay by Rick Burin, archival interviews with cast and crew, articles on the careers of director Mitchell Leisen and screenwriter Preston Sturges, an overview of contemporary critical responses, writing on Hollywood Victory Caravan and full film credits

Another superb hardcopy companion and being 80 pages, double the usual size and therefore offering double the value. I've been a huge fan of these booklets that accompany Powerhouse Films' releases and sometimes find them and the extras of much greater interest than the accompanying film. In this case, I loved the movie and the extras package enhanced my appreciation.

Packaging


Not sent for review but based on images seems to be a hard card outer slipcase that holds then80-page booklet and a Keepcase.

Overall


Mitchell Leisen's Christmas classic was a film I'd heard off in passing but hadn't ever seen. It was written by Preston
Sturge's who would go on to an illustrious career writing and directing his own films from this point on. Image is excellent given the source elements and the first rate restoration. Extras are top notch and add huge mount of contextual added value to one's enjoyment of this classic. Essential ('A-').
| | | | | |
| --- | --- | --- | --- | --- |
| The Film: A+ | Video: A- | Audio: B | Extras: A | Overall: A- |

---
Rewind DVDCompare is a participant in the Amazon Services LLC Associates Program and the Amazon Europe S.a.r.l. Associates Programme, an affiliate advertising program designed to provide a means for sites to earn advertising fees by advertising and linking to amazon.co.uk, amazon.com, amazon.ca, amazon.fr, amazon.de, amazon.it and amazon.es . As an Amazon Associate, we earn from qualifying purchases.