The Film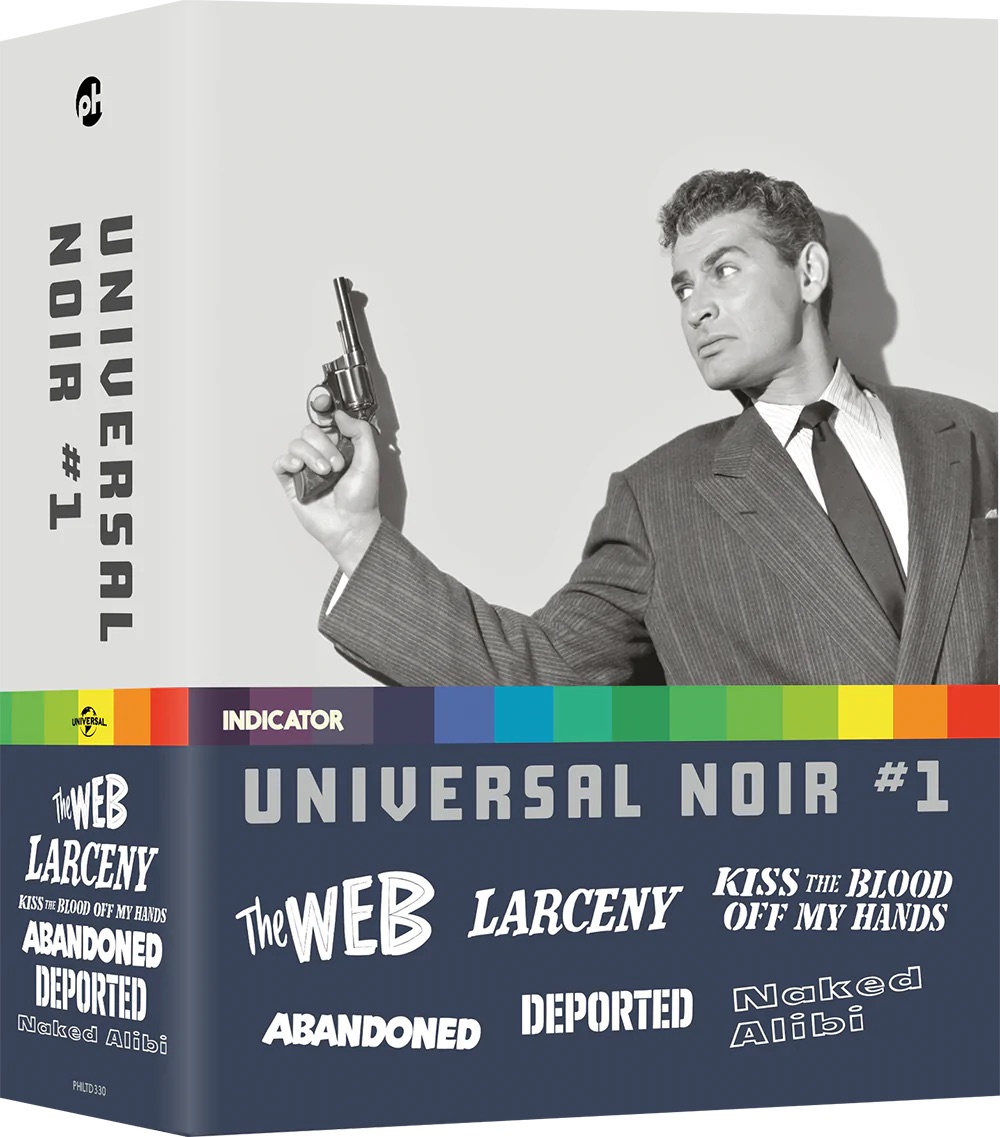 A new series of box sets – following Indicator's acclaimed Columbia Noir series – focusing on the film noir output of another of the major Hollywood studios, Universal Pictures.

Starring such high-profile talents as Burt Lancaster, Joan Fontaine, Shelley Winters, Dan Duryea, Vincent Price, Edmond O'Brien, Sterling Hayden, Gloria Grahame, and Jeff Chandler, the six films in this volume feature embezzlement and murder (The Web), confidence tricksters (Larceny), lovers on the lam (Kiss the Blood Off My Hands), an adoption racket (Abandoned), transatlantic criminals (Deported) and police brutality (Naked Alibi).

This stunning collection marks the UK Blu-ray premiere of all six films, and also features an array of fascinating contextualising extras, including newly recorded commentaries for each film, critical appreciations, archival short films, and a 120-page book. Strictly limited to 6,000 numbered units.

Video


Disc #4 in Powerhouse's Universal Noir #1 set contains Joseph Newman's Abandoned (1949) a film that essentially sets itself up as an expose of the underground baby racket whereby unwanted babies are re homed via very unsavoury characters. The story kicks off when Gale Storm comes to L.A. to find her older sister and help her with her newborn child but she's dead, seemingly having committed suicide. She joins forces with newspaper reporter Dennis O'Keefe to blow the lid off of the racket.

The image is a strong one having been an HD restoration, created from a 35mm nitrate composite finegrain print. It's a decent image if a little softer that those taken from sources closer to OCNs. Detail is generally strong with solid black levels and supportive, layered contrast. As with other monochrome films released by Powerhouse .films the gamma is perfectly balanced with no colour bias. Encoding is done by Fidelity in Motion who're the best in the business with no compression artefacts, digital tinkering and the print is largely free of damage. That said I did notice a tramline scratch early on it the film but much of it's effect has been minimised.

A strong transfer if not quite in the same league as the first three discs ('B+').

1080p24 / AVC MPEG-4 / BD50 / 1.37:1/ 79:00

Audio


English LPCM 1.0 (48kHz)
Subtitles: English HoH

Sound is not as robust as the image alas. From the off it sounds like it has little or no base with an overall tinny, reedy sound. Range is narrow with a slight distanced quality. Everything sounds like it's a further away in another room. It does improve as the film bears on and after a while I stopped noticing. It helped that I channelled the 1.0 track into "multi-stereo" which plays mono sound through all speakers. By way of comparison I switched to the commentary and the lack of base became more obvious. Mono tracks usually don't have any LFE but they do have some base usually, but this one doesn't. The usual excellent hrd of hearing subtitles are provided ('C+').

Extras


Audio commentary with film historians Barry Forshaw and Kim Newman (2022)

The track focuses on everything one could hope for in a commentary with both Forshaw and Newman being dab hands at this sort of track with many under their belts both separately, with others and together. They're also published authors on various subjects with Forshaw a specialist on crime cinema, Newman genre cinema. They're especially good on the subject of the shades of grey in this film and how some of the villainous characters have have layers. The careers of the cast and chief creatives come under scrutiny, production of the film itself and where it sits within the pantheon of noir cinema. Presented in lossy Dolby Digital 2.0 mono.

Abandoned Image Gallery: Original Promotional Material (22 images)

Solid HD gallery.

"Easy to Get" 1947 short film (21:27)

An amusing and enlightening War Department film on the dangers of sexually transmitted diseases and how to use preventative techniques, seemingly targeted at the African American community. Quite shocking to see dripping, infected penises and other graphic images in a 1940s! It transforms into an ernest attempt to implore the American squaddies to be physically fit. Presented in 1080p24 1.37:1 with lossy Dolby Digital 2.0 mono. Image is mostly free of major issues with some print damage in the early stages but it soon stabilises into a largely blemish free presentation. Sound is a little crackly and hissy at times but nothing that'll get in the way of enjoyment.

120-page liner notes book with new essays by Iris Veysey, Jill Blake, Karen Hannsberry, Sabina Stent, Sergio Angelini and Walter Chaw, extensive archival articles and interviews, new writing on the various short films, and film credits

10 pages are devoted to Abandoned. The usual superb hard-copy companion that enhances one's enjoyment of the films contained within the set. These booklets are worth the price almost on their own.

Packaging


Not provided for review.

Overall


Abandoned on disc #4 in this six disc set is not the best of the first four films but certainly not the weakest. A solid, enjoyable expose of 1940s baby racketeering with likeable well-drawn characters and excellent performances. Image is strong but sound is a little disappointing although it ought not to impede enjoyment. Extras are the usual combonof yaktrack, hardcopy booklet and vintage shirt film. A strong package ('B')!
| | | | | |
| --- | --- | --- | --- | --- |
| The Film: B | Video: B+ | Audio: C+ | Extras: A- | Overall: B |