The Film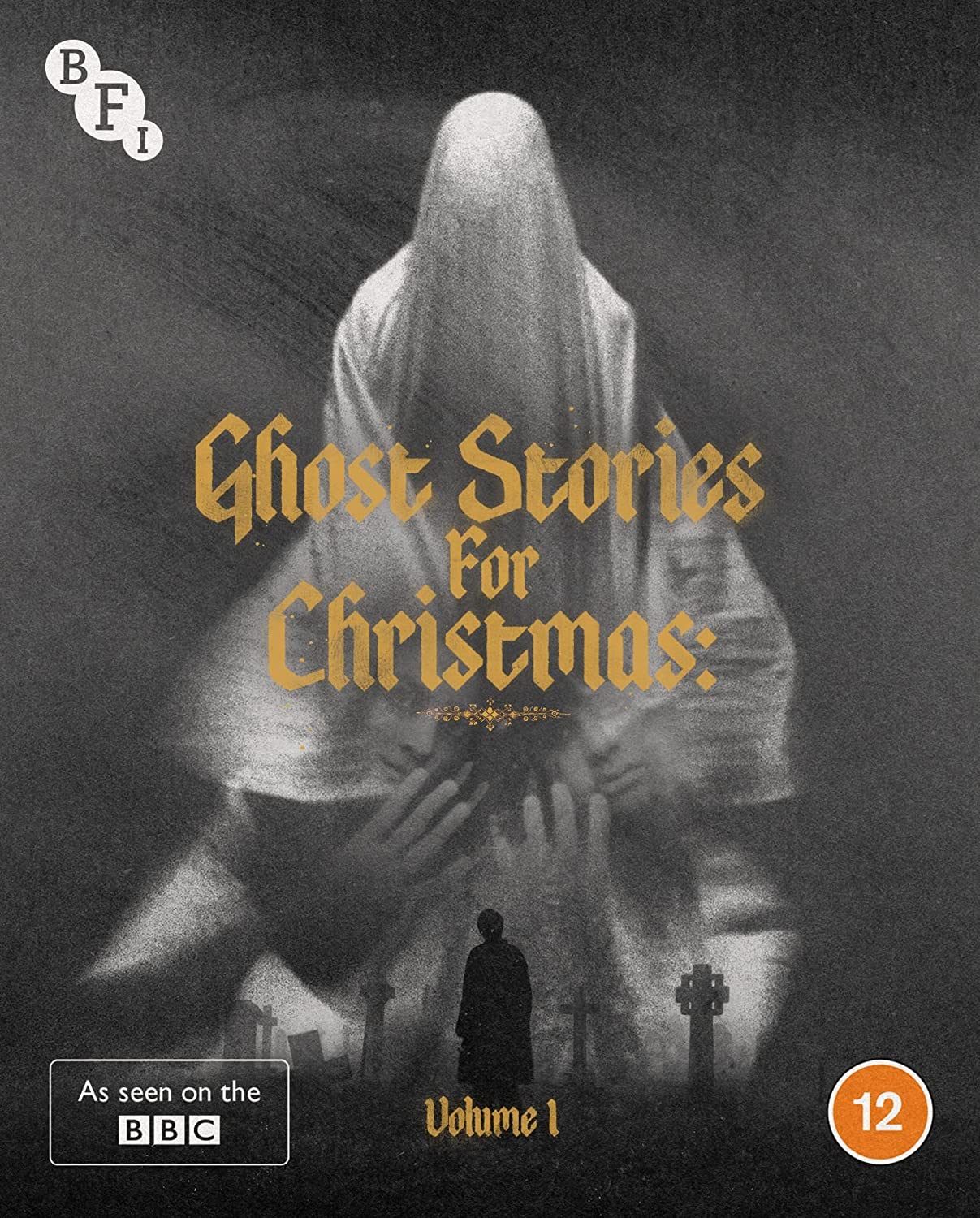 "Ghost Stories for Christmas: Volume 1" (1968-1973)

The tradition of telling ghost stories ultimately varies from culture to culture. In the United States, it is commonly thought of as a tradition for campfire tales in autumn, leading into the time for Halloween. In Japan, scary stories are for the obon holiday in summer, a period in which the living pay respects to the dead, as well as being a way to cool down the body with bone-chilling tales. In the United Kingdom, the winter season, particularly Christmas the time for supernatural tales, only made more iconic with the quintessential Charles Dickens' "A Christmas Carol" cementing the tradition since the Victorian era. From 1971 to 1978, BBC annually aired "A Ghost Story" around Christmastime, which featured standalone television films that were adaptations of traditional ghost stories, with each being less than an hour in length. Of the eight episodes produced, the first five were stories written by Montague Rhodes James or MR James, the sixth being an adaptation of a Dickens story, and the final two being original stories. Before the annual series came to fruition, there was an episode of the series "Omnibus" from 1968 that could be credited as "episode zero", which was an adaptation of James' "Oh, Whistle, and I'll Come to You, My Lad". This Blu-ray set includes that episode, plus the first three episodes of the "Ghost Story" series, a modern remake of one story, plus a wealth of new and vintage bonus feaures, with remastered transfers.

The following episodes are included in this set:

* "Whistle and I'll Come to You" (1968)
* "The Stalls of Barchester" (1971)
* "A Warning to the Curious" (1972)
* "Lost Hearts" (1973)>
* "Whistle and I'll Come to You" (2010)

The last is offered as a bonus episode, as it is a remake (or re-interpretation of the 1968 episode.

"Whistle and I'll Come to You" (1968)

Professor Parkins (played by Michael Hordern) arrives at a seaside inn on holiday alone. While wandering an old graveyard nearby, he finds a small whistle with Latin inscription. He puts it in his pocket and heads back to the inn, though he suddenly feels that he is not returning alone, as an unnatural presence can be felt wherever he goes. Is it a figment of his imagination, or is there something supernatural at play?

Produced for the series "Omnibus" and airing on May 7th, 1968, this episode was an adaptation of MR James' "Oh, Whistle, and I'll Come to You, My Lad", written and directed by Jonathan Miller. While the adaptation is close to the original story with its mysterious happenings and tension, the appearance of Parkins being a middle aged mumbling man, as opposed to a "young, neat and precise of speech" as described in the original story is a major change. First published in his collection "Ghost Stories of an Antiquary" in 1904, the story doesn't focus on the ghostly being or the reasons behind the haunting, but instead puts the audience in the shoes of the lonely protagonist, who might be dreaming things or having true manifestations that will not leave his side. From the seemingly occupied second bed, the ghostly presence that howls as he runs away, there are a number of unsettling moments and Hordern is absolutely great as a man in distress that cannot understand what is happening through his logical mind.

Even with its short runitme of less than an hour, the pacing never feels fast nor does it seem slow as the story with minimal characters only comprising of Parkins and a number of guests and staff at the inn that appear sporadically, it is a showcase for Hordern in the lead as he is on screen for the entire duration. It's also a case of less-is-more, with only a few moments using visual effects done in camera and never showing any supernatural creature or being in its entirety onscreen, instead highlighting sound effects, editing, and cinematography to give the heightened tension for viewers. There is no tacky creature, no screaming intensity, yet it works highly effectively, and eventually showing that there was more to come in the intervening years with adaptations of James' works.

Embedded below is a clip of the episode, courtesy of the BFI.




"The Stalls of Barchester" (1971)

It is 1932, and scholar Dr. Black (played by Clive Swift) who is tasked with cataloging the Barchester Cathedral library makes an intriguing discovery from a diary from half a century ago. Within was information on Dr. Haynes (played by Robert Hardy) who became the archdeacon and the curse that haunted him.

Based on MR James' "The Stalls of Barchester Cathedral" from his "More Ghost Stories" collection from 1911, "The Stalls of Barchester" was adapted and directed by television director Lawrence Gordon Clark. The budget was quite small and only ten days were alloted for filming, though the BBC was supportive of the idea as a Christmas special, though without guarantee of it being an annual series just yet. The story would follow two timelines, one of the "present" in 1932 with Black piecing the story together and the happenings with Haynes in parallel, with the latter taking the center stage.

The story of Haynes aiming to become archdeacon while waiting for the aging archdeadon Pulteney (played by Harold Bennett) to kick the bucket have some darkly funny moments, with a montage of sequences and the frustrated Haynes. With Pulteney's sudden fall from the stairs killing him instantly, the rise to power for Haynes seems to have foul play attached, yet not particularly shown, leaving readers and audiences to make up their minds themselves. There is a bit of influence from William Shakespeare's "MacBeth" at play with jealousy and the supernatural at play with power, especially with the haunting presence of a black cat for Haynes after he takes control. Guilt and paranoia is the focus on Hardy's role as the newly installed archdeacon, and the sequence of the cat woodcarving suddenly transforming into a black cat is genuinely memorable with a chilling effect even with its simplicity.

Clark's adaptation was a great effective telling of the story while able to test the patience of audiences, as supernatural elements are not at play for some time, and may have come unexpectedly for audiences that didn't know there would be anything creepy included. Broadcast on Christmas Eve in 1971 to unsuspecting audiences, the BBC immediately gave the greenlight for Clark to work on a follow-up episode, which would essentially be filmed in February and March the following year, though broadcast in December as scheduled. "The Stalls of Barchester" would officially be the first installment of the "Ghost Story for Christmas" episodes, though obviously it would not carry the title for the episode. That would be saved for the next year.

Embedded below is a clip of the episode, courtesy of the BFI.




"A Warning for the Curious" (1972)

Amateur archaeologist Paxton (played by Peter Vaughn) arrives in a small town to find an ancient crown. Searching for a member of the Ager family, who protected the crown for generations, the townsfolk all tell him that no one with that name lives in the area. But there are secrets within the town, and there are reasons that others have not been able to reclaim the ancient crown...

Lawrence Gordon Clark followed up "The Stalls of Barchester" with another MR James adaptation, with "A Warning for the Curious" being first published in James' final collection of ghost stories "A Warning to the Curious and Other Ghost Stories" from 1925. While the previous episode made a gradual attempt in revealing the terror, this one starts off with a gruesome kill, with an archaeologist being hacked to death with a conveniently placed weapon, showing the danger upfront, then immediately moving onto twelve years later with an intertitle to signify the lapse in time. Like the previous episode, the element of greed is here, but this time signified by an object rather than position with the crown. Like many of Alfred Hitchcock's thrillers, the object that moves the story along is also one that brings danger, and in this case it is a spirit that is destined to guard it - the ghost of William Ager (played by John Kearney).

Unfortunately the character of Ager is a bit of an inconsistency, who does have an eerie menacing side, but sometimes also feels like a bumbling clown, not particularly feeling entirely scary. The haunting doesn't quite have the impact that the opening sequence has, and may have worked better if the scene was not included. But as for the setting, the environment, and the supporting characters, there is still a lot to be thankful for. The Paxton character's arrival from London does have a feel of an outsider looking into the rural setting and Vaughn does a good job with the characterization. Interestingly he is again changed from a young man to a middle aged man in comparison to the original story, much like the change that was made in "Whistle and I'll Come to You". The townsfolk who try to keep information from Paxton are interesting to watch, and it is easy to tell that there's more to the town that what is shown. Like many of James' works, it's about the people rather than the apparitions, and the tense environment created around the central figure that gives the creepy element. Clark, who again wrote and directed the episode does make a number of homages to Hitchcock in storytelling and in visuals, and even with the less than one hour runtime, there is plenty of mystery to be had.

The episode was first broadcast on Christmas Eve 1972, and would carry the torch of being the second episode of the annual series. For the next year, Clark would once again adapt a James short story, though it would be quite a different one compared to what was seen before.

Embedded below is a clip of the episode, courtesy of the BFI.




"Lost Hearts" (1973)

Stephen (played by Simon Gipps-Kent) is a soon-to-be 12 year old that arrives at the home of Mr. Abney (played by Jospeh O'Connor, a much older cousin that could be mistaken for his grandfather. But things are not as what they seem at this reclusive home, where Stephen continuously has visions of a young boy and young girl following him. Are they Phoebe (played by Michell Foster) and Giovanni (played by Christopher Davis), two young children that mysteriously disappeared?

Unlike the previous episodes including "episode zero", "Lost Hearts" made a change by having a child as the central figure rather than a middle aged man. Clark would again direct, but this time the written adaptation was done by Robin Chapman instead, and the runtime cut down significantly to half an hour. In addition, rather than Christmas Eve, the episode was broadcast on Christmas Day of 1973. It may have been more towards a child-friendly audience with the protagonist, yet it was still broadcast quite late at 11:35PM. Even if it looks from the start as something that could have been made by the Children's Film Foundation, the creepiness and the gory shots would have said otherwise.

With the character of Abney abducting children and experimenting with immortality, there is more of a fantaasy element as well as what would fit closer to the zombie genre, which was still in its infancy. The two ghost children are reminiscent of the twins in "The Shining" in their sudden appearances around the young boy, as well as their bluish colored faces and lifelessness looking like child extras from "Dawn of the Dead", yet those productions would be years down the line. In addition, some of the visuals are reminiscent of Italian director Mario Bava's works, yet it's unlikely there was direct influence on the production. The sequence of Stephen's vision of seeing the ghost open up their chest cavities to reveal their hearts missing is quite a shocker, and effective in the effects work as well, even on the small budget.

There are allusions to child abuse and there are some shots in the episode that are most likely troublesome in the current generation, such as Abney ripping off Stephen's shirt as he is passed out and the bathing scenes, even if there is not nudity to be seen. Even all these years later, the shortest of the episodes can still have a number of shocks, though the subtleties of the previous episodes are missed.

Embedded below is a clip of the episode, courtesy of the BFI.




The series would have five more episodes made throughout the 1970s, and then would have a revival from 2005, with a total of fifteen episodes broadcast and one more on the way for Christmas 2022. These ghost stories may not necessarily be particular to "Christmas" with their settings as they do not feature the festive period within the episodes, but they are a reminder of the ghost story telling tradition of Britain in winter, giving chills and wonder to those listening, and a sense of holiday spirit with a bit of the macabre thrown in.

Note this is a region B Blu-ray set

Video


The BFI presents the episodes in their original 1.33:1 aspect ratio in 1080i50 AVC MPEG-4. The original 16mm camera negatives held in the BBC Archive were scannned and restored at 2K resolution. As they were filmed and broadcast in the 25fps fraterate on BBC, they are presented here in the original framerate. 1968's "Whistle and I'll Come to You" was shot in black and white had some instances of water damage, though the restoration has basically eliminated any warping or instability. There are some damage marks that can be found such as scratches, but they are not particularly distracting or heavy. The other three episodes were shot on color film, and the image is quite nice on all three, with strong colors and detail, as well as having a good amount of natural film grain left intact for each presentation. Credit sequences may look slightly rougher, but the episodes themselves look quite good overall, and obviously much sharper and more detailed than their original standard definition PAL broadcasts over forty years ago.

The episodes are divided as follows on the discs:

DISC ONE
* "Whistle and I'll Come to You" (1968) (41:52)

DISC TWO
* "The Stalls of Barchester" (1971) (45:14)
* "A Warning to the Curious" (1972) (50:05)

DISC THREE
* "Lost Hearts" (1973) (34:44)>

Audio


English LPCM 2.0 mono
The four main episodes are presented with their original mono audio uncompressed. Like the picture, the audio tracks have also been remastered from their original source materials, and each sound excellent. The audio tracks are clean, with a good balance between dialogue, music and effects, as well as eliminating any hiss, pops, or crackle. Dialogue is easy to understand and while it may sometimes sound a bit flat, they must be miles ahead of how they originally sounded on first broadcast.

There are optional English HoH subtitles for all episodes in a white font. They are easy to read and without errors.

Extras


DISC ONE

Audio commentary on "Whistle and I'll Come to You" (1968) by TV historian Jon Dear (2022)
This newly recorded commentary has Dear discussing quite a lot of information about the production. Talked about are the differences between the original story and the adaptation, information on the cast and crew, location information, details on how the floating apparition effect was done, and much more.
in English LPCM 2.0 without subtitles

Jonathan Miller and Christopher Frayling interview (2012) (3:24)
Presented here are clips of separate interviews with the director of the 1968 "Whistle and I'll Come to You" episode Jonathan Miller and film historian Christopher Fralying, with talks on how to make an intellectual horror, and the power of suggestion rather than schlock for audiences. With a running time of just over three minutes, this is way too short and feels like a wasted opportunity. I must assume these interviews were done for a differing release and these clips happened to have them discussing this episode. Note this was first available on the BFI "Ghost Stories: Volume 1" DVD set.
in 1080i50 AVC MPEG-4, in 1.33:1/1.78:1, in LPCM 2.0 without subtitles

Neil Brand reads MR James' original story (2001) (41:52)
In this audio only extra, composer and author Neil Brand reads the original story interjected with some contextual comments. A great voice and great storytelling ability with intonation and fluctuations as an excellent storyteller, it's a wonderful listen. The audio runs as an alternate audio track over the 1968 version and while it has the same runtime as the television film, it does have different pacing and different information, showcasing the differences between the original and the adaptation. Note this was previously available on BFI's "Ghost Stories: Volume 1" DVD release.
in English LPCM 2.0 without subtitles

"Ramsey Campbell on MR James" 2001 featurette (15:37)
This featurette has an interview with author Ramsey Campbell discussing M.R. James' writings especially "Whistle and I'll Come to You", the influences he had on cinematic works such as on producer Val Lewton and the many works at Hammer Studios, and more. Unfortunately this interview seems to have been done by himself with his own camera in his own backyard without any professional equipment. The audio is tinny and echoey making things hard to hear at times, as he is not using any external microphone and most likely the weak one on the camera itself. The lighting is also affected by the passing sunlight, which sometimes puts his face in the dark and the background being brighter than it should be. Note this was previously available on BFI's "Ghost Stories: Volume 1" DVD release.
in 576i AVC MPEG-4, in 1.33:1, in English LPCM 2.0 without subtitles

Ramsey Campbell reads "The Guide" (2001) (26:39)
Presented here is Camphell again, this time reading his short story from 1989 about a man who buys a book on author M.R. James, which leads him to unusual places and circumstances. Like the above interview, it is from the same location and time, as the camera position and Campbell's shirt are the same. The sound like before is also tinny and echoey, though there is a bit of creepy hum in the background, which I couldn't tell was added in post or was some loud machine that was being used by a neighbor. On a more positive note, the lighting is actually better, with the sunlight being much better. Note this was previously available on BFI's "Ghost Stories: Volume 1" DVD release.
in 576i AVC MPEG-4, in 1.33:1, in English LPCM 2.0 without subtitles

"Whistle and I'll Come to You" (2010) (51:59)
James Parkin (played by John Hurt) goes on holiday to a secluded seaside inn while his dementia affected wife Alice (played by Gemma Jones) is being taken care of in a nursing home. While walking along the beach, James finds a wedding ring in the sand which he takes. But something is unleashed on him, haunting him during his time alone with noises at night and an eerie presence continuing to follow him. Directed by Andy de Emmony and adapted by Neil Cross, this 2010 Christmas Eve episode is presented here on the set as a bonus episode, complimenting the 1968 original version. There are quite a few changes from the book and from the 1968 version, such as the object of the whistle becoming a wedding ring, the inn being desolate of guests with the exception of the protagonist, including the wife's images, while like the 1968 version, making the protagonist older than the book version. The tension is kept high with this new adaptation, with the stereo sound being utterly terrifying with the banging of the doors and the subtle effects, with Hurt's performance being excellent as expected. There is more attention placed on the tenstion rather than mystery, yet it still has its memorable shocks that is more or less geared for a more modern audience. It is interestingly shot in the Cinemascope aspect ratio though it is a television production, and this HD transfer from the HD master is excellent, with colors looking wonderful and the sound being great as well.
in 1080p AVC MPEG-4, in 2.35:1, in English LPCM 2.0 with optional English HoH subtitles


DISC TWO


Audio commentary on "The Stalls of Barchester" by film critic Kim Newman and writer and filmmaker Sean Hogan (2022)
This newly recorded commentary has Newman and Hogan together discussing the episode that launched the "Ghost Story" series. Talked about are Newman's recollection of seeing it on its original broadcast as a child, some of the more humorous points compared to James' other stories, the use of visual flashbacks, the state of television productions and broadcasts at the time in the United Kingdom, information on the cast and crew, and much more.
in English LPCM 2.0 without subtitles

Audio commentary on "A Warning to the Curious" by TV historian Jon Dear (2022)
This new commentary has Dear discussing the episode, with the locations used, the changes made to the story such as Paxton's age and job, information on the cast and crew, notes on James, and more.
in English LPCM 2.0 without subtitles

2012 Introductions by Lawrence Gordon Clark (with Play All) (21:42)
- "The Stalls of Barchester" (9:34)
- "A Warning to the Curious" (12:08)
These interviews have director Clark discussing the episodes he directed, with plenty of spoilers that make these "introductions" feel like they should be post-screening interviews. He discusses specifics such as the cat transformation shot in "The Stalls of Barchester", the support given by the BBC for the productions, the locations, the tight production schedules with small budgets, the influence of Alfred Hitchcock, and more. Note these were previously available on BFI's "Ghost Stories: Volume 1 & 2" DVD releases.
1080i60 AVC MPEG-4, in 1.78:1/1.33:1, in English LPCM 2.0 without subtitles

"Ghost Stories for Christmas with Christopher Lee" (2000) (with Play All) (58:38)
- "The Stalls of Barchester" (29:20)
- "A Warning to the Curious" (29:18)
Produced by BBC Scotland and broadcast on December 23rd and December 31st of 2000, these two episodes star the legendary Christopher Lee as an antiquary surrounded by students as he tells them tales of the supernatural. These shorts do not rely on effects or enactments, but all through the imagination set into the minds from the storyteller. Lee is as always impressive with his wonderful voice as he tells the tales, in these installments adapted by Ronald Frame from MR James' stories and directed by Eleanor Yule. Though shot and presented here in standard definition, the episodes look very good with the dark hues and detail. The same goes for audio which is clear throughout. Note this was previously available on BFI's "Ghost Stories: Volume 2" DVD release.
in 576i AVC MPEG-4, in 1.78:1, in English LPCM 2.0 with optional English HoH subtitles


DISC THREE

Audio commentary on "Lost Hearts" by film critic Kim Newman and writer and filmmaker Sean Hogan (2022)
Newman and Hogan return for this neewly recored commentary, as they discuss the shift in tone in this episode, as well as a shorter runtime than previous episodes. Also talked about are comparisons to the Bava-eque look and the possible inspirations from Japanese kaidan (which they incorrectly pronounce the title ofthe 1964 Japanese film "Kwaidan", which is correctly pronounced "Kye-Dun"), the similarities to "The Innocents", the creepiness of the ghostly children, the inescapable 1970s haircuts, and more.
in English LPCM 2.0 without subtitles

2012 Introduction for "Lost Hearts" by Lawrence Gordon Clark (10:52)
This interview with Clark has him discussing the casting, the short 12 day shoot, the extremely lucky opening shot with the weather, working with child actors, and more. Note this was previously available on BFI's "Ghost Stories: Volume 3" DVD release.
in 1080i60 AVC MPEG-4, in 1.33:1/1.78:1, in LPCM 2.0 without subtitles


Booklet
A 36 page booklet is included with the first pressing. "MR James's Oh, Whistle and I'll Come to You, My Lad" is an essay by playwright, actor and theatre director Reggie Oliver which looks at the original story and the 1968 and 2010 adaptations. In addition, he has written notes and was the assistant producer for Craftsman Audio's first complete audio edition of MR James stories. "Crossing Miller: Re-evaluating Whistle and I'll Come to You" is the next essay, by Jon Dear with additional comments about the 2010 version. Next is "Traces of uneasiness: Lawrence Gordon Clark and The Stalls of Barchester" by author Jonathan Rigby. This is followed by "A Warning to the Curious" by author Adam Easterbrook. Finally, there is "Lost Hearts " by author Ramsey Campbell. There are also full film credits, special features information, transfer information, acknowledgements, and stills.


The BFI previously released the episodes in five volumes on DVD, covering "episode zero" plus the eight 1970s episodes, plus the 2005 & 2006 revival episodes. These were all collected in a "Definitive Collection" 5-disc set. The Blu-ay Volume 1 set carries over all the relevant DVD extras and adds four great new commentary tracks for further appreciation, plus one bonus episode from 2010. It's good to say we should expect more volumes to cover the further episodes, including further revival episodes, including "Count Magnus", which is scheduled for broadcast on December 23rd, 2022.

Overall


"Ghost Stories for Christmas: Volume 1" is a great start in the HD upgrades for the annual series with the initial episodes being remastered and collected in this set. With excellent restorations and having a wealth of informative vintage and new extras, this is easily one of the best if not the best television Blu-ray release of the year with high marks to the BFI.
| | | | | |
| --- | --- | --- | --- | --- |
| The Film: A- | Video: A | Audio: A | Extras: A | Overall: A |